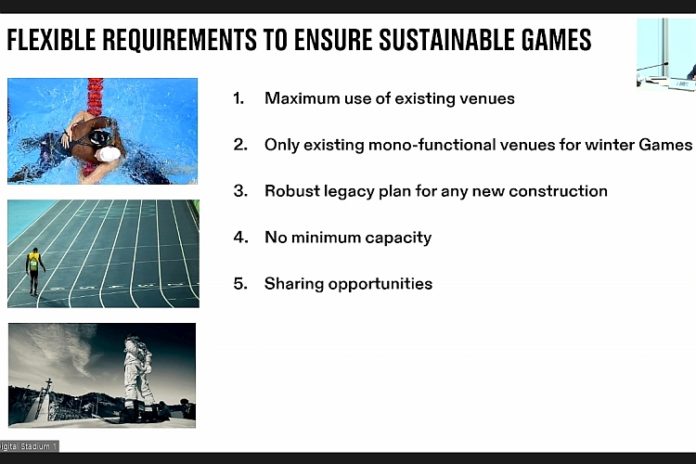 (★ Friends: The costs for services to support this site continue, so please donate here if you would like to assist. Your help is very much appreciated. ★)
● Plus: Munich 1972: Massacre survivors may not attend 50-year ceremonies until compensation "clarified" = Los Angeles 2028: World Sailing commits to maintain Paris program for 2028 = Winter Games 2030: IOC technical team in Sapporo = World Games: IWGA expanding into between-Games events and eSports! = Athletics: Bolt coach Mills says sport needs to be professional, establish Worlds as the biggest prize, not Olympics = Cycling: UCI agrees to help train 30 African riders in advance of 2025 Worlds in Rwanda = Swimming: Thomas graduates Penn, eyes Olympic Trials slot, even with tougher transgender testosterone limits = SCOREBOARD => Football: U.S. dominates Morocco on way to 3-0 win in Cincinnati; Ukraine shocks Scotland, 3-1, to advance to World Cup play-in match with Wales Sunday ●
Key status updates on the urgent stories in Olympic sport:
≡ SPOTLIGHT ≡
While the International Olympic Committee's recent release of the Olympic Studies Centre report, Over 125 years of Olympic venues: post-Games use, provided a detailed accounting of the post-event use of hundreds of sites used for the modern Games, it's worth asking: why go to all the trouble of compiling it?
The answer came during an online discussion with reporters Thursday morning in which IOC staff leaders dealing with sustainability, legacy and future hosts, explained that planning for the future required more knowledge of the past.
And with the IOC's 180-degree change in attitude toward sustainability – especially in the areas of costs and environment – the fact that 85% of all permanent venues ever used for the Games are extant and still in use is a signal for the future.
Jacqueline Barrett (GBR), a 27-year veteran of the IOC staff and now the Future Olympic Games Hosts Director, explained what is expected now:
"As a result of Olympic Agenda 2020, we re-imagined how future Games and future hosts would look and how Games are organized in the future. And I think the really fundamental thing to take away from that is a change in the whole philosophy. …
"[W]hat we're trying to do with the future hosts is to make sure that their Games project meets the needs of their community, and that there is no construction specifically for the Games. So, if there is construction, if a venue is being built, we've got to be sure that this is something that the community is doing for itself anyway, whether it's a private initiative, whether it's a government initiative, but that venue, or those venues are going to be there irrespective of hosting the Games or not. …
"We look at the global needs of the community and do those venues match the needs of the community for the future? It's not up to us to determine how a venue should be run. If it's already there, that's for the community to decide. But anything that is potentially being built, we need to make sure that it's being built anyway, irrespective of the Games, but we want to make sure that there is going to be good use and that that has been thought of, and that the various stakeholders are around the table and aligned with that use for the future. That's there's a plan for it, that's it's going to be used after the Games and that's it's going to be successful so it won't be a 'white elephant'."
Barrett further detailed the five "Flexible requirements to ensure sustainable Games":
● Maximum use of existing venues
● Only existing mono-functional venues for Winter Games
● Robust legacy plan for any new construction
● No minimum capacity
● Sharing opportunities
She explained that in some discussions, potential future hosts sometimes have a hard time really believing some of these points, especially on suggestions to use existing sites that are outside of the host city or even the host region (or country).
"The other thing is no minimum [spectator] capacity and that's a new thing that we're having a little bit of a hard time making people realize there's no longer a full requirement. There is no minimum capacity requirement. And we're very clear on that, because, again, it's contextual. Is a given sport or discipline popular in that country? Is it going to be well used? If it's not, let's look for other creative solutions. If it is, then great.
"So the capacity then is contextual and needs to meet the local context.
"And we also encourage sharing opportunities and here we are also doing great work with our partners, the International Federations in that, to look at more creative solutions of how venues can be shared."
The coming Games illustrates the success of the Olympic Agenda 2020 approach, as Paris 2024 plans to have 95% of its sites as existing or temporary, followed by 93% for Milan Cortina in 2026, 100% for Los Angeles in 2028 and 84% for Brisbane 2032.
So what happened with Brisbane? Said Barrett:
"This is purely contextual; in Brisbane's case, Southeast Queensland is the fastest-growing region in Australia, big demographic growth over the next 20-30 years and infrastructure needs to be in place to accommodate that demographic growth. So venues are needed there; Brisbane identified six venues that it needs to construct to meet the growing socioeconomic needs of the region. We explored, very closely and very robustly, existing solutions which do exist, but Brisbane was able to show us also good legacy plans of the venues that were constructed for the [1982] Commonwealth Games and how successful they are today.
"So, we were convinced that there are good, existing plans for these venues to be built, but we also identified existing, backup solutions – if, by any chance, they are not [built] – elsewhere, perhaps not all in Queensland, but they exist. So again, this really fits into our sustainability and legacy approach."
The bottom line:
"[W]e are not – and I want to emphasize that – we're not against construction. Of course, sustainability and legacy is the DNA of it. What we're saying is, we don't want anything built for the Games. We're not asking for anything to be built for the Games. We don't want anything to be built for the Games. But it's not up to us to say what a community needs to do for itself. So we just want to see that those plans exist, a community is building something for itself because it needs it, because it's thinking of its own future. If it's there, great, we can use it, but certainly don't build it for the Games."
One of the themes that the IOC is also exploring is the alignment between a Games plan as it develops and the reason why a city, region or country wanted to host an Olympic Games in the first place. The IOC's Head of Legacy, Tania Braga (BRA) explained:
"This is part of our work with [organizing committees], our conversations. There is a monitoring system in place, ongoing dialogue with them, to make sure that when they put operational plans [together], these are always aligned with the 'why' they defined, and we work together with them in partnership to make sure that the [North Star] of their project, it's really what's guiding them every step of the way. This is really important for us."
It's a different approach, for sure, from just 10 years ago, when detailed requirements spanning hundreds of pages were handed to bid committees, with the expectation that each and every listed item for each and every venue would be fulfilled … or exceeded.
Today's approach is not only saner, but has saved the Olympic Games itself.
≡ THE 5-RING CIRCUS ≡
● Games of the XX Olympiad: Munich 1972 ● The Munich-based Suddeutsche Zeiting reported last Saturday that relatives of the victims of the Palestinian terrorist massacre of Israeli team members at the Games are considering skipping the memorial ceremonies which are planned for September.
"None of us will come unless the question of compensation is finally clarified," said Ankie Spitzer, spokesperson for the families; her husband Andre was one of the 11 murdered.
The German government paid $2.98 million in compensation in 2002, about 10% of what was asked and less than what has been paid for other terrorist disasters. The report noted that the German government considers the compensation issue closed.
The 50-year anniversary program includes remembrances of the attack and the victims as an integral part of the exhibits and events.
● Games of the XXXIV Olympiad: Los Angeles 2028 ● World Sailing confirmed at its weekend Council meeting in the UAE:
"[W]ith the goal of providing certainty and stability for sailors, Member National Authorities (MNAs) and Classes over the next six years, Council approved retaining the current slate of Olympic Sailing events for the Los Angeles 2028 Olympic Games."
This includes:
● Men: One Person Dinghy (ILCA 7: Laser)
● Men: Skiff (49er)
● Men: Windsurfer (iQFoil)
● Men: Kiteboarding
● Women: One Person Dinghy (ILCA 6: Laser Radial)
● Women: Skiff (49er FX)
● Women: Windsurfer (iQFoil)
● Women: Kiteboarding
● Mixed: Multihull (Nacra 17 Foiling)
● Mixed: Two Person Dinghy (470)
In fact, sailing had been in some rough water with its events for Paris, asking for a daring but expensive keelboat offshore race for 2024, but this was rejected for accessibility and cost reasons and ideas for a mixed kiteboarding event also ran into trouble. In order to ensure that sailing was not further reduced from its 10 medal events from Tokyo, the decision was made to stay the course for Los Angeles that has been agreed to for Paris.
Whether the IOC and LA28 will agree, of course, is another matter. The report also noted:
"Council also approved measures to address the cost and quality of the Nacra 17 Class equipment following concerns over the expense incurred by MNAs in competing in the event, and recognised the potential of Wingfoiling for inclusion in future Olympic programmes. The opportunities presented by Wingfoiling were also discussed in detail by the World Sailing Board."
Perhaps for Brisbane 2032?
● XXVI Olympic Winter Games: 2030 ● The three-member technical team from the International Olympic Committee has been in Sapporo this week to visit the proposed sites for a 2030 Olympic Winter Games there.
Sapporo was the host in 1972 and the bid for 2030 is well advanced, with a detailed budget and master plan. The IOC technical team has already visited Salt Lake City and Vancouver, but will not be visiting Spain as that bid continues to be caught in a political tug-of-war between the Aragon and Catalonia regions.
● World Games ● The 2022 World Games are coming soon, opening on 7 July in Birmingham, Alabama, with 108 nations confirmed to compete in 223 events n 34 sports. But what is coming next is just as interesting.
First held in 1981, the World Games has been a once-every-four-years island of sports and events not on the Olympic program. But at last week's International World Games Association meeting, the IWGA announced a new concept:
"The World Games Series, a new multi-sport format under the patronage of the IWGA. The world-class invitation event – with top athletes and teams – will provide an additional platform for The World Games sports. It will be scheduled twice a year from 2023 onwards. The goal is to strengthen the TWG brand and to raise awareness in the years preceding editions of the Games, which are held every four years."
Also coming into the program are eSports:
"Three sports, Archery, Baseball and Racquetball, will present their virtual games to the visitors [in Birmingham]. Up to the 12th edition of The World Games in 2025 in Chengdu, Peoples Republic of China, the IWGA in cooperation with its federations wants to expand the circle to ten eGaming sports. [IWGA TV and marketing and coordinator] Hagen Bossdorf [GER] described eGaming as a promotional tool for TWG and their sports. He even sees the possibility in the future of organising e-Gaming competitions at The World Games."
A more aggressive IWGA will be an interesting future player in international sports, which is already overrun with multi-sport events of worldwide, regional, national and local flavors. Is there room for more?
● Athletics ● "Track and field in its semi-amateurism continue to miss the boat and it is time for track and field to become a fully professional sport."
That's from Glen Mills, the famed coach of Jamaican sprint superstar Usain Bolt and many others, speaking to the Jamaica Gleaner about the condition of his sport today.
"Track and field need to create its own Mecca and not depend on competing at the Olympics as the main endorsement for the sport and its athletes. All the other major sports have their Mecca competition … golf has the Masters and tennis has its grand slams. Football — I wouldn't even mention the World Cup or Champions League. For these sports, getting to the pinnacle, winning at their own top event supersedes any Olympic medal and that is where track and field needs to go if it is going to survive.
"The World Championship is not serving that purpose, it is still amateur in its function and the championship needs to be revolutionised into a real super event with super prizes and so on to capture the world.
"You should create an atmosphere where people go every year to defend their title in order to keep the sport at the pinnacle of relevance and excitement."
Mills also pushed for making the Worlds smaller, concentrating the events and eliminating preliminary rounds to keep athletes fresher, and allowing athletes to monetize spaces on their uniforms to earn more money.
And of Bolt, the sport's dominant force for a decade? "One of the things I will lament is that both locally and internationally, with a star performer of Bolt's level, the sport did not capitalise on it in the way it should."
¶
The Prefontaine Classic on NBC drew a respectable national television audience of 977,000 on Saturday. Other sports programming in the same time slot included the UEFA Champions League final (CBS: 2.761 million), the Charles Schwab Challenge golf tournament (Golf Channel: 983,000) and the NCAA women's Softball Super Regional between Texas and Arkansas (ESPN: 1.018 million).
● Cycling ● The Union Cycliste Internationale made a major commitment to develop cycling in Africa with the selection of Kigali, Rwanda as the site of its 2025 World Championships. What that commitment will be is now taking shape.
The UCI and the Association of National Olympic Committees of Africa (ANOCA) announced Tuesday:
"The parties agreed on a UCI Cycling Development Strategy supporting African athletes so they can be competitive by 2025, notably in the Junior and Under 23 categories.
"The strategy begins this year with the identification of athletes from African countries to be chosen for a training camp at the UCI [World Cycling Center] Satellite in Paarl, South Africa. Selected athletes will then be able to train at the UCI WCC in Switzerland or elsewhere in Europe where they will gain appropriate race experience over the next three years, in the lead-up to the 2025 UCI Road World Championships in the Rwandan capital.
"It is envisaged that some 30 athletes (male and female) will be targeted through the UCI WCC's established physiological testing, results at international races and recommendations from UCI certified coaches."
African riders are making inroads already, most recently with the Giro d'Italia stage win of Eritrean rider Biniam Girmay, who to retire from the event due to a freak injury from an exploding wine cork after his victory. He is expected to be back in action later this month.
Observed: Look for more of these kinds of targeted, direct-development programs in multiple sports, especially in Africa. The International Olympic Committee is already deeply involved in sporting and environmental programs on that continent and is encouraging more activity, of which the UCI is an early entrant.
● Swimming ● Lia Thomas, the former University of Pennsylvania men's swimmer who transitioned to female during the pandemic and won the NCAA women's 500-yard Freestyle title this spring, discussed her situation with ABC News and ESPN in a story published Tuesday.
As for the furor about her competing in the women's division:
"Trans women competing in women's sports does not threaten women's sports as a whole. Trans women are a very small minority of all athletes. The NCAA rules regarding trans women competing in women's sports have been around for 10-plus years. And we haven't seen any massive wave of trans women dominating."
She explained that she began hormone therapy to reduce her testosterone levels in May 2019 and was able to compete in the NCAA Championships by meeting the NCAA's standard for testosterone of not more than 10 nmol/l.
Her view, simply, is that "Trans women are women."
She graduated from Penn and will be attending law school, but she also noted, "I intend to keep swimming. It's been a goal of mine to swim at Olympic Trials for a very long time, and I would love to see that through."
In order to do so, she will have to meet USA Swimming's more stringent testosterone requirement, which are 5 nmol/l for 36 months prior to the date of application to swim in the female category. That means she is likely not going to be eligible for the 2024 Trials in Indianapolis, but the USA Swimming rules are subject to future rules issues by FINA which could be different.
≡ SCOREBOARD ≡
● Football ● With temperatures in the mid-80s in Cincinnati at the start, the U.S. Men's National Team came out hot against visiting Morocco in the first of six matches for the Americans prior to the 2022 FIFA World Cup.
The U.S. started well, but couldn't score, then had to defend repeated Moroccan attacks, including a point-blank save by U.S. keeper Matt Turner.
But Christian Pulisic got loose in the Moroccan end in the 26th minute and his cross to the middle of the field in front of goal found Brenden Aaronson, whose left-footed shot whistled into the net for a 1-0 lead.
Another well-thought-out American attack ended with Tim Weah sending a laser from right to left that whizzed by Moroccan keeper Bono for a 2-0 lead in the 32nd minute. And Jesus Ferreira had a golden chance for a third goal right before halftime, but Bono was equal to the challenge and kept the ball out of his net to end the half at 2-0.
Both sides had good chances to start the second half, but neither could score and Turner was sharp on Moroccan chances by midfielder Adel Taarabt and striker Tarik Tissoudali.
In the 61st minute, the U.S. had Haji Wright running free on the right side and while he could not score, his pass resulted in a shot that was blocked by Bono. But the rebound ended up with Pulisic, who was double-teamed and fouled at the left of the goal and a penalty was called.
Wright, in his first game with the U.S. team, took the penalty and slotted the ball into the left side of goal with a right-footed shot following a stutter step for a 3-0 margin.
Then, what appeared to be a normal attempt at a tackle in front of the U.S. goal by defender Joe Scally on substitute striker Soufiane Rahimi in the 75th minute was called a penalty, potentially opening the door for Morocco. But substitute midfielder Selim Amallah's penalty shot hit the post and went for nothing and the game ended 3-0.
The U.S. had 48% of the possession in the first half, but ended up with 53% for the entire game, a demonstration of its second-half prowess. But Morocco had more shots, 21-11, but many sailed high or wide and none could get past Turner.
This was a promising performance for the U.S., which had never beaten Morocco previously (0-3), and with three goals against a very defensive-minded team that had reached the African Cup of Nations quarterfinals and will be competing in Group F in Qatar.
The U.S. plays another World Cup qualifier, Uruguay, on Sunday in Kansas City.
¶
At the World Cup, the U.S. will play in Group B, with England, Iran and another European team, which will now be either Ukraine or Wales.
That's because Ukraine stunned Scotland, 3-1, in Glasgow, on Wednesday and will play Wales in Cardiff on Sunday for the final spot in the group.
Andriy Yarmolenko scored the only goal of the first half in the 33rd minute on a pop-up shot into the goal off of a long-lead assist from Ruslan Malinovskyi. And it became 2-0 in the 49th minute on a header by Roman Yaremchuk that suddenly made a Ukrainian win seem not only possibly, but likely.
The Scots got back into it with 79th-minute goal by Callum McGregor with a left-footed laser that got into the Ukraine goal after a bad clearance. But the home team could not get closer.
A final goal came at 90+5 for Ukraine, from Artem Dovbyk from the middle of the box on a breakaway that unleashed a big celebration for an underdog team which is now one step away from Qatar.
You can receive our exclusive TSX Report by e-mail by clicking here. You can also refer a friend by clicking here, and can donate here to keep this site going.
For our updated, 620-event International Sports Calendar for 2022 and beyond, by date and by sport, click here!