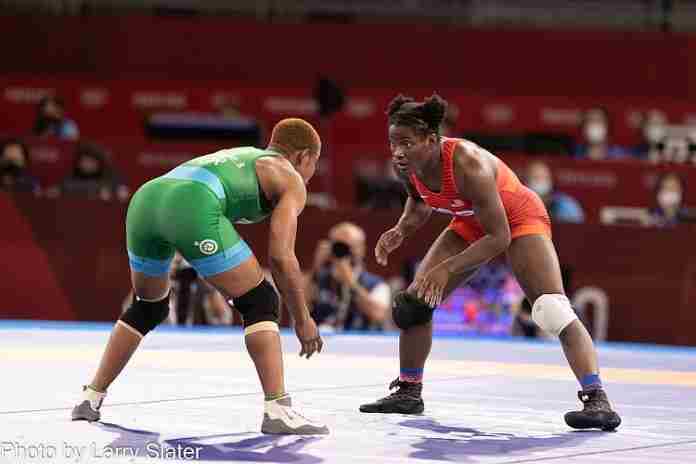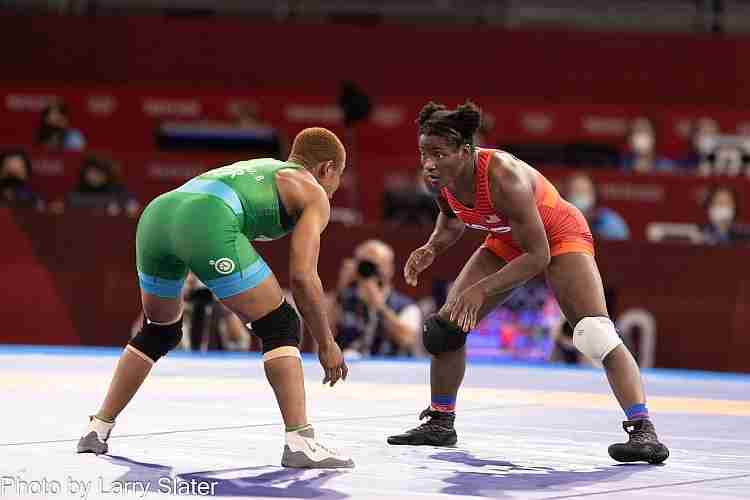 (★ Friends: TSX is a free site, but we need your help to cover our technical costs. Please donate here if you can assist. Thank you (yes, you!) in advance. ★)
Headline results of noteworthy competitions around the world/Updated/:
● Athletics ● It's been a busy week on the track, starting with the Memorial Irena Szewinska held in Bydgoszcz (POL) on Friday.
The home team claimed three wins, starting with hammer stars Wojciech Nowicki and Anita Wlodarczyk. Nowcki, the Olympic champion from Tokyo, won the men's competition at 80.28 m (263-5), just ahead of teammate (and four-time world champ) Pavel Fajdek (80.19 m/261-1). Wlodarczyk, the three-time Olympic champ, won with a modest 74.13 m (243-2) toss in the fourth round; she had two other throws that would have won the event.
Poland got a third win in the men's high jump, from Norbert Kobielski (2.24 m/7-4 1/4).
The U.S. had a good showing, with wins from Elijah Hall-Thompson in the men's 100 m at 10.02 (wind: -0.3), Jamal Britt in the 110 m hurdles (13.35; -0.9), Khallifah Rosser in the men's 400 m hurdles (48.23), Chris Nilsen in the vault (5.80 m/19-0 1/4), and Tia Jones in the women's 100 m hurdles, in 12.79 (+0.2), beating Tobi Amusan (NGR: 12.80).
Shot star Joe Kovacs finished second to New Zealand's Tom Walsh in the men's shot, 21.80 m (71-6 1/4) to 21.76 m (71-4 3/4) with Brazil's Darlan Romani third (21.45 m/70-4 1/2).
Tokyo Olympian Tony van Diepen (NED) moved up to no. 4 on the 2022 world list in the 800 m with an impressive 1:44.31 win, a lifetime best. He barely edged South Africa's Tshepo Tshite and Swede Andreas Kramer, both timed in 1:44.59.
Britain's Adelle Tracey won the women's 800 m in 2:01.57, ahead of Poland's Anna Wielgosz (2:01.79).
¶
More fast, wind-aided sprinting on Saturday at the Star Athletics Sprint Series in Montverde, Florida, especially in the 100 m.
In the women's 100 m heats, Sha'Carri Richardson stormed to a windy 10.82 win (+3.5 m/s), ahead of Jenna Prandini (10.89w), Twanisha Terry (10.91w), Teahna Daniels (10.94w) and others. In the final, the wind picked up to 4.3 m/s and Richardson won in 10.73w, followed by Prandini (10.75w), Terry (10.85w) and Daniels (10.94w).
Canada's Aaron Brown won his men's 100 m heat in a very windy 9.87 (+5.5 m/s), followed by Isiah Young (9.97w) and Marvin Bracy won his heat in 9.91w (+2.6). Bracy took the final in 9.80w (+2.9), with Brown second at 9.91w and Mohamadu Fall (FRA) at 9.91w.
The 200s were also quick, with Prandini winning in 22.01w (+3.1) over Shania Collins (22.17w) and Brown winning race one in 20.15w (+3.5) and Fall winning race two (20.17w; +3.4 m/s).
On Sunday, the Pure Athletics Global Invitational in Clermont, Florida, saw two-time Olympic 400 m champ Shaunae Miller-Uibo (BAH) win her 100 m heat in 10.92w (+5.5), but then skipped the final. Instead, It was Terry who won in a wind-legal 10.94 (+1.3), with Jamaica's Briana Williams second (11.03).
The men's 100 m started with Kyree King and Noah Lyles 1-2 in heat five in 9.90w for both (+3.9). Lyles skipped the final, but King was there to win in 9.98 (1.3) over Jerome Blake (CAN: 10.00).
Lyles came back in the men's 200 m and scored a win in 19.86 (0.8), well ahead of Jereem Richards (TTO: 20.06) and younger brother Josephus Lyles (20.20.
¶
More amazing high school miling, as three preps dove under 4:00 on Saturday.
For the first time ever, two high schoolers finished sub-4, at the HOKA Festival of Miles in St. Louis on Friday, as Gary Martin (Warminister [PA] Archbishop Wood) was fourth in 3:57.89 (his second) and Connor Burns (Ashland [MO] Southern Boone) was fifth at 3:59.53. U.S. road mile runner-up Paul Ryan won the race in a lifetime best of 3:55.95.
Meanwhile, at the Golden South Series no. 2 at Tarpon Springs, Florida, Reinhardt Harrison of Ponte Vedra Beach [FL] Nease HS won the mile in 3:59.33! So, Burns and Harrison are the nos. 15 and 16 high schoolers – indoors and out – to break 4:00.
That's four sub-4 prep milers in a single season, with Colin Sahlman (Newbury Park [CA]) running 3:58.81 indoors and Martin going 3:57.98 on 14 May. No other single year had more than two sub-4 high schoolers. Wow.
¶
At the Sparkassan Galan in Regensburg (GER) on Friday, the German national men's 4×100 m team ran a world-leading – and national record – 37.99. The team was Kevin Kranz, Joshua Hartmann, Owen Ansah, and Lucas Ansah-Peprah, with lifetime 100 m bests – in order – of 10.18, 10.14, 10.08 and 10.11.
That's a combined 40.51 and they ran 6.2% faster for 37.99. So, if an American quartet of Christian Coleman, Fred Kerley, Noah Lyles and Trayvon Bromell – with lifetime bests of 9.76, 9.84, 9.86 and 9.76 for 39.22 combined – could duplicate Germany's technical proficiency, they would run 36.78, right? World Record!
● Beach Volleyball ● The third Beach Pro Tour Elite 16 tournament of the season was in Jurmala (LAT), with tight, three-set matches for both the men's and women's championships.
Italy's Paolo Nicolai and Samuele Cottafava (ITA) came from the no. 13 seed to score a dramatic, come-from-behind upset win over Qatar's top-seeded Cherif Younousse and Ahmed Tijan – the Tokyo bronze medalists – by 16-21, 27-25, 15-12. It's the first win, and second medal of the season for the Italian duo.
Third-seeded Andre Stein and George Wanderley (BRA) ended up third, as they won the bronze-medal match from Kusti Nolvak and Mart Tiisar (EST) by 21-17, 18-21, 15-13.
The women's final saw 2019 World Champions Sarah Pavan and Melissa Humana-Paredes (CAN) claim a hard-fought win by 21-19, 20-22, 15-7 over Barbara Seixas and Carol Salgado (BRA). It's the first medal of the season for the Canadian stars and their first tour victory since 2019.
In the women's third-place match, eight-seeds Duda Lisboa and Ana Patricia Ramos (BRA) won in straight sets over fourth-seeded Sara Hughes and Kelley Kolinske (USA), 21-19, 21-17.
● Fencing ● The Pan American Championships are underway in Asuncion (PAR), with the Sabre competitions swept by the U.S.
The men's final was an all-American match-up, with Rio 2016 silver medalist Daryl Homer defeating Eli Dershwitz, the 2018 Worlds silver winner, 15-11. American Andrew Mackiewicz and Argentina's Pascual Di Tella shared the bronze.
The women's Sabre final was another American gold, this time for Eliza Stone, the 2018 Worlds bronze medalist, who defeated Canada's Gabriella Page, 15-11. Canada also scored a bronze medal with Madison Thurgood; Shia Rodriguez of Venezuela won the other bronze.
The U.S. men – Homer, Dershwitz, Mackiewicz and Khalil Thompson – won the Team Sabre title, 45-37, over Canada, and the U.S. women – Stone, Honor Johnson, Tatiana Nazlymov and Elizabeth Tartakovsky – won their Team title final against Canada, 45-34.
The Pan Am Champs continue to Wednesday (8th).
● Football ●/Updated/The U.S. Men's National Team has another friendly, this time against Uruguay in Kansas City, after both teams won impressively in friendlies during the week.
Uruguay came out as the aggressors, but the U.S. had the best of the match for the remainder of the first half. But neither side could score and while the Americans had 57% of the possession and a 7-4 edge on shots, it was 0-0 at the half.
The second half was better for Uruguay and they had two excellent chances, but could not score. In the 63rd minute, U.S. keeper Sean Johnson made an excellent save from close range on midfielder Federico Valverde's strike that looked like a goal and then, at 90+3 in stoppage time, the U.S. was caught in a 1×2 counter with midfielder Facundo Pellistri sending a cross to star striker Edinson Cavani, who simply missed wide on a shot from the box to the right corner of the goal.
The U.S. finished with 54% of the possession, but Uruguay's 8-2 advantage on second-half shots (12-9 for the game) accurately reflected their stronger offensive effort in the final 45 minutes.
¶
/Updated/The U.S. was highly interested in the outcome of the World Cup play-in match in Cardiff (WAL) between Ukraine and Wales, with the winner joining England, Iran and the U.S. in Group B in Qatar in November.
A tightly-played first half turned in Wales' favor in the 34th minute as a Gareth Bale free kick rebounded off of the head of Ukraine midfielder Andrii Yaromolenko for what was scored as an own goal. Ukraine had the better of play, with 63% of the possession and an 8-5 lead on shots, but the scoreboard was 1-0 for Wales.
And that's how it ended. Ukraine controlled the ball, but could not score and Welsh keeper Wayne Hennessey made nine saves. Ukraine ended with 68% possession and a 22-9 edge in shots, but it was enough. Wales will go to the World Cup Finals for the first time since 1958.
● Gymnastics ● The fifth and final stage of the FIG Rhythmic World Cup for 2022 was in Pesaro (ITA), one of the true homes of the sport. And the home fans saw the Italian team perform brilliantly.
Sofia Raffaeli, 18, won her third World Cup All-Around title of the season with a 126.800-120.950 win over teammate Milena Baldassarri, 20, a member of the 2021 Worlds Team silver squad. Bulgaria's Stiliana Nikolova took third at 119.100. Alexandria Kautzman was the top U.S. finisher at 111.300 for 17th.
Italy also won the Group title at 68.350, followed by Bulgaria (62.250) and China (60.650), and the 5 Balls final, scoring 34.800 to 31.750 for China.
In the apparatus finals, Raffaeli claimed three of the four. She won in Hoop (32.800) over Nikolova (31.300), then on Ball, beating Ekaterina Vedeneeva (SLO), 33.650-31.150, and in Clubs, scoring 33.400 to 32.250 for Eva Brezalieva (BUL).
In Ribbon, it was Ukraine's Viktoriia Onopriienko who scored a 30.900-30.500 win over Raffaeli, with Vedeneeva third (29.550).
● Judo ● The IJF World Tour Tbilisi Grand Slam drew 278 judoka from 36 nations and the home team was ready to perform.
Georgia scored a 1-2 in the men's 60 kg division, with Temur Nozadze winning the final over Giorgi Sardalashvili, a 2-3 at 66 kg, as Giorgi Tutashvili won silver and Tokyo 2020 silver medalist Vazha Nargvelashvili won the bronze, and a 1-3 at 73 kg from Tokyo silver winner Lasha Shavdatuashvili (gold) and Giorgi Terashvili (bronze). Tato Grigalashvili won silver at 81 kg.
On Sunday, the Georgians continued, winning with Beka Gviniashvili taking the 90 kg title, Onise Saneblidze and Giorgi Beriashvili going 1-2 at 100 kg and Gela Zaalishvili winning the +100 kg class. All together, Georgia won 12 medals in the men's classes (5-4-3).
In the women's division, Kosovo's Tokyo 48 kg winner Distria Krasniqi moved up to 52 kg and won the final over Reka Pupp (HUN). Olympic bronze medalist Sanne van Dijke (NED) won at 70 kg, and 2021 World Champion Anna-Maria Wagner (GER) won at 78 kg. France was the only two-class winner on the women's side, with Melanie Legoux Clement winning at 48 kg and Julia Tokofua winning at +78 kg.
Overall, Georgia piled up 14 total medals to six for France (2-0-4).
● Sailing ●/Updated/The Hempel World Cup Allianz Regatta off Aimere (NED) was the center of attention for nine of the ten Olympic Classes, with Dutch sailors prominent on the podium.
Bart Lambriex and Floris de la Werken (NED) – the 2021 World Champions – won the 49er class by 35.0-56.0 over Ireland's Robert Dickson and Sean Waddilove, with Benjamin Bildstein and David Hussl (AUT) third (74.0). The Dutch stars won seven of the 13 races, were second once and fourth once to run away with the trophy.
Tokyo Olympic bronze medalist Annette Duetz, now with Odile van Aanholt, took the 49er FX title, but in a tight, 53.0-55.0-60.0 battle with Isaura Maenhaut and Anouk Geurts (BEL) and Olivia Price and Evie Haseldine (AUS). Duetz and van Aanholt won three races, and while the Belgians won four – including the medal race – the Dutch were right behind them in the medal race in second to preserve their lead.
In the Nacra 17 class, Laila van der Meer and Bjarne Bouwer won eight of the 12 races and finished as a decisive, 33.0-40.0 winner over Joao Siemsen and Marina Arnot of Brazil. Laura Farese and Matthaus Zochling (AUT: 43.0) were third.
In the women's Laser Radial, Olympic ninth-placer Vasileia Karachaliou (GRE) won a tight battle among six sailors, especially two-time World Champion Emma Plasschaert (BEL), 68.0-71.0, with Denmark's Anna Munch third (75.0). Karachaliou won one race and was never lower than 12 in her scoring races, where Plasschaert won twice, had a second and a third, but also had scoring races of 17th and 22nd.
In the mixed-crew 470, Swiss Yves Mermod and Maja Siegenthaler (fourth in the women's 470 in Tokyo) won with 26.0 points to 30.0 for Chris Charlwood and Amelia Catt (AUS) and 34.0 for Japan's Keiju Okada and Miho Yoshioka. The Swiss pair won three races and were third in the medal race to maintain a small lead to the end.
The Kiteboarding classes finished on Sunday, with Gomez Benoit (FRA) winning the men's division easily, capturing 11 wins in the 17 total races and winning the final. Italy's Lorenzo Boschetti and Riccardo Pianosi finished second and third. Annelous Lammerts (NED) also led the racing with nine wins, but then took the final to earn the class victory, ahead of Gisela Pulido (ESP) and Gal Zukerman (ISR).
The winds were insufficient for the IQFoil final races, so the Dutch celebrated a 1-2-3 sweep of the men's division, with Huig Jan Tak winning over Max Castelein and Joost Vink, 16.0-19.0-28.0. American Noah Lyons was fifth (54.0). Peru's Maria Belen took the women's title, winning on a toe-break with Lilian de Geus (NED), as both won six of the races. German Lena Erdil (26.0) finished third.
● Shooting ● The massive, 29-event ISSF World Cup continued all week in Baku (AZE) and will conclude on Monday.
The U.S. was strong in Skeet, as always, with triple Olympic Champion Vince Hancock winning the final, 34-29, over France's Nicolas Lejeune, with Jesper Hansen (DEN: 25) third. The women's Skeet winner was France's Lucie Anastassiou, who got by American stars Caitlin Connor – the 2018 World Champion – and Austen Smith (just 20!), 36-31-24.
In the men's Skeet team final, the U.S. trio of Hancock, Phillip Jungman and Adam McBee were 6-0 winners over Greece. The U.S. got close in the women's team final, but Connor, Smith and Dania Jo Vizzi lost to Germany, 2-1 in the shoot-off, after a 5-5 tie in regulation.
The men's 25 m Rapid-Fire Pistol final was a match-up of the last two Olympic champions. France's Jean Quixquampoix – the Tokyo winner – triumphed against Germany's Rio winner, Christian Reitz, 32-26. Clement Bessaguet (FRA) was third (23). The Mixed Team final saw Korea score a 16-10 win over Ukraine.
The women's 25 m Pistol final saw Bulgaria's Antoaneta Kostadinova – the Tokyo 10 m Air Pistol silver medalist – win over Veronika Major (HUN), 32-27, with Anastasiia Nimets (UKR: 18) third. Ukraine won the team title, 17-11 over Thailand.
Ukraine's Serhiy Kulish, the Rio 2016 silver medalist in the 10 m Rifle, won the men's 50 m Rifle/3 Positions gold over India's Swapnil Kusale, 16-10. Croatia took the 50 m Rifle/3 Positions team event, 17-7, over India.
Denmark's Rikke Ibsen won the women's individual 50 m Rifle/3 Positions, 16-12, in the tight competition with Anjum Moudgil (IND). The women's team event for the 50 m Rifle/3 Positions went to Norway, 17-15, over Kazakhstan. India won the Mixed Team final, 16-12, over Ukraine.
In the 10 m team events, Iran edged Italy, 16-10 for the men's Air Pistol title and Korea defeated Thailand, 16-8, for the women's Air Pistol win. In the Air Rifle team finals, Korea beat Australia, 16-8, for the men's gold and India swamped Denmark, 17-5, in the women's final. In the 10 m Mixed Team events, Greece defeated Ukraine for the 10 m Air Pistol gold (16-6) and Korea defeated Serbia (16-10) for the 10 m Air Rifle title.
In Men's Trap, Tokyo Olympic champ Jiri Liptak (CZE) was the winner over Kuwait's Talal Al-Rashidi, 35-33, in the final. Daniele Resca (ITA) was third (23) and American Derrick Mein got fourth (13). Finland's Noora Antikainen won over Olympic Mixed Team gold winner Fatina Galvez (ESP), 31-29, with Australian Laetisha Scanlan third (22).
Al-Rashidi got a gold in the men's Team Trap, as Kuwait defeated the U.S. trio of Mein, William Hinton and Casey Wallace, 6-0. The American women, however, won their Team Trap event, with Aeriel Skinner, Kayle Browning and Rachel Tozier edging Australia, in a shoot-off after a 5-5 tie in the five regulation rounds. Australia's Scanlan teamed with James Willett – they were the 2019 World Champions – to win the Mixed Trap title, 6-2, over Portugal.
● Swimming ● The Tyr Pro Swim Series continued in Mission Viejo, California, with a few members of the U.S. Worlds team for Budapest stealing the show.
No. 1 on the star list was 16-year-old Katie Grimes, who will swim the 1,500 m Free, 400 m Medley and the 10 km Open Water events at the Worlds. In Mission Viejo, she claimed wins in the 400 m Free (4:05.77 lifetime best), 800 m Free (8:27.72), 200 m Backstroke (2:09.52 lifetime best) and the 400 m Medley (4:36.77)! Grimes finished ahead of fellow teen Bella Sims (17) in the 400 m Free and the 400 m Medley, but Sims also mined silver in the 100 m Free, 200 m Free and the 100 m Back; she'll swim on the 4×200 m Free relay in Budapest.
Poland's Kasia Wasick was the only other multiple winner on the women's side, taking the 50 (24.70) and 100 m (54.57) Freestyles.
In the men's racing, Will Licon won the 100 m Breast (1:01.46) and 200 m Breast (2:12.28), while Trenton Julian doubled in the 200 m Free (1:48.01) and 100 m Fly (51.78). David Johnston won a tough distance double in the 1,500 m Free (15:18.32) and the 400 m Medley (4:19.54). Egypt's Marwan El Kamash won the 400 m Free (3:51.12) and the 800 m Free (8:00.74).
Ryan Held edged Justin Ress in the 100 m Free, 48.64-48.90, but Ress came back to win the 100 m Back in 53.80.
None of the times were noteworthy, as the Worlds are coming up quick on 18 June and the tapering in training is only starting,
● Volleyball ●/Updated/The annual FIVB Women's Nations League has started for 2022, with 16 teams competing and the top eight teams advancing to the championship round in July.
The U.S., the reigning Olympic champs, started play on 31 May in Pool 1 – being held in Shreveport, Louisiana – and defeated the Dominican Republic by 3-0, followed by a 3-0 win over Canada on 3 June and another 3-0 shutout, this time of Brazil on Saturday (4th).
On Sunday, the U.S. was handled – in straight sets – by undefeated Japan, 25-22, 25-20 and 25-20. Japan ended the first pool as the only undefeated team in the tournament; the U.S. was one of seven teams at 3-1.
● Wrestling ● The first of two "Final X" showdowns to determine the U.S. World Championships team for 2022 was held in Stillwater, Oklahoma on Friday, with 15 spots on the line: five each in men's and women's Freestyle and five in Greco-Roman.
The men's Freestyle finals were headlined by victories by 2016 Olympic gold medalist Kyle Snyder, two-time World Champion J'Den Cox and 2021 World Champion Thomas Gilman.
Snyder, the two-time World Champion and Tokyo silver medalist, defeated former Ohio State teammate Kollin Moore by 11-0 and 12-2 to make his eighth straight national team. Cox will try for a third world title at 92 kg, after defeating Nate Jackson, 4-2, 2-3, 3-0 in three tight matches. Gilman will defend his title as he raced past Virto Arujau, 12-2 and 14-2.
The other men's Freestyle winners were Zain Retherford at 70 kg and Seth Gross, who scored an upset over 2021 Worlds silver winner Daton Fix, winning the last two bouts by 5-4 and 9-5.
Tokyo Olympic champion Tamyra Mensah-Stock will try for a second world title at 68 kg after beating up on Sienna Ramirez, 14-3 and 10-0. Tokyo quarterfinalist and 2019 World Champion Jacarra Winchester is on her way back to the Worlds at 55 kg after Jenna Burkert had to retire with an injury after winning the first bout, 6-4.
At 65 kg, Mallory Velte and Forrest Molinari met in a match of past Worlds bronze medalists. Velte won the first match by 9-1, but Molinari won the second, 3-1. The decider was a surprising 10-0 rout in just 1:33 for Velte, who won a Worlds bronze in 2018. New members of the U.S. Worlds team will be Abigail Nette at 59 kg and Dymond Guilford at 76 kg.
The men's Greco-Roman clashes produced four familiar winners, including Olympians Jesse Thielke (63 kg) and Ben Provisor (82 kg). In addition, prior Worlds team members Max Nowry (55 kg) and Cohlton Schultz (130 kg) won their classes and will be joined by Benji Peak (72 kg), who defeated past Worlds team member Pat Smith at 72 kg: 3-5, 3-2 and 6-2.
The second "Final X" matches to complete the U.S. team will be held on 8 June (Wednesday) at the Hulu Theater at Madison Square Garden in New York.
You can receive our exclusive TSX Report by e-mail by clicking here. You can also refer a friend by clicking here, and can donate here to keep this site going.
For our updated, 620-event International Sports Calendar for 2022 and beyond, by date and by sport, click here!