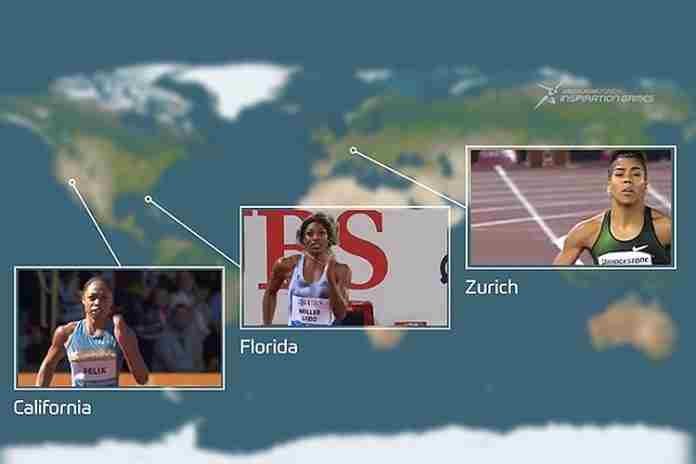 (Friends: As you know, TheSportsExaminer.com is a free site, but we still have expenses, for hosting and technical support. Our semi-annual bill has arrived, and if you value what you read here, perhaps you can donate to help with the costs. Thank you.)
A single track meet, televised over 90 minutes, will take place this Thursday (9th) in seven different venues across nine time zones, with competitors simultaneously timed and the races shown as a "live" composite.
We've already had the "Impossible Games" in Oslo, Norway in June, highlighted by a world best in the 300 m hurdles by home hero Karsten Warholm. But now the folks who stage what is usually considered the best invitational meet in the world – Weltklasse Zurich, already canceled for 2020 – have come up with a wild scheme called the "Inspiration Games."
If it works, it will be amazing. The concept, according to the three groups that are trying to make this happen:
● Co-Meet Director Christoph Joho: "We would like to present a live event at Weltklasse Zürich level even this year. Therefore, we have been looking for creative ideas and working on new formats."
● SRG SSR (Swiss) television's Roland Maegerle: "To synchronize up to three locations per discipline for the TV audience is a great technical challenge. We are delighted to be actively involved in this Swiss innovation project and to be able to offer athletics fans an exceptional sporting experience."
● Swiss Timing chief executive Alain Zobrist: "Swiss Timing will provide four stadiums with synchronized timing systems that will generate real-time data during the competitions and broadcast the results directly on TV. In particular, the latest transmission technologies will be used, which will be controlled centrally from Zurich. This is a great innovation for athletics and we are very happy to take on this technical challenge. We are looking forward to working with the teams of Weltklasse Zurich and Swiss Television in order to offer the athletes an opportunity to compete at an international level."
The idea is to hold eight events – four each for men and women – with three competitors each. In the main, the events will be held at four sites:
● Zurich (SUI): men's 200 m ~ women's 150 m ~ 300 m hurdles ~ 3×100 m
● Walnut (USA): men's triple jump ~ women's 150 m ~ 300 m hurdles ~ pole vault
● Papendal (NED): men's 200 m ~ women's 300 m hurdles ~ 3 x 100 m
● Bradenton (USA): men's 100 yards ~ triple jump ~ women's 150 m ~ pole vault
There will also be individual competitors in France (two sites) and Sweden.
The event starts will be controlled by Swiss Timing from Zurich and with the delays in transmission to the various sites for races, the video and timing will be synched up by Swiss Television and shown as a simultaneous competition after a two-minute editing period. All three competitors will be shown on the screen at once. Standard timing and measuring rules will be in place at all sites.
Crazy? Yes. Fun? Yes. Watchable? We'll see.
The 90-minute program will start at 8 p.m. Central European Time, which is 3 p.m. in Florida (at the IMG Academy in Bradenton) and noon in California (at the renovated Hilmer Lodge Stadium at Mt. San Antonio College in Walnut). The meet is expected to be televised in the U.S., but no details are available yet.
The entries are intriguing, not so much for who will win, but to see what kind of shape these folks are in:
● In Bradenton, all three entries can run the men's 100 yards together: Andre De Grasse (CAN), Jimmy Vicaut (FRA) and Omar McLeod (JAM). Noah Lyles – who ran a wind-aided 9.93 in the 100 m Saturday at Montverde, Florida – will run the 200 m, Sam Kendricks will compete in the vault and Christian Taylor will triple jump. Shaunae Miller-Uibo (BAH), who opened in Monteverde with wins in 22.61 (200 m) and 50.52 (400 m), will try the 150 m, and Sandi Morris of the U.S. will compete in the vault.
● In Walnut, Allyson Felix will run the 150 m and Dalilah Muhammad will contest the 300 m hurdles, with the world-best of 38.16 by Zuzana Hejnova (CZE) from 2013 clearly in play. Greece's Katerina Stefanidi – who vaulted at Stanford – will also compete here, along with Omar Craddock in the men's triple jump.
● In Papendal, Hejnova will contest the 300 m hurdles and Churandy Martina (NED) will try the men's 200 m.
● In Zurich, Swiss stars Mujinga Kambundji and Lea Sprunger will compete at 150 m and in the 300 m hurdles, respectively, and Christophe Lemaitre (FRA) will run in the men's 200 m.
(You can forget about a world best in the women's 150 m: it's 16.10 by Florence Griffith-Joyner [USA] in route to her 21.34 world record in the 1988 Olympic Games in Seoul!)
Polish vault star Piotr Lisek and Swede Angelica Bengtsson will be vaulting in Karlstad (SWE) and 2012 Olympic vault champ Renaud Lavillenie (FRA) will be competing in Aubriere (FRA).
Although this is formally an exhibition, in standard Weltklasse style, there is prize money: $10,000 for the winners, $6,000 for second and $4,000 for third. There will, however, be few or no spectators at any of the sites, owing to the coronavirus mass gathering restrictions in all three locations.
The field events will start prior to the television window, with the running events starting with the women's 150 m, then the men's 100 yards, women's 300 m hurdles, men's 200 m and the traditional relay finish of the women's 3×100 m.
The Wanda Diamond League season – as currently envisioned – is supposed to start on 14 August in Monaco and continue for eight more meets through 17 October. Absolutely no one knows if any of these meets will be held.
But the Zurich folks have shown great creative and technical flair, only available with today's worldwide communications infrastructure, to put together something challenging, interesting and potentially fun. Good for them, and for track fans everywhere.
¶
Worth reporting from Saturday was a world-leading 5.94 m (19-6) in the men's vault from Mondo Dupantis (SWE) in Gothenburg and some excellent marks in Montverde, Florida.
In addition to wins for Miller-Uibo, Lyles won his 100 m heat in 9.93w (+4.0 m/s), in front of Justin Gatlin (9.99w) and long-injured Trayvon Bromell showed promise with a 10.04 win in heat five, his best since 2016. Kenny Bednarek won both sprint finals in 10.14 and 20.06, proving he has returned from injury as well. Christian Taylor won the triple jump at 16.75 m (54-11 1/2).
Sha'Carri Richardson won the women's 100 m, clocking 10.94w (+2.8 m/s) in her heat and 11.05 in the final. Her heat time was her third-fastest ever (all conditions) and the 11.05 final is her fourth-fastest legal time; not bad for her first races in 344 days!
Rich Perelman
Editor
You can receive our exclusive TSX Report by e-mail by clicking here. You can also refer a friend by clicking here.