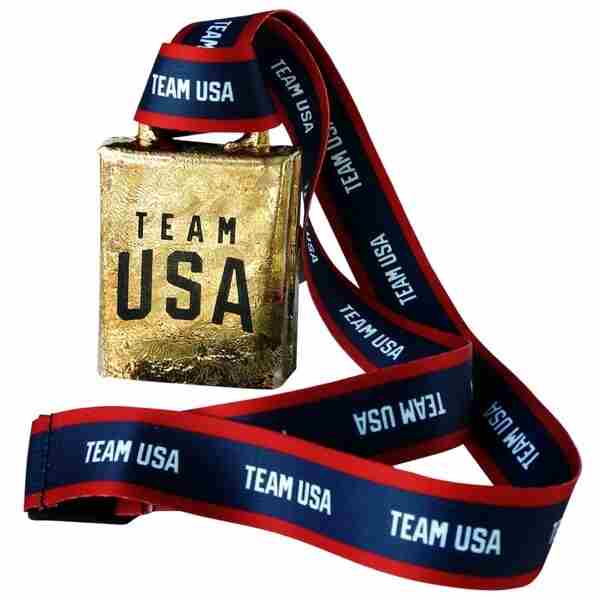 /Updated/After curing some statistical errors, the U.S. Olympic & Paralympic Committee posted a revised announcement today (25th) of its 2022 Olympic Winter Games team, which was immediately rendered inaccurate after an injury to a medal hopeful.
Not a good omen, but that's sports.
Alpine star Breezy Johnson, who won three World Cup silvers in December Downhills, withdrew from the U.S. team after it became clear that leg injuries suffered in two January crashes were not going to heal in time. "I crashed in Cortina the other day and immediately felt a massive crack in my knee. It was a large chunk of cartilage that is partially dislodged. I was given the option to try to compete on it. But I don't think that that is realistic or smart."
So the U.S. team, revised to 223 overnight, is now back to the originally-announced total of 222. It's still a very powerful team, even with Johnson now out. Of the 222, 91 are returning Olympians (41%) and 39 have previously won Olympic medals (18%). And 24 have won Olympic golds, including 13 from the women's ice hockey team.
This is the second-largest team the U.S. has ever sent to a Winter Games, behind the 228-member team from PyeongChang in 2018; the 2014 team was also 222 strong. The revised count (222 with Johnson out) now includes 107 women, 114 men "and one non-binary athlete" – Pairs skater Timothy LeDuc, who competes as a man.
So what can be expected from this squad?
First off, the U.S. is not expected to be at the top of the medals table. Norway (39 total), Germany (31) and Canada (29) topped the chart in 2018, with the U.S. fourth at 23. For 2014, the doped-up Russian team is still credited with 30 medals, followed by the U.S. (28) and Norway (26). For Beijing, look for Norway and Germany to be 1-2 again. The U.S. chances:
● Alpine Skiing ● /Updated/With Johnson out, superstar Mikaela Shiffrin is the only realistic U.S. medal hope. She's currently the World Cup overall leader and has won two Giant Slaloms and two Slaloms this season, with two medals in Super-G races as well. She already owns three Olympic medals: golds in the Slalom in 2014 and Giant Slalom in 2018, plus a Combined silver in 2018 as well.
She could win five medals, or none. Today, in a Giant Slalom in Kronplatz (ITA), she was fifth, while Sweden's Sara Hector won third race of the season, over reigning World Cup champ Petra Vlhova (SVK) and France's Tessa Worley, 2:03.63-2:03.78-2:04.15. Shiffrin was third after the first run, but slipped to 20th on the second.
Paula Moltzan is a long-shot U.S. possibility for a medal in the Slalom, but that's it on the women's side. The men's roster has two World Cup medalists this season: Bryce Bennett with a Downhill win at Val Gardena (ITA) in December, and Travis Ganong with a bronze at Beaver Creek, Colorado in a Super-G, also in December. That's it. There are others who are capable: River Radamus, Tommy Ford and Ryan Cochran-Siegle, for example, but none are expected to medal.
(Thanks to reader Bruce MacNeil for noting Bennett's win in Italy in December. Missed that one!)
● Biathlon ● Not much expected, as the highest-ranked American in Clare Egan at 38th in the women's World Cup standings. Capable? Yes, as is former World Championships medal winner Susan Dunklee or Joanne Reid. But not likely.
Paul Schommer is the top-ranked American in the men's World Cup standings at 40th overall, with a best finish of ninth in the 20 km Individual race in Italy last week.
Norway, Sweden and France will be the top nations and produce most of the medal winners.
● Bobsled & Skeleton ● High hopes for the U.S. women, with former Canadian two-time gold medalist Kaillie Humphries now competing for the Americans.
Humphries won the two-woman racing in 2010 and 2014 and won bronze in 2018. She's still dangerous, although she won only once on the circuit this season. Three-time Olympic medalist Elana Meyers Taylor won silver in 2018, won once on the IBSF World Cup tour this season and won the overall seasonal title. But both Americans will have their hands full with the German sleds, especially Laura Nolte (four wins this season) and Kim Kalicki (two wins).
The new women's Monobob event will also feature Meyers Taylor – the seasonal champ – and Humphries, who finished 1-2 in the seasonal standings. Meyers Taylor won four times and Humphries twice and they will both be favored for medals, along with Canadians Cynthia Appiah and Christine de Bruin.
The men's bob events are nearly a foregone conclusion for Germany's Francesco Friedrich, who won both the two-man and four-man events in 2018. He drove the winning sled in seven of eight two-man races and seven of eight four-man races. Germans Johannes Lochner, Canada's Justin Kripps and Britain's Brad Hall are all in the chase for the other medals.
American Hunter Church's top finish in a World Cup two-man race was 13th, but third in one World Cup four-man event. Let's call his sled a medal hopeful.
In Skeleton, six-time World Champion Martins Dukurs won silvers in 2010 and 2014 as the men's favorite, and he is the favorite again, along with Germans Axel Jungk and Christopheer Grotheer. The lone American entry, Andrew Blaser, had a top World Cup finish of 22nd.
The women's racing will be tight, with Kimberley Bos (NED), Janine Flock (AUT), Elena Nikitina (RUS) and Tina Hermann (GER) all in the mix. Americans Katie Uhlaender and Kelly Curtis has best finishes on the World Cup tour of fifth and ninth, respectively, this season.
● Cross Country Skiing ● The U.S. has won a grand total of two medals in cross country, including a Team Sprint gold by Jessie Diggins and Kikkan Randall in PyeongChang, the first-ever medals by U.S. women.
While Norwegian, Russian and Swedish skiers will win most of the women's medals in Beijing, Diggins is back and has been skiing well, winning two races and two silvers. Randall is retired, but Rosie Brennan has been strong, also winning a World Cup bronze in December. Add in Julia Kern, who teamed with Diggins on a Team Sprint silver in December, and one or two medals are certainly possible.
The men's World Cup has been dominated by Norwegian skiers, mixed in with Russian and Finnish competitors. The top-ranked American entry is J.C. Schoonmaker, currently 35th in the overall World Cup standings (although 14th in Sprint).
● Curling ● The U.S. has the defending men's champion, with John Shuster returning with two of his three teammates from 2018. They are certainly capable of winning, or getting a medal, or being eliminated early. It's that close among the top teams.
Tabitha Peterson's rink, which includes 2018 U.S. team skip Nina Roth, won the 2021 Worlds bronze and is absolutely capable of a medal in Beijing. The favorite is Switzerland, with two-time World Champion skip Silvana Tirinzoni at the helm.
The Mixed Doubles field is wide open; the U.S. team of Victoria Persinger and Christopher Plys is new to this level of competition.
● Figure Skating ● Big expectations for the U.S. in the men's division, in the Team event and in Ice Dance.
Start with three-time World Champion Nathan Chen – still only 22 – who will be facing two-time Olympic champ Yuzuru Hanyu of Japan. A much less experienced Chen had a rough Short Program in 2018, placing 17th, but won the Free Skate over Hanyu to finish fifth overall. American Vincent Zhou was 12th in the Short Program and sixth in the Free Skate to finish sixth. Zhou won a Worlds bronze in 2019, but fell apart on the 2021 Worlds Short Program and did not advance to the Free Skate. He will likely be competing for bronze.
The women's competition is expected to be dominated by Russia, with 15-year-old Kamila Valieva the favorite. The U.S. hasn't won an Olympic medal in this event since Sasha Cohen's silver in 2006 and that streak is not expected to end. Mariah Bell and Karen Chen were 1-2 at the U.S. Championships and will compete, as will as 16-year-old Alysia Liu, the youngest member of the entire U.S. team.
Pairs medals are also expected to be dominated by Russia and China. Alexa Knierim and Brandon Frazier were seventh at the 2021 Worlds and Ashley Cain-Gribble and LeDuc were ninth.
The U.S. has two strong Ice Dance medal possibilities in Madison Chock and Evan Bates and Madison Hubbell and Zachary Donohue, with five Worlds medals between them. They will be fighting France's Gabriella Papdakis and Guillaume Cizeron and Russians Victoria Sinitsina and Nikita Katsalapov for medals.
The Team event is an Olympics-only invention, with Russia and the U.S. the likely contenders for gold, along with Canada and Japan.
● Freestyle Skiing ● The U.S. has a huge team of 32 entries and multiple medal hopes.
The 2021 Worlds silver medalist, Christopher Lillis, is in the men's Aerials field, with Russian Maxim Burov and China's Jiaxu Sun favored. There is little doubt that Canadian superstar Mikael Kingsbury and Japan's Ikuma Horishima are favored in Moguls, with Bradley Wilson – the 2019 Worlds silver winner – a prime U.S. contender. His brother Bryon won Olympic bronze in this event in 2010.
David Wise is the two-time defending Olympic winner in men's Halfpipe, with Alex Ferreira getting the silver in 2018. Both are back for 2022, along with 2019 Worlds gold medalist Aaron Blunck. All three are dangerous and will face off with Canada's Brendan MacKay and Nico Porteous (NZL) for the medals. Those five won 10 of the 12 World Cup medals available this season. Birk Irving of the U.S. was the 2021 Worlds bronze medalist.
In men's Slopestyle, Nick Goepper won bronze in 2014 and silver in 2018, so perhaps his turn for gold in 2022? Alex Hall was one of three winners on the World Cup circuit this season, along with Swiss Andri Ragettli and Norway's Birk Ruud, and Americans Colby Stevenson returns as the 2021 Worlds silver medalist (behind Ragettli).
Big Air is new to the Olympic program for 2022, but only two events were held on the World Cup circuit, both win by Austria's Matej Svancer. Hall won a World Cup silver this season and he and Mac Forehand of the U.S. went 1-2 at last week's Winter X Games in Aspen, Colorado with Svancer fifth. Pun intended: this one is up in the air.
The powers in men's Ski Cross are from Switzerland (Ryan Regez, Alex Fiva), France (Terence Tchiknavorian and Bastien Midol) and Sweden (David Mobaerg) and the U.S. is not expected to medal.
The women's Aerials has been an unpredictable event at the Olympic level, but American Ashley Caldwell – the 2017 World Champion and 2021 silver winner – is clearly in the mix. Australian Laura Peel, twice World Champion, is a nominal favorite over China's Mengtao Xu (four-time Worlds medalist) and defending Olympic champ Hanna Huskova (BLR), a World Cup bronze medalist this season.
Defending Olympic champ Perrine Laffont is ready to go again in women's Moguls, chased closely by Japanese teen Anri Kawamura and Australia's Jakara Anthony. But American Olivia Giaccio, Hannah Soar and Kai Owens are all definite medal possibilities.
American-born Eileen Gu, who now compete for China, is the overwhelming favorite in the women's Aerials, having won all four World Cup events this season, Americans Brita Sigourney – the 2018 bronze medalist – and Hanna Faulhaber are both good medal possibilities, contending with Canada's Rachael Karker and Estonia's Kelly Sildaru.
Gu is also a favorite in the women's Big Air (also a first-time event), along with France's Tess Ledeux, Swiss Sarah Hoefflin and Johanne Killi (NOR). Don't count out American Maggie Voisin. In Slopestyle, Sildaru and Ledeux won the World Cup events held so far this season, with Marin Hamill and Voisin of the U.S. also winning medals, as well as Killi and Gu (the 2021 World Champion). Hoefflin enters as the 2018 gold medalist in the event. If Gu were to win all three, she would become one of the faces of the Games and a major Chinese star, despite living and training in the U.S.; she has been quoted as saying, "When I'm in the U.S., I'm American, but when I'm in China, I'm Chinese."
The women's Ski Cross is all but ceded to Swede Sandra Naeslund, who has won nine of 10 races on the World Cup circuit. Swiss Fanny Smith has won seven medals in 10 races and Canadian Marielle Thompson, the 2013 gold medalist, has won four.
● Ice Hockey ● Given the pull-out of the NHL players, no one really knows what will happen in the men's tournament. Under similar circumstances in 2018, Russia defeated Germany in the final, with Canada third and the U.S. finishing seventh.
The women's tournament is expected to be a Canada vs. U.S. final, as has been the case in five of the six Olympic tournament all-time. Canada won in 2002-06-10-14 and the U.S. won the gold in 1996 and 2018. The two sides appear to be far ahead of Sweden, Finland and the Czech Republic, the other likely medal contenders.
● Luge ● In a sport where timing has to be to thousands-of-a-second to ensure separation between places, anything can happen. In 2018, American Chris Mazdzer won the men's silver in a shocking upset, and he's back to try again.
However, he is hardly favored to make any noise at all. German Johannes Ludwig (five wins) was the best this season, but former World Champion Wolfgang Kindl (AUT: three wins) and Latvia's Kristers Aparjods (two wins) and 2010-14 Olympic winner Felix Loch (GER) are going to challenge. American Jonathan Gustafson was 20th in the World Cup seasonal standings, with Mazdzer 22nd and Tucker West 23rd.
The Doubles appears to be a re-run of 2018, where Germans Tobias Wendl and Tobias Arlt defended their 2014 win over teammates Toni Eggert and Sascha Benecken, who have won four World Championships. Their challengers will be brothers Andris and Juris Sics (LAT) and Thomas Steu and Lorenz Koller (AUT); Mazdzer and Jayson Terdiman finished 16th in the World Cup standings.
Germany's Natalie Geisenberger won the Olympic races in 2014 and 2018 and is coming into form at just the right time. She will be fighting seasonal leaders Julia Taubitz (GER) and Madeleine Egle (AUT). American Summer Britcher was 11th overall this season and could have a "Mazdzer moment" in Beijing.
● Nordic Combined ● The big question here is whether Norwegian superstar Jarl Magnus Riiber, winner of seven of the first eight World Cup events of the season, has recovered from a back injury well enough to compete. If not, Austria's Johannes Lamparter has won three of the last four events and would be the favorite, along with the entire German team, led by Vinzenz Geiger. The U.S. has not won a medal since 2010 in Vancouver and is not expected to contend here; Ben Loomis is the leading American in the World Cup standings at 30th.
● Short Track ● The U.S. won one medal in Short Track in 2018, but John-Henry Krueger – silver winner in the men's 1,000 m – has transferred his allegiance to Hungary.
And the Hungarians are expected to do well, starting with the men's 500 m, with brothers Shaolin Sandor Liu and Shaoang Liu finishing 1-4 in the World Cup standings, sandwiching China's defending Olympic champ Dajing Wu (2nd) and Ziwei Ren (3rd). Brandon Kim was the top American at 20th.
Kreuger, Shaoang Liu and Shaolin Sandor Liu went 5-6-8 in the 1,000 m World Cup, with the top scorers as Pascal Dion (CAN) and Daeheon Hwang (KOR), the 2018 silver winner at 500 m. Brandon Kim was the top American at 13th in the standings, but did not make the U.S. team. China's Ren was the 1,500 m leader, ahead of Russian Semen Elistratov, Jang Kyuk Park (KOR) and 2018 silver winner Sjinkie Knegt (NED). Ryan Pivirotto was the top American at 33rd.
In the women's races, Italy's reigning Olympic champ Arianna Fontana was first or second in all four World Cups, with Natalia Maliszewska (POL), Suzanne Schulting (NED) and Kim Boutin (CAN) winning one race each. They are the favorites, but American Kristen Santos was 10th overall and Maame Biney, injured much of the season, could be a contender.
Santos won a World Cup race at 1,000 m and will be a contender against defending Olympic winner Schulting, who won twice. Korean star Min-jeong Choi also won once and is the defending Olympic 1,500 m champ. Santos was third once and fourth twice at 1,500 m and is again a medal contender. Korea's Yubin Lee won twice and was second once in the four World Cup races; Schulting won the other two races, with Canadian Courtney Sarault winning three medals in four meets.
The Dutch, Koreans and Canadians are favored in the women's relay, but the U.S. could contend for a medal; its last medal was a bronze in 2010.
● Ski Jumping ● No U.S. medal winners since 1924 (!) and none coming this year either.
The men's favorites are German Karl Geiger, Norway's Marius Lindvik, Slovenian Anze Lanisek and Japan's Ryoyu Kobayashi in both men's individual events. The top choices in the women's jumping include Austria's Marita Kramer, followed by German Katharina Althaus, Slovenia's Ursa Bogataj, Norway's Silje Opseth and Japan's Sara Takanashi.
● Snowboard ● Another huge U.S. continent, with 26 members and lots of medal possibilities.
The premiere events for American fans will be the Halfpipe, with Shaun White going for a fourth Olympic gold (also 2006-10-18) and Chloe Kim, the big favorite to defending her 2018 title in the women's division.
White is not the favorite in the men's Halfpipe, as Japan's Ayumu Hirano – twice Olympic silver medalist in 2014-18 – won two of the three World Cup events this season, with Ruka Hirano (JPN) and Jan Scherrer (SUI) winning two medals each. Australia's Scotty James – third in 2018 – won the Winter X Games in Aspen last weekend, beating Hirano.
Kim is the favorite for the women, , but will be challenged by China's Xuetong Cai and Japanese sisters Ruki and Sena Tomita, and Spain's Queralt Castellet. American Maddie Mastro, a past Worlds medal winner, must also be included among the contenders.
In the men's Big Air, Jonas Boesiger (SUI) and Yiming Su (CHN) won the World Cup events, but Norway's Marcus Kleveland and Canadian Max Parrot went 1-2 at the Winter X Games last week and are clear contenders. American Chris Corning, the 2017 Worlds silver medalist, and Red Gerard, the 2018 Olympic Slopestyle winner, are also quite capable of winning, as is Canadian Mark McMorris, the 2021 World Champion.
In Slopestyle, Gerard won in PyeongChang at 17 and is ready to defend his title in Beijing. Corning was the 2019 World Champion and Gerard and Sean Fitzsimons of the U.S. won World Cup events this season. Canada's Sebastien Toutant also won a World Cup and Norway's Stale Sandbech and Mons Roisland won medals, and are the major contenders.
The men's Parallel Giant Slalom saw no American medal winners in any of the seven World Cup races so far. German Stefan Baumeister, Austria's Arvid Auner and Andreas Prommegger and Korea's Sang-ho Lee are the most likely contenders, along with Russian Dmitry Loginov.
The men's SnowCross season has been led by Austrian Alessandro Hammerle and Germany's Martin Noerl, each with two wins, but Canadian Eliot Grondin and 40-year-old American Nick Baumgartner – the senior member of the U.S. team – also won two medals each.
American Jamie Anderson has won the last two Olympic golds in Slopestyle, but at 31, she's also after another medal in Big Air, where she finished second to Anna Gasser (AUT) in PyeongChang. Gasser has two World Cup silvers this season, but the two events were won by Japan's Kokomo Murase and Reira Iwabuchi, clear medal contenders, as is Canada's 2021 World Champion, Laurie Blouin. But the favorite might be New Zealand's Zoi Sadowski-Synnott, who beat Anderson (and everyone else) at the Winter X Games last weekend and won the 2021 Worlds silver.
Sadowski-Synnott also won the Winter X Games Slopestyle event, over Anderson and Blouin. During the World Cup season, Murase, Anderson and Tess Coady (AUS) were winners, and the same cast of characters will be in contention. Anderson has won two straight Olympic titles and Sadowski-Synnott has two straight World Championships golds. This will be great.
The women's Parallel Giant Slalom will feature defending gold medalist Ester Ledecka (CZE), who was favored and won in PyeongChang, but shocked everyone with a gold in the Alpine Super-G. In the seasonal World Cup, Ledecka won once, but Austria's Daniela Ulbing won twice and Sabine Schoeffmann (AUT) and Swiss Julie Zogg won once each. Wild cards: Russia's Sofia Nadryshina and German Ramona Theresia Hofmeister. No U.S. entries.
The women's SnowCross will see the fifth Olympic appearance of American star Lindsey Jacobellis, who won the 2006 Olympic silver and been a contender in 2010-14-18. Now 36, she suddenly showed up on the World Cup podium in the last two events and is eternally dangerous. Czech Eva Samkova won in 2014 and bronze in 2018 and defending champ Michela Moioli (ITA) is back, but the favorite might be Britain's Charlotte Bankes, a three-time World Cup winner this season. Not to be underestimated: France's Chloe Trespeuch, the Sochi bronze medalist.
● Speed Skating ● The U.S. is no. 2 all-time in Olympic medals in this sport with 68, but you wouldn't know it by recent Games. The Americans won a grand total of zero medals in Sochi and one in PyeongChang. But 2022 could be better.
Two of the headliners are Brittany Bowe and Erin Jackson. Jackson won four of the first five World Cup races and is the seasonal leader, but was only third in the U.S. Trials; she got onto the team after Bowe gave up her spot. Jackson is one of the favorites, along with Russians Olga Fatkulina and Angelina Golikova and Japan's Nao Kodaira, the defending Olympic champion.
At 1,000 m, Bowe is a three-time World Champion and won two out of four World Cup races, with Japan's Kodaira and Miho Takagi winning the other two. They've been the class of the World Cup so far. At 1,500 m, Bowe is again a contender, with a first and second in the World Cup so far. Takagi won three of the four races, and Ayano Sato (JPN) is the seasonal leader.
Not much has been heard from Dutch star Irene Wust, the PyeongChang winner at 3,000 m in Sochi and 1,500 m in 2018, but if she is fit, she will be a factor The 3,000 m seasonal leader is clearly Dutch star Irene Schouten, who won all three races she entered. Canada's Isabelle Weidemann was second three times. The women's 5,000 m appears open, with Wust, Schouten and Weidemann all contenders.
Canada's Ivanie Blondin is the seasonal leader in the women's Mass Start, with a win and two seconds, ahead of Francesca Lollobrigida, distantly related to the iconic Italian actress Gina Lollobrigida. Dutch star Schouten, a two-time World Champion, is going to be a contender.
The U.S. won a bronze in the Team Pursuit and should be in the mix again, along with Japan and the Dutch.
The Dutch totally dominated the men's 1,000, 1,500 and 5,000 m in 2018, but the competitive situation appears tougher in 2022. Canada's Laurence Dubreuil won medals in all eight races he contested during the World Cup season, with Japanese and Russians winning most of the rest. American Jordan Stolz has shown promise, but is a long shot for a medal.
Same at 1,000 m, with Stolz a long-shot, but Dutch stars Thomas Krol (two wins) and defending Olympic champ Kjeld Nuis (three medals in three races) appear to be the top contenders, along with Norway's 2018 500 m winner and 1,000 m silver medalist Havard Holmefjord Lorentzen. Also: Hein Otterspeer (NED), with a win and a bronze in his three World Cup races.
American Joey Mantia is the seasonal leader at 1,500 m, finishing 3-2-1-1 in the World Cup races, with China's Zhongyan Ning (CHN) winning one race (and two silvers). Korea's Min-seok Kim won the season opener. Nuis is the defending Olympic gold medalist.
The long-distance races appear fairly open, with Swede Nils van der Poel winning all for World Cup races at 5,000 m and 2018 10,000 m gold medalist Ted-Jan Bloemen (CAN) back again and a three-time medalist. Dutch star Jorrit Bergsma, the 10,000 m winner in 2014, appears ready to contest for medals again. In the Mass Start, Belgium's Bart Swings, silver medalist in 2018, is back again, but Americans Mantia (a three-time World Champion) and Ian Quinn are contenders in a big field.
The U.S. set the world record in the Team Pursuit this season and is the favorite over Norway.
¶
So what does all this mean for Team USA? The American team won 37 medals in Vancouver in 2010, then 28 in Sochi and 23 in PyeongChang.
Looking charitably at the previews above, the U.S. appears headed for about 23 medals this time as well. A couple for Shiffrin, two for the women's bobsledders, three in figure skating and five each in Freestyle and Snowboard and a welcome four in speed skating, plus one each in cross-country and women's ice hockey. Lots of room to improve, but 23 would be a satisfactory outcome for another difficult Games held amidst the continuing Covid pandemic.
Rich Perelman
Editor
You can receive our exclusive TSX Report by e-mail by clicking here. You can also refer a friend by clicking here, and can donate here to keep this site going.
For our 832-event International Sports Calendar for 2022 and beyond, by date and by sport, click here!