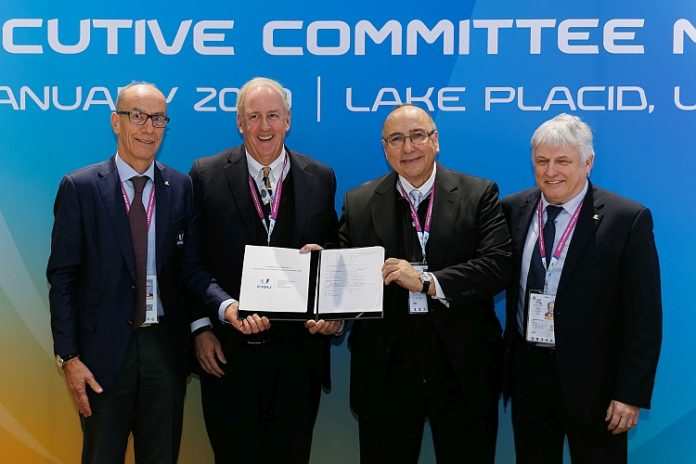 ★ The Sports Examiner: Chronicling the key competitive, economic and political forces shaping elite sport and the Olympic Movement.★
★ Thank you to now 15 donors, who have covered 38% of our technical expenses for the first half of 2023. Please consider a donation. Thank you in advance. ★
★ To get The Sports Examiner by e-mail: sign up here! ★
● Sponsored post: All about the RR Auction on now: An Athens 1896 medal in its original box, 38 Olympic torches and 40 Olympic medals, ending 19 January ●
In a decision that surprised absolutely no one, the International University Sports Federation (FISU) handed the 2029 World University Games to the U.S. bid from North Carolina at an Executive Committee meeting in Lake Placid, New York on the eve of the Winter World University Games that starts Thursday.
Unlike the contested vote held last November that saw the Korean Chungcheong Megacity bid selected by 14-7, the FISU Executive Committee simply "voted today to confirm" the award of the 2029 WUG to North Carolina, which had made it clear that it would not go through another bid process.
Asked after the November vote about the possibility of taking the 2029 Universiade, North Carolina bid chief Hill Carrow explained:
"They're working on that as a possibility, and by they, I mean FISU.
"That wasn't our preferred year, but we told them we absolutely would consider that. That's something that, you know, we know we have what it takes, we would like to demonstrate that and like the opportunity to demonstrate that, [so] that's not off the table at all."
On the table was $25 million which the North Carolina legislature previously approved as start-up funding for an organizing committee for the WUG. That should still be available and after the disappointment of just two months before, Carrow was all smiles this time:
"The award of the 2029 FISU World University Games to our state and country is the culmination of an extensive, five-year effort by more than 1,000 individuals, 13 universities, five cities, five counties, the State of North Carolina, and 53 corporate and organizational sponsors to land this amazing event.
"As an event that features the best collegiate athletes from around the world, it is a natural fit for a state with 130 colleges and universities and more than 350,000 university students. North Carolina's landing these Games is similar to a major corporate relocation as the FISU Games will deliver a local economic impact of over $150 million, but with the added benefits of significant international tourism and worldwide branding exposure for our state and local communities."
The North Carolina bid is impressive. No construction is contemplated and 13 of the area's universities are expected to be involved as venue and/or village hosts, including the University of North Carolina, Duke University and North Carolina State University.
In his November interview, Carrow added:
"Our expense budget was $136 million and we were showing $140 million in revenues, and that didn't count contingencies that were built in, so I believe that if we'd adhere to our budget, we'd come out better than that margin.
"I already came to the table with two private sponsorships that would total probably at least $3.5 million, plus the counties and cities were working on a plan to put in another additional $5 million that would be a combination of cash and in-kind, and then we had $25 million from the state. So we were actually well along the way, and that was already cutting in to the $50 million or so that we had targeted to raise from sponsorships and broadcast rights. We were really good with that."
He can reignite those now. It's only the second time in the U.S. for the World University Games, previously in Buffalo, New York in 1993. With the Winter WUG in Lake Placid, the decade continues as a big one for the United States in international sport:
● 2022: World Athletics Championships in Eugene
● 2023: Winter World University Games in Lake Placid
● 2025: ISU World Figure Skating Championships in Boston
● 2026: FIFA World Cup in Canada-Mexico-USA
● 2028: Games of the XXXIV Olympiad in Los Angeles
● 2029: World University Games in North Carolina
Carrow and U.S.-International University Sports Federation chief Dan Guerrero – the former UCLA athletic director – can also use the 2029 WUG as the launch point for a team-sports-only rules change by FISU that could be a game-changing catalyst for wider interest in the WUG mopving forward.
Instead of the current FISU requirement for national teams in the Universiade, why not allow to allow actual university teams to compete based on the location of the school (and include their foreign-born players)?
You could see Kentucky play Oxford or the University of Melbourne, or UCLA against Shanghai's Fudan University, or Kansas vs. Montreal's McGill University, and so on. The opportunity to involve major university "brands" in the University Games would increase its value immensely – and not only in the U.S. – for sports such as basketball and volleyball.
¶
That FISU took only 59 days to correct its error in not awarding North Carolina the 2029 Games back in November will not be lost on other sports organizations seeking to find quality hosts for their events.
Among these is the International Olympic Committee and its Future Host Commission for the Winter Games, which is suddenly facing a crisis as three of its four potential hosts for 2030 have either imploded … or are about to.
The Barcelona-Pyrenees concept in Spain died when the regions of Aragon and Catalonia could not agree on the division of sports to be held in each. The Canadian bid from Vancouver collapsed when the Province of British Columbia decided not to provide partial funding for the Games, which also ended any possibility of national government funding support.
Now, a mid-December poll by the Hokkaido Shimbun showed that 67% oppose of Sapporo residents oppose the bid for 2030 Winter Games, moving from tepid support in prior surveys to simply being against the bid altogether.
Resistance to a possible Winter Games in Europe for 2030 remains an issue, as a concept floated last week for a tri-national bid in the Mont-Blanc region from France, Italy and Switzerland was immediately torpedoed by the city of Chamonix in France, whose mayor said there was no interest in the plan at all.
That leaves Salt Lake City, which like North Carolina, has no construction requirements at all and would use the venues from the 2002 Winter Games and the University of Utah's student residences as the Olympic Village. Although the U.S. Olympic & Paralympic Committee has been clear that it prefers a 2034 designation to clear domestic marketing space after the 2028 Olympic Games in Los Angeles, that's not the vibe from the Salt Lake City-Utah Committee for the Games, which wants 2030, and is backed by wide public support across the state.
If the marketing issues with Los Angeles can be worked out – and these have been under discussion for a while now – the IOC, despite announcing a delay to naming the 2030 host until 2024, might do well to reverse course and grab Salt Lake City while it can.
The IOC used this reasoning to name Brisbane, Australia as the 2032 host, recognizing the long-term stability this would bring, while more tinkering with reducing the costs of the Games continues. In the Winter Games scenario, naming Salt Lake City now would give the Future Host Commission for the Winter Games more time to figure out its possible permanent-rotation scenario.
And the new USOPC Chair, Gene Sykes, is perfectly positioned to help, as both a brilliant financier at Goldman Sachs and past chief executive of the Los Angeles bid committee for 2024 that was awarded the 2028 Games.
The IOC would be wrong to simply assume that Salt Lake City is a permanent bidder that it can take for granted. What could change its mind? A coming recession is one possibility, although the Salt Lake City bid envisions no public financial support. How about an already-contemplated procedure to allow Russian and Belarusian athletes to compete at Paris in 2024 while the war against Ukraine rages on?
That could sour Utah public opinion against the IOC and a future Games quite quickly. And there are other such scenarios.
The expression in English, "A bird in the hand is worth two in the bush" has been around since at least the 15th Century. The time might be right for the IOC to use it in the 21st.
Rich Perelman
Editor
You can receive our exclusive TSX Report by e-mail by clicking here. You can also refer a friend by clicking here, and can donate here to keep this site going.
For our updated, 929-event International Sports Calendar for 2023 and beyond, by date and by sport, click here!