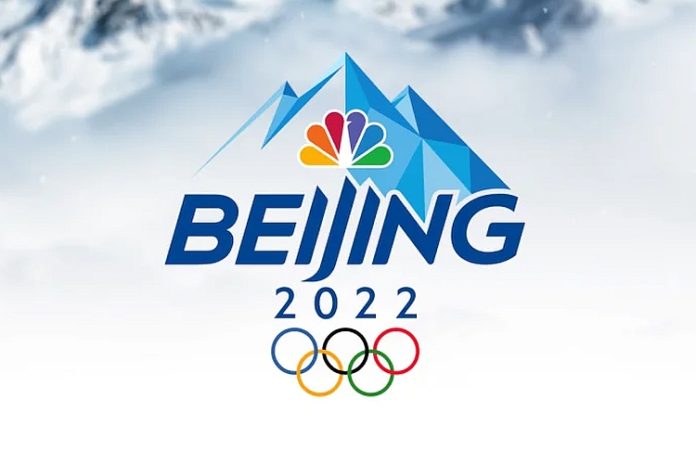 The Tokyo Olympic Games presented a unique challenge for all broadcasters and especially NBC, with so many restrictions imposed due to the coronavirus. But it worked out.
And, despite hopes that the pandemic would pass, it is still plaguing the Olympic Movement – and the world's broadcasters – as they prepare for the Beijing Winter Games in February. But NBC executives say they are ready:
"We have to do everything to keep people safe and sound, but with advancements in technology, that connectivity between what we're doing in Beijing and what we do here in Stamford in our home base, I know we won't skip a beat. And again, we've gone through this."
That's NBC Sports Chair Pete Bevacqua, speaking during a 90-minute presentation previewing the network's Beijing programming plans, along with those for the NFL's Super Bowl, which NBC will also televise on 13 February, during the middle of the Games period.
That safety concern was underscored by a report in USA Today a few hours later, stating that – owing to Covid worries – none of the NBC announce teams for the Games will be present in Beijing, but will work out of the massive NBC Sports broadcast center in Stamford, Connecticut.
Said spokesman Greg Hughes, "We'll still have a large presence on the ground in Beijing and our coverage of everything will be first rate as usual, but our plans are evolving by the day as they are for most media companies covering the Olympics." Plans were to have on-site announcers for alpine skiing, figure skating and snowboard, but almost everyone will now be in Stamford.
Bevacqua explained further:
"Stamford is our home and again, we'll be prepared. We had over 1,500 people here during Tokyo, during the summer Games; we'll have well over 1,000 people here for Beijing, for the Winter Games, and this is the fifth time we'll have used Stamford as part of our Olympic home."
Gary Zenkel, the President of the NBC Olympics division, spoke from Beijing and added:
"We have 250 [people] on the ground [now]. We had about 100 people that phased in October-November of last year and began to build out the technical infrastructure in the Broadcast Center. That put us in a really great position, when more of us came in early January."
Zenkel said of China's "closed-loop management system" – a tightly-controlled bubble environment for everyone working on the Games – "It is restrictive, but it does allow us, of course, to completely access, as we need, the Broadcast Center, the venues, in order to complete our operations."
NBC will have its studio operation going in Beijing, with primary host Mike Tirico there for most of the Games, except for flying back to Los Angeles to host NBC's coverage of the Super Bowl at SoFi Stadium in Inglewood … and then returning to China for the last week of the Games.
Molly Solomon, the President & Executive Producer for NBC's Olympics Production team, emphasized the broad scope of the network's coverage of the Games and the surrounding issues:
● "So once again, for the Beijing Games, we're going to be hanging out with Team USA's family and friends. There's watch parties planned in Park City, in Lake Placid, I know the figure skating community the first weekend is going to all get together, so we just can't wait to be there if they will allow us to.
"I really think it's a great way to connect Team USA to their family back home, particularly in those mixed-zone interviews. It does inject the broadcast with so much emotion, so we look forward to making that connection again this time."
● "We're going to be focused on telling the stories of Team USA and covering the competition, but the world, as we all know, is a really complicated place right now and we understand there are some difficult issues regarding the host nation. So our coverage will provide perspective on China's place in the world and the geo-political context in which these Games are being held. But, the athletes do remain the centerpiece of our coverage."
● "NBC News will be on-site to cover the news in China. As you know, we have a Beijing-based bureau there, and NBCOlympics will cover the issues that impact the Games as needed. … I think it's always important to remember that we have a record of not shying away from this topic, not in 2008, the last time the Games were in China, in Sochi [2014], in PyeongChang [2018] and most recently, we covered Covid and the athlete protests in Tokyo. We plan to have reporters at all Beijing venues, so if something happens, we'll have our own cameras on site."
Both Bevacqua and Solomon spoke about lessons learned from the Tokyo Games broadcast and new options for viewers to watch the Games. Said Bevacqua, "we learned some valuable lessons in Tokyo; we're very proud of all the content, of all the hours of content that we had, but I will tell you, I'd be the first to admit that we realized we had to make it easier for the viewer to navigate that, to digest the amount of Olympic content."
Bevacqua explained that more than 2,800 hours of coverage – the entire Games – will be available on NBCU's subscription streaming service, Peacock (which includes free-to-view options). Solomon added:
"[W]e've really enhanced our customization of the schedule on NBCOlympics.com, so you can find whatever you want: linear, digital or streaming, by going there. And finally, we're going to double down on on-screen executions, so more information for the viewer. Studio segments will have tickers, reminding you what's coming up. So we'll use different graphical executions to ensure information is out there so everybody knows what's coming up and where to find what they want."
NBC released its preliminary broadcast schedule for the Games on Thursday, with coverage on NBC, USA Network and CNBC, plus streaming options.
The business side of the Winter Games is also going well. Dan Lovinger, an 11-year veteran of NBC and the President, of NBCU Ad Sales and Partnerships, said that the Games ad inventory is not sold out, but is at the same level at this point in time as it was in 2018 for the PyeongChang Games. About 100 advertisers have signed up so far, with 40 returnees from 2018. Lovinger also offered a unique viewpoint about the relationship between advertising on NBC for the Games and the competing U.S. athletes:
"What's really great for our advertisers to know is that our athletes need them. Most of our athletes live in one sole purpose: to train for the Games. Their families live to help them train for the Games. They get no financial support from our government, which is fine, and so they rely on the generosity of corporate America, and some individuals, to help them realize these dreams.
"So when our advertisers decide to sit these Games out, it really hurts the athletes, because now they have to go compete with the Chinese and the Russians and athletes from other countries that all receive massive state funding. So it's really a win-win if our advertisers support the athletes, because we've seen in surveys that close to 80% of Americans actually associate the advertisers with the athletes' success."
(Observed: NBC has not announced any direct financial support to U.S. athletes. A chunk of its contracted rights fee paid to the International Olympic Committee is given to the U.S. Olympic & Paralympic Committee, which does pay some athletes directly, and provides funds to U.S. National Governing Bodies, which also provide funds to some elite athletes.)
Lovinger further noted that "Our Los Angeles '28 partners – Salesforce and Delta – will be very active as well. So, Salesforce tools and services will assist our Olympic production team in analyzing the data within our coverage, which will be really cool. Our consumer marketing team is also using Salesforce to interact with millions of Americans throughout the Games, and then Delta is going to be flying our athletes over, they're going to be flying our crews and our production teams over. They've painted a plane and they're really getting into the Olympic spirit by doing that."
Televising an Olympic Games is always complex, difficult and exhausting and Beijing will be no different. NBC's task will extend not only to the end of the Winter Games on 20 February, but also to the 4-13 March Winter Paralympics.
Let's hope the "Olympic Truce" holds through to 20 March as planned (and beyond); the Winter Games or Winter Paralympics will move to a new level of chaos if a Russian incursion into Ukraine begins, complicating life for athletes, coaches, officials and, of course, news media and broadcasters.
Rich Perelman
Editor
You can receive our exclusive TSX Report by e-mail by clicking here. You can also refer a friend by clicking here, and can donate here to keep this site going.
For our 832-event International Sports Calendar for 2022 and beyond, by date and by sport, click here!