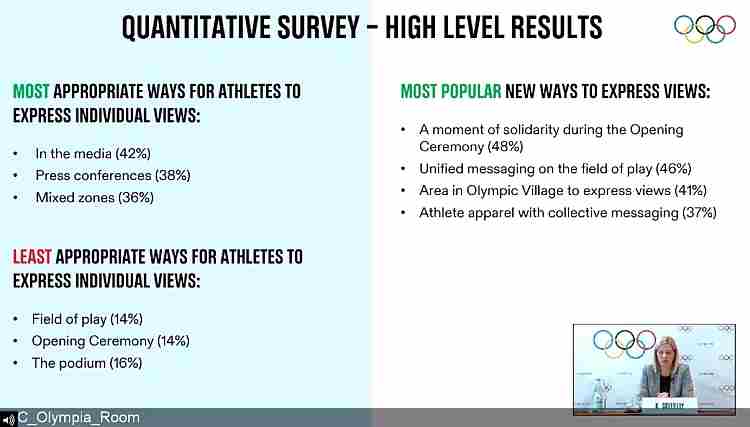 "Essentially, nothing really changes for athletes as far as field-of–play, ceremonies, podiums are concerned; everything remains the same as far as that angle is concerned, is that correct?
"That's correct."
That exchange between Karlos Grohmann of Reuters and International Olympic Committee Athletes' Commission Chair (and seven-time Olympic swimming medalist) Kirsty Coventry (ZIM) sums up the months-long inquiry concerning Rule 50.2 of the Olympic Charter, which states "No kind of demonstration or political, religious or racial propaganda is permitted in any Olympic sites, venues or other areas."
Coventry presented the results of the "consultations" in an online news conference following the IOC Executive Board meeting held today (21st). Among the highlights:
● Following the IOC Executive Board's 10 June 2020 resolution against discrimination, issued in the aftermath of the George Floyd killing in Minneapolis, discussions with athlete representatives and athlete commissions of International Federations and National Olympic Committees (21 in all) began.
● A formal survey was made from 7 December 2020 to 7 January 2021, with the results presented today, along with a detailed file of response data.
● The 19-question quantitative survey – available in 10 languages – was responded to by 3,567 athletes, representing 185 National Olympic Committees and all 41 Olympic sports. About 65% of the respondents were from ages 16-34.
● The results were clear: only 14% were in favor of protests on the field of play (71% against, 11% maybe, 5% not sure); 14% in favor of protests during the Opening Ceremony (69% against, 11% maybe, 5% not sure ), and 16% in favor of protests on the victory stand (67% against, 12% maybe, 5% not sure).
It's worth noting that of the 16 NOCs with 40 or more athletes responding, 14 had more than 50% voting against demonstrations on the podium. This included China (91% against), Russia (84% against), France (77% against), Australia (75% against) and also the U.S. (53% against). Only Canada and South Korea were less than 50% and both were at 49% against.
All 16 had majorities against demonstrations during the Opening Ceremony; South Korea had the lowest total at 57%; the U.S. was at 61% against. Similarly, all 16 were against demonstrations on the field of play, with Canada the lowest at 57% (U.S. was 62% against).
● There was some interest in a "moment of solidarity" during the Opening Ceremony: 48% thought this was important vs. 28% against and 15% in the middle and not sure (9% had no opinion).
● There was a recommendation to significantly change the Olympic Oath:
"We promise to take part in these Olympic Games, respecting and abiding by the rules and in the spirit of fair play, inclusion and equality. Together we stand in solidarity and all commit ourselves to sport without doping, and without cheating, and without any kind form of discrimination. We do this for the glory of sport, honour of our teams, and in respect for the Fundamental Principles of Olympism, and to make the world a better place through sport."
● Athlete apparel with "inclusive messaging" such as "Peace," "Respect," "Solidarity," "Inclusion" and "Equality" should be created and made available to athletes and staff members during the Games.
● As the right to free speech is not absolute, the recommendations included a request for further work:
"As it is the current practice according to the IOC disciplinary procedures and IOC Rule 50 Guidelines, examine breaches of the current paragraph 2 of Rule 50 on a case-by-case basis to ensure due process and the proportionality of sanctions.
"The IOC AC recommends that the Legal Affairs Commission clarify, in due course, the range of sanctions that would be imposed for a breach of the Rule, taking into consideration the respective context of each individual case."
So who is on the Legal Affairs Commission?
The eight-member group starts with Australian IOC member John Coates, already one of the most powerful movers in the Olympic World and also the head of the Coordination Commission for the Tokyo Games this summer. It also includes high-profile members such as American Anita DeFrantz; Spain's Juan Antonio Samaranch, Jr., head of the Beijing 2022 Coordination Commission; Aruba's Nicole Hoevertsz, head of the Los Angeles 2028 Coordination Commission; Denis Oswald (SUI), who headed the IOC's disciplinary group concerning Russian athlete eligibility in the wake of its national doping scandal; Federation Equestre Internationale chief Ingmar de Vos (BEL), Canadian Olympic Committee President Tricia Smith and Finn Emma Terho. Coates, DeFrantz, Hoevertsz, Oswald and Smith are lawyers.
They have the hot potato now; as Coventry noted, "we're asking the Legal Affairs Commission now to come up with proportionate range of different sanctions so that everyone knows, going into a Games, where and what everyone can and cannot do."
But the survey also made clear that demonstrations and protests are of interest to a minority of athletes. An optional question asked what areas of Rule 50 and the IOC Guidelines that they would like clarification on, only 9% responded at all.
The outcome of the Athletes' Commission survey, announced a day after the guilty verdicts were announced against former Minneapolis police officer Derek Chauvin, were hardly a surprise and had been telegraphed well in advance by many athletes and numerous organizations. The recommendations were adopted by the IOC Executive Board, with the details still to be worked out on sanctions.
There is a lot more to chew on from the responses and the in-depth data made available, but in the short term, Rule 50.2 lives on. It will be rewritten, expanded and sanctions will be included, but while the raised fists of Tommie Smith and John Carlos from the 1968 Mexico City Games may be iconic – and even celebrated – their peers of 50 years on believe their actions are bad form.
And therefore, the debate will go on.
Rich Perelman
Editor
You can receive our exclusive TSX Report by e-mail by clicking here. You can also refer a friend by clicking here, and can donate here to keep this site going.
For our 649-event International Sports Calendar for 2021 and beyond, by date and by sport, click here!