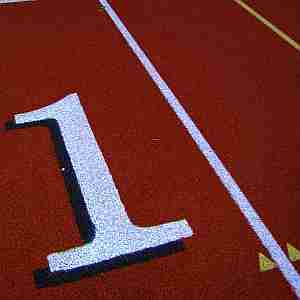 The recent USA Track & Field Championships in Des Moines, Iowa, were not only the selection meet for the United States team for the upcoming IAAF World Championships in Qatar, but also a showroom for the major shoe and apparel companies that sponsor the athletes.
Companies like Nike, adidas, New Balance, Brooks, Asics and many more all had athletes wearing their shoes, clothes and equipment. A quick study showed that in 2019:
(1) If you want to be sponsored, you're better off being a track athlete than a field athlete.
(2) World-class track & field athletes in the U.S. are sponsored by shoe companies and essentially no one else.
One of the keenest observers of the sport, across the youth, high school, collegiate and professional ranks is Rich Benoy, an owner of VS Athletics, a full-line seller of track & field equipment and team gear. He was an outstanding hurdler in his competition days – 13.49 for the 110 m hurdles back in 1995 – and has been a fixture in the broadcast booth at the NCAA Championships and other meets as a statistician for television.
With his background in the sport and in statistics, he went through the entries for the 2019 Nationals and picked out each athlete who declared a sponsorship affiliation. Many of the athletes who are not high schoolers or collegians declare themselves as running for "Nike" or "adidas" or "Hoka" or some other such company.
As he explained: "I looked at all the entries that competed at the U.S. Nationals, and who the signed up to compete for. I am going off of what the athlete or agent signed them up under.
"The one thing I noticed was none of the Track Clubs (TC) are sponsored by any company besides a shoe company. Plus there are very few other companies that sponsor athletes that are not the big shoe companies."
His spreadsheet – based on the entries, so not completely accurate, but an excellent indication – told a lot about track & field in the U.S. today:
(1) Athletes indicating sponsorship of some kind:
● 125 out of 419 men: 30%.
● 139 out of 383 women: 36%
(2) Track athletes vs. field (and multi-event) athletes:
● Men: 112 track athletes in 10 events vs. 13 field athletes in 9 events
● Women: 120 track athletes in 10 events vs. 19 field athletes in 9 events
Note that the majority of entries – 70% of men and 64% of women – did not declare for a company, and many of these were preps or collegians. There are more athletes who are getting some support from these companies who did not indicate that, but it's easy to see the imbalance here.
All of the flat running events had good sponsorship representation: 47% of the entries for men and 53% for women. The hurdles had less: 25% sponsorship for men and 32% for women, but those are much better figures than 8% of men's field eventers or 13% of women field-event entries (including the decathlon and heptathlon).
To paraphrase the infamous maxim espoused by Jones Ramsey, the long-ago sports information director at the University of Texas: "The only ones who do worse than track are field athletes."
In terms of the companies themselves, the numbers will come as no surprise:
(3) Sponsorship of men's athletes by company (125):
● 66 ~ Nike
● 25 ~ adidas
● 13 ~ Hoka
● 9 ~ Brooks
● 4 ~ Saucony
● 2 ~ Asics, New Balance and Puma
● 1 ~ Reebok and Under Armour
(4) Sponsorship of women's athletes by company (139):
● 58 ~ Nike
● 28 ~ adidas
● 19 ~ New Balance
● 17 ~ Hoka
● 7 ~ Brooks
● 5 ~ Asics
● 2 ~ Saucony
● 1 ~ Puma, Reebok and Under Armour
Add them together and you get 124 by Nike (47% of the total), 53 for adidas (20%, 30 for Hoka (11%), 21 for New Balance, 16 for Brooks, 7 for Asics, 6 for Saucony and seven for others.
Noted Benoy, "The lack of other sponsors is very concerning. I go back to my days of competing, and we had other companies involved."
There are plenty of people who have plenty of bones to pick with all of these companies, especially Nike, given its size and prominence. But from the perspective of Olympic sports, at least these companies are involved. Yes, their products are directly related to this sport, but that's better than not having any athlete sponsorship at all.
USA Track & Field lists six Official Sponsors, including Nike, Toyota, Garden of Life vitamins, The Hershey Company, Next College Student Athlete (a service to match athletes and colleges) and Nationwide financial services and insurance. Beyond Nike, Toyota announced its 2020 Team Toyota, which included nine Olympic-sport athletes with one track & field member: 400 m star Michael Norman. It doesn't appear the other four are involved with athlete sponsorship in track & field at all.
Benoy's research confirms the anxiety of world-class track & field athletes in trying to achieve greatness in their sport while finding little support away from the track (and almost none on the infield).
Should something be done? Sure, but who will do it? There are no obvious candidates on the horizon.
But it does confirm that even in track & field – among the best funded of the Olympic sports in the U.S. – it's a hard road to make ends meet on the way to Tokyo … or Paris in 2024. If nothing else, these athletes deserve our appreciation.
My appreciation to Benoy for compiling the statistics and sharing them.
Rich Perelman
Editor