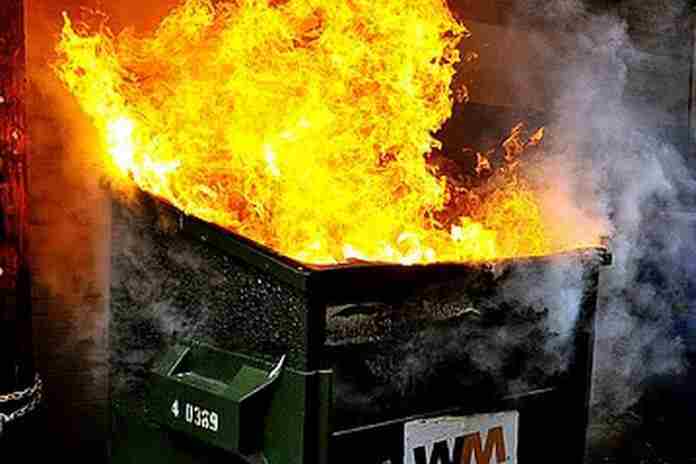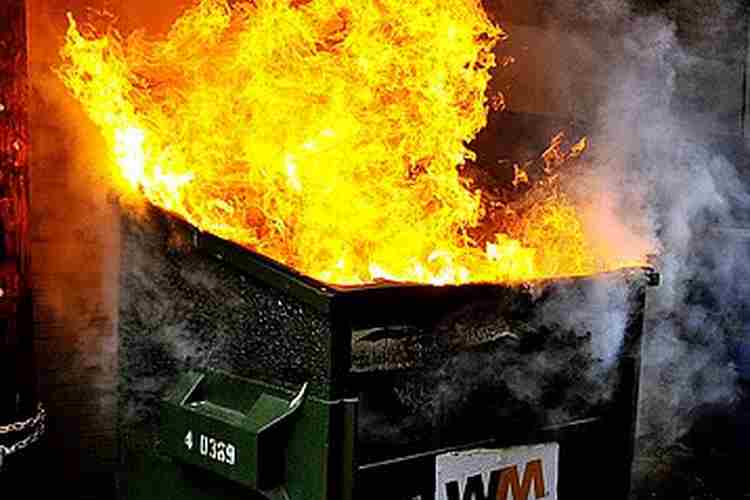 (★ Friends: Your 65 generous donations have paid our semi-annual server and support costs, and started to help with December's bill. If you would like to join, please donate here. Your inspiring support is the reason this site continues. ★)
The war of words between the United States and the World Anti-Doping Agency is heating up and the ultimate losers could be American athletes. And it's only one of two fires which are burning out of control.
Reuters posted an explosive story last Thursday (3rd), in which Witold Banka (POL), the new WADA President, noted that a recommendation by the U.S. Office of National Drug Control Policy that Congress allow it to withhold part or all of the U.S.'s annual $2.7 million contribution to the annual budget if the U.S. doesn't get a "proportionate voice in WADA decision-making" is the first step on the road to ruin:
"We have been approached by a number of governments of the world that were shocked by the threats from the U.S. government supported by USADA (United States Anti-Doping Agency).
"These governments want us to consider an amendment to the compliance standard meaning that non-payment by a government of its WADA contribution could lead directly to that country's NADO (National Anti-Doping Organisation) being declared non-compliant with the World Anti-Doping Code.
"Inevitably this could have serious repercussions for athletes from that country including their participation in major international sporting events."
A country's athletes cannot compete at the Olympic Games unless their national anti-doping agency is in compliant status with WADA. The chief executive of the Institute of National Anti-Doping Organizations (iNADO), Jorge Leyva (MEX) added:
"It would be very bad.
"If the U.S. were to pull its share of the funding to WADA then the consequences for USADA – they quite simply would be outside the system and it would be a non-compliance issue working with the Olympic Games and things like that.
"That would simply be a catastrophe for American athletes and the anti-doping system.
"When declared non-compliant testing gaps are definitely created and then it becomes an arduous logistical challenge to close them."
The 17 June 2020 report by the U.S. ONDCP criticized the pace of reforms within WADA just months after Britain's Craig Reedie had left office and Banka's term had begun. But the key recommendation was:
"Moreover, ONDCP recommends that Congress provide ONDCP with discretion in paying annual WADA membership dues. As noted above, the United States is the single largest contributor nation to WADA, with an annual dues bill of nearly $3 million. The United States Government has a duty to ensure that American taxpayer dollars are spent effectively for the purpose to which they are appropriated. The United States government also has a responsibility to ensure that American interests are adequately represented in institutions funded by U.S. taxpayers. American taxpayers should receive a tangible return on their investment in WADA in the form of clean sport, fair play, effective administration of the world anti-doping system and a proportionate voice in WADA decision-making."
WADA shot back with a detailed reply, significantly challenging the ONDCP report and pointing out:
● The funding formula relative to government contributions to WADA was created in 2002 through the "Cape Town Declaration" which included: "the following allocations to be paid by each region: Africa: 0.50% Americas: 29.00% Asia: 20.46% Europe: 47.50% Oceania: 2.54%" and:
"As for the Americas funding formula, in 2008, it was developed by the 42 governments of North America, Central America, South America and the Caribbean. The United States led the development of the regional funding formula, which was agreed to unanimously within the region, and has been adhered to by all governments in the Americas. As stated in the Americas political document, signed in San Juan, Puerto Rico in 2008, the U.S. 'agrees and commits to paying 50% of the America's region's 29% of WADA dues.'"
● With regard to not having a U.S. representative on the WADA Executive Committee:
"[I]t is important to mention that, in February 2020, nations of the Americas met in Ecuador for their annual inter-governmental meeting to discuss mutual anti-doping interests; including, the important topic of representation on WADA's Board and ExCo for the 2-year period following the meeting. To our knowledge, the U.S. government did not attend that meeting to seek a seat on the WADA ExCo." (Emphasis added)
and
"Unlike previous years, for 2020, the U.S. government did not submit any nominations for U.S. members or Chairs to any Standing Committees, including the Athlete Committee. Two nominations were received from US sports bodies, of which one (former track & field and bobsled star Lauryn Williams) was appointed to the Finance and Administration Standing Committee."
The U.S. contributed a total of $2.61 million in 2019; Canada actually paid the most at $2.86 million, followed by Japan ($1.70 million) and China ($1.63 million). The big donor is, of course, the International Olympic Committee, which pays half of WADA's annual budget, about $18.7 million for 2020.
WADA's position that the U.S. could be declared non-compliant via a rule change was dismissed in the article by U.S. Anti-Doping head Travis Tygart, a longtime WADA critic. Actually, the procedure for adding the regulation Banka noted isn't that difficult. According to the World Anti-Doping Code, sec. 23.7.3 shows:
"Amendments to the Code shall, after appropriate consultation, be approved by a two-thirds majority of the WADA Foundation Board including a majority of both the public sector and Olympic Movement members casting votes. Amendments shall, unless provided otherwise, go into effect three months after such approval."
There are 38 members on the WADA Foundation Board: 19 from the public sector and 19 from sport. If such a rule change were to be undertaken, it would have to be started quite soon, but it is certainly possible. The U.S. has a seat on the WADA Foundation Board (ONDCP Director James Carroll himself!), but that would vanish if the U.S. does not pay its agreed-upon dues.
That's one.
The other fire, gaining size and strength, is S. 2330, which recently passed the U.S. Senate by unanimous consent and is now starting its path through the U.S. House of Representatives. This bill includes sec. 220552, which would allow:
"(a) Dissolution Of Board Of Directors Of Corporation.—Effective on the date of enactment of a joint resolution [of the Congress] described in section 220551(2)(A) with respect to the board of directors of the [U.S. Olympic & Paralympic Committee], such board of directors shall be dissolved.
"(b) Termination Of Recognition Of National Governing Body.—Effective on the date of enactment of a joint resolution described in section 220551(2)(B) with respect to a national governing body, the recognition of the applicable amateur sports organization as a national governing body shall cease to have force or effect."
Both the IOC and the USOPC have cautioned against this clause; USOPC chief executive Sarah Hirshland sent a letter last November that included:
"[T]he International Olympic Committee has made clear that Congress assuming the power to dissolve the USOPC board would violate the Olympic Charter and endanger our recognition by the IOC as a National Olympic Committee."
Some observers believe the House will also pass this legislation by unanimous consent, which would send it to President Donald Trump for signature. There are also some urging more caution, especially with this clause, which would go into effect one year after the enactment of the bill. If approved, that would likely mean the end of 2021, after Tokyo but before the 2022 Olympic Winter Games in China.
Think a country as big as the U.S. is immune from sanctions? Think again.
Russia, of course, is on the verge of a four-year WADA suspension, pending its hearing before the Court of Arbitration for Sport in November. As for the IOC enforcing the Olympic Charter, don't forget that India (population: 1.27 billion at the time) in December 2012, and was not cleared to return until February 2014 during the Winter Games in Sochi. In that case: "The IOC suspended India in December 2012 for holding elections in defiance of the Olympic charter and appointing officials facing corruption charges related to the 2010 Commonwealth Games."
Looking at both of these situations, it's almost impossible to imagine the U.S. not being allowed to send a full team to Tokyo in 2021, if for no other reason than the U.S. was compliant – on both counts – when the Games would have taken place in 2020 but for the coronavirus pandemic.
But the 2022 Beijing Winter Games is a different story. As noted in a 2019 Lane One, "the long-term implications of penalizing – and humiliating – the United States would send a thunderous signal to EVERY National Olympic Committee and International Federation that the IOC is gravely serious about its non-interference rules, which will quickly be far more respected. The impact of such an action could last 50 years."
Such an action would require a renegotiation of the IOC contract with NBC Universal for U.S. television rights for the 2022 Winter Games. But with $2.51 billion in reserves, and as long as all of this is worked out in advance of the 2024 Paris Games, the IOC can handle it.
Is this scenario likely? No. Possible? Yes.
The clock is ticking and these fires are getting hotter. As usual, it's athletes who would get burned.
Anyone in D.C. got a hose?
Rich Perelman
Editor
You can receive our exclusive TSX Report by e-mail by clicking here. You can also refer a friend by clicking here.