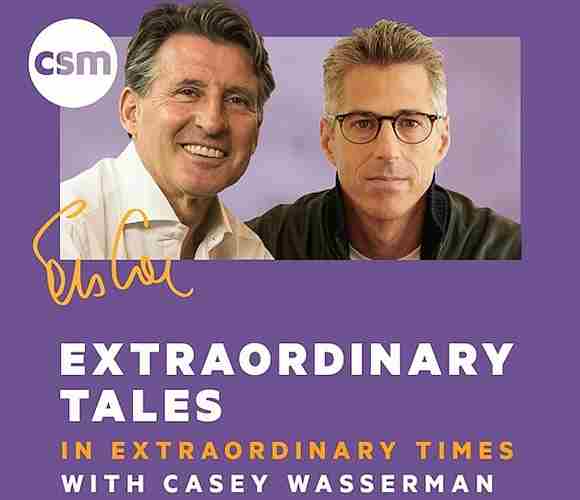 (★ Friends: Wow! Many thanks for the 21 donations received toward the new bill for server and support costs; with the overage from the prior request, we're at 61% of our goal. This isn't the easiest time to ask, but if you would like to help, please donate here. Your enthusiasm is the reason this site continues. ★)
Friends tell friends interesting things, even when speaking on a podcast for public consumption and that's where Los Angeles 2028 Chair Casey Wasserman told his friend, the British double Olympic gold medalist and now World Athletics President Sebastian Coe, that he envisions running for Governor of California after his efforts on the 2028 Olympic Games are completed.
"I really take my responsibility with the Games incredibly seriously. I believe I have a great desire to give back in many ways. I'm fortunate that I would have the means to not have a job if I wanted to do that, and so I view that post-2028, whether it's running for office or giving back in some way to society politically beyond just running a business or helping to pull together the Olympic Games, is something I have a real desire to do. …
"If I were leaning today, it probably would be governor because I think the state of California is a really powerful economic and political and societal influence in the world given the size of its economy and the caliber of its resources and the quantity of its people and the opportunity to make a positive impact at that scale really energizes me and gets me excited, and whether I could ever be successful at getting elected or anything like that is something I would definitely intend to make a part of my future."
His comments came during one of Coe's "Extraordinary Tales in Extraordinary Times" podcasts, this one posted last Wednesday (16th) and available here.
Over 50 minutes, the two friends discussed family, Wasserman's relationship with his legendary grandfather, MCA Universal's Lew Wasserman, how the pandemic has impacted his consulting, marketing and representation business, and, of course, the 2028 Olympic Games.
Wasserman, 46, said that it was Coe who made the difference when he accepted the post as the head of the 2024 Olympic bid effort for Los Angeles. "There is no chance I would have taken this job if it wasn't for the time we spent at your office in London, and I remember that conversation like it was yesterday." Coe promised to help Wasserman, to call and help keep him on track, just as Coe had received his own coaching assistance on the road to the 2012 London Games.
"Well, you know who the person who did that for me was?" replied Coe. "Peter Ueberroth. Peter rang me after we just got across the line in London, absolutely unannounced. He came through on a Sunday afternoon and he said – because I knew him from L.A. ['84] and, obviously, L.A. were my Games – and he said, 'Look, there aren't that many of us around, that have done this job. It's alone, it can be arctic lonely sometimes and I'm going to ring every few Sundays and you're going to tell me you don't need my advice and I'm going to tell you that's fine,' and it was fantastic."
Coe asked about how L.A. is positioned to host the Games and its perceived appeal. Said Wasserman:
"The way I described what our delivery program and sustainability is, you know, a lot of Olympic bid cities and ultimately host cities say like, 'most of our venues are built and then they, as you know, there's this 'comma' and a 'but,' we have to build these few venues, which of course are the three most expensive things you have to build, whether it's an [International Broadcast Center] or a Village or a stadium. And ours doesn't have that 'but' because of Los Angeles, and it's not that we have the Coliseum or the new NFL stadium – the SoFi Stadium – or the Staples Center.
"Our secret sauce in Los Angeles, ironically, is USC and UCLA, because no city on earth has two universities at that scale with that level of athletic programs that are in the city center, 10 miles from each other. It literally doesn't exist [anywhere else] on earth."
On how that its in-place infrastructure affects the organizing effort:
"The way I paint the picture is, 'In Paris today they woke up, there is a group of people thinking of really innovative, sustainability, environmental, technology, all the things you would want to do if you are going to host an Olympic Games. They are all great ideas, we're all thinking about some version of the same, and then there is another part of that office – and you know this well, because yours was a different kind of project – that looked around and said, 'Wow, we haven't broke ground on our Olympic Village and we have to host 17,500 residents in less than four years from today, and we haven't broke ground yet.' And so all those good ideas, all those innovative ideas, things around sustainability, technology, innovation, delivery ideas, they go out the window because it's all hands on deck to make sure that you have an Olympic Village that's ready to open.
"And in L.A., if we were in that office, I would tell you we have a group of people thinking about a lot of those same ideas. And then the fortunate thing for us is we turn around and look outside our window and we look at UCLA, and UCLA houses 20,000 students today in dorms that are nicer than anything you could build and that means we get to turn around and focus on those ideas and so, sustainability, innovation in terms of delivery, how you even manage an Olympic Games.
"I mean, we – ironically – had a call this morning with the IOC and the Chair of our [IOC Coordination Commission, Nicole Hoevertsz (ARU)] and you know, this whole delivery program of 'well, we're in the United States, so why shouldn't we just partner with the NBA and have them run the basketball tournament, and why shouldn't we partner with, you know, Ironman and let them run the triathlon, you know, professional sports organizations who do this for a living as opposed to us trying to re-create the wheel, and so from things like that to what it means to deliver sustainable Games when you don't have to build facilities and you can focus on that, and then obviously the technological innovation that is evolving and so, we're in that fine line between how much do we do early because we have the time and how much do we wait to the end because things are going to change so much, but we are keenly focused on doing something special."
Wasserman is echoing the revolutionary 1984 Games, where Ueberroth's Los Angeles Olympic Organizing Committee partnered with Santa Anita Park for the equestrian events and the Los Angeles Dodgers for the demonstration baseball tournament.
Then there is the economic power that L.A. – and the U.S. – brings to the party:
"And, then, you know, look, this is a powerful commercial market. And I know people get sensitive about the U.S. touting its commercial appeal but we thought it was important [to note in the bid presentation]. I think it's ironic because our university system is built on Olympic sports, it's a powerful platform to train American Olympians and by the way, in Rio we trained 60 Olympians for other countries. It's a unique thing for a country to train athletes to compete against your athletes. And yet, the professional manifestation of all those sports is under-developed. …
"So we thought it was important to make federations think about that without being, sort of, the overly commercial, obnoxious Americans that we can be, or are accused of being."
Coe also asked about the 11-year time frame between selection in 2017 and 2028. Wasserman noted:
"[We're] making sure we take advantage of that time, because as you know better than I do, it's the one thing you can't buy more of is time and the one thing I guarantee our people is that in the spring of 2028, I'm sure we will be sitting around some table somewhere in the office saying 'I wish we had a couple more months,' even though we will have had 11 years, which no one has ever had before.
"And so there is that, and the flip side is, because of the infrastructure we have in Los Angeles to deliver the Games, unlike most Games where much of the risk sits on the cost side, our risk sits on the ability to drive the revenue. And so what we have really been focused on is being an organization which is paying attention to a few things: making sure the foundation is solid for us to go from 80 employees to ultimately thousands, with tens of thousands of volunteers, making sure we are aggressive in our commercial program, and frankly, learning how – as I am sure you look back and think about some of the best things you did was what you said no to – is saying no to a lot of things. And really just trying to keep our head down and keep focused."
Wasserman and Coe have both come out in favor of changes to the Olympic Charter Rule 50 concerning protests, with Wasserman explaining:
"In the end, athletes are role models. People do look up to athletes, they do have a great amount of respect for their perspectives and I think athletes, given the world we live in, understand the power of their voices. And they are meaningful and they are influential, and they do, in many ways, define the culture we all live in or think about living in. …
"The power of athletes, the power of sport, to shift that perspective, to shift the dialogue and to move us forward in a way that we absolutely must, I think it's incredible and it's really wonderful to see athletes and organizations around the world understand their role."
And what about the long-term impact of the coronavirus? Said Wasserman:
"I think the pressure to be in the office, to show that you're present and valuable will probably be diminished. I think the days of flying to New York for an hour meeting are probably over. I think the days … to drive to downtown L.A. for 45 minutes for an hour meeting is crazy on a whole host of levels that I never would have considered before. And having said that, I think the things that bring people together, at scale, are more important. Conferences, events, things that are valuable, where if you're not going to go to New York for a day and see a couple people, that coming to your Congress for the IAAF is more important because you'll probably spend more time and be more present at a thing like that where everyone is in one place. And so, there's going to be a new normal, but what we are in now is not the new normal and as you know better than I do, the pendulum always swings too far in both directions and you usually ends up in the middle."
Wasserman is in the middle of the future of the Olympic Movement, but recognizes the challenges of being in charge of a Games which so many expect to be so special. If he succeeds, he may in the middle of a political campaign as soon as 2030.
Rich Perelman
Editor
You can receive our exclusive TSX Report by e-mail by clicking here. You can also refer a friend by clicking here, and can donate here to keep this site going.
For our 526-event International Sports Calendar from October 2020 to June 2021, by date and by sport, click here!