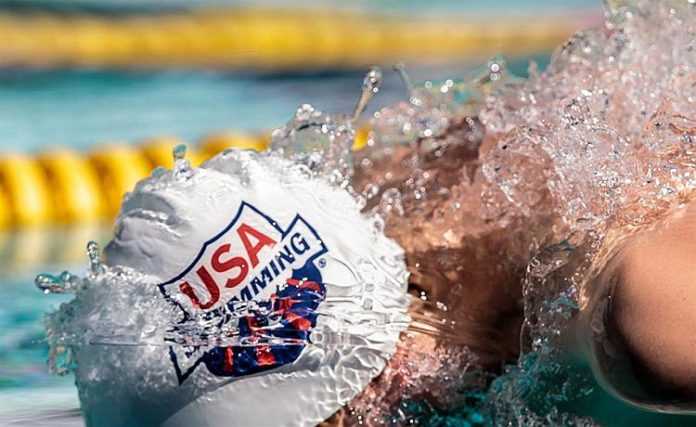 It's hard to imagine much concern at USA Swimming over the performance of the world's no. 1 swim team, as the U.S. has been for decades, and showed once again at the Pan-Pacific Championships earlier this year.
But there is.
What is there to worry about? In an off year for the U.S., with no World Championships or Olympic Games, its top international competition was the Pan-Pacs, where the Americans won 45 medals (20-14-11) to 29 for Australia (8-13-8) and 23 for Japan (6-7-10).
But within the USA Swimming family, the view is it could have gone better, and this was discussed openly at the end of last month at a question-and-answer session with the USA Swimming leadership team during the U.S. Aquatics Sports Convention in Jacksonville, Florida.
"It was a great learning experience; the athletes performed wonderfully," said Lindsay Mintenko, the Managing Director of the USA Swimming National Team.
"They won 45 medals, but should do more, and that's what we've learned from that, that there was an opportunity for us to win more medals. And what I appreciated from the athlete's perspective was how hard the conditions were.
"You know, we showed up. We really didn't know what to expect. The conditions were hard. There were situations that were not anticipated and the athletes pulled through. And they swam faster and they got better every time they got into the water and every single session.
"When we came back from that competition, we had a meeting with the Steering Committee and they have already decided to implement some changes as we go forward to 2019 and 2020 as well. So those plans are in place, to help our athletes perform better as we get back to Asia in 2019 and when we go back in 2020, and then again in 2021."
Wait, hold on. The U.S. dominated the competition, won 20 of the 37 events (including the two Open Water events) and things were bad?
Yes, and it was no secret. Swimming World Magazine reviewed the situation at length after the Pan-Pacs and noted comments from superstar Katie Ledecky, who won the women's 400 m Freestyle in the no. 6 time in history, but that time wasn't even a season's best, let alone a peak performance in the U.S.'s biggest meet of 2018:
Ledecky explained that even though she didn't swim a season-best time, she was pleased, especially given "the conditions that we're swimming under." She was not referring to the hot and humid weather that has gripped Tokyo all week.
"It's been a pretty rough week, just competing in a different time zone very far from the U.S., 16-hour time difference," Ledecky said. "It's been a lot harder than any of us could have anticipated, knowing that we just got here a couple days ago."
Swimming World's David Rieder added that "In what has been a below-par performance for Team USA this week, jet lag has been an issue. Swimmers and team officials have admitted that. Undoubtedly, some are affected more than others. Evening swims likely suffer more than morning swims — remember, 7 p.m. Tokyo time is 3 a.m. California time, while 10 a.m. Tokyo time is a more reasonable 6 p.m. California time."
What was missing is a multi-day training camp in the same time zone as the competition, with pre-arranged meals, pool and weight training and a routine which mimics what the athletes are used to at home … but in a country halfway around the world.
For the Pan-Pacs, it's not that important. But for the 2019 World Championships in Korea (Gwangju), the 2020 Olympic Games in Tokyo and the 2021 Worlds, also in Japan (Fukuoka), it's crucial.
And Mintenko wasn't through. She pointed out that in the Butterfly events at last year's Worlds and World Juniors, the U.S. had six finalists out of a possible 16 (two per event for the eight Olympic events between the two meets), while "in breaststroke events, we had 16 and in the mid-distance events, we had 11, so we were just showing that we need to put a little emphasis on butterfly."
And then there are the relays. "We're very fortunate in universities that our athletes get to swim a lot of relays, but when you become a professional athlete, you don't get to do that very much. So we've definitely seen on the international stage that our relay starts are the worst, and so we're working on trying to improve on those as we get ready for the World Championships."
Mintenko isn't some bureaucrat, but a three-time Olympic relay medalist (2-1-0) – as Lindsay Benko – in 2000 and 2004. Sure, the U.S. is the gold standard in swimming, but it won't be without attention to these details. As the legendary UCLA basketball coach, John Wooden, repeatedly stressed, "Failing to prepare is preparing to fail."
To be great at the Olympic level is to be at the razor's edge in fitness and preparation. It's reassuring to see that in swimming, the U.S. governing body is taking nothing for granted, and even better, saying so in a public forum.
Rich Perelman
Editor