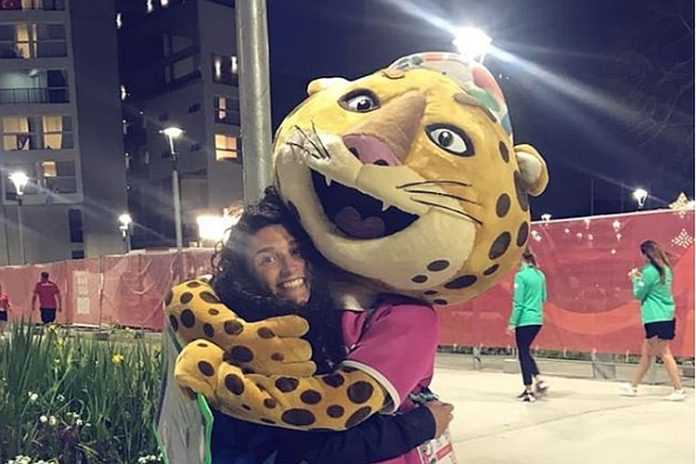 The third Youth Olympic Games closed in Buenos Aires (ARG) on Thursday evening and the nearly 4,000 athletes will now head back to their own countries with a lot of stories, experiences and pins.
The event was a clear success on the ground for the organizers and the National Olympic Committee of Argentina, both headed by Gerardo Werthein, and for the International Olympic Committee.
IOC President Thomas Bach and Werthein gave a joint news conference on Thursday morning, prior to the end of the competitions and the Closing Ceremony. While Bach was introduced to give a few comments, he went on for more than 15 minutes, explaining why the YOG was such a success from the IOC's view. Some highlights:
"I can only say congratulations to the Portenos and to the people of Argentina for the really fantastic and superb Youth Olympic Games, Buenos Aires 2018.
"These were truly Youth Olympic Games of a new era. These Youth Olympic Games were more urban. There were more females and there was more inclusive than at any edition of an Olympic Games before, not only Youth Games.
"These Youth Games were Youth Games of on and off the field. We have seen so many young spectators, young families enjoying sport, enjoying the initiation programs and enjoying and creating at the same time this great atmosphere every day of the competitions.
"These Youth Olympic Games were extremely innovative, from the beginning to the end, beginning with the Opening Ceremony in the center of the city, and sharing this Opening Ceremony with the Portenos who showed up in hundreds of thousands for the young athletes and these Youth Olympic Games.
"And it is ending with full stadia. Today, I hope we can reach the one million spectators, and we are already very close … 974 [,000] now, I think we can say we are there, and this is another Olympic record there, being established by these Youth Olympic Games.
"The park concept, making the Games more urban; this park concept was a massive success, because it realized what it was meant to be: bringing the sport to the people. Sport nowadays in competition with so many other options for leisure activities of the population that we cannot only go to the stadia any more and making the people coming to us, traveling, buying tickets, looking for parking lots and whatever … they may have some better options from their point of view, so we have to go where they are and they have to pick them up where they are and in this way bringing them to sport."
Bach's opening remarks above underlined the themes he had been driving home for months about not only the YOG, but the future of the Olympic Games and Winter Games. His formula for the future – a political as well as a sports future – includes gender equity in participation, full stadiums, displays to get children interested in the sports that they see in the Games and events placed in public locations where they will become part of the fabric of everyday life. Expect to see these points hammered home again and again, especially for Paris in 2024.
He also was effusive in his praise for the organizing effort and the volunteer staff, comments that will resonate favorably in Argentina for many years to come:
"I think I do not need to speak a lot about the superbly-organized and run facilities at the venues. You have experienced them yourself. But what I definitely need to mention are the volunteers. They were great and wonderful ambassadors of Argentina and the Olympic values. Seeing these guys with their smiles, even in the heat and even being under pressure from the many spectators waiting to get in – who were by the way, extremely disciplined – you could get a feeling therefore, for the dedication, the commitment of these volunteers and showing in these circumstances so much friendliness and hospitality, and also pride of being part of these Youth Olympic Games. This was really a great and very emotional experience. I think there, all the Argentinians can be proud of these volunteers and how they represented them in these Games.
"So, all together, we have seen the best of the Olympic spirit here at these Youth Olympic Games Buenos Aires 2018, with a truly amazing atmosphere at every venue, starting from the Olympic Village to the sporting venues. So I would like to say that the stars of these Youth Olympic Games are the Argentinians. They have really made all this possible, what you [can] organize, coming from the heart. This commitment to the Games was really very impressive and touching."
Bach had his talking points ready and spoke about the athlete experience, the legacies of the Games and the media exposure on the Olympic Channel site and individual national broadcasters. But he came back again and again to what happened on the ground in Buenos Aires. And his comments are a pathfinder for success in the organization of an Olympic-type event as far as Bach is concerned:
"All this was only possible because of a great partnership of all those concerned with the organization and this, in particular here in Argentina is the municipality, with their Jefe del Gobiano de la Cuidad de Buenos Aires, our friend Horacio Rodriguez Larreta at the top and the NOC and the organizing committee with [chair] Gerardo Werthein and Leandro Larrosa and all their team, who were working extremely close together and were helping out each other there all the time when a problem arose.
"I must say on the long run, I have never seen an organization which worked over all these five years so seamlessly and were you could always see that the vision which was created for this Youth Olympic Games took shape and became reality, step-by-step and was finally fully implemented and was made a reality in every detail.
"So there I would like to thank you, Gerardo, again and congratulate you for a really outstanding job. I don't know that in my poor English, I can find the right word; this morning, I learned 'superb' in English, would be a great adjective, so I hope this is right. For all the superlatives there we would like to express there on this occasion."
Bach was in such a good mood that he even had a few words for the media present, to whom he apologized, saying "I'm sorry for you that it may be a little bit boring because usually you don't look so much for good news and I have only to tell you good news today, but I hope that for once you accept this because I am sure you also, in your experience, you have the same feelings and you share this judgement about really a great, great Youth Olympic Games. So thank you very much so far."
Bach's comments are important because they are instructive. The cost of the first Youth Olympic Games in 2010 was about $289 million U.S., after then-IOC president Jacques Rogge originally thought the YOG in concept would cost about $35 million to operate. The talk in Buenos Aires is that the budget – originally projected at $104.3 million – ballooned as high as $200 million, but the actual cost was around $140 million. So the costs were less.
The organizing committee and the National Olympic Committee – Werthein is the head of both – not only worked well together, but very well with the Argentine government on the local, regional and national level. After the well-remembered problems in Atlanta in 1996, this is still a critical point for the IOC.
This edition of the Youth Olympic Games also pointed out some enduring truths about the Olympic Games and the Olympic Movement:
• There's still plenty of magic in the Olympic Rings. People flocked to the Opening Ceremony and to the venues – admittedly for free – to see teenagers compete in a junior competition that had Olympic trappings.
• For a city or region, hosting an event like the Youth Olympic Games is aspirational and inspirational. This YOG had about 4,000 athletes and the chatter is about the next event to bid on. Indonesia pulled off a successful Asian Games in August, with 11,720 athletes, and almost immediately sent Bach a letter asking to bid for the 2032 Olympic Games.
With all of its challenges, these are good developments for the IOC and demonstrate the enduring appeal of the Games and the possibilities for continued success. And Bach, a fencer in his day, is quickly picking up not just his proficiency in English, but its use as a diplomatic weapon.
Rich Perelman
Editor