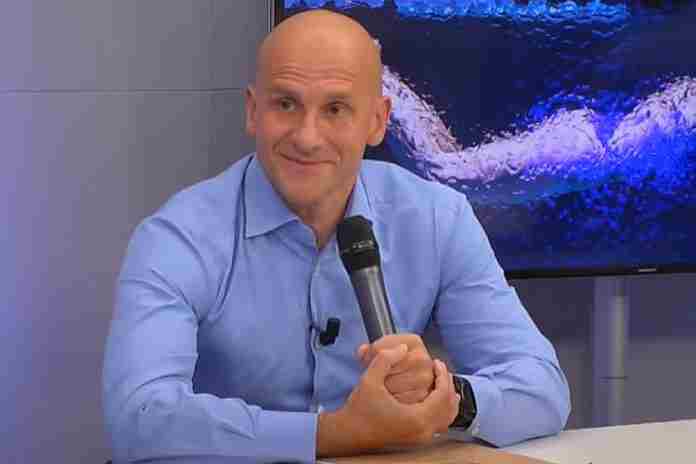 (★ Friends: Your 69 generous contributions paid our semi-annual server and support costs, and starts to help with December's bill. If you would like to join in, please donate here. Your inspiring enthusiasm is the reason this site continues. ★)
(● For our 526-event International Sports Calendar from October 2020 to June 2021, by date and by sport, click here! ●)
The future of swimming has nothing to do with the Olympic Games. Nothing to do with times, only with superheroes. Spectators will be just as much in action as the swimmers.
If this sounds like an alternate universe, welcome to "post-modern" sport according to International Swimming League founder and funder Konstantin Gregorishin, a Ukrainian billionaire in energy and heavy industry.
His ISL program enters its second season on 16-17 October, with all 10 teams in the league sequestered in Budapest, Hungary, for a series of 10 short-course (25 m) matches finishing on 14-15, followed by semi-finals – likely on 19-20 November – and then a championship match, possibly in Tokyo, Japan.
The soft-spoken Grigorishin introduced the second season during an 87-minute presentation and question-and-answer with international reporters on 9 September, explaining his view on the future of sport and of swimming:
"[W]e are different. We're not fighting with Olympics, we're living in different universes. We're in sportainment, we're in gamification, we are in post-modernity. And Olympics, they in tradition sport, in archaic sport, it's a different format. So we're not competing with Olympics.
"Maybe Olympics is a good addition to ISL or ISL is a good addition to Olympics. It depends on your angle of view. For instance, NBA players: of course, for them, NBA – the league – is a major competition in their life. But they enjoy Olympics, once in four years, they come to Olympics and play there. And they enjoy this."
Further, he posited that the reliance on time in the sport – its mainstay since competitive swimming began more than a century ago – is outmoded.
"For us, records and time is not a big issue any more. Time is [a] more modern thing, it's more like a scientific experiment. But when we are talking about post-modern competition, it means we don't have time, we have to have something eternally human.
"You are creating superheroes; if you are creating legends, it should be [an] eternal achievement. I can give you an example, for instance, Johnny Weissmuller – the swimmer who first swam faster than one minute [in the] 100 meter freestyle – now, even 13-years girls can do this. I cannot, anyway, no, unfortunately.
"But it doesn't mean that Johnny Weissmuller was not a superhero. But because he was the best of the best, he was the best swimmer of that time. And it should be some eternal achievement. So in our competition, you have just to be the first one. Time is not so important."
Grigorishin's love for mathematics is clear when you read his published explanation of the new ISL ratings system, which is designed to "objectively assess their present condition and determine who has the best chance of winning that particular race." Rating points are amassed in individual races, in relays and in "skins" events, in which four swimmers advance from an 8-athlete quarterfinal, then two from a 4-person semifinal, leading to a 2-person final, which team points scored at each of the three stages. The individual race ranking is compiled according to:

(Please see the link above for definitions of the elements of the equations.)
There are other formulas for the relays and skins races, leading to a ranking for each swimmer in each match and then an aggregate ranking for the season. Whomever has the highest ranking, Grigorishin believes, will be the "superhero" of the season, as extra points are won for beating other athletes with higher rankings.
He has every right to believe this. He is further correct is recognizing the importance of emotion vs. times in predicting who will beat who in any specific race. By creating this system, Grigorshishin hopes to bring his league into a new sporting reality he calls "post-modernity."
He explained it this way during the news conference:
"So for today, now, sport lives in two different paradigms: one is archaic, traditional pre-modernity and another one is modernity.
"ISL is not in the second part [modernity]. Of course, ISL has to take the best achievements which has been made in the second part, by the best sports in the world like American leagues like football, like tennis, like golf, etc., but at the same time, we're now in transition period for a new epoch which we call post-modernity.
"No one knows what it means – post-modernity – but I think my vision, my opinion that [the] new generation, they are not able to be just an observer of even fantastic sport events. They would like to be part of that. They would like to be interactive.
"They would like to interact. They would like to be actors."
He expanded on this concept of the future this way, essentially proposing swimming as the vanguard of a new vision of sport:
"This is the platform of ISL, the platform how to engage people, through gamification, intensification and legendarization, a mythology, ISL universe. Why this platform is so important, because it's just a platform? It's a start to launch people to change their lifestyle, to be more healthy, to be more engaged with a new lifestyle."
That's a stretch. Noting his belief that spectators must be actively involved, the obvious end-point of "gamification" would be live, online betting. In his explanation of the system, Grigorishin wrote:
"The whole system brings swimming into a new era and makes it a new sport. Time is no longer the only performance factor. By encouraging unpredictability and real competition among athletes, ISL gives new impetus to the future of the sport by reconciling gamification and performance.
"The key point of what looks like a genuine revolution is that everything has been designed, built and implemented to provide the best immersive experience for spectators and viewers. In this way, ISL takes swimming competition far beyond a sporting event to extend it into the realm of entertainment and strategic gaming to finally re-enchant the sport."
He noted that this concept would come in ISL's third season, since the original scheduling concept was wiped out by the coronavirus pandemic.
His position is undermined, however, by one of his league's new innovations, the "jackpot" scoring scheme. Consider a typical event during a four-team match, with two swimmers from each team, so eight in the water. The placers score 9-7-6-5-4-3-2-1 from first to eighth (37 total), but now if a swimmer's time – which now matters a lot – is more than a pre-set amount behind the winner, he or she forfeits their points to the team of the winner. In the extreme, if Swedish star Sarah Sjostrom wins the women's 100 m Freestyle by more than 2.05 seconds over the runner-up, she would score all 37 points for her team, taking all the available points in the race.
So time does matter. But Grigorishin insists:
"You can [win the] full 'jackpot.' So you can show how strong you are. It should be eternal achievement. You should be superhero, you should be a god."
Horse racing handicappers have long known that an emphasis on head-to-head competition as the only basis for comparison works only in a closed circuit in which all of the best horses are competing against each other consistently. But even in ISL, with up to 320 contracted swimmers on the 10 teams, this is not a surety, since some athletes have opted out.
Australian swimmers such as sprint star Cate Campbell are not competing this season due to pandemic travel restrictions. In response, ISL issued an angry statement including "It is unacceptable that some national swimming federation's leaders, knowingly and cynically use the pandemic to intimidate athletes who wish to participate in other competitions. … The recent bullying and pressure on some of the athletes who are already in a precarious position is a political manoeuvre and contrary to the very spirit of sport."
The ISL rankings system is compromised when a swimmer does not compete in a full schedule of matches, so if Campbell came onto a team for the final only, she would be a heavy "underdog" to Sjostrom in the rankings (assuming Sjostrom swam a full schedule). Same for American Simone Manuel, who is not part of the ISL program at all. Yet those three, based on achievements and times, are the top three sprinters in the world.
Moreover, statistics make stories. The value of times in sports like swimming is that they allow comparison across geography, across competitions and across eras. A victory which includes a world-record time is more impressive than just a victory. We all know it.
Beyond the mathematics and a plan to essentially turn swimming into a gambling platform, there is the question of whether ISL can make it as a business. As a billionaire, Grigorishin can spend his money as he pleases, but in response to a question on 9 September, he stated that the budget for season two is confidential.
The league has television agreements for this season with Eurosport for Europe, beIN Sports for the Middle East and North Africa and a deal with CBS Sports (including the CBS Sports Network). On this Friday and Saturday, the opening matches, which feature defending champ Energy Standard (London) and U.S. teams the Cali Condors, L.A. Current and New York Breakers, will take place from 10 a.m.-noon Eastern time on the CBS Sports Network on Friday and 2-4 p.m. Eastern on Saturday on CBS (with the Georgia at Alabama SEC football game beginning at 8 p.m. Eastern). Fifteen of the remaining 18 regular-season matches will air in the morning on Thursdays through Mondays from 24 October through 15 November.
Give Grigorishin credit for trying to find new ways to engage the public and trying to feature world-class swimming. But he would also find it useful to talk with folks with a lot of experience in "gamification" – i.e., betting – to find the right mix of mathematics, promotion and how to stay away from the long-feared problem of betting integrity.
That's when it stops being a game.
Rich Perelman
Editor
You can receive our exclusive TSX Report by e-mail by clicking here. You can also refer a friend by clicking here.