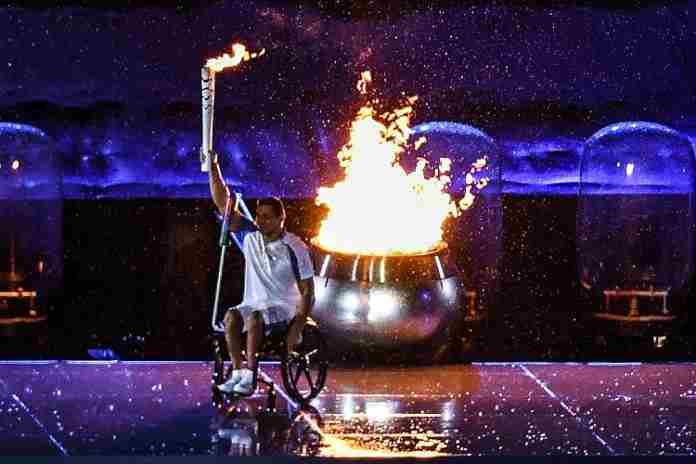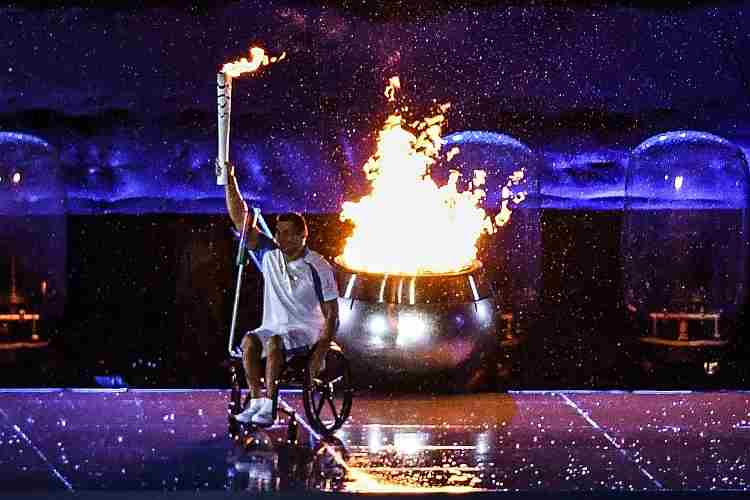 (★ Friends: Your 69 generous contributions paid our semi-annual server and support costs, and starts to help with December's bill. If you would like to join in, please donate here. Your inspiring enthusiasm is the reason this site continues. ★)
Those who marvel at the breadth, scope, complexity and grandeur of today's massive spectacle that is the Olympic Games are often surprised to learn of how difficult it was to revive after Roman Emperor Theodosius I ended all "pagan festivals" in 394.
But French Baron Pierre de Coubertin's campaign took hold in the 1890s and a modest modern Olympic Games was held in Athens, Greece in 1896, with 176 athletes from 12 countries. In Tokyo in 2021, more than 11,000 athletes from 206 nations are expected.
This extravaganza will consume 17 days and nights and be televised to a worldwide audience of more than 5.2 billion, beginning on 23 July and ending on 8 August.
Just 16 days later, the 16th Paralympic Games will begin on a Tuesday and continue for 12 more days, ending on 5 September, with about 4,400 athletes from more than 150 countries.
The International Paralympic Committee proclaimed that some 4.1 billion people worldwide sampled at least some of the 2016 Rio Paralympics, with Italian broadcasters showing a total of 557 hours and Japanese national broadcaster NHK airing 401 hours. In the U.S., NBC Universal showed 77 hours, compared to 2,084 hours on broadcast television (on 11 networks) for the Rio Olympic Games in 2016.
One of the great hopes of the IPC for the future is to continue to expand the awareness and interest of the Paralympic Games, especially in the U.S. For the 2028 in Los Angeles, the Olympic Games is planned for 21 July to 6 August, followed quickly by the Paralympics from (likely dates of) 22 August to 3 September.
This is right in line with the vision of Dr. Ludwig Guttmann, the father of the entire Paralympic movement, whose Stoke Mandeville Games began on the same day – and about 40 miles away – as the 1948 Olympic Games in London.
Guttmann, a renowned German-born, Jewish neurosurgeon left Nazi oppression in 1939 for Great Britain and worked tirelessly with war-injured servicemen to return them to fuller lives than anyone had imagined up to that time.
He was a firm believer in the value of sport; in the recent book Wheels of Courage, Los Angeles-based author David Davis wrote:
"Guttmann preached the value of sport at every opportunity. He decided to turn the Stoke Mandeville Games into an annual event, and invited cabinet ministers, royalty, and prominent sports officials and athletes to observe the action. On his travels abroad, he urged other nations to get involved. …
"'The idea [of games],' he wrote, 'is to distract the patient's attention from his disability, to keep the man's intelligence and concentration lively, to promote a good blood circulation, to keep his healthy limbs supple, and to invigorate the body.'"
He lived to see his idea blossom into the Paralympic Games we know today and shortly after his death in 1980, some 1,973 athletes from 42 countries attended the Paralympics in Arnhem (NED). By 1988, the Olympic and Paralympic Games would be presently consecutively in the same city.
Davis wrote that at the opening of the first Stoke Mandeville Games in 1948, "Guttmann proclaimed that, one day, what he called the 'Grand Festival of Paraplegic Sports' would become 'truly international and … achieve worldwide fame as the disabled men and women's equivalent of the Olympic Games.'"
Guttmann's vision has been realized, but it is now worth considering where the Paralympic movement goes from here. It is a hit in some countries and less so in others, notably the U.S.
IPC President Andrew Parsons (BRA) has said of the 2028 Games:
"This is a huge opportunity for us to engage the U.S. market in terms of awareness, spectator numbers, TV viewership, commercial support and participation; it is an opportunity that we have to grasp with both hands.
"The U.S. market in terms of awareness is still fairly under developed compared to other markets around the world. We must seize this opportunity so that as many people as possible in the US are aware of the Paralympic Games and the impact they can have in transforming society."
Perhaps there are new possibilities, with the extended preparation period afforded to Los Angeles with the award of the 2028 Games some 11 years prior. Already, the LA28 organizers have worked diligently to showcase Paralympians in its emblem launch from 1 September:
● Seven of the 26 individually-created emblems were Paralympics-themed and created by Paralympians Lex Gillette, Oz Sanchez and Scout Bassett, Para-athletes Jamal Hill and Ezra Frech, actress Lauren Lolo Spencer and Los Angeles taquero Jorge "El Joy" Alvarez.
● In the 39-item merchandise store opened after the brand launch, three commercial emblems incorporating the Paralympic logo were used: the Retro-Stripe (a nod to the 1984 Star-in-Motion), the Camo and the Prism.
Even so, the Paralympic share-of-voice is less than for the Olympic Games. Perhaps this is the opportunity to place the Paralympic Games front and center, eliminating the impact of coming after an exhausting two weeks of Olympic Games.
Hold the Paralympic Games in 2027. Alone.
Focus all the attention on the Paralympians and their stories. The IPC will have to face up to a real revision of its complicated competition system so that everyone can understand the classifications better. But if the Paralympic Movement is to grow, especially in the U.S., it must stand on its own. And 2027 is the time; already it's too late to consider this for Paris in 2024.
There are many advantages for a 2027 Paralympic Games in Los Angeles. The commercial, ticketing and other revenue opportunities will be far greater than for 2028, away from the Olympic shadow. The visibility of the Games will be enormously expanded, especially for news media in the U.S., who will not be burdened with the forthcoming college football and NFL seasons and the options for television coverage will explode.
For the LA28 organizers, such a switch would offer a first-of-its kind showcase, a real opportunity not to simply test out venues in meaningless, made-up competitions, but to put on a world-class sports festival in 2027 which will make the 2028 Olympic Games – almost 250% the size of the Paralympics – even better. And Angelenos will love it, as spectators, supporters and volunteers.
Moreover, this can be handled well within LA28's budget format; just ask those of us who helped organize the 2015 Special Olympics World Games – 6,163 athletes from 164 nations who competed in 290 events in 23 sports over nine days – for a ridiculous $50.1 million (not billion) in cash. It can be done, and done very, very well.
Guttmann knew he had to try bold, new treatments to change the lives of those servicemen he was caring for in the aftermath of the brutality of World War II. It's time to take his idea even further and give it solo billing in the Southern California sunshine seven years from now. Mr. Parsons, your future is ringing; Hollywood calling …
Rich Perelman
Editor
You can receive our exclusive TSX Report by e-mail by clicking here. You can also refer a friend by clicking here.