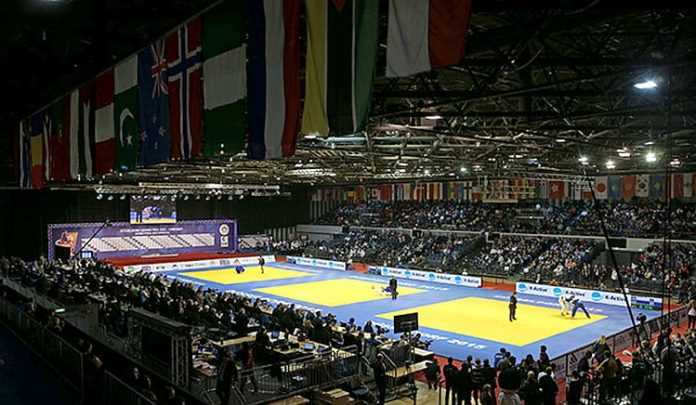 The reality is that when Japan wants to win, it does so impressively at IJF World Tour events like the Grand Prix at The Hague last weekend. But a modest Japanese squad was on hand and so it opened opportunities for others.
That included the hosts from the Netherlands, who won a chart-topping six medals (0-2-4) and France, which won five (0-1-4), but had no gold medalists.
Tops in golds were Russia and Ukraine, which each had two wins. Russia's Musa Mogushkov won the men's -73 kg class and Antonina Shmeleva won the women's 78 kg class. The Ukrainian winners included the heaviest men's class, with Yakiv Khammo at +100 kg and the lightest women's class in Maryna Cherniak at -48 kg! Summaries:
IJF World Tour/The Hague Grand Prix
The Hague (NED) ~ 16-18 November 2018
(Full results here)
Men
-60 kg: 1. Amartuvshin Dashdavaa (MGL); 2. Dai Aoki (JPN); 3. Romaric Wend-Yam Bouda (FRA) and Boldbaatar Ganbat (MGL).
-66 kg: 1. Vazha Margvelashvili (GEO); 2. Baruch Shmailov (ISR); 3. Kiyotaka Kido (JPN) and Sebastian Seidl (GER).
-73 kg: 1. Musa Mogushkov (RUS); 2. Akil Gjakova (KOS); 3. Lasha Shavdatuashvili (GEO) and Victor Sterpu (MDA).
-81 kg: 1. Ivaylo Ivanov (BUL); 2. Frank de Wit (NED); 3. Dominic Ressel (GER) and Antonio Esposito (ITA).
-90 kg: 1. Aleksandar Kukolj (SRB); 2. Nikoloz Sherazadishvili (ESP); 3. Jesper Smink (NED) and Peter Zilka (SVK).
-100 kg: 1. Peter Paltchik (ISR); 2. Mikita Sviryd (BLR); 3. Michael Korrel (NED) and Leonardo Goncalves (BRA).
+100 kg: 1. Yakiv Khammo (UKR); 2. Vladut Simionescu (ROU); 3. Maciej Sarnacki (POL) and Roy Meyer (NED).
Women
-48 kg: 1. Maryna Cherniak (UKR); 2. Yao Xiong (CHN); 3. Aya Sakagami (JPN) and Distria Krasniqi (KOS).
-52 kg: 1. Charline van Snick (BEL); 2. Eleudis Valentim (BRA); 3. Astride Gneto (FRA) and Reka Pupp (HUN).
-57 kg: 1. Terumi Otsuji (JPN); 2. Tongjuan Lu (CHN); 3. Miryam Roper (PAN) and Priscilla Gneto (FRA).
-63 kg: 1. Junxia Yang (CHN); 2. Alice Schlesinger (GBR); 3. Masako Doi (JPN) and Amy Livesey (GBR).
-70 kg: 1. Sally Conway (GBR); 2. Sanne van Dijke (NED); 3. Miriam Butkereit (GER) and Gabriella Willems (BEL).
-78 kg: 1. Antonina Shmeleva (RUS); 2. Sama Hawa Camara (FRA); 3. Samantha Soares (BRA) and Ilona Lucassen (NED).
+78 kg: 1. Maryna Slutskaya (BLR); 2. Hortence Mballa Atangana (CAM); 3. Larisa Ceric (BIH) and Anne M Bairo (FRA).