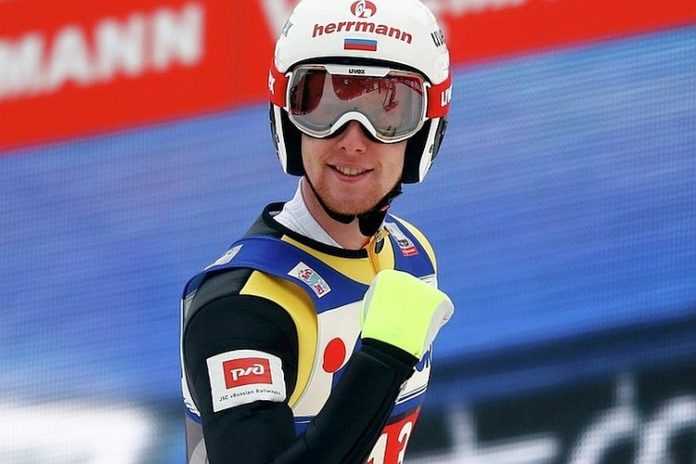 Patience is a virtue and for 24-year-old Russian jumper Evgeniy Klimov (pictured), it paid off with a win at the season-opening World Cup in Wisla (POL).
Jumping off a 134 m hill, Klimov took the lead on the first jump and never relinquished it, also scoring the best jump of the second round for a convincing 6.7-point win. On the circuit since the 2015-16 season, he had competed in 49 individual World Cups without finishing higher than third once, in January 2017. Now he's one to watch, as he won the FIS Ski Jumping Grand Prix, the second-level circuit, completed earlier in the year.
His companions on the podium were first-time World Cup medal winners: Stephan Leyhe (GER) and Ryoyu Kobayashi (JPN). However, success in Wisla runs in Kobayashi's family as his brother, Junshiro Kobayashi was the winner last season, his only medal of the year. Summaries:
FIS Ski Jumping World Cup
Wisla (POL) ~ 16-18 November 2018
(Full results here)
Men's 134 m Hill: 1. Evgeniy Klimov (RUS), 263.4; 2. Stephan Leyhe (GER), 256.7; 3. Ryoyu Kobayashi (JPN), 255.6; 4. Kamil Stoch (POL), 255.3; 5. Timi Zajc (SLO), 253.4.
Team 134 m Hill: 1. Poland (Zyla, Wolny, Kubacki, Stoch), 1,026.6; 2. Germany, 1,015.5; 3. Austria, 972.0.