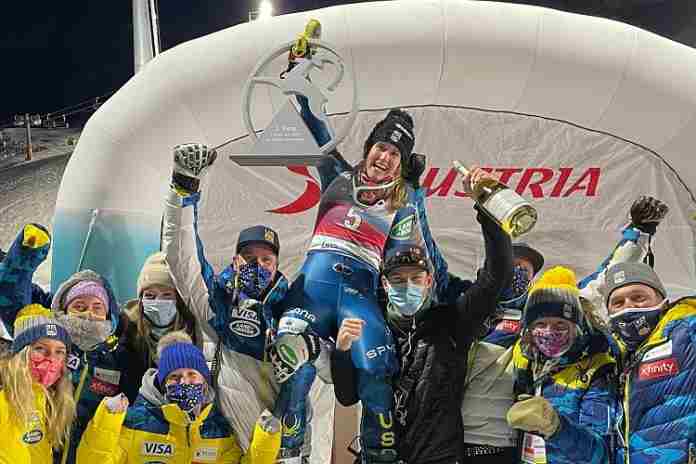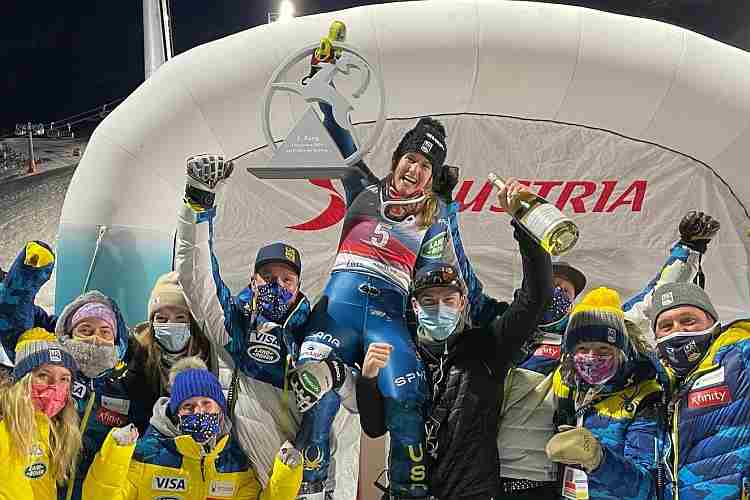 Headline results of noteworthy competitions around the world:
● Alpine Skiing ● The re-scheduled parallel races at Lech in Austria saw Slovakia's Petra Vlhova extend her winning streak to three in the new season.
Vlhova defeated American Paula Moltzan in the final on the Parallel Giant Slalom course, winning both races decisively. But this was the first-ever World Cup medal for Moltzan, 26, after breaking into the top 10 for the first time in the season opener in Soelden (also a Giant Slalom). Swiss Lara Gut-Berhami took third; American Mikaela Shiffrin did not compete.
France's Alexis Pinturault took his 30th World Cup win in the men's racing, winning the final against Norwegian veteran Henrik Kristoffersen by two races to none. German Alexander Schmid was third.
The men will head to Santa Caterina (ITA) for Giant Slalom racing next weekend, while the women will be in St. Moritz (SUI) for two Super-G races.
● Basketball ● The 2022 Americup qualifying competition continued this weekend, with all of the Group D games held at the Indianapolis Convention Center to minimize travel and Covid-19 complications.
The U.S. came in with a 2-0 mark after two wins against Puerto Rico last February and raced out to a 53-29 lead at halftime against the Bahamas in the first senior-level meeting between the countries. The American team is made up primarily of G League players; forward Amile Jefferson (Lakeland Magic) had 11 points and eight rebounds to lead the first-half attack.
Coach Mike Fratello saw five players finish in double figures, led by Jefferson (17 and 11 rebounds) in the 99-59 final. Guards Tyler Hall and John Jenkins both had 12; forward Levi Randolph had 11 and guard Travis Trice had 10. The U.S. shot 51.3% from the floor and held the Bahamas to 30.2%.
The U.S. will play Mexico on Monday to complete this round.
The final window in this round comes in mid-February, with the U.S. to play the Bahamas and Mexico once again.
● Biathlon ● The IBU World Cup season opened in Koniolahti, Finland on Saturday, with a surprise victory for Norway's Sturla Holm Laegreid, 23, who won in just his fourth World Cup start. His perfect, 20-for-20 shooting was key to defeating superstar countryman Johannes Thingnes Boe, 48:57.0 to 49:16.4. German Erik Lesser was third in 50:00.6.
Two-time defending World Cup champ Dorothea Wierer won the women's 15 km opener, with a 35.1-second edge after the final shooting stage, but tiring and finishing just 0.8 seconds ahead of Denise Hermann (GER) in 44:00.9. Johanna Skottheim (SWE) finished third in 44:25.0.
On Sunday, order was restored as Boe won his 49th individual World Cup race in the 10 km Sprint, incurring no penalties and finishing 44.1 seconds up on Sweden's Sebastian Samuelsson, 23:53.0-24:37.1, with Martin Ponsiluoma (SWE) third.
Swede Hanna Oberg dominated the women's 7,5 km Sprint, also shooting clean and winning by 23.9 seconds in 21:01.4, ahead of Norwegians Marte Olsbu Roeiseland and Karoline Knotten.
● Bobsled & Skeleton ● The IBSF World Cup remained in Sigulda, Latvia for a second week in a row to keep virus exposure down, but the top of the podium hasn't changed much.
Double Olympic gold medalist Francesco Friedrich (GER) won the first two-man race for his third straight win on the season, this time with Thorsten Margis as brakeman. Latvia's Oskars Kibermanis (with Matiss Miknis) won the silver, just 0.1 back (1:38.78 to 1:38.88), and Swiss Simon Friedli (with Gregory Jones) was third (1:39.20).
On Sunday, Friedrich won again – this time with Alexander Schueller in the sled – in 1:38.38, 0.44 seconds clear of Swiss Michael Vogt (Sandro Michel, in 1:38.82) and Germany's Johannes Lochner and Christian Rasp (1:38.91).
Germany continued its winning ways in the two-women race, but this time it was Laura Nolte (with Leonie Fiebig aboard) who claimed the victory. They finished in 1:42.37, well ahead of the two second-place finishers, Mariama Jamanka/Vanessa Mark (GER) and Kim Kalicki/Ann-Christin Strack.
In Skeleton, six-time World Champion Martins Dukurs won again on his home track, edging his older brother Tomass, 1:38.91-1:39.10, and winning both runs. Britain's Marcus Wyatt was impressive in third (1:39.85), putting up the no. 3 time on the second run to move up from sixth.
Austria's Janine Flock also repeated as the Sigulda winner, this time over former World Cup champ Elena Nikitina (RUS), 1:42.93 to 1:43.58, with Kimberley Bos (NED) and German Tina Hermann tying for third at 1:43.73.
The sliders will have a couple of weeks until the next set of races in Innsbruck (AUT) in mid-December. The U.S. did not compete in Sigulda, but may be able to race in December.
● Figure Skating ● The ISU Grand Prix's NHK Trophy competition was held in Osaka, Japan from Friday through Sunday, with an almost all-Japanese entry list.
The men's competition was dominated by World Junior silver medalist Yuma Kagiyama, 17, who nailed three quadruple jumps and won by 275.87-226.62 over Kazuki Tomono, and Lucas Tsuyoshi Honda (217.56). Kagiyama won both the Short Program and Free Skate by wide margins.
The 2018 Four Continents champion, Kaori Sakamoto, similarly dominated the women's division, piling up 229.51 points to win by almost 29 points over Wakaba Higuchi, 229.51-200.98, with Rino Matsuike third (198.97).
Pairs was not held and Misato Komatsubara and Tim Koleto won the three-entrant Ice Dance event, scoring 179.05 to hold off Rikako Fukase and Eichu Cho (157.89).
This was the last of the Grand Prix meetings to be held; the Grand Prix Final in Beijing (CHN) has been postponed, but might be rescheduled in some other location.
● Luge ● The FIL World Cup season opened in Innsbruck, Austria, with familiar faces on the podium once again, led by Germany's Felix Loch.
The Olympic gold medalist in Vancouver and Sochi, Loch won both runs and finished in 1:39.941, well ahead of countryman Johannes Ludwig (1:40.057) and Dominik Fischnaller (ITA: 1:40.121) in the all-European field. Loch also won the Sprint race, with Austrians David Gleirscher second and Jonas Mueller third.
Austria's Thomas Steu and Lorenz Koller won the Doubles in 1:19.253, in a tight battle with countrymen Yannick Muller and Armin Frauscher (1:19.478). Three-time World Champions Toni Eggert and Sascha Benecken (GER) finished third in 1:19.533. Steu and Koller triumphed in the Sprint as well, winning in 30.118 over Andris and Juris Sics of Latvia (30.209).
Defending World Cup champ Julia Taubitz (GER) was the women's winner, ahead of 2014-18 Olympic gold medalist Natalie Geisenberger (GER), 1:20.289-1:20.409, with Datjana Eitberger (1:20.559) completing the German sweep. The standings were the same for the Sprint, with Taubitz winning by 30.138-30.205.
● Nordic Skiing ● The 11th edition of the "Nordic Opening" was held successfully in Ruka, Finland, featuring all three disciplines and strong results, as expected, for Norway.
The Cross Country competitions all had Norwegian winners: Erik Valnes in the Classical Sprint, and two-time World Cup champion Johannes Hoesflot Klaebo in the 15 km Classical and 10 km Freestyle Pursuit. Klaebo won medals in all three races – silver in the Sprint – and Emil Iversen (NOR) and Russia's reigning World Cup winner Alexander Bolshunov each won two medals.
The women's racing showed that Norway's 32-year-old Therese Johaug, the 2020 World Cup champ, isn't going anywhere, as she won both the 10 km Classical (+21.8 seconds) and 10 m Freestyle Pursuit (+47.0), as well as the combined time award. Sweden swept the Classical Sprint with Linn Svahn, Maja Dahlqvist and Jonna Sundling taking the medals. Sweden won two more medals behind Johaug in the 10 km Classical with Frida Karlsson and Ebba Andersson and Andersson was third in the Pursuit on Sunday.
In Nordic Combined, two-time defending World Cup champ Jarl Magnus Riiber of Norway showed he will be heard to beat, winning the 142 m jumping/5 km race on Friday, the 10 km event on Saturday and then saw teammate Jens Luras Oftebro – third in the 5 km event – win Sunday's 10 km effort. Riiber did not compete on Sunday as high winds made the jumping impossible and having been disqualified in the provisional competition jumping round on Thursday, he was not allowed to start.
Austria's Johannes Lamparter was second in the 5 km race, 2014-18 Olympic gold medalist Eric Frenzel (GER) was runner-up in the first 10 km race (Saturday) and Fabian Reissle (GER) was second in Sunday's 10 km event.
In Ski Jumping, the 142 m hill in Ruka saw Germany's Markus Eisenbichler win easily on Saturday with 313.4 points, well ahead of Poles Piotr Zyla (294.1) and Dawid Kubacki (293.9). Eisenbichler and Kubacki won medals on Sunday as well, but had to settle for silver and bronze thanks to the surprise first World Cup medal (and victory) for Norway's Halvor Egner Granerud, 282.0-272.1-265.6.
● Sport Climbing ● The European Championships in Moscow produced two more Olympic qualifiers, with Russians Alexei Rubtsov winning the Combined men's title and Viktoriia Meshkova taking the women's competition.
Rubtsov won the Bouldering stage to take the lead and then finished fourth in Lead to complete his victory. Swiss Sascha Lehmann finished second with 24 points (placing 4th in Speed, 3rd in Bouldering and 2nd in Lead) to 20 for Rubtsov; Sergei Luzhetskii (RUS) was third (30).
Meshkova was second in Speed, and won the Lead event to take the women's championship with an impressive 12 points, ahead of Serbia's Stasa Gejo (15) and Eliska Adamovska (CZE: 64). Gejo was third in Speed, won the Bouldering event, but could not keep up with Meshkova in Lead and had to settle for silver.