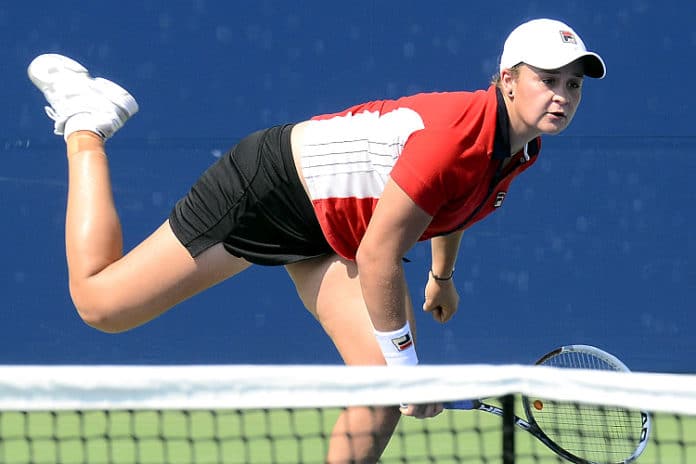 Headline results of noteworthy competitions around the world:
(For coverage of Saturday's sensational – but confusing –
Millrose Games, click here.)
● Alpine Skiing ● The last stop of the FIS women's Alpine World Cup before the Beijing Winter Games was in Garmisch-Partenkirchen (GER) for a Downhill and Super-G.
Saturday's Downhill was a Swiss 1-2, with 2021 World Downhill Champion Corinne Suter getting her first win of the season – and third medal – in 1:40.74. Countrywoman Jasmine Flury was right behind her at 1:41.25, followed by Austria's Cornelia Huetter (1:41.52).
The Super-G on Sunday ended in a rare tie, with Austria's Huetter and Italian star Federica Brignone both timing 1:18.19, and Tamara Tippler (AUT) third in 1:19.01. It was Brignone's third win of the season, all in Super-Gs.
● Athletics ● As it turns out, the highlight of Saturday's Millrose Games didn't happen … officially.
Olympic champ Ryan Crouser's stupendous 23.38 m (76-8 1/2) shot win, the furthest throw of all time, was mismeasured. Shortly after the meet ended (4:50 p.m. Eastern time), the live-timing site showed the event as "cancelled," and at 6:29 Eastern, USA Track & Field tweeted:
"After the Millrose Games Men's shot put competition, officials found that the measuring device that was originally correctly located and calibrated, was discovered to be improperly positioned during the competition. As a result, all of the throws in the men's shot put competition have been nullified."
Remembering Gilda Radner as Emily Litella in the 1970s "Weekend Update" segment on "Saturday Night Live," "Never mind."
¶
The women's collegiate triple jump record went by the wayside on Saturday, as Jasmine Moore of Florida reached 14.55 m (47-9), eclipsing the mark by Keturah Orji (Georgia) of 14.53 m (47-8) from 2018.
● Fencing ● The top Epee fencers in the world gathered for the Doha Grand Prix, with Estonia dominating the women's tournament.
It was no surprise to see Katrina Lehis, the Tokyo Olympic bronze medalist in the final, but what about 92nd-ranked Nelli Differt? In the semis, Differt, 31, faced Tokyo Olympic Team Epee gold medalist Erika Kirpu, whose team included Lehis, but Differt scored a 12-11 win to advance to the final. Lehis dispatched Marie-Florence Candassamy, 15-14, to meet Differt and won by 15-11 for her first Grand Prix gold, after two bronzes in 2016 and 2019.
The men's final pitted French star Yannick Borel – the 2018 World Champion – against fellow Frenchman and 78th-ranked Aymerick Gally, appearing in his first senior world-level final. Gally was game, but Borel emerged with his fourth career Grand Prix title, 15-10. It was the second Grand Prix win for Borel in Doha, previously in 2019.
A first-time World Cup medalist was the winner at the World Cup in women's Sabre in Plovdiv (BUL). Anna Bashta (AZE) won the final in convincing fashion over France's Tokyo Olympic bronze medalist Manon Apithy-Brunet, 15-10. Italy's Rossella Gregorio and Malina Vongsavady (FRA) shared the bronze.
● Football ● The U.S. Men's National Team (5-1-3) contested its 10th of 14 games in the CONCACAF World Cup qualifying tournament in frigid conditions against first-place Canada (5-0-4) in Hamilton, Ontario. The two teams drew, 1-1, in September in Nashville.
The kickoff temperature was 25 F at a loud Tim Hortons Field, and the crowd went wild when striker Cyle Larin got a return pass from Jonathan David and sent a right-footed laser from the center of the box to his left and past U.S. keeper Matt Turner for a 1-0 lead in the seventh minute.
During most of the half, however, the U.S. controlled play, but was unable to get a goal. The best chance came in the 43rd minute, when a Christian Pulisic corner was headed toward the goal by Weston McKennie, but swatted away by Canadian keeper Milan Borjan. The Americans ended the first 45 with 64% of the possession and a 7-2 edge in shots, but still down by a goal.
The second half was more of the same: U.S. in possession and increasing the pressure on Borjan, but no goals. Turner kept the Americans in the game in the 70th minute with a save against David, left the rebound in front for Larin, but then recovered to block his shot to keep it 1-0.
The Americans attacked and attacked and attacked, and got nowhere against a packed-in Canadian defense. A spectacular bicycle-kick shot by Paul Arriola of the U.S. in the 85th minute went wide, and defender Sam Adekugbe's breakaway goal on a counterattack in the 95th minute sealed the loss at 2-0.
The U.S. ended up 64% possession and 13 shots to eight, it was a disheartening loss. The Canadians are now 2-2-1 against the U.S. in their last five games, from 2019-22, with six goals for each side. The last U.S. win was in 2020.
Canada continues at the top of the CONCACAF qualifying table; the U.S. – still in a good qualifying position – will complete its winter trilogy with a home game in near-zero conditions on 2 February vs. Honduras in St. Paul, Minnesota.
● Judo ● The IJF World Tour Grand Prix Portugal in Almeida drew 301 entries from 41 countries, with Olympic medalists making an impression on the final standings.
Kosovo's Tokyo Olympic 48 kg gold medalist Distria Krasniqi moved up in weight to win the 52 kg title and Rio 2016 57 kg champ Rafaela Silva (BRA) was a decisive winner in her weight class.
The men's action saw Tokyo bronze medalist Matthias Casse (BEL) taking the 81 kg division and Tokyo bronze winner Jorge Fonseca (POR) winning at 100 kg.
Overall, South Korea was on top of the medal standings with nine total medals and four golds from Harim Lee and Minjong Kim in the men's 60 kg and +100 kg divisions, and two women's winners: Hyunji Yoon at 78 kg and Hayun Kim at +78 kg.
● Nordic Combined ● The famed Seefeld Triple was contested for the ninth time in the German venue, with the key question whether Norwegian star Jarl Magnus Riiber might be back in action. The answer was yes.
On Friday, jumping off the 109 m hill and racing 5.0 km, Riiber won for the first time since mid-December in 19:03.8, ahead of Germany's Vinzenz Geiger (19:29.2) and seasonal leader Johannes Lamparter (AUT: 19:34.7).
Saturday's competition featured a 10.0 km race, won by Geiger in 24:49.3 for his second victory of the season. But Lamparter was right behind, second in 24:51.0 with Joergen Graabak (NOR) third in 24:53.5. Riiber ended up 10th.
Sunday's concluding race was 12.5 km, with Graabak, Lamparter and Riiber in a tight contest, with Graabak – a two-time gold medalist in Sochi in 2014 – getting his first win of the season. His time of 30.08.6 was just 1.5 seconds ahead of Lamparter (30:10.1) and 14.9 up on Riiber (30:23.5). On to Beijing!
● Rugby Sevens ● The men's and women's Seven Series stop in Seville (ESP) showcased the juggernaut that is South African rugby.
The men's tournament saw Argentina, Australia, England and South Africa go undefeated in their group matches and the Springboks – who came in undefeated this season after three rounds – crushed Ireland, 26-0 in the semis to advance to the final against Australia, a 28-12 winner over Argentina.
In the final, a 7-7 halftime tie ended up with a 33-7 rout for the South Africans – the defending champions – who have not only won all four rounds this season, but have now won 23 straight games this season without a loss. Wow.
Argentina got the bronze by 12-5 over Ireland.
defending champs rsa 17-0 this season coming in, 20-0 after pool play (won all three tourns)
The U.S. women, fresh off a tournament win in Malaga last week, were one of three undefeated teams in pool play, including France and Ireland. The Irish cruised into the final with a 29-0 win over England in the semis, while Australia edged the U.S., 21-19. In the final, it was Ireland pitching an impressive, 7-0 shut to win its first tournament of the season. The U.S. was defeated by England, 19-12, in the third-place game.
● Ski Jumping ● The Muhlenkopfschanze 147 m hill in Willingen (GER) hosted a mixed team event and men's and women's jumping in the final event before the Winter Games.
The first of two men's events was shortened to one round due to bad weather and was won by Japanese star Ryoyu Kobayashi for his seventh win of the season, ahead of Norway's Halvor Egner Granerud, 115.6-111.6, with fellow Norwegian Marius Lindvik third (107.0).
On Sunday, Lindvik got his third win of the season, scoring 243.8, ahead of Karl Geiger (GER: 238.7) and Cene Prevc (SLO: 235.6), with Kobayashi fourth. The finish allowed Geiger to take over the seasonal lead from Kobayashi, 1,189-1,186.
The women also had only a single-jump event on Saturday due to wind and rain, with Austria's Marita Kramer getting her sixth win of the season and extending her seasonal points lead. She won with 80.2 points to 77.1 for Katharina Althaus (GER) and Ema Klinec (SLO: 72.0).
Slovenia got the win on Sunday, but this time it was Nika Kriznar with her second win of the season, at 131.6 for the single-round event, followed by Althaus (126.0) and Russia's Aleksandra Kustova (115.8).
The team title was won by Slovenia, followed by Norway and Austria, 862.6-799.7-779.5.
● Snowboard ● The only FIS World Cup action this week was SnowCross in Cortina d'Ampezzo (ITA) on Saturday, with Germany's Martin Noerl winning his third straight World Cup race, getting to the line ahead of 2021 Worlds silver medalist Alessandro Hammerle (AUT) and Cameron Bolton (AUS).
Home favorite Michela Moioli (ITA), the reigning Olympic champion from PyeongChang, won for the second time this season, ahead of France's Chloe Trespauch, who was second for the third World Cup race in a row. Third was Britain's Charlotte Bankes, the seasonal leader.
● Tennis ● The 110th edition of the Australian Open, bedeviled early by controversy, came to a worth-waiting-for close in Melbourne on Sunday.
Spain's Rafael Nadal, 35, won his 21st Grand Slam title in a 5-hour, 24-minute struggle with Russia's Daniil Medvedev, 2-6, 6-7, 6-4, 6-4, 7-5, taking his second Australian Open title in the second-longest Australian Open final ever.
The victory gives Nadal a total of 21 career Grand Slam titles (out of 29 finals), the most ever and breaking a tie with Swiss Roger Federer and Novak Djokovic (SRB), both with 20. Nadal previously won in Melbourne way back in 2009. Djokovic was famously deported by the Australian government for not being vaccinated against Covid-19 and was not able to play.
Top-seeded Ash Barty became the first Australian to take the women's title since Chris O'Neil in 1978, and she did so in style, winning all seven matches without losing a set (14-0) and winning 85 games and losing only 30. The final was a tough one, however, against 27th-seed Danielle Collins of the U.S., in her first Grand Slam final, 6-3, 7-6 (7-2).
For Barty, ranked no. 1 in the world, it was her third Grand Slam win, after the 2019 French Open and 2021 Wimbledon.
In the men's doubles, the home team won again, with Thanasi Kokkinakis and Nick Kyrgios defeating fellow Aussies Matthew Ebden and Max Purcell, 7–5, 6–4. It was the first all-Australian final in this class since 1980 and the first Australians to win this title since 1997.
The women's doubles went to Czechs Barbora Krejcíkova and Katerina Siniakova – their fourth major doubles victory and first at the Australian – as they defeated Anna Danilina (KAZ) and Beatriz Haddad Maia (BRA), 6-7, 6-4, 6-4.
In mixed doubles, Kristina Mladenovic (FRA) and Croatia Ivan Dodig (CRO) won over Australia's Jaimee Fourlis and Jason Kubler, 6–3, 6–4. It was Mladenovic's third title and Dodig's fourth at Melbourne, although their first together.
The Beijing Winter Games open on 4 February.
You can receive our exclusive TSX Report by e-mail by clicking here. You can also refer a friend by clicking here, and can donate here to keep this site going.
For our 832-event International Sports Calendar for 2022 and beyond, by date and by sport, click here!