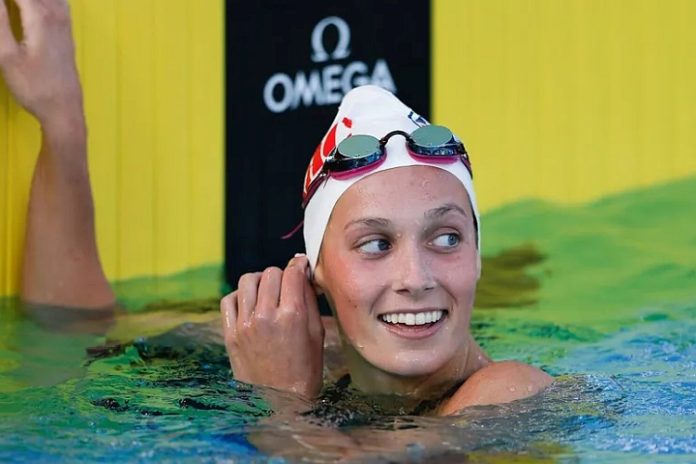 (★ So grateful to our 45 donors, who have covered 77% of our site costs for services for the first six months of 2022. If you enjoy this coverage, please donate here. ★)
Headline results of noteworthy competitions around the world/updated/:
● Alpine Skiing ● The FIS Alpine World Cup concluded in France with the technical events in Meribel for both men and women.
Austria's Marco Odermatt celebrated his overall World Cup triumph with a win in the final Giant Slalom of the season, timing 2:10.40 to beat Lucas Braathen (NOR: 2:10.89) and Loic Meillard (SUI: 2:11.03). The seasonal title in the discipline went to Odermatt, with 720 points to 453 for Henrik Kristoffersen of Norway.
Sunday's Slalom was the second win of the season for Norway's Atle McGrath (1:34.52), who finished ahead of Kristoffersen (1:34.89) and Manuel Feller (AUT: 1:35.29). American Luke Winters was eighth (1:35.64). Kristoffersen won the Slalom seasonal title, 451-361, over Feller.
The final season totals for the men showed Odermatt at 1,639 with Aleksander Aamodt Kilde second (1,172) and Kristoffersen third (954).
The women's Slalom on Saturday was a win for Slovenia's Andreja Slokar in 1:36.54 for her second career World Cup victory – both this season – ahead of Lena Duerr (GER: 1:37.02) and seasonal winner Petra Vlhova (SVK: 1:37.35). Mikaela Shiffrin of the U.S. – already the seasonal World Cup champion – finished eighth in 1:38.02; she finished second to Vlhova in the seasonal Slalom standings, 770-501.
The Giant Slalom on Sunday was an Italian 1-2, with Federica Brignone winning her third World Cup race of the season, 2:14.68-2:14.99 over Marta Bassino, with Vlhova third (2:15.05). Shiffrin was seventh in 2:15.35. France's Tessa Worley won the seasonal G-S title with 567 points to 540 for Sara Hector (SWE) and 507 for Shiffrin.
The American star finished with 1,492 points to 1,309 for Vlhova to win her fourth World Cup overall title in the last five years. Brignone was third with 1,055.
● Artistic Swimming ● A "virtual" FINA World Cup was "held" in the U.S. and Canada, in which pre-recorded videos are judged and scored.
Saturday's line-up was dedicated to the technical events, and dominated by Russians, "competing" as "independent FINA athletes." The women's Solo Technical was won by Varvara Subbotina (91.5848), and Subbotina teamed with veteran Svetlana Kolesnichenko to win the Duet Technical at 93.1321.
The women's Mixed Duet Technical was another Russian win, this time for Mayya Gurbanberdieva and Aleksandr Maltsev (90.5697), while the Women's Team Technical was won by France (87.7137). The men's Solo Technical was won by Maltsev (90.4231).
Sunday's women's Solo Free was won by France's Eve Planeix (87.4667); Americans Megumi Field and Natalia Vega took top honors in the women's Duet Free (84.9000) and Russians Olesia Platonova and Maltsev won the Mixed Duet Free (91.9000).
The men's Solo Free was claimed by Javier Zayas of Puerto Rico (60.2000). The women's Team Free went to Canada (84.7000).
The U.S. women won the Team Highlight event (84.6333).
● Athletics ● For coverage of a great World Athletics Indoor Championships in Belgrade, Serbia, see our separate coverage for Saturday and Sunday.
● Badminton ● The $1,000,000 All-England Open in Birmingham turned out to be a triple winner for Japan!
Second-seeded Akane Yamaguchi (JPN) won the women's Singles with a 21-15, 21-15 victory over no. 4 Seyoung An (KOR). Nami Matsuyama and Chiharu Shida (JPN) won the women's Doubles by 21-13, 21-9 against China's Shu Xian Zhang and Yu Zheng, and Yuta Watanabe and Shida won the Mixed Doubles over Yi Lyu Wang and Dongping Huang (CHN), 21-19, 21-19.
Top-seeded Viktor Axelsen (DEN) won the men's Singles in straight sets, 21-10, 21-15 against unseeded Lakshya Sen (IND). The all-Indonesia men's Doubles final saw Muhammad Fikri and Bagas Maulana upset second-seeds Mohammad Ahsan and Hendra Setiawan, 21-19, 21-13.
● Beach Volleyball ● /Updated/The revamped Volleyball World Beach Pro Tour got underway for 2022 with a Challenge tournament in Tlaxcala, Mexico, a second-level competition in the new, three-tier structure.
Brazil's second-seeded Barbara de Freitas and Carol Salgado took the women's trophy with a 21-19, 21-18 win over the Dutch duo of Katja Stam and Raisa Schoon in the final.
The men's final saw Polish veterans Michal Bryl and Bartosz Losiak shut down Noe Aravena and Vicente Droguett (CHI), 21-17, 21-16.
● Biathlon ● The final weekend of the IBU World Cup was in Oslo (NOR), with six events: Sprint, Pursuit and Mass Start.
The men's 10 km Sprint was the second win of the season for Norway's Sturla Holm Laegreid, who dusted the field, winning in 25:27.1, 22.4 seconds ahead of already-decided seasonal winner Quentin Fillon Maillet of France and 26.5 seconds up on Sweden's Sebastian Samuelsson.
Fillon Maillet got closer, but had to settle for second again on Saturday in the 12.5 km Pursuit, this time by 9.4 seconds to Germany's Erik Lesser (32:03.8), with Laegreid third this time (+22.7) and Samuelsson fourth (+1:04.9).
Sunday's 15 km Mass Start was a win for unheralded Norwegian Sivert Guttorm Bakken in 38:31.2, barely ahead of Laegreid (+0.5), then Emilien Jaquelin (FRA) in third (+13.4).
For the season, Fillon Maillet finished with 984 points to 736 for Laegreid and 717 for Samuelsson.
The women's seasonal title had already been decided for Norway's Marte Olbsu Roeiseland, but triple Olympic medalist Tiril Eckhoff showed off with wins in the 7.5 km Sprint on Friday and the 10 km Pursuit on Saturday. She won the Sprint in 21:28.3 with a 7.0-second margin on Lisa Theresa Hauser (AUT), with Roeiseland third (+9.4).
Eckhoff skied with the Pursuit, finishing in 29:55.7, some 24.9 seconds ahead of Roeiseland, with Paulina Fialkova (SVK) third (+50.5).
The 12.5 km Mass Start was a clear win for Justine Braisaz-Bouchet of France, her second of the season, in 35:20.8, comfortably ahead of Franziska Preuss (GER: +7.8) and Roeiseland (+8.6).
Roeiseland piled up 957 points for the seasonal title, beating Elvira Oeberg (SWE: 823) and Hauser (AUT: 684).
● Curling ● The Women's World Championship is on in Prince George (CAN) from 19-27 March, with 13 teams included. The U.S. is skipped by Cory Christensen, with all teams playing in a round-robin format to determine advancement to the playoffs.
● Cycling ● One of cycling's most famous races is the venerable Milan-Sanremo, run for the 113th time on Saturday, this time over a 293 km course that featured a major climb in the middle, but otherwise a modestly hilly course to the finish.
Slovenia's Matej Mohoric attacked on the descent of the final obstacle, the Poggio de Sanremo, with 4.3 km remaining and won by two seconds ahead of the chase pack in 6:27:49. Leading the group of eight behind him were Anthony Turgis (FRA) and Mathieu van der Poel (NED) followed by Australia's Michael Mathews and Tadej Pogacar (SLO), fresh off his win at the Tirreno-Adriatico.
¶
On Sunday, the UCI Women's World Tour saw the 47th edition of the Trofeo Alfredo Binda, one of the most important races on the calendar, finishing in Cittiglio after 141.8 km.
The hilly course saw several breakaways, but the peloton gathered together for a mass finish with about 5 km left, and it was a good day for the hosts as Italians Elisa Balsamo, Sofia Bertizzolo and Soraya Paladin were 1-2-3 at the line. The first 18 finishers all given 3:36:29 as their time. American Coryn Lebecki (nee Rivera) was sixth.
● Fencing ● Sabre competitions were on the FIE World Cup schedule this week, in Budapest (HUN) for the men and Istanbul (TUR) for the women.
In Hungary, the home favorite, top-ranked and triple Olympic champion Aron Szilagyi took home the victory, defeating Italy's 2019 Worlds bronze medalist, Luca Curatoli, 15-7, in the final. Koreans Junghwan Kim and Sang-uk Oh won the bronze medals. It's the eight career World Cup win for Szilagyi, 32, and his 20th career World Cup medal!
The Hungarians won the team event from France.
In Turkey, the women's final was an all-French affair, with no. 1-ranked, Olympic bronze medalist Manon Apithy-Brunet winning over Anne Poupinet, 15-8. It was an impressive sixth World Cup win and 13th career World Cup medal for the 26-year-old winner, while Poupinet, 21, won her first World Cup medal.
The bronzes went to Spain's Lucia Martin-Portugues and Poland's Malgorzata Kozaczuk. Korea defeated Spain in the team final.
● Freestyle Skiing ● The FIS World Cups in Ski Cross and Moguls closed this week, with the big stars collecting more trophies.
In Veysonnaz (SUI), Sweden's David Mobaerg won his third men's Ski Cross race of the year, ahead of Simone Deromedia (FRA) and Brady Leman of Canada. Swiss Ryan Regez took the seasonal Crystal Globe with 559 points to 506 for Terence Tchiknavorian (FRA) and 465 for teammate Bastian Midol. Mobaerg was fourth with 430.
The women's Ski Cross final completed an epic season for Sweden's Sandra Naeslund. In addition to her Olympic title, she won 11 of the 12 races on the World Cup circuit, taking Saturday's race ahead of Canada's Marielle Thompson and Swiss Fanny Smith. The season standings were almost identical, with Naeslund at 1,150, followed by Smith (641) and Thompson (549).
In Megeve (FRA), Canadian superstar Mikael Kingsbury won his 10th World Cup event of the season, 86.27-86.23 over perennial rival Ikuma Horishima (JPN), with Sweden's Beijing gold medalist Walter Wallberg third (85.13). Saturday's Dual Moguls finale was once again a Kingsbury-Horishima 1-2, this time with Ludwig Fjallstrom (SWE) third. Kingsbury won the seasonal titles in both the Moguls and Dual Moguls – his 10th overall – with 672 points to 640 for Horishima in Moguls and 400-300 over Horishima in Dual Moguls.
The women's Moguls was the third win of the season for PyeongChang gold medalist Perrine Laffont (FRA: 86.86), who also won the seasonal title by just 610-609 over Japanese star Anri Kawamura (82.54), who finished third. Beijing gold medalist Jakara Anthony was second in the race (86.43) and third in the seasonal standings; American Jaelin Kauf (81.59) was fourth in Friday's race.
Saturday's women's Dual Moguls was nearly a repeat. Laffont won again, beating Anthony in the final, with Kauf winning the bronze-medal race against fellow American Kai Owens. Anthony won the seasonal Dual Moguls title, 340-296, over Laffont; Owens finished third (200) over Kauf (192).
● Gymnastics ● The FIG Artistic Apparatus World Cup in Cairo (EGY) drew a large field, and featured two wins for Ukraine's stars.
Tjasa Kysselef (SLO) won the women's Vault at 13.183, ahead of the ageless – actually now 46 – Oksana Chusovitina (UZB: 12.950) and Laurie Denommee of Canada (12.849). South Africa's Caitlin Rooskrantz took the Uneven Bars, scoring 12.300 to edge Denommee (12.033) and Mari Kanter (NOR: 11.733).
Sunday's finals had Ukraine's Yulia Kasianenko winning on Beam, ahead of Zsofia Kovacs (HUN), 13.400-13.133; Hungary's Dorina Boeczoego won the Floor Exercise with a score of 12.733.
Tokyo Olympic Floor Exercise gold medalist Artem Dolgopyat won the men's Floor competition at 14.500, out-scoring Paul Juda of the U.S. (14.333) and Ireland's Adam
Steele (13.933). Irish teammate Rhys McClenaghan took the Pommel Horse, scoring 14.966 to 14.533 for both Harutyan Merdinyan (ARM: 2nd) and Ahmad Abu Al Soud (JOR: 3rd).
Armenia's Vahagn Davtyan won the Rings (14.800), with Ibrahim Colak (TUR: 14.700) and Salvatore Maresca (14.633) following; American Alex Diab finished sixth (14.366).
Davtyan won on Vault, scoring 14.983 to 14.849 for Ukraine's Nazar Chepurnyi, with Juda fourth (14.416). Ukraine's Ilia Kovtun won on Parallel Bars (14.833), with Juda sixth (14.066), and Italy's Carlo Macchini won on Horizontal Bar (14.400), with Juda second (13.933) and Ian Lasic-Ellis (USA) fourth at 13.433.
¶
At the German Cup Team Challenge in Stuttgart, the U.S. won the men's Team Challenge, scoring 249.100 points, ahead of Italy (247.800) and Germany (241.800). Asher Hong and Yul Moldauer went 1-2 on Floor for the U.S., Khoi Young won on Pommel Horse, Hong and Brody Malone were 1-2 on Rings, Young won the Vault and was second on Parallel Bars and Malone won the Horizontal Bar.
In the individual apparatus finals, Canada's Felix Dolci won on Floor, 14.300-14.166 over Hong; Young (15.000) won on Pommel Horse; Hong won on Rings (14.266); Young won the Vault (14.916); Spain's Nicolau Mir took the Parallel Bars (14.600), and Carlo Hoerr (GER) won on Horizontal Bar, scoring 13.833.
The women's team event was also won by the U.S., scoring 164.929 to 163.598 for Italy and 153.297 for Australia. Angela Andreoli (ITA) won the Vault (13.366) and teammate Giorgia Villa won the Uneven Bars (14.433). The U.S. went 1-2 on Beam with Konnor McClain (13.766) and Ashlee Sullivan (13.600) and they were also 1-2 on Floor, with McClain scoring 13.566) and Sullivan at 13.533).
Individual apparatus finals saw Denelle Pennick (CAN) win the Vault (13.283); Villa won the Uneven Bars (13.833), with American Nola Matthews third (13.700); McClain took the Beam title (14.033), and Andreoli won on Floor (13.666), ahead of McClain (13.300).
The U.S. won the Mixed Cup title with a 57.950-50.450 score in the gold-medal final.
● Shooting ● Continuing a non-stop ISSF international calendar for 2022 is the Shotgun World Cup in Nicosia, Cyprus, the fifth major event of the year, which concluded Saturday.
The U.S. led all countries with seven medals (0-4-3), with Italy with six and leading with three golds (3-2-1).
The men's Skeet final saw Egypt's Azmy Mehelba edge Italy's Tammaro Cassandro, 36-35, in the final with Eric Delaunay (FRA) third at 23. Cassandro came back to win the team event, with Gabriele Rossetti and Elia Sdruccioli, 6-4, over the American trio of Phillip Jungman, Adam McBee and Hayden Stewart.
Turkey's Oguzhan Tuzun won the men's Trap title in a 31-29 final over Giovanni Cernogoraz (CRO), with Talal Alrashidi (KUW: 20) third. Aslrashidi got a gold in the team event, 6-2, over India in the final.
The women's Skeet final saw Amber Hill (GBR) win with 34 points over International Olympic Committee member and 2012 Olympic bronze medalist Danka Bartekova (SVK: 28) and Austen Smith of the U.S. (23). Italy defeated the U.S. trio of Smith, Dania Jo Vizzi and Caitlin Connor in the Team final.
Olympic trap gold medalist Zuzana Rehak-Stefecekova won the women's Trap title with 31 points in the final to 28 for Italy's Silvana Stanco and 19 for Rachel Tozier of the U.S. In the Team final, Australia out-pointed the U.S. trio of Tozier, Aeriel Skinner and Ida Brown by 6-4.
Connor and McBee finished second to Italy's Cassandro and Diana Bacosi, 6-2, in the Mixed Team Skeet event, and Turkey won the Mixed Trap Team final with a 7-6 win in the shoot-off with Australia.
● Ski Jumping ● The World Cup is far from over and the men's seasonal title is still on the line.
In Obertsdorf (GER), three-time World Champion Stefan Kraft continued his hot streak, winning fourth time this season, with 413.0 points to 411.3 for Slovenia's Ziga Jelar – his second career World Cup medal – and 400.0 for Timi Zajc (SLO).
On Sunday, again jumping off the awe-inspiring 235 m hill, it was Zajc with his first win of the season, scoring 407.9 over Poland's 2021 Normal Hill World Champion Piotr Zyla (401.1) and Kraft (399.8). Japan's Ryoyu Kobayashi was sixth and maintains a 1,544-1,478 World Cup lead over Karl Geiger (GER) going into the final weekend at Planica (SLO).
● Snowboard ● The SnowCross season finally closed on Sunday in Veysonnaz (SUI), with Canada's Eliot Grondin completing his medal set for the year.
The Olympic silver medalist had won a World Cup bronze and a silver earlier, and got his first win of the season – and second career – over Merlin Surget (FRA) and Leo Le Ble Jacques (FRA) in the final. Germany's Martin Noerl won the seasonal title with 460 points to 386 for Austria's Alessandro Hammerle.
Britain's Charlotte Bankes finished the season in style, winning her fifth World Cup in the eight that were held, ahead of American Faye Guilini and France's Manon Pete Lenoir. Bankes won the overall title easily with 669 points, beating Michela Moioli (ITA: 501) and France's Chloe Trespeuch (464).
¶
The Parallel Snowboarding events were completed in Berchtesgaden (GER), with Austrian Andreas Prommegger and Italy's Edwin Coratti tying for the win in the Slalom final! Korea's Sang-ho Lee took the bronze. On the season, Prommegger won the Parallel Slalom title with 266 points to 245 for Lee and 201 for Arvid Auner (AUT).
The women's Slalom winner was Swiss Julie Zogg, taking her third race of the season, this time against Megan Farrell (CAN). Germany's Ramona Theresia Hofmeister was third. Zogg ran away with a second straight seasonal title: 345 to 252 over Japan's Tsubaki Miki and 250 for Hofmeister in third.
¶
The next-to-last Slopestyle event of 2021-22 was in Spindleruv Mlyn (CZE), with New Zealand's Tiarn Collins getting his second career World Cup gold. He scored 90.25 to edge William Mathisen (SWE: 86.75) and American Luke Winkelmann (85.50).
Japan's Kokomo Murase won her second event of the year in the women's competition, scoring 89.25 to win easily over Jasmine Baird (CAN: 76.25) and Ariane Burri (SUI: 72.25).
● Swimming ● The NCAA Women's Swimming & Diving Championships concluded Saturday in Atlanta, with Virginia sophomore Alex Walsh making the biggest headlines, winning the 200-yard Fly and the 200-yard and 400-yard Medleys to spark the Cavaliers to the team title.
NCAA events are conducted at yards – not meters – and so the times aren't part of the 2022 world list. But Walsh, the Tokyo Olympic silver medalist in the 200 m Medley, set an NCAA record of 1:50.08 for the 200-yard Medley and set pool records for the 400 Medley. Walsh's sister, Gretchen, won the 100-yard Free.
Their teammate, junior Kate Douglass – the Tokyo Olympic bronze medalist in the 200 m Medley – won the 50-yard Free, the 200-yard Breaststroke (NCAA record) and the 100-yard Fly to help with Virginia's team title run.
Penn senior Lia Thomas was one of two transgender swimmers in the meet. After winning the 500-yard Freestyle title on Friday, she appeared to go easier in the 200-yard Free on Saturday, finishing in a tie for fifth, and then was eighth in the 100-yard Free on Saturday. In the latter race, Yale's Iszac Henig, a biological female who is transitioning to male – but has not taken any medications as yet – finished in a tie for fifth.
Virginia swamped the field, piling up 551.5 points to win, with Texas second (406.0) and Stanford third (399.5).
● Table Tennis ● The first of a new series of high-paying tournaments, the $2 million Singapore Smash, finished on Sunday, with China sweeping all five titles.
The men's all-China final was a Tokyo Olympic rematch between gold medalist Long Ma and runner-up Zhendong Fan and it was a doozy, with Fan finally winning, 11-6, 11-6, 6-11, 9-11, 8-11, 11-8, 11-7.
The women's final pitted Tokyo Olympic champion Meng Chen against 2021 World Champion Manyu Wang – both from China – and produced another classic. Chen went up 3-1, but had to win in the seventh set to claim victory: 11-9, 8-11, 11-9, 11-8, 6-11, 9-11 and finally, 11-8.
In the men's Doubles, China's Fan and Chuqin Wang triumphed over Yukiya Uda and Shunsuke Togami, 12-10, 12-10, 12-14 and 11-7. China also took the women's title over Japan, with Wang and Yingsha Sun defeating Hina Hayata and Mima Ito, 11-4, 11-6, 11-4.
The Mixed Doubles was a straight-set victory for Wang and Sun (CHN) over Tokyo bronze medalists Yun-Ju Lin and I-Ching Cheng from Chinese Taipei, 11-3, 12-10 and 11-4.
● Tennis ● /Updated/The biggest names were not the big winners at the BNP Paribas Open in Indian Wells, California, which concluded on Sunday.
In the men's Singles, Russian Daniil Medvedev entered as the no. 1 player in the world, but was ousted in the third round and will drop from the top of the world rankings. Instead, it was Spain's 21-time Grand Slam Singles winner Rafael Nadal who moved into the final as a favorite against 20th-seed Taylor Fritz of the U.S.
But it was Fritz who sprang the upset, 6-3, 7-6 (7-5) over Nadal, winning his second career ATP event. He was the first American to win this event since Andre Agassi in 2001; Nadal had won this event three times previously.
The women's Singles saw Poland's third-seeded Iga Swiatek defeat no. 6 Maria Sakkari (GRE), 6–4, 6–1 for her second win of the year and fifth career WTA victory.
The men's Doubles was won by Americans John Isner and Jack Sock over Santiago Gonzalez (MEX) and Edouard Roger-Vasselin (FRA), 7–6 (7–4), 6–3. The women's Doubles was taken by China's Yifan Xu and Zhaoxuan Yang in a straight-set win over Asia Muhammad (USA) and Ena Shibahara (JPN), 7–5, 7–6 (7–4).
You can receive our exclusive TSX Report by e-mail by clicking here. You can also refer a friend by clicking here, and can donate here to keep this site going.
For our 832-event International Sports Calendar for 2022 and beyond, by date and by sport, click here!