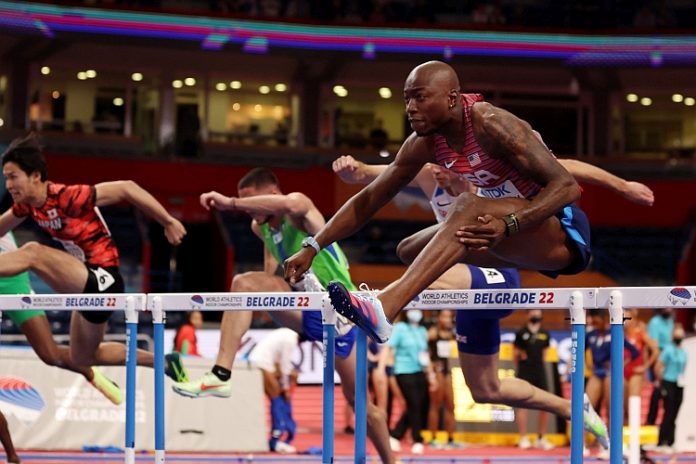 (★ So grateful to our 45 donors, who have covered 77% of our site costs for services for the first six months of 2022. If you enjoy this coverage, please donate here. ★)
The final day of the World Athletics Indoor Championships in Belgrade (SRB) exploded right at the start as American star Grant Holloway equaled his own world record in winning the second semi in 7.29.
And then it got better! Venezuela's Yulimar Rojas got the best women's triple jump in history. Serbian star Ivana Vuleta brought down the house with her long jump win and Sweden's Mondo Duplantis increased his absolute world pole vault mark by another centimeter.
There were four world-leading performances (and three world records!) on the day and 13 over the course of the championships:
● Men/60 m hurdles: 7.29 (=WR), Grant Holloway (USA)
● Men/Pole Vault: 6.20 m (20-4: WR), Mondo Duplantis (SWE)
● Women/Long Jump: 7.06 m (23-2), Ivana Vuleta (SRB)
● Women/Triple Jump: 15.74 m (51-7 3/4: WR), Yulimar Rojas (VEN)
Here's what happened on Sunday at the Stark Arena:
● Men/1,500 m: The race figured to be between Olympic champ and indoor world-record setter Jakob Ingebrigtsen (NOR) and prior record holder Samuel Tefera (ETH) and it was.
Even without pacesetters, the race was fast from the start, with Kenya's Abel Kipsang and Ingebrigtsen running 1-2 on the first lap and Ingebrigtsen taking the lead on the second and pushing the pace. He led at 400 m in 55.81 and was part of a group of six that passed 800 m in 1:54.01 with Kipsang in front and Tefera second.
With two laps to go, Ingebrigtsen and Tefera had a small lead on the rest and the Norwegian passed 1,200 m in 2:51.16, with Tefera 0.11 back. By the bell, it was a two-man race and Tefera made his move on the far turn and moved into the lead and away from Ingebrigtsen to win going away in 3:32.77 to 3:33.02, the no. 12 and 16 indoor performances ever.
Behind them was Kipsang, who took the bronze in 3:33.36, ahead of Teddese Lemi (ETH: 3:33.59). Americans Sam Prakel (3:38.40) and Josh Thompson (3:44.48) were ninth and 12th.
● Men/3,000 m: The shock came in the heats on Friday, when world leader Berihu Aregawi (ETH) failed to qualify for the final, but his teammates suffered no letdown, as Tokyo 10,000 m winner Selemon Barega and Olympic Steeple runner-up Lamecha Girma ran 1-2 in 7:41.38 and 7:41.63.
They emerged from a tight pack on the final lap, with the top seven finishing within 2.22 seconds. Britain's Marc Scott got through for third in 7:42.02; American Dillon Maggard finished ninth in 7:46.18.
● Men/60 m hurdles: Everyone knew American Olympic silver medalist Holloway was the favorite, but his 7.40 in the heats said he was more than ready. After fellow American Jarret Eaton won the first semi in 7.52, Holloway exploded out of the blocks and ran a near-perfect race to win semi two in 7.29, equaling his world mark from 2021! France's Wilhem Belocian won the final semi in a more normal 7.53.
The final lane in the final had to be determined in a draw out of a bag, as Britain's David King and Japan's Shusei Nomoto both ran exactly 7.565! King won the draw and advanced; is this really the best way to do this? It was dramatic.
In the final, Holloway was out like a shot again and had a clear lead over the first hurdle, but was going so fast that he hit the third hurdle with his lead leg and lost a little bit of control. He won easily, but in a merely-human 7.39. France's Pascal Martinot-Lagarde won his third World Indoor silver at 7.50, and Eaton got the bronze at 7.53, his second World Indoors career medal. King was sixth.
● Men/4×400 m: It's always something. The U.S. was in good position to qualify in heat one, but anchorman Isaiah Harris suffered a bad pull in his right leg just a few strides into the final lap. He hobbled around the track for 180 m and bravely finished second in obvious pain, but the slowed time of 3:09.11 wasn't one of the top three non-winning times and the Americans did not qualify for the final.
The medal race was mostly a duel between Spain and Belgium, with Alexander Doom giving the Belgians the lead going into the third leg with Jonathan Saccor. But Manuel Guijarro took over the lead and passed first to the anchor, Bernat Erta.
Belgium had the uber-experienced Kevin Borlee on anchor and he waited patiently, then shot by Erta on the final backstraight and raced away to a 3:06.52-3:06.82 victory. The Dutch, anchored by Tony van Diepen, closed hard for third in 3:06.90.
● Men/High Jump: This morning final included Tokyo co-gold medalist Gianmarco Tamberi (ITA), who was one of five who cleared 2.31 m (7-7). The bar went to 2.34 m (7-8) and the only one to clear was Korea's Sang-hyeok Woo, who leaped from fifth to first!
The remaining medals had to be settled on the countback, with the other four all having cleared 2.31 m on their second tries. Swiss Loic Gasch was the only one who had not missed through 2.28 m (7-5 3/4), so he got the silver. Third was more complicated, as New Zealand's Hamish Kerr and Tamberi both had one miss through 2.28 m, so they shared the bronze. Brazil's Thiago Moura had three misses though 2.28 m, and ended up fifth.
● Men/Pole Vault: Only four men cleared 5.85 m (19-2 1/2), with world-record holder Duplantis and American Chris Nilsen – the gold and silver winners in Tokyo – with no misses and 2016 Olympic champ Thiago Braz (BRA) and Valentin Lavillenie (FRA) making it on their second tries (lifetime best for Lavillenie).
The bar went to 5.90 m (19-4 1/4), with Duplantis and Braz passing. Nilsen clear on his second try, with Lavillenie missing three times, leaving the medals to Duplantis, Braz and Nilsen.
At 5.95 m (19-6 1/4), Duplantis cleared cleanly, and then Braz cleared on this third attempt. Nilsen missed, leaving him with the bronze. At 6.05 m (19-10 1/4), Duplantis popped over on his first attempt, but Braz missed three times to settle for silver.
Duplantis raised the bar to a world record of 6.20 m (20-4) and while the first two attempts were poor, he got better speed on the third run and snaked over the bar for his second world record in Belgrade in two weeks! Amazing!
American K.C. Lightfoot cleared 5.60 m (18-4 1/2) to tie for 10th place.
● Women/800 m: After her disappointment of not making the Olympic final in Tokyo, American star Ajee Wilson was well positioned to win her first major international title. She looked the best in the heats, but was sitting fourth for the first two laps as Jamaica's Natoya Goule led through 400 m in 59.30.
But coming into the straightaway to take the bell, Wilson exploded down the straight and zoomed to the lead. No one was ready for her burst and onto the backstraight, she was decisively in front and zoomed to a 1:59.09 runaway win.
Wilson had been the silver medalist at the 2016 and 2018 World Indoors and twice an outdoor Worlds bronze medalist in 2017 and 2019, but now she is a gold medalist, at age 27.
Behind her, Freweyni Hailu (ETH) and Halimah Nakaayi (UGA) kicked hard to pass Goule on the run-in, and went 2-3 in 2:0054 and 2:00.66, with Goule fourth at 2:01.18. A right quad injury forced Britain's world leader, Kelly Hodgkinson, to withdraw prior to the meet.
● Women/4×400 m: The U.S. came in with three straight World Indoor titles in this event, and led the qualifying at 3:28.82.
But the U.S. was fourth at the first exchange, with Na'Asha Robinson trailing the Netherlands, Jamaica and Poland. Those four teams battled throughout, with Brittany Aveni bringing the U.S. into contention with a strong third leg, handing to anchor Lynna Irby in second place.
But the Jamaicans were strong throughout, with the experienced Stephenie Ann McPherson on the anchor and she gave away nothing, maintaining a small lead throughout and crossing first in 3:28.40.
Behind her on the final turn were Irby, Poland's Justyna Swiety-Ersetic and Dutch star Femke Bol, racing up to challenge for a medal. In the final straight, Bol and Swiety-Ersetic both closed with a rush and passed a tiring Irby for the silver and bronze, 3:28.57-3:28.59-3:28.63.
● Women/Long Jump: The crowd was all in for home favorite Ivana Vuleta (nee Spanovic), the 2018 World Indoor Champion. She did not disappoint, taking the lead with a seasonal best of 6.89 m (22-7 1/4) in round two and letting the field chase her.
Nigeria's Ese Brume got a strong jump in round three to get into second place at 6.85 m (22-5 3/4), and Britain's Lorraine Ugen moved up to third at 6.82 m (22-4 1/2).
But then Vuleta fired up the crowd with a splendid lead in the fourth round, reaching a world-leading 7.06 m (23-2) to essentially assure her victory.
Americans Tiffany Flynn and Quanesha Burks got out to 6.78 m (22-3) and 6.77 (22-2 1/2) in the first two rounds, but could not improve and ended up 4-5. Brume and Ugen also did not improve and settled for silver and bronze.
For Vuleta, her winning mark is the no. 5 indoor performance this century; she has three of them and American star Brittney Reese has two.
● Women/Triple Jump: The world record was in sight as the record holder, Venezuela's Rojas, had already come within a couple of centimeters earlier in the season. She ended the competition on her first jump of 15.19 m (49-10), but what more could she do?
She improved to 15.36 m (50-4 3/4), equaling the no. 3 jump in indoor history in round four and then got an startling step phase on her final try and flew out into untouched sand at a staggering 15.74 m (51-7 3/4), another world indoor record and the greatest jump in history, better than her 15.67 m (51-5) outdoor mark from the Tokyo Olympic Games!
Combining indoors and outdoors, Rojas now owns eight of the top nine jumps in history. Wow.
A full meter behind Rojas was Ukraine's Maryna Bekh-Romanchuk, who got a lifetime best of 14.74 m (48-4 1/2) to score the silver medal , with Jamaica's Kimberly Williams third at 14.62 m (47-11 3/4). American Keturah Orji was seventh at 14.42 m (47-3 3/4); Tori Franklin was 13th (13.89 m/45-7).
Even without medals in either of the 4×400 m relays, the U.S. dominated the event, winning an astonishing 19 medals (3-7-9), with Ethiopia second at nine (4-3-2) and the Netherlands at four (0-2-2). Jamaica, Sweden and Switzerland won three medals; 31 countries won medals in all.
The American performance was further underlined by the team scoring to eight places (8-7-6-5-4-3-2-1), where the U.S. rang up 177 points to 76 for Ethiopia, 40 for Jamaica, and 36 for Spain and the Netherlands.
You can receive our exclusive TSX Report by e-mail by clicking here. You can also refer a friend by clicking here, and can donate here to keep this site going.
For our 832-event International Sports Calendar for 2022 and beyond, by date and by sport, click here!