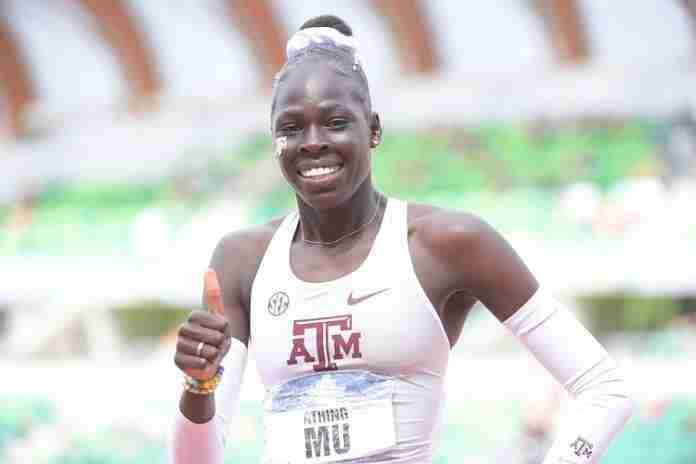 (★ Friends: The new bill for server and support costs has arrived. If you would like to support our coverage, please donate here. Your enthusiasm is the reason this site continues. Thank you. ★)
Headline results of noteworthy competitions around the world:
● Archery ● USA Archery completed its selection process for the U.S. team to compete at the 2021 World Archery Championships last Monday (7th) on the final day of the SoCal Showdown in Chula Vista, California.
World Champion Brady Ellison won six of seven round-robin matches to finish with a three-stage Trials total of 36.00 points and will lead the team that will compete in September in Yankton, South Dakota.
As at the Olympic Trials, Jack Williams finished second with 28.00 points, ahead of Matthew Nofel (17.00) and Matthew Requa (17.00).
The women's Recurve winner was Rio 2016 Olympian Mackenzie Brown, who topped Olympic Trials winner Casey Kaufhold, 30.00 to 29.00, with both winning six of seven round-robin matches. Third was 15-year-old Gabrielle Sasai (19.00), too young to compete in the Olympic Trials, but who will be on the Worlds team in Yankton. Jennifer Mucino-Fernandez, third at the Olympic Trials, finished fourth (16.00).
● Artistic Swimming ● The combined FINA World Series Super Final and Olympic Qualification Tournament in Barcelona was the portal to Tokyo for eight teams and three Duets.
In the Olympic Qualification Duets final, Austrian sisters Anna-Maria and Eirini Alexandri won with a combined total of 182.8053, over Vasilina Khandoshka and Daria Kulagina (BLR: 176.6593) and French sisters Charlotte and Laura Tremble (176.4061). The American pair of Ruby Remati and Lindi Schroeder finished fifth (174.6085).
The Olympic Qualification Team final was won by Italy with a combined (Technical + Free) score of 184.0249, well ahead of Spain (182.8506) and Greece (175.9990). The U.S. was fourth at 175.7882, with France, Korea and Hungary also finishing.
In the Super Final, Canadian star Jacqueline Simoneau won the Solo Technical (90.4573) over Lara Mechnig (LIE: 84.1573) and American Nicole Dzurko (82.0876), then won the Solo Free (92.1000) ahead of American Anita Alvarez (88.1332) and Mireia Hernandez (ESP: 86.3668).
Simoneau and Claudia Holzner won the Duet Technical (90.5040), easily on top of Khandoshka and Kulagina (BLR: 87.6593) and the Dutch sisters Bregje and Noortje de Brouwer (87.5620). Alvarez and Schroeder of the U.S. were fourth (87.2417).
Simoneau and Holzner won the Duet Free with 91.8332 points, well in front of Khandoshka and and Kulagina (89.0000) and the de Brouwer sisters (88.4668). Remati and Schroeder were fifth (87.3668).
In the Team Technical, Italy won with 90.7917 points, beating Spain (90.5506) and Canada (88.9380) with the U.S. in fourth (86.8550). The Team Free standings were in the same order,: Italy (93.2332), Spain (92.3000), Canada (90.4668) and the U.S. (88.9332).
Russia's Aleksandr Maltsev won the men's Solo Technical (90.9322), while Italian Giorgio Minisini took the men's Solo Free (88.8668). Maltsev and Olesia Platonova won the Mixed Duet Technical (92.2651), and Maltsev and Mayya Gurbanberdieva won the Mixed Duet Free easily at 94.0000.
Canada won the Mixed Team Highlight event (89.8000), while Hungary was the only entrant in the Mixed Team Free Combination (77.7668).
● Athletics ● The NCAA Track & Field Championships closed in Eugene, Oregon on Saturday, with another startling meet that has re-shaped the upcoming Olympic Trials in several events. The meet produced one world-leading mark (athletes are Americans unless otherwise noted):
● Men/400 m: 43.85, Randolph Ross (USA/North Carolina A&T)
Randolph had control of the 400 m final from start to finish and pulled in the final 60 m from Bryce Deadmon (Texas A&M: 44.44), Noah Williams (LSU: 44.93) and teammate Trevor Stewart (44.96). Randolph, coached by his father, Duane Ross, is now no. 13 on the all-time list and no. 9 all-time U.S. On the 2021 world list, Ross, Williams, Deadmon and Stewart's season bests rank 1-3-5-6.
Despite overcast and cool weather, the sprints were impressive, with LSU's Terrance Laird winning the men's 100 m in 10.05 and a new star, Florida freshman Joseph Fahnbulleh, beating Laird in the 200 m, 19.91-19.94, coming from way behind on the home straight with giant strides.
USC senior Isaiah Jewett won the men's 800 m in a lifetime best of 1:44.68, ahead of Texas A&M freshman Brandon Miller (1:44.97). Oregon freshman Cole Hocker won the 3:35.35 to the delight of the home crowd and Oregon junior Cooper Tease (13:12.27) did the same in the 5,000 m, as 13 of the top 14 finishers posted lifetime bests.
LSU's Sean Burrell – a freshman – won the 400 m hurdles in an electrifying 47.85, lowering his lifetime best of 48.86 set at the East Regional and setting a World U-20 Record, as well as moving to no. 4 on the 2021 world list.
In the field, LSU junior JuVaughn Harrison completed his historic double in the high jump (2.33 m/7-7 3/4) and long jump (8.27 m/27-1 3/4). Italy's Emmanuel Ihemeje, an Oregon freshman, won the triple jump at 17.14 m (56-2 3/4) – his outdoor best – and moved to no. 9 on the year list. Arizona State's Turner Washington took the men's shot (21.10 m/69-2 3/4) and discus (63.42 m/208-1).
The women's finals were mostly on Saturday and Texas A&M frosh Athing Mu put on a show, winning the 400 m in a collegiate record 49.57 (no. 9 all-time U.S.) and then anchoring A&M 4×400 m to another collegiate record of 3:22.34, the world leader in 2021. In fact, that time would rank equal-14th among all nations, all-time! Mu's split was reported at 48.85, clearly positioning her for a spot on the U.S. 4×400 m team for Tokyo, assuming she makes the team in the 800 m. She's 19.
The unexpected star was the 5-4 sophomore Cam Sturgis of North Carolina A&T, who stunned herself as well as everyone else by doubling in the 100 m (10.74w: +2.2 m/s) and 200 m (22.12). She ran away from USC's Twanisha Terry (10.79w) in the 100 and then stormed down the straight in the 200 m to outlast Tamara Clark (USA/Alabama), who finished in 22.17.
USC's Anna Cockrell won both the 100 m hurdles (12.58) and the 400 m hurdles in 54.66, moving her to no. 8 in the world in the longer race.
Texas A&M's Tyra Gittens (TTO) might have been the busiest athlete in the meet, winning the heptathlon (6,285), taking second in the long jump (6.68 m/21-11) and third in the high jump (1.87 m/6-1 1/2).
World leader Jorinde van Klinken (NED/Arizona State) was trailing Iowa's Laulauga Tausaga (63.53 m/208-5) in the discus into the final round, but unloaded a 65.01 m (213-3) final throw to win. The women's hammer was a showcase for Canadian Camryn Rogers (Cal), who won at 75.52 m (247-9) – a collegiate record – and is now no. 4 on the world list for 2021.
A great meet, with an even better one – the U.S. Olympic Trials – starting on the 18th.
¶
The final Wanda Diamond League meet for three weeks was a barnburner in Florence (ITA) on 10 June, with four world-leading marks:
● Men/Steeple: 8:08.54, Soufiane El Bakkali (MAR)
● Men/5,000 m: 12:48.45, Jakob Ingebrigtsen (NOR)
● Men/110 m hurdles: 13.01, Omar McLeod (JAM)
● Women/1,500 m: 3:53.63, Sifan Hassan (NED)
El Bakkali was in a group of six at the bell, but finished strongly to win the Steeple from Bikila Tadese (ETH: 8:10.56) and fellow Moroccan Mohamed Tindouft (8:11.65 PR), with the top nine all under 8:20. Ingebrigtsen's win was a European Record and he ran away down the straightaway from Hagos Gebrhiwet (ETH: 12:49.02), Mo Ahmed (CAN: 12:50.12) and Mohamed Katir (ESP: 12:50.79). Now one of the favorites for Tokyo, Ingebrigtsen was ecstatic:
"Today it was like winning a gold medal. It is pretty crazy. I was expecting a PB, because it has been two years since my last PB. I was most likely to run under 13 minutes, but this European record is incredible. Now I have to able to win a medal, too. If I am able to win against the best runners, then I can also win at the Olympics."
The women's 1,500 m was a sensational win for Hassan, just four days after her 10,000 m world record, running away on the final lap from reigning Olympic 1,500 m champ Faith Kipyegon (KEN), 3:53.63 – the sixth-fastest race in history – to 3:53.91 (no. 7), with Laura Muir (GBR: 3:55.59) chasing. Hassan won the 1,500 m and the 10,000 m at the 2019 World Championships and appears well positioned to do so in Tokyo.
Britain's Dina Asher-Smith dominated the women's 200 m, winning in 22.06, way ahead of Marie-Josee Ta Lou (CIV) in 22.56. Puerto Rico's Jasmine Camacho-Quinn, the world leader, ran away with the 100 m hurdles in 12.38, the second-best mark of 2021. Dutch star Femke Bol set a national record in the women's 400 m hurdles and moved to no. 3 on the 2021 world list in 53.44; have no doubt, she is a medal threat in Tokyo.
In the field, Russian Anzhelika Sidorova moved to no. 2 on the 2021 world list, winning the women's vault at 4.91 m (16-1 1/4); she's already the reigning World Champion. Croatia's Sandra Perkovic got a season's best in the discus, reaching 68.31 m (224-1), now no. 3 on the world list and in a position to defend her Olympic titles in 2012 and 2016.
¶
New world leaders elsewhere came in Nice (FRA) on Saturday as Britain's Oliver Dustin won the 800 m in a lifetime best 1:43.82 and on Sunday in Shaoxing (CHN), where Lijiao Gong threw the shot 20.31 m (66-7 3/4).
Dustin, age 20, improved from 1:45.71 in May to win over France's Gabriel Tual, who also scored a lifetime best of 1:44.44. Australia's Jye Edwards won the men's 1,500 in an impressive 3:34.74 and American Mike Rodgers ran in all three races of the men's 100 m, winning race one (10.38), placing second in race two (10.25) and winning race three (10.09)!
Two-time World Champion Gong wasn't the only highlight at the Chinese nationals in Shaoxing, as Bingtian Su won the men's 100 m in 9.98, and Yaming Zhu won the men's triple jump at 17.39 m (57-0 3/4).
● Canoe-Kayak ● The first ICF Slalom World Cup was in Prague (CZE), with a couple of upsets and some expected results by Olympic favorites.
In the men's C-1 on Sunday, Czech Lukas Rohan scored a surprise victory in 97.20 seconds (with two penalties), finishing ahead of two-time World Champion David Florence (GBR: 97.44, 0 penalties) and 2017 World Champion Benjamin Savsek (SLO: 99.80, 2 penalties). Two-time World Champion Jiri Prskavec (CZE) won the K-1 in 90.42 seconds (0), ahead of Italy's Giovanni de Gennaro (90,87) and France's Mathieu Biazizzo (92.01). American Michal Smolen was fifth (93.62).
The women's C-1 final was another triumph for four-time World Champion Jessica Fox of Australia, finishing in 105.15 (0 penalties). She was easily the best on the course, with 2019 World Champion Andrea Herzog second (GER: 109.98, 2 penalties) and two-time Worlds medal winner Tereza Fiserova (CZE) third in 110.76 (0).
The shocker came in the K-1 women's final for Poland's Klaudia Zwolinska, who took her first World Cup title in 100.58 (0), ahead of Natalia Pacierpnik (POL), timed in 102.49 (0) and then Fox, who had four penalties on the way to a final time of 102.82.
● Cycling ● Mountain stages are almost always the deciders in multi-stage races on the UCI World Tour and Stage 5 of the Tour de Suisse turned the race around.
Ecuador's Richard Carapaz, the 2019 Giro d'Italia winner, won the 175.2 km stage that featured a starting climb, then a huge descent and finishing with a triple climb and an uphill final run into Leukerbad. He dueled to the finish with Danish star Jakob Fuglsang, but got there first, leaving the rest of the field at least 39 seconds behind.
Carapaz took over the race lead by 26 seconds over Fuglsang and maintained it through Stage 6, another triple-climb stage, won by Dane Andreas Kron over Rui Costa (POR) in an eight-man sprint to the finish.
But the 23.2 km time trial in stage 7 shook up the field again, with Colombia's Rigoberto Uran winning in 36:02, ahead of France's Julian Alaphilippe (+0:40) and Swiss Gino Mader (+0:54) with Carapaz fourth (also +0:54). That left Carapaz in the lead, but now by 17 seconds over Uran and 39 seconds over Alaphilippe with one stage left.
Sunday's final stage of 159.5 km in and around Andermatt included three major climbs, but a mostly downhill finish. But Carapaz was careful to stay with the lead pack of nine riders and while Mader and Canada's Michael Woods escaped to finish 1-2 in 4:06:25, Carapaz and Uran finished 5-7 and ended up 1-2 in the final standings, with Uran 17 seconds back.
Alaphilippe left the event early to go home to attend to the birth of his first child, so Fuglsang moved from fifth to third on Sunday (+1:15), ahead of German Maximilian Schachmann (+1:19), with Woods fifth (+2:55).
¶
The UCI Mountain Bike Cross Country World Cup resumed after a month off in Leogang (AUT), with Swiss Mathias Flueckiger winning the men's race after two third-place finishes in the first two legs.
A three-time Worlds medalist. Flueckiger finished the 23.85 km race in 1:15:50, posting the fastest circuit of the race on lap five (11:23.5) to build his lead and finish 14 seconds up on Czech Ondrej Cink (1:16:04) and 45 seconds ahead of third-place Anton Cooper (GBR). Flueckiger is now the only man to medal in all three races this season.
Flueckiger also won the eight-lap short-track race in 20:43, also ahead of Cink (20:48) and Milan Vader (FRA: 20:59).
France's Loana Lecomte continued her domination of the women's racing, winning her third race in a row, storming to victory in 1:17:03 over reigning Olympic champ Jenny Rissveds (SWE: +1:45) and Austria's Laura Stigger (+1:50). Lecomte was in front from the start and never let up. Lecomte won the seven-lap short-track event by four seconds over Rebecca McConnell (AUS), 21:10-21:14, with Swiss Jolanda Neff third (21:21).
● Diving ● The U.S. Olympic Trials in Indianapolis confirmed the American divers for Tokyo, with the last session to be held on Sunday evening (look for a later post for those results).
The women's 3 m Springboard was all about Krysta Palmer, 29, who ran away with the victory, scoring 1,011.95 points to best 18-year-old Hailey Hernandez (926.55), with Sarah Bacon third (912.10) as the second spot came down to the final dive. Palmer and Hernandez will both be first-time Olympians.
The men's 10 m Platform was all about Brandon Loschiavo and Jordan Windle, who scored 1,421.00 and 1,401.40 to finish more than 120 points clear of the rest of the field. David Dinsmore was third at 1,278.50. Loschiavo and Windle – who was born in Cambodia, but adopted at 18 months – are also first-time Olympians.
The men's 3 m Springboard and women's 10 m Platform will be held on Sunday evening.
The synchronized events had (very) clear winners. The men's 3 m Synchro ended with Andrew Capobianco and Michael Hixon winning, 1,289.37 to 1,168.80 over Gregory Duncan and Grayson Campbell. The U.S. did not qualify a team for the men's 10 m Synchro.
In the women's 3 m Synchro, Alison Gibson and Palmer outscored Bacon and Kassidy Cook by 899.82 to 871.50, and Delaney Schnell and Jessica Parratto won the 10 m Synchro by 930.00 to 888.54 over Katrina Young and Murphy Bromberg.
Hixon was a 2016 Olympic silver medalist in the 3 m Synchro event with Sam Dorman; Parratto was also a 2016 Olympian; Capobianco, Gibson and Schnell will be first-time Olympians in Tokyo.
● Football ● The U.S. women's National Team continued its warm-up matches prior to Tokyo with a surprisingly close 1-0 win over Portugal on Wednesday (10th) before facing Jamaica on Sunday night (13th), with both games at BBVA Stadium in Houston.
Against Portugal, the U.S. had chance after chance, but could not finish, ending the first half 0-0, but with 69% of the possession and a 14-2 edge in shots. It took until the 76th minute for Sam Mewis to score on a header off a corner from Christina Press, to take a 1-0 lead and that's how it finished. The American squad ended with 65% of the possession, but a monstrous 26-4 edge on shots; all credit to Portuguese keeper Ines Pereira, who was outstanding. Alyssa Naeher recorded her 41st career shutout for the national team. The U.S. moved to 10-0 all-time vs. Portugal.
On Sunday, the U.S. plays Jamaica at 10 p.m. Eastern time in Houston. The American women have a 22-0 all-time record vs. the Reggae Girlz and are on a 40-match unbeaten streak (36-0-4) since January of 2019. The USWNT is 7-0-1 in 2021, with a 23-1 scoring edge. Coach Vlatko Andonovski is 18-0-1 as the U.S. women's coach since taking over from Jill Ellis after the 2019 FIFA Women's World Cup Victory Tour.
The U.S. women will finish their three-match "Summer Series" tour on Wednesday (16th) vs. Nigeria at the new Q2 Stadium in Austin, Texas, at 9 p.m. Eastern time.
● Gymnastics ● The FIG World Challenge Cup in Osijek (CRO) was a strong warm-up meet for two-time World Uneven Bars champ Nina Derwael of Belgium, who won both her specialty and the Balance Beam.
Derwael scored 15.000 to win on Bars over Zsofia Kovacs (HUN: 14.266) and 13.933 to take the Beam title, with Diana Varinska (UKR) second with 13.366. Hungary's Csenge Bacskay won on Vault (13.733) and home favorite Ana Derek (CRO) took the Floor Exercise (12.833).
On the men's side, Croatia's 2017 World High Bar Champion Tin Srbic won his specialty (14.900) and three-time Worlds Vault medalist Igor Radivilov (UKR) took that event, scoring 14.766. Milad Karimi (KAZ) won the Floor Exercise (14.866), Italy's Salvatore Maresca and Vinzenz Hoeck (AUT) tied on Rings (14.900), Albania's Matvei Petrov won on Pommel Horse (15.166) and the Parallel Bars title went to Ferhat Arican (TUR: 14.833).
● Judo ● The IJF World Championships concluded in Budapest (HUN), with Japan demonstrating that it will be a force at the Tokyo Games next month.
In the 14 individual classes, Japanese judoka won 11 total medals (5-4-2), with the Netherlands next at five (0-0-5) and then Georgia and Spain at four each (both 1-1-2).
Japanese winners included Joshiro Maruyama, who defended his 2019 title in the men's 66 kg class, and Kokoro Kageura, who won at +100 kg for his first world title. The three winning Japanese women were Natsumi Tsunoda (48 kg), Ai Shishime at 52 kg (her second title) and Sarah Asahina at +78 kg, also her second world title.
Only Maruyama, Jorge Fonseca (POR: men's 100 kg) and France's Clarisse Agbegnenou (women's 63 kg) repeated as champions from the 2019 Worlds. Nicoloz Sherazadashvili (ESP: men's 90 kg) was also a second-time winner, after taking the title in 2018.
First-time winners were Yago Abuladze (RUS: men's 60 kg), Lasha Shavdatuashvili (GEO: men's 73 kg), Belgium's Matthias Casse (men's 81 kg) and Kageura. Women's first-time winners included Tsunoda (48 kg), Jessica Klimkait (CAN: 57 kg), Barbara Matic (CRO: 70 kg) and Anna-Maria Wagner (GER: 78 kg).
The Mixed Team event was held on Sunday, with Japan defeating France for the gold, with Brazil and Uzbekistan sharing the bronze medal.
● Karate ● The final Olympic Qualifying Tournament was held in Paris, with the top three in each of the four competition categories for men and women earning a place in Tokyo.
The women's class winners included Dilara Bozan (TUR) in Kata; Ivet Goranova (BUL) at 55 kg, Btissam Sadini (MAR) at 61 kg; and Swiss Elena Quirici at +61 kg.
The men's winners were Ariel Torres Gutierrez of the U.S. in Kata (also the 2019 Pan American champion); Eray Samdan (TUR) at 67 kg; Nurkanat Azhikanov (KAZ) at 75 kg; and Tareg Hamedi (KSA) in the +75 kg class.
● Modern Pentathlon ● The UIPM World Championships for 2021 concluded in Cairo (EGY), showing that age is only a limited barrier to success.
Hungary's Adam Marosi, the 2009 World Champion and now 36, claimed a second title by scoring 1,435 points to edge Russia's Alexander Lifanov (1,426) and Egypt's Ahmed Elgendy (1,417) and Ahmed Hamed (1,412).
Marosi was strong in the fencing (second) and riding (second) events and a respectable 11th in swimming, enough to enjoy an insurmountable lead into the Laser Run, where he finished 19th. Same for Lifanov, but El Gendy and Hamed were first and fourth in the Laser Run to rise in the standings from 15th and eighth!
The women's title went to a familiar star: 2018 World Champion Anastasiya Prokopenko of Belarus – now 35 – who took the lead on the third lap of the Laser Run and posted the fastest time in the final of 11:59.80. Hungary's Michelle Gulyas started the Laser Run in first place, but had only the 10th-fastest time and was passed by France's Elodie Clouvel for second.
Prokopenko scored 1,353 points to 1,341 for Clouvel and 1,339 for Gulyas, with German Annika Schleu fourth (1,330). Prokopenko was the fencing and the Laser Run, but overcame 35th place in swimming and 30th in riding.
Russians Alexander Lifanov and Maxim Kuznetsov won the men's team relay over Korea's Jun Woongtae and Jinhwa Jung, 1,491-1,486. Belarus scored again in the women's team relay, with Iryna Prasiantsova and Volha Silkina winning against Russians Gulnaz Gubaydullina and Uliana Batashova, 1,395-1,383.
Marosi led Hungary to the team gold in a tight race with Germany, 4,185-4,183, with Egypt third (4,171).
● Swimming ● The long-awaited U.S. Olympic Trials got underway on Sunday morning in Omaha, Nebraska at the CHI Health Center. Finals will begin at 7 p.m. local time; look for a separate update on this site.
¶
The Australian Olympic Trials are also underway, finishing on the 17th. So far, the meet has already produced fireworks, including three world leaders and a world record:
● Men/400 m Free: 3:42.65, Eli Winnington
● Women/400 m Free: 3:56.90, Ariarne Titmus
● Women/100 m Back: 57.45, Kaylee McKeown (World Record)
McKeown was already the world leader coming in at 57.63, but smashed the 100 m Back world mark of 57.57 set by American Regan Smith at the 2019 World Championships in Korea (on a relay opener).
Titmus's sensational 3:56.90 is the second-fastest swim of all-time in the women's 400 m Free, just behind Katie Ledecky's 3:56.46 from the 2016 Olympic Games in Rio. Still just 20, she famously won the 2019 400 m Free world title over an ill Ledecky in the final 20 m.
Emma McKeon won the women's 100 m Fly in 55.93 to move to no. 2 on the 2021 world list and Chelsea Hodges took the 100 m Breast in 1:05.99 to sit at no. 6 for this year.
Rio Olympic men's 100 m Free champion Kyle Chalmers won the 200 m Free in 1:45.48 – no. 7 on the world list – to qualify for Tokyo. The 400 m Free win for Winnington also saw Rio gold medalist Mack Horton finish third, so he will not be able to defend his title. Brendon Smith won the 400 m Medley in 4:10.04 and is now no. 4 in the world for 2021.
● Tennis ● A topsy-turvy edition of the French Open concluded appropriately on Sunday, with Serbia's Novak Djokovic coming back from two sets down to win his career second title by defeating Greek Stefanos Tsitsipas by 6–7(6–8), 2–6, 6–3, 6–2, 6–4 in the final.
Djokovic, seeded no. 1, defeated four-time defending champion Rafael Nadal (ESP) in the semifinals, in four sets. Swiss star Roger Federer, the 2009 champion, was in line to play Djokovic in the quarterfinals, but had to withdraw from his fourth-round match due to injury.
The women's division was much wilder, starting with the demand of second-seeded Naomi Osaka (JPN) to skip the mandatory post-match news conferences. She won her first-round match, but then withdrew, citing anxiety. Top-seeded Ash Barty (AUS) won her first-round match and then retired in her next match due to a left hip injury. In fact, none of the top seven seeds reached the quarterfinals.
Unseeded Czech Barbora Krejcikova won the final from Russia's first-time finalist, 31st-seeded Anastasia Pavlyuchenkova, in straight sets, 6–1, 2–6, 6–4. It was Krejcikova's first Grand Slam title, but she made more history by teaming with Katerina Siniakova (CZE) to win the women's Doubles title over Bethanie Mattek-Sands (USA) and Iga Swiatek (POL), 6-4, 6-2! Krejcikova became the first since Mary Pierce (FRA) in 2000 to win both the women's single and doubles at the French Open.
France claimed the men's Doubles title with Pierre-Hugues Herbert and Nicolas Mahut defeating Alexander Bublik and Andrey Golubev (KAZ), 4–6, 7–6 (7–1), 6–4, and the Mixed Doubles title went to Desirae Krawczyk (USA) and Joe Salisbury (GBR) over Russians Elena Vesnina and Aslan Karatsev, 2–6, 6–4, 10–5.
● Volleyball ● The condensed FIVB Nations League continues in sequestered conditions in Rimini (ITA), with Brazil continuing to lead after three of the five weeks of pool play.
The gold medalists at Rio in 2016, Brazil is along after nine games with an 8-1 record, trailed by Poland, France, Slovenia and Serbia, all at 7-2. Iran, Russia and Japan all have 5-4 records and the U.S. is currently in 10th place at 4-5. The top four teams will advance to the semifinals in two weeks.
¶
The FIVB Women's Nations League is halfway through its fourth of five weeks of play, with the United States continuing undefeated at 11-0.
The American women are not only undefeated, but have a 33-2 won-loss record in sets, having yielded only to one set each to Brazil and Italy. With play continuing in week four matches, Turkey is 9-2, followed by Brazil (8-2 and playing Germany tonight), then The Netherlands and Japan at 8-3 and Russia at 7-4.
● Wrestling ● The Poland Open in Warsaw, a UWW Ranking event, had excellent fields and some good results for the U.S., with one notable exception for a reigning Olympic champion.
The U.S. men's Freestylers won three titles and had a fourth finalist to lead all teams, with Yianni Diakomihalis defeating Poland's Eduard Grigorev, 7-4, in the 65 kg final. Joe McKenna won the bronze medal for the U.S. over Vasyl Shuptar (UKR) on criteria after a 0-0 final. Alec Pantaleo won at 70 kg, overcoming fellow American James Green in the final, 5-3. Zahid Valencia won the 86 kg division, defeating Sandro Aminashvili (GEO), 10-0 in the final. Nick Gwiazdowski won silver at 125 kg, losing to Amir Zare (IRI), 6-1, in the final.
In addition to Zare, Iran took two other wins, with Mostafa Hossein defeating Italian vet Frank Chamizo on criteria after a 0-0 tie at 74 kg, and Mohammad Mohammadian at 97 kg, defeating teammate Ali Shabanibengar on criteria after a 1-1 tie.
In Greco-Roman, Uzbekistan, Poland and Iran each won two divisions:
● Islomjon Bakhramov (UZB: 63 kg) and Jalgasbay Berdimuratov (UZB: 82 kg)
● Michal Tracz (POL: 60 kg) and Gevorg Sahakyan (POL: 72 kg)
● Mohammad Saravi (IRI: 97 kg) and Amin Mirzazadeh (IRI: 130 kg)
The American women's Freestyle squad scored two bronze medals, from Amy Fearnside at 53 kg and for Forrest Molinari at 68 kg, and had three fifth-place finishes their best at 50 kg (Erin Golston), 62 kg (Jennifer Page) and Dymond Guilford (76 kg).
Rio 2016 champion Helen Maroulis, set to compete in Tokyo at 57 kg, won her first match, but was defeated 13-0 by Nigeria's Odunayo Adekuoroye (Nigeria) and then 8-2 by Ukraine's Tetyana Kit and was eliminated. Trouble or a bad day at the office?
You can receive our exclusive TSX Report by e-mail by clicking here. You can also refer a friend by clicking here, and can donate here to keep this site going.
For our 649-event International Sports Calendar for 2021 and beyond, by date and by sport, click here!