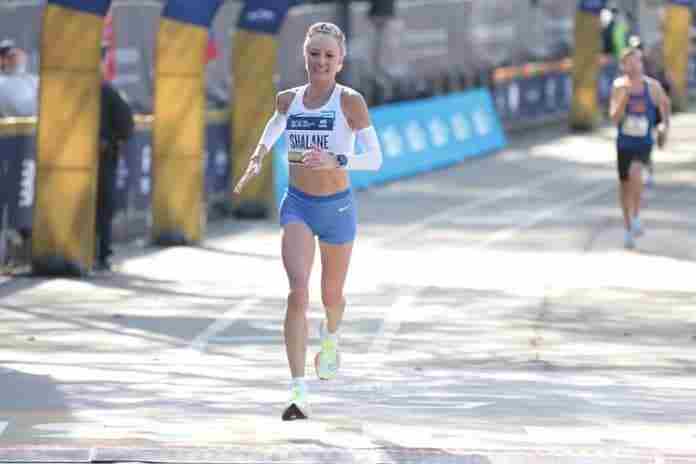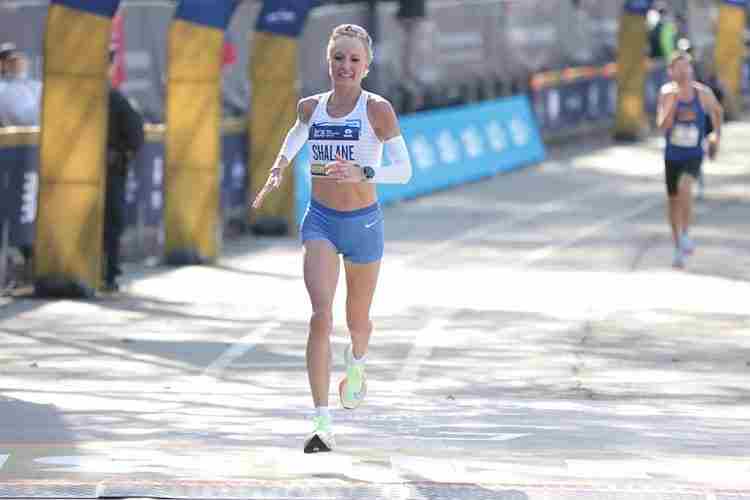 Headline results of noteworthy competitions around the world:
● Athletics ● The 50th running of the New York City Marathon was another showcase for Kenya, which won both the men's and women's races for the seventh time in the race's history, this time with Olympic champ Peres Jepchirchir and Albert Korir.
The women's race included the Tokyo gold (Jepchirchir) and bronze (American Molly Seidel) medal winners and they were part of a nine-woman pack leading at the halfway mark in 1:12:43.
The race broke open between miles 19-20 and by the 20-mile mark, the race had narrowed to Jepchirchir, countrywoman Viola Cheptoo – the sister of American distance star Bernard Lagat and making her marathon debut – and Ethiopia's Ababel Yeshaneh, the 2019 Chicago Marathon runner-up. Seidel was fourth, but more than two minutes behind the leader.
Seidel closed to within 44 seconds of the leaders by the 22-mile mark, but fell back and finished fourth in 2:24:42. In her four career marathons, she's finished 2-6-3-4 and at just 27, has a long career ahead of her.
At the front, the three leaders ran together past 25 miles and then Jepchirchir stepped on the gas and ran away in the final half-mile, winning in 2:22:39 to 2:22:44 for Cheptoo and 2:22:52 for Yeshaneh.
The men's race saw Morocco's Mohamed El Arabay and Italy's Eyob Faniel share the lead at the halfway mark in 1:03:57, with Ethiopian star Kenenisa Bekele – running in his first NYC Marathon – 52 seconds back and not a serious contender.
By 18 1/2 miles, however, the race had changed, with Kenya's Korir surging to the lead, ahead of countryman Kibiwott Kandie – the world-record holder in the Half Marathon – then Faniel and El Arabay. Korir slowly extended his lead and was up by 17 seconds over El Arabay at 22 miles and 28 seconds at 25 miles. Korir, who was second in the 2019 race, steamed home the winner in 2:08:22, followed by El Arabay (2:09:06), Faniel (2:09:52) and American Elkaneh Kibet in fourth (2:11:15). Bekele finished sixth in 2:12:52 and Kandie was ninth in 2:13:43.
Special attention was paid to the other finishers in the women's race, as 2017 NYC Marathon winner Shalane Flanagan, 40, of the U.S. was trying to complete an astonishing six major marathons – Berlin, London, Chicago, Boston, a solo to replace Tokyo, and New York in seven weeks, all in under 3:00. No problem: she ran 2:33:32, ranking sixth among American women. This was perhaps the most amazing performance of the fall marathon season.
● Badminton ● Thailand scored two wins at the BWF World Tour Hylo Open in Saarbrucken (GER) with Busanan Ongbamrungphan taking the men's Singles and top seeds Dechapol Puavaranukroh and Sapsiree Taerattanachai winning the women's Doubles.
Indonesian stars Marcus Fernaldi Gideon and Kevin Sanjaya Sukamuljo won the men's Doubles; Kean Yew Loh (SGP) took the men's Singles and Japan's Chisato Hoshi and Aoi Matsuda won the women's Doubles.
● Boxing ● The AIBA men's World Championships concluded in Belgrade (SRB) with a dizzying program of 13 weight classes and first-time prize money of $100,000-50,000-25,000 for the medal winners. Some 510 boxers from 88 countries had entries.
The medals leaders were Cuba, Kazakhstan and Russia, with five each, but the Cubans scored three golds (3-0-2), the most of any nation, with two each for the Kazakhs (2-2-1), the U.S. (2-2-0) and Japan (2-0-0). For Japan, these were the first-ever gold medals in an AIBA men's championship!
Cuban winners included Andy Cruz at Light Welterweight – his third straight after wins in 2017 and 2019; he also won in Tokyo at Lightweight – plus Yoenlis Hernandez at Middleweight (his first) and superstar Julio Cesar La Cruz in the Heavyweight class, his five AIBA World title to go along with his 2016 and 2020 Olympic golds.
The Val Barker Award for the top fighter of the tournament was given to Cruz.
The U.S. scored wins by Jahmal Harvey at Featherweight and Robby Gonzales at Light Heavyweight. Gonzales scored a narrow, 3:2 semifinal win over home favorite Vladimir Mironchikov in the semifinal, with the Serbian corner protesting three times, but with Gonzales winning 29:28, 29:28 and 30:27 on three cards.
Americans Roscoe Hill (Flyweight) and Omari Jones (Welterweight) won silver medals. Japan's historic victories came at Bantamweight (Tomoya Tsuboi) and Welterweight, with Sewon Okazawa defeating Jones, 3:2.
Kazakhs Temirtas Zhussupov (Minimumweight) and Saken Bibossinov (Flyweight) won gold and while Russia won five medals, it had one gold, with Mark Petrovskii winning the Super Heavyweight division.
● Figure Skating ● Japan's Yumi Kagiyama came from seventh place after the Short Program to win the Free Skate and the men's title at the ISU Grand Prix Gran Premio d'Italia in Turin (ITA).
China's Boyang Jin (97.89) led after the Short Program, but Kagiyama (80.53) scored a startling 197.49 in the Free Skate with no one else clearing 181.25. Thus, Kagiyama's total of 278.02 was a clear winner over Mikhail Kolyada (RUS: 273.55) and Daniel Grassl (ITA: 269.00) as Jin faded to seventh after a ninth-place Free Skate.
No surprise in the women's skating, as Russia went 1-2 with 2021 World Champion Anna Shcherbakova (236.78) and Maiia Khromykh (226.35) well ahead of third-place Loena Hendrickx (BEL: 219.05).
China took gold and silver in Pairs, with two-time World Champions Wenjing Sui and Cong Han winning with 224.55 points over Cheng Peng and Yang Jin (211.86).
Four-time World Champions Gabriella Papadakis and Guillaume Cizeron (FRA) won the Ice Dance in a battle with American stars Madison Hubbell and Zachary Donohue, 220.06-207.90, with Russians Alexandra Stepanova and Ivan Bukin third (202.18). Americans Caroline Green and Michael Parsons finished fifth (178.26).
● Judo ● Japan scored five wins and collected 10 medals to lead the IJF World Tour Baku Grand Slam in Azerbaijan.
Kosuke Mashiyama (90 kg) and Tatsuru Saito (+100 kg) won in the men's classes, with Rina Tatsukawa (48 kg), Momo Tamaoki (57 kg), Utana Terada (70 kg) taking victories in the women's division.
● Shooting ● The ISSF President's Cup in Rifle and Pistol is ongoing in Wroclaw (POL), with half the program completed, with a great match-up between 2016 Olympic gold medalist Christian Reitz (GER) and World Championships medal winner Chaudhary Saurabh (IND):
● Men/10 m Air Pistol: Christian Reitz (GER) d. Chaudhary Saurabh (IND), 34-24;
● Men/10 m Air Rifle: Patrik Jany (SVK) d. Lihao Sheng (CHN), 29-28;
● Women/10 m Air Pistol: Olena Kostevych (UKR) d. Mathilde Lamolle (FRA), 30-30 (shoot-off);
● Women/10 m Air Rifle: Oceanne Muller (FRA) d. Laura-Georgeta Ilie (ROU), 33-26.
Competition continues through the 10th.
● Triathlon ● The second leg of the 2021-22 ITU World Triathlon Series was in Abu Dhabi (UAE) with a sensational win for Bermuda's Olympic champ Flora Duffy.
The Sprint course of 750 m swimming, 20 km bike and 5 km running saw Duffy come from behind as usual on the run phase, clocking 16:12 for the fastest time on the course. She overtook British star (and Olympic silver winner) Georgia Taylor-Brown to win n 55:41 to 55:53. Britain's Sophie Caldwell was third (56:11); the top American was Taylor Knibb in fifth (56:35).
The men's race saw the third career World Triathlon Series win for Belgium's Jelle Geens, who outran France's 2019 World Champion Vincent Luis, 52:20-52:25, with Bence Biksak (HUN) third at 52:28.
It was an especially sweet win for Geens since he missed out on the Olympic race due to Covid-19.
● Weightlifting ● The Pan-American Championships are ongoing in Guayaquil, Ecuador, and while the event is being streamed live on YouTube, no results of any weight class are available via the Web, Facebook or Twitter.
Apparently, the Federacion Panamericana De Levantamiento De Pesas doesn't want anyone to know (today at least). Or did we miss something?
You can receive our exclusive TSX Report by e-mail by clicking here. You can also refer a friend by clicking here, and can donate here to keep this site going.
For our 743-event International Sports Calendar for 2021 and beyond, by date and by sport, click here!