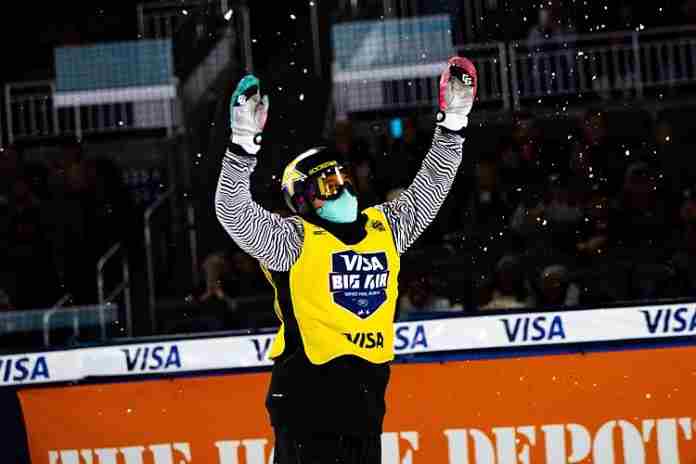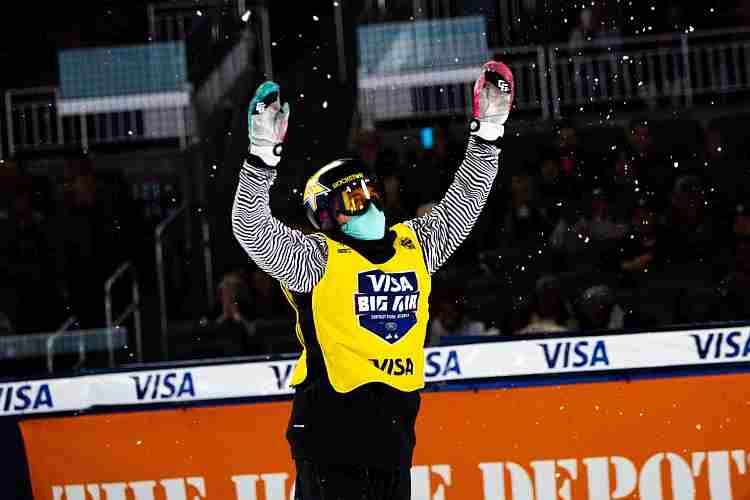 Headline results of noteworthy competitions around the world:
On the last major weekend of Olympic sports action around the world for 2019, American Chris Corning capped off a remarkable week with his second World Cup seasonal title in the last three seasons in Snowboard Big Air.
Corning won the season's final event on a scaffold tower built into Atlanta's Sun Trust Stadium and became the first to land a quad-cork 1800 off a scaffold! "I feel great right now and I'm very happy to be alive after that," he said afterwards. "It's always scary trying it because I really don't ever do it in practice or anything like that. I have to get pumped up to do that trick and let go of anything I'm thinking about. Also, it's really cool to go to a place I have never been and take in the atmosphere. It was great to see how many people showed up and feel that support." More below and the rest of the weekend highlights:
● ALPINE SKIING ● Weather was the winner in the FIS Alpine World Cup, as one of the men's races in Val Gardena (ITA) was canceled and the entire women's program in Val d'Isere (FRA) was wiped out.
The only racing that did take place was a Super-G at Val Gardena and even that was postponed three times due to fog and only 48 of the 64 skiers actually got to compete. The winner was Austria's Vincent Kriechmayr, ahead of Norway's Kjetil Jansrud.
The Giant Slalom at Alta Badia (ITA) was held, with Henrik Kristoffersen (NOR) claiming his second World Cup win of the season, beating France's Cyprien Sarrazin. There is a Parallel Slalom scheduled for Monday.
The women's mid-week Giant Slalom in Courchevel (FRA) was won by Italy's Federica Brignone, beating Mina Furst Holtmann of Norway, who won her first-ever World Cup medal. American star Mikaela Shiffrin was 17th Find links to results here.
● BIATHLON ● The third World Cup of the season was in Annecy (FRA), with defending champion Johannes Thingnes Boe (NOR) continuing to dominate the racing. He won the 12.5 km Pursuit and 15 km Mass Start on Saturday and Sunday, after German Benedikt Doll won the 10 km Sprint on Friday.
After seven of 24 races, he now has a 372-313 lead over his brother, Tarjei Boe, with France's Quentin Fillon Maillet (281), the legendary Martin Fourcade (267) and Simon Desthieux (266) trailing.
Fellow Norwegian Tirill Eckhoff was even better than Boe in the women's division, winning all three races, the 7.5 km Sprint over Justine Braisaz (FRA); the 10 km Pursuit over teammate Ingrid Tandrevold and the 12.5 km Mass Start in front of Italy's Dorothea Wierer. Eckhoff has now won four races in a row, but still trails Wierer in the overall standings, 304-287. Full results here.
● BOBSLED & SKELETON ● The women's Monobob will be a new event for the 2022 Olympic Winter Games and the IBSF is running this event in separate competitions away from its World Cup circuit.
China's Qing Ying won the third event held this season, winning in Konigssee (GER) over Breeana Walker (AUS) and Melissa Lotholz (CAN). Ying is the third different winner in three races: Canada's Cynthia Appiah won the openet in Lake Placid (USA) and Russian Anastasiia Makarova won in Lillehammer (NOR). Full results here.
● FREESTYLE SKIING ● Very busy weekend, especially in Ski Cross, as the fourth Cross Alps Tour was completed in Innichen (ITA), with wins for Kevin Drury (CAN) on Saturday (final canceled; placings on qualifying times) and Swiss Joos Berry on Sunday. Drury won the overall title – and won three of the six races – with teammate Khristofor Mahler second (one win, two silvers) and France's Bastien Midol third.
The women's Cross Alps winner was Sweden's relentless Sandra Naeslund, who won only once, but finished 1-2-2-3-2-4 in the six races! The week's winners include Marielle Thompson (CAN) on Tuesday in Arosa (SUI), then Marielle Berger Sabbatel (FRA) on Saturday in Innichen (race canceled; placings on qualifying times) and Swiss Fanny Smith on Sunday. Smith finished second in the Cross Alps standings and Thompson was third (both had two wins and one second).
The penultimate Big Air competition of the season was held in an elaborate set-up in Sun Trust Park in Atlanta, Georgia (USA) and was the second win in three events for American Alex Hall. He scored 187.50 to edge France's Antoine Adelisse (186.50) and Canada's Teal Harle (CAN: 185.25).
The women's Big Air was won – also for the second time in three events – by Norway's Mathilde Gremaud, ahead of Swiss Guilia Tanno, who finished second for the third straight time this season! The final Big Air event won't be held until the end of February.
The Halfpipe World Cup in Secret Garden (CHN) was the first win of the season for Canada's Noah Bowman, who had already won a silver and bronze in the first two events. He defeated Americans Aaron Blunck (also his third medal in three events) and Lyman Currier for the win. Russia's Valeriya Demidova won the women's Halfpipe, ahead of Canada's Rachael Karker.
Links to results are here.
● NORDIC SKIING ● We can now say that Norway's Jarl-Magnus Riiber is not unbeatable in the Nordic Combined. He lost for the first time in six races this season on Saturday at Ramsau (AUT) off the 98 m hill and 10 km race to German star Vinzenz Geiger … by 1.6 seconds!
He came back, however, on Sunday to post another victory – six out of seven – by winning over teammate Joergen Graabak by 2.8 seconds, with Geiger third (+4.1). For the season, Riiber is already up 680-451 over Graabak after seven of 21 races. Wow! Full results here.
The only Cross Country events held were 1.26 km Freestyle Sprints in Planica (SLO), with Lucas Chanavat (FRA) winning the men's race over Federico Pellegrino (ITA) and Jonna Sundling leading a Swedish 1-2 ahead of Stina Nilsson. American Julia Kern was third in the women's Sprint and earned her first career World Cup medal, with teammate Sophie Caldwell fourth. This was the fifth straight race in which an American woman has won a medal and six out of seven this season! Full results here.
In Ski Jumping, the men were in Engelberg (SUI) for two events off the 140 m hill, with wins for triple Olympic champ Kamil Stoch (POL) and defending World Cup winner Ryoyu Kobayashi (JPN). Next up will be the prestigious Four Hills Tournament starting on Sunday in Obertsdorf (GER). Full results from Engelberg are here.
● SHOOTING ● The 2019 Winter Air Gun Championships in Colorado Springs, Colorado served as the first section of the U.S. Olympic Trials for Air Pistol and Air Rifle.
In 10 m Air Pistol, 2012 Olympic Nick Mowrer compiled an enormous lead in the men's rounds, scoring 1,163 points to 1,146 for 17-year-old Hunter Battig and 1,142 for 19-year-old Jack Leverett III. The women's race is much tighter, with Lexi Lagan (1,144) and Sandra Uptagrafft (1,142) locked in a tight battle, and Miglena Todorova third (1,129). Lagan and Uptagraft are also standing 1-2 in the qualifying for the 25 m Sport Pistol Trials as well. Full results here.
In 10 m Air Rifle, Pan American Games gold medalist Lucas Kozeniesky led the men's competition at 1,259.5 points, Tim Sherry (1,256.4), William Shaner (1,255.0) and Dempster Christenson (1,252.7).
Mary Tucker, a freshman at Kentucky, was the women's leader with an impressive 1,256.4 score, ahead of Pan Am Games champ Ali Weisz (1,256.0), Sarah Beard (1,255.1) and Mindy Miles (1,253.6). Reigning Olympic champ Ginny Thrasher stands sixth at 1,250.0. Full results here.
These scores will carry over to the second section of the Trials, to be held from 24 February-2 March at Ft. Benning, Georgia.
● SNOWBOARD ● Believe it or not, the FIS World Cup for Snowboard Big Air is over!
The final of four competitions was held at Atlanta's Sun Trust Park, with 2019 World Slopestyle champ Chris Corning winning for the second time and finishing 1-3-3-1 in the four events to take his second seasonal title with 3,200 points. He finished 900 points ahead of Atlanta and seasonal runner-up Nicolas Laframboise (CAN: 2,300) with Japan's Ryoma Kimata (1,820) third in Atlanta and third overall.
Japan's Reira Iwabuchi won the Atlanta stage to secure her second win of the season and second straight World Cup seasonal win. Teammate Kokomo Murase was second and Canada's Brooke Voigt was third in Atlanta and second to Iwabuchi on the season, 2,900-1,620.
The second Halfpipe competition of the season was another showcase for Australia's three-time World Champion Scotty James and essentially a re-run of last week's Copper Mountain event. James won again, ahead of Japan's Yuto Totsuka and Ruka Hirano; exactly the same medal winners once again! The women's Halfpipe was won by China's Jaiyu Liu, moving up from silver at Copper Mountain, with teammate Xuetong Cai second and American Maddie Mastro third (for the second week in a row).
The Snowboard Cross events in Cervinia (ITA) had home winners in Lorenzo Sommariva leading an Italian 1-2 with Emanuel Perathoner second, while Michela Moioli led a women's 1-3 for Italy as Chloe Trespauch (FRA) was second and Sofia Belingheri (ITA) was third. Links to results are here.
● SWIMMING ● Caeleb Dressel showed once again that he will be one of the stars of the 2020 Olympic Games in Tokyo, with a superb performance in the International Swimming League final in Las Vegas (USA).
Swimming in front of a modest crowd in a temporary pool at the Mandalay Bay Events Center, Dressel was the highest individual scorer in the final, winning five of his six individual events and setting a world Short-Course record in the 50 m Free (20.24) and American Short-Course Record in the 50 m Free, 100 m Free (45.22) and 50 m Fly (22.06).
In all, some eight American records were set and two world marks, with Japan's Daiya Seto erasing a 2010 mark by American Ryan Lochte in the 400 m Medley (3:54.81). The Energy Standard team, nominally based in Turkey, won the team title over the London Roar as the seasonal Most Valuable Player went to Sweden's Sarah Sjostrom of Energy Standard.
The ISL promises to expand its schedule to 27 meets from seven this season in 2020 and announced new teams in Tokyo (JPN) and Toronto (CAN). Much more here.
● TAEKWONDO ● Current and former world champions won six of the eight weight classes in the season-ending World Taekwondo Grand Slam Champions Series in Wuxi (CHN). Korea won half the classes – four – with 2019 54 kg champ Jun-Seo Bae (58 kg), three-time Worlds winner Dae-Hoon Lee (68 kg) and 2019 73 kg women's winner Da-Bin Lee at +67 kg; Kyo-Don In was also a winner, in the men's +80 kg class.
Russia's 2017 74 kg World Champion Maksim Khramtcov won the men's 80 kg division, and two-time Worlds winner Panipak Wongpattanakakit (THA) took the women's 49 kg crown. Full results are here.