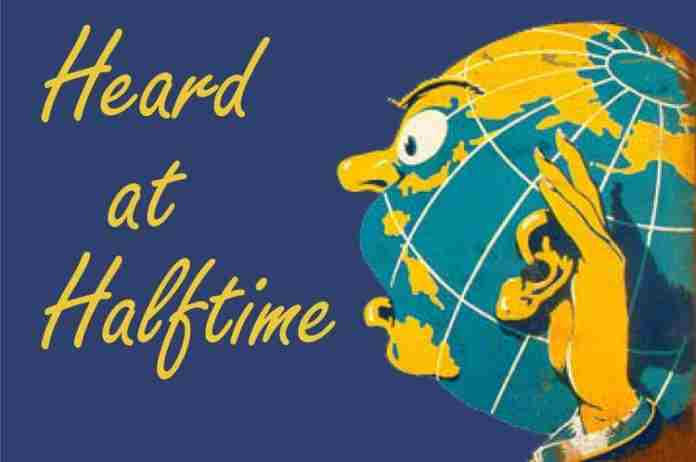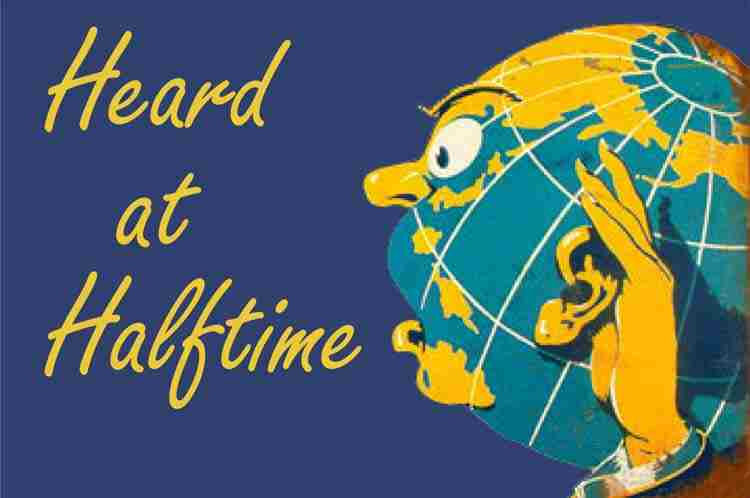 News, views and noise from the non-stop, worldwide circus of Olympic sport (updated):
● Vox Populi ● We received several reader comments on recent stories, including:
● On Mike Moran's 20 February remembrance of the 1980 Winter Olympic "Miracle on Ice," Jim Anderson was one of several readers who noted:
"The REAL MIRACLE ON ICE happened in 1960 at Squaw Valley not 1980. The American squad was made up of amateurs, not future NHL players. I know because I was there as part of the press corps."
● On Monday's Lane One, outlining the in-depth, $217 million offer made by USA Gymnastics to more than 500 abuse survivors, Jaime Lapides wrote:
"Hello. The Army of Survivors will not surrender. They will march forward and seek justice from all parties including the USOPC, the Karolyis', and others. Nassar Survivors have more resolve and heart than you give them credit for. They will not be agreeing to the insult USA Gymnastics added to injury. Neither are they naïve anymore. The deeper pockets are beyond USA Gymnastics. Raped athletes anticipate greater restitution from those deeper pockets. That said, shortchanging the Nassar Survivors is a deadly error. This will decimate USA Gymnastics. Less than 100 individual claims alone could amount to the money which the settlement offered. If decertification does not extinguish USA Gymnastics first, then piecemeal lawsuits will. The demise of USA Gymnastics is inevitable."
These are, of course, the opinions of these writers only.
Click here for our summary of last weekend's action, including a World Championships gold medal for Americans Kaille Humphries and Lauren Gibbs, two world records in Athletics, in the women's indoor triple jump and the women's half marathon on the roads, and a lot more.
● Athletics ● The U.S. Olympic Marathon Trials comes this Saturday in Atlanta, Georgia and will be shown on NBC beginning at noon Eastern time. The men are scheduled to start at 12:08 p.m. and the women at 12:20 p.m.
More than 700 men and women qualified for the event, and the top three are expected to qualify for the 2020 Olympic Marathon in Sapporo (JPN) this summer. Prize money of $80,000-65,000-55,000-20,000-10,000-6,000-3,000-1,000 is available to the top eight finishers in each gender.
One of the women's favorites would have been Amy Cragg, who won the 2017 World Championships bronze medal (and was a 2016 Olympian), but she is reported to be out due to illness. That leaves Des Linden as the only 2016 women's Olympian in the race, and she will be tested by – among others – Sara Hall, Jordan Hasay, Kellyn Taylor, Aliphine Tuliamuk, Stephanie Bruce and a lot of others.
The men's race includes Rio 2016 bronze medalist Galen Rupp and sixth-placer Jared Ward, plus Leonard Korir, Dathan Ritzenhein, Scott Fauble and two amazing veterans: Abdi Abdirahman, trying for his fifth Olympic team at age 43, and Bernard Lagat (45), trying for a fourth U.S. team and a sixth Olympics (his first two were for Kenya).
¶
There was yet another doping positive from the 2012 London Games announced by the International Olympic Committee on Tuesday, by Albanian 200 m runner Klodiana Shala. She never actually competed, withdrawing from the competition with an injury prior to the heats, but her sample was re-analyzed and detected the steroid Stanozolol.
This brings the total number of doping positives at London 2012 to 73, the most in history and one more than from Beijing 2008. Nine positives were found during the Games and 64 in the IOC's re-analysis program, which will not be completed until 2022.
¶
Sad news of the death of two legendary figures in the sport, Dick Bank and Harry Groves.
Bank passed on Sunday (23rd) in Los Angeles, aged 90, and even after decades from retirement from active participation in the sport, remains a legend for his depth of knowledge, insight and brutal wit. While he was famously remembered for his "Look at Mills!" comment on NBC during Billy Mills's historic run to the 10,000 m gold medal at the 1964 Olympic Games in Tokyo, he also was deeply involved in building the adidas brand in the 1960s as a representative for the German shoe company. American audiences in 1969 and 1970 heard Bank often during the spring and summer as the (solo) voice of a series of meets on CBS, brokered with Ollan Cassell of the Amateur Athletic Union of the U.S.
Bank recalled the '64 Olympic announcing in detail in a post on TrackandFieldNews.com in 2015 that he dictated to his friend Arthur Head. In it, he reminded everyone who might have met him that he was still their superior:
"It has come to my attention that there are some postings about me on the Internet. I don't own a computer . . . nor do I want or need one. Mine is between my ears.
"I still type on an IBM Wheelwriter 1000, drive a 1989 Volvo 240GL with 299,000 miles, and do not have nor do I need a cellular telephone; or one that can take photographs." Absolutely one of a kind.
Groves was the beloved coach at Penn State for both cross country and track and also passed on Sunday, aged 89. Groves became the head coach of both programs in 1968 and continued until his retirement in 2006. He was a five-time National Coach of the Year, inducted into the U.S. Track & Cross Country Coaches Association Hall of Fame in 2001 and was the head coach for the 1995 U.S. World Championships team and an assistant coach for the 1992 U.S. Olympic Team and 1993 Worlds team.
He coached 21 NCAA champions, 14 Olympians and 227 NCAA All-Americans during his career, including 1976 Olympic 400 m hurdles silver medalist Mike Shine, Greg Fredericks, the American Record holder in the 10,000 m in 1972, Norwegian discus star Knut Hjeltnes and U.S. shot putter C.J. Hunter. Groves was demanding and stern, but also a gentlemen to all who approached him … except during a race!
● Baseball ● The most exciting baseball tournament outside of the Major League playoffs is the World Baseball Classic and the format for the 2021 tournament was announced on Tuesday.
The tournament will be held from 9-23 March of next year with the field expanded to 20 teams, competing in four pools of five teams each. The rounds will be played in three countries:
● Pool A: Taiching and Taoyuan (TPE)
● Pool B: Tokyo (JPN)
● Pool C: Phoenix, Arizona
● Pool D: Miami, Florida
● Quarterfinals: Tokyo and Miami
● Semifinals and Final: Miami
All 16 teams which participated in the 2017 tournament will do so again, along with four qualifiers from a tournament to be held in March 2020.
● Biathlon ● The International Biathlon Union issued two doping decisions concerning Russian athletes based on the data retrieved by the World Anti-Doping Agency from the Moscow Laboratory information system in 2019.
Both Svetlana Sleptsova and Evgeny Ustyugov were found to have committed doping violations in 2013 and had their results from mid-2013 through the 2013-14 World Cup season annulled.
For Ustyugov, this will also disqualify the winning Russian 4×7.5 km team from 2014. If confirmed by the IOC, the Russian total in Sochi will drop to 28, placing them in a tie with the U.S. for the most medals in that Games.
Both are now ineligible for two years, which will also cover the first half of the 2022 Olympic Winter Games in Beijing. Sleptsova retired in 2017; Ustiugov retired in 2014.
● Swimming ● The doping saga of China's Olympic Champion Freestyle star Yang Sun is continuing without end.
He was cleared by FINA – the international federation for swimming – of doping violations including interfering with a test in September 2018. However, the World Anti-Doping Agency appealed the FINA ruling to the Court of Arbitration for Sport last November, with the decision expected in January, but still not issued.
The Associated Press posted a story on Tuesday that noted that a Swiss "federal court document shows that swimming governing body FINA supported arguments by Sun's lawyers to have an appeal by the World Anti-Doping Agency thrown out early last year in a pre-trial dispute over an alleged conflict of interest for the agency's lead prosecutor, American lawyer Richard Young." Young had previously been a member of FINA's Legal Commission, but had resigned in February of 2019, prior to the hearing.
● Games of the XXXV Olympiad 2032 ● Remember that petition by a single Member of Parliament in Australia to call for a debate on the wisdom of bidding for the 2032 Olympic Games?
The tiny One Nation party posted the petition at the end of January and garnered 2,300 signatures in the first three days. Since then, the enthusiasm has slowed, but signatures continue to come in. As of Tuesday, some 5,393 signatures have been registered, with a deadline of 30 March. Stay tuned.
● XXII Commonwealth Games: Birmingham 2022 ● Better make that the Birmingham, and Chandigarh in India – population 1.05 million – as the Commonwealth Games Foundation approved India's proposal to stage (and pay for) archery and shooting events on Monday (24th).
India had threatened to skip the 2022 Games if shooting was not included and agreed to hold the two sports in January 2022, with the main event in Birmingham (ENG) in July.
Although separated by six months, the medals from the January competitions will be included in the overall totals. Chalk up another ripple effect for the IOC's Agenda 2020 program, but this time for political, rather than cost, reasons.
● At the BuZZer ● Very few people outside of the Middle East had ever heard of Dubai in the United Arab Emirates or Doha in Qatar before both became hotbeds for major sporting events, to be topped by the 2022 FIFA World Cup in Qatar.
Add Jordan to the list of countries who see opportunities in hosting sporting events. The capital of Amman took over for Wuhan (CHN) for the Asian qualifier for boxing for the 2020 Olympic Games in March and has announced and host Olympic qualifiers in table tennis in February and taekwondo in April.
The Jordanian organizers of the boxing qualifier announced on Tuesday that it had sponsor agreements with Coca-Cola, the Societe Generale De Banque Jordan, mobile network Zain Jordan, restaurant chain Buffalo Wings & Rings, Taishan and courier company Aramex.
It's an interesting strategic turn for Jordan, a country far larger than either Qatar or the UAE, although smaller than Saudi Arabia, which has also looked for some hosting opportunities. It will be fascinating to see what the appetite is to being world-wide events – rather than regional – to the country in the future, especially as a tourism draw.
Look what sports has done for Lausanne (SUI), which last week agreed to take over the hosting of the annual SportAccord meeting from 19-24 April, with more than 100 international federations in attendance. The event was moved out of Beijing due to concerns over the coronavirus epidemic in China, and follows quickly on January's Winter Youth Olympic Games in Lausanne, with a co-hosting of the IIHF men's World Championships coming in May.
/Updated: Thanks to TrackandFieldNews.com's Garry Hill for correcting our link on Dick Bank's recollection of his 1964 Olympic announcing episode, which first appeared on the T&FN site on 14 August 2015./