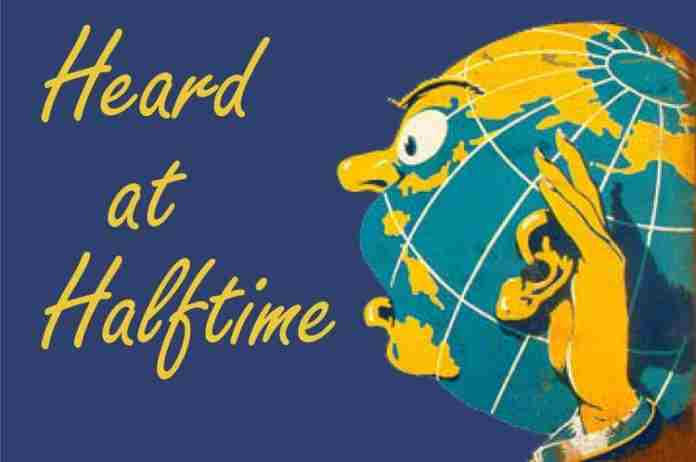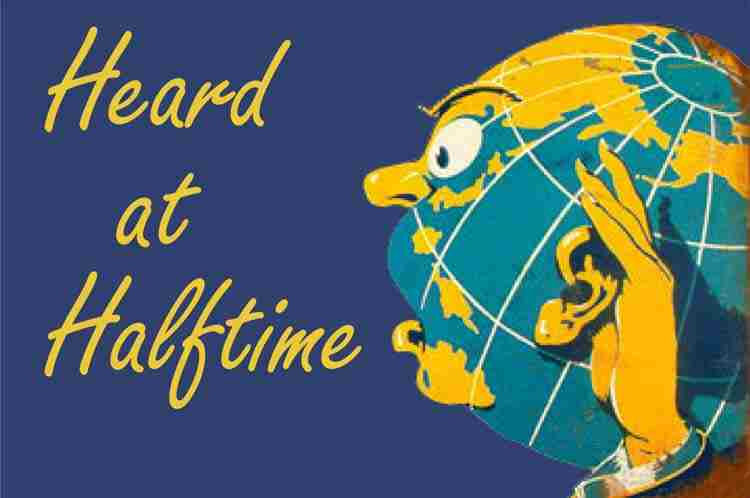 News, views and noise from the non-stop, worldwide circus of Olympic sport:
● U.S. Olympic & Paralympic Committee ● What has happened to S. 2330, the "Empowering Olympic, Paralympic and Amateur Athletes Act of 2020″?
Nothing, as it turns out.
The bill passed the Senate on 4 August and the House on 1 October, but nothing more.
August Wolf, founder of the Olympians Rising athlete activist group and a 1984 Olympian in the shot put, reports that the bill has not been forwarded to President Donald Trump for signature or veto and therefore the 10-day timer on action on the bill has not yet started:
"I guess they often present them in batches (lots of bills at a time) and they're out of session so not happening at the moment. Might be post-election, might be next week, but nothing out of the ordinary."
Now you know.
¶
Two new positions on the U.S. Olympic & Paralympic Committee Board of Directors were created for the U.S. Olympic & Paralympic Alumni Association, and elections are just starting to choose among four candidates:
● Donna DeVarona, the two-time Olympian in swimming (1960-64) and winner of two gold medals in 1964 in Tokyo, before beginning a long career in television and in public activism, especially in women's sports and the Special Olympics.
● Benita Fitzgerald Mosley, the 1984 Olympic Champion in the 100 m hurdles, who had senior roles at USA Track & Field and the U.S. Olympic Committee, then led Laureus USA and is now President of FundPlay for LeagueApps.
● Rich Kenah, a 2000 track & field Olympian in the 800 m and a 1997 Worlds 800 m medalist. He is the Executive Director of the Atlanta Track Club and managed the well-received 2020 Olympic Marathon Trials held in Atlanta.
● John Naber, winner of four gold medals in swimming in 1976 and one of the dominant athletes of that Games, with long service to the Olympic Movement. He was a Board member of the Los Angeles Olympic Organizing Committee and the Southern California Committee for the Olympic Games.
In terms of past experience with the U.S. Olympians Association, Naber has been a past president of the organization. The balloting will continue into mid-November.
¶
The USOPC announced that $1.42 million has been raised from more than 6,000 donors over two months for the COVID Athlete Assistance Fund of the U.S. Olympic & Paralympic Foundation. This will allow an additional $1,163 grant to 1,220 U.S. athletes training for the Olympic, Olympic Winter and Paralympic Games.
● Games of the XXXIV Olympiad: Los Angeles 2028 ● The City of Los Angeles Recreation & Parks Department filed a report noting its activities to date from funding provided by the LA 2028 organizing committee.
The SwimLA programs over the past two years spent $2,000,713 and a new request for $2,480,992 was made for its Fall 2020 Project plan. This will include:
(1) $472,082 for weekly classes in Badminton, Dance, Sports & Games and Fitness, at 50 different sites, with a $10 registration fee.
(2) $1,280,847 for bi-monthly clinics at 50 sites in Basketball Skills, Baseball and Softball, Field Hockey and Tennis
(3) $322,151 for instruction in Track & Field for ages 5-15, including sprints, middle distance, long distance, high jump, long jump, triple jump, shot put and javelin, at 15 different sites. The Parks & Recreation Department also committed to renovating 6-8 facilities with crushed-granite running surfaces.
(4) $30,912 to support Golf instruction for ages 10-15, in weekly sessions at four different courses.
(5) $275,000 for marketing outreach and branding of the program, and
(6) $100,000 for "continued development of the Safe Sport partnership with the U.S.
Center for Safe Sport."
LA28 committed a total of $160 million to these programs from 2018 through 2028, with annual funding of $19.2 million from July of this year through June of 2028.
● XXIII Olympic Winter Games: PyeongChang 2018 ● The U.S. Justice Department announced on Monday that indictments had been returned on six computer hackers who are officers in the Russian Main Intelligence Unit (GRU):
"These GRU hackers and their co-conspirators engaged in computer intrusions and attacks intended to support Russian government efforts to undermine, retaliate against, or otherwise destabilize: (1) Ukraine; (2) Georgia; (3) elections in France; (4) efforts to hold Russia accountable for its use of a weapons-grade nerve agent, Novichok, on foreign soil; and (5) the 2018 PyeongChang Winter Olympic Games after Russian athletes were banned from participating under their nation's flag, as a consequence of Russian government-sponsored doping effort."
The news release detailed the group's Olympic mischief to include:
● "PyeongChang Winter Olympics Hosts, Participants, Partners, and Attendees: December 2017 through February 2018 spearphishing campaigns and malicious mobile applications targeting South Korean citizens and officials, Olympic athletes, partners, and visitors, and International Olympic Committee (IOC) officials;
● "PyeongChang Winter Olympics IT Systems (Olympic Destroyer): December 2017 through February 2018 intrusions into computers supporting the 2018 PyeongChang Winter Olympic Games, which culminated in the Feb. 9, 2018, destructive malware attack against the opening ceremony, using malware known as Olympic Destroyer;"
None of the attacks had any significant impact on the PyeongChang Games.
The defendants were listed as Yuriy Sergeyevich Andrienko, 32; Sergey Vladimirovich Detistov, 35; Pavel Valeryevich Frolov, 28; Anatoliy Sergeyevich Kovalev, 29; Artem Valeryevich Ochichenko, 27; and Petr Nikolayevich Pliskin, 32.
All were charged with conspiracy to conduct computer fraud and abuse, conspiracy to commit wire fraud, wire fraud, damaging protected computers, and aggravated identity theft. All are in Russia, but are now subject to arrest by the U.S.
● Cycling ● Just ahead of the major climbing stages that will decide the winner of this year's Giro d'Italia, Slovenia's Jan Tratnik scored his first Grand Tour stage win on the hilly, 229 km course from Udine to San Daniele del Friuli on Tuesday.
He outsprinted Australian Ben O'Connor over the last 800 m to secure the win by seven seconds, with Italy's Enrico Battaglin edging two others in the dash for third. Further back, race leader Joao Almeida (POR) gained a couple of seconds on chaser Wilco Kelderman (NED) and now leads by 17 seconds overall, with five stages remaining.
¶
It sounds crazy, but the final Grand Tour of 2020, the 75th La Vuelta de Espana got underway on Tuesday, with Slovenia's Primoz Roglic taking the hilly first stage from Irun to Arrate.
Although the climbs were not huge, the 173 km course offered four significant rises in the final half, with Roglic moving fastest at the finish to cross ahead of five challengers: Richard Carapaz (ECU), Dan Martin (IRL), Esteban Chaves (COL), Felix Grossschartner (AUT) and Enric Mas (ESP).
Stages 2 and 3 are both serious climbing routes, with tomorrow's race over 151.6 km from Pamplona to Lekunberri and featuring a major climb and then sharp descent into the finish over the final 25 km. Thursday's stage has an uphill finish to La Laguna Negra de Vinuesa, but is not as demanding as Stage 2.
¶
The compacted UCI Women's World Tour schedule for 2020 had its penultimate race at Tuesday's AG Driedaagse Brugge-De Panne, with Lorena Wiebes (NED) conquering the flat, 156.3 km course to De Panne in 3:39:43, just ahead of Lisa Brennauer (GER) and Lotte Kopecky (BEL).
The men's race will be held tomorrow (21st). The final race of the Women's World Tour comes from 6-8 November at the Ceratizit Challenge by La Vuelta.
● Gymnastics ● A scheduled Monday hearing on some minor matters in the USA Gymnastics proceedings at the U.S. Bankruptcy Court for the Southern District of Indiana was cancelled, with an omnibus hearing now scheduled for 30 November.
A report on operations showed that through 30 September, the total legal fees in the case totaled $12,149,931, of which $6,947,803 have been paid so far.
USA Gymnastics also filed a motion to settle its claims against Texas-based National Travel Systems, with whom it had arranged travel services for several years. If approved, NTS will pay $185,000 to the federation to settle all claims between them.
● Swimming ● The final day of the second ISL match of the season – all in Budapest, Hungary – finished Monday with an easy win for the London Roar, with seven multiple-event winners in the 25 m pool at the Duna Arena:
● Christian Diener (GER): Men's 50-200 m Backstrokes, 50 m Back Skins
● Szebasztian Szabo (HUN): Men's 50-100 m Butterflys
● Alia Atkinson (JAM): Women's 50-100 m Breaststroke
● Katinka Hosszu (HUN): Women's 200 m Butterfly, 400 m Medley
● Maria Kameneva (RUS): Women's 50 m Backstroke Skins, 100 m Medley
● Ranomi Kromowidjojo (NED): Women's 50-100 m Frees, 50 m Butterfly
● Marie Wattel (FRA): Women's 200 m Free, 100 m Butterfly
The next set of matches comes with two more matches from Saturday through next Tuesday. U.S. coverage is on the CBS Sports Network.
The first weekend of matches brought a distinct improvement on television, thanks to the presence of 1984 triple Olympic champ Rowdy Gaines. Although play-by-play man Bernie Guenther returned for season two, the entire tenor of the commentary has changed. In place of endless braying about how "revolutionary" the league is, Gaines has brought his laser focus on the swimmers themselves: who they are, what can be expected, their strategy in the water and even some insight into how the team coaches are deploying their roster. He made the telecasts almost watchable.
The same presentation problems as seen in 2019 – especially the poor lighting, the hard-to-read graphics and some silly interviews (although there were less of those) – continued. While the league has standardized the use of colored caps to help tell the teams apart, the program still begs for each team to be outfitted in a distinctive color suit, so they can be easily identified. Maybe in the future.
And the aversion to showing times in a sport which is based on times, continues to undermine its credibility. Happily, Gaines didn't get the memo and is all about the clock in his comments.
¶
"We are still strongly unbalanced in our finances, which is normal and it makes sense. But from here we have to push on. It has to be profitable within three, four years, and I'm very optimistic and positive about that, because the fans are supporting, the athletes are supporting, and we know what we have to do to keep going."
That was ISL managing director Hubert Montcoudiol (FRA) in an interview with SportBusiness appearing Tuesday. He acknowledged that the first-year cost of the league was about $20 million and that the rights fees from broadcasters such as beIN and CBS has been minimal. Montcoudiol noted that the direct-to-consumer ISL-AND platform is important for the league, which sees itself as appealing to the same demographic that follows esports:
"When we talk about ISL, we don't say it is swimming. It's not sport. It is 'sport-tainment', and what we're trying to do here is trigger a new kind of fanbase. We want to promote our athletes, to make them personalities and people who are competing for themselves and for their teams, not just as part of their countries."
● Weightlifting ● The carnage continued within the International Weightlifting Federation in the aftermath of the removal of Interim President Ursula Garza Papandrea (USA) last week.
In protest of the move, Italian Executive Board member Antonio Urso, also the head of the European Weightlifting Federation, resigned from both positions and Garza Papandrea also resigned from the IWF Executive Board.
The online petition to remove the IWF Executive Board offered on Change.org by IWF Athletes Commission head Sarah Davies (GBR) had gathered almost 12,000 signatures by noon Tuesday (Pacific time). She intends to present it to the IOC Executive Board, which will next meet on 11 November.
Garza Papandrea sent a letter to the IWF Executive Board which was leaked late last week, cataloging a long list of issues, including deliberately trying to mislead the IOC about her activities and trying to revert to prior practices.
She importantly noted:
"My belief that your interests are not reflective of all member federations or athletes, and exhibit more concern for nations with a gross number of positives rather than clean athletes" and that the IWF Executive Board's actions showed "absolute disregard for the IOC, thereby endangering the sport on the Olympic programme."
¶
In Tuesday (20th), an "Update to Member Federations" was posted on the IWF Web site, signed by Interim President Dr. Michael Irani (GBR) and Secretary General Mohammad Jalood (IRQ).
It noted that a special IWF Congress would be held to select a new President and to consider constitutional reforms on March 2021 in Lausanne, Switzerland. Further, Irani commented:
"As the fourth IWF President within six months, I am very much aware that different people have different versions of recent events. Ursula Papandrea has, for example, voiced criticism. The [Executive Board] has already addressed a number of the issues she raised with the IOC, while concentrating on moving weightlifting forward."
The IOC is sure to review this situation with interest at its forthcoming Executive Board meeting on 11 November.
¶
The IWF further underscored its historical doping issues with a reported suspension of Russian Svetlana Shimkova – now 37 and retired – who won the women's 69 kg championship in 2010. The suspension was based on data provided by the World Anti-Doping Agency from its retrieval of Moscow laboratory data in 2019.
● At the BuZZer ● Lots of respect from NBA superstar guard Klay Thompson in a video posted by Citius Magazine. Said Thompson, clearly in recovery after a workout on the track:
"I got so much respect for track athletes. They're out here every day, for a different type of grind, man. Boy, just sprintin', long distance, jumpin'. [I'm] done. Cashed."
USATF retweeted the post, adding "We know."
You can receive our exclusive TSX Report by e-mail by clicking here. You can also refer a friend by clicking here, and can donate here to keep this site going.
For our 526-event International Sports Calendar from October 2020 to June 2021, by date and by sport, click here!