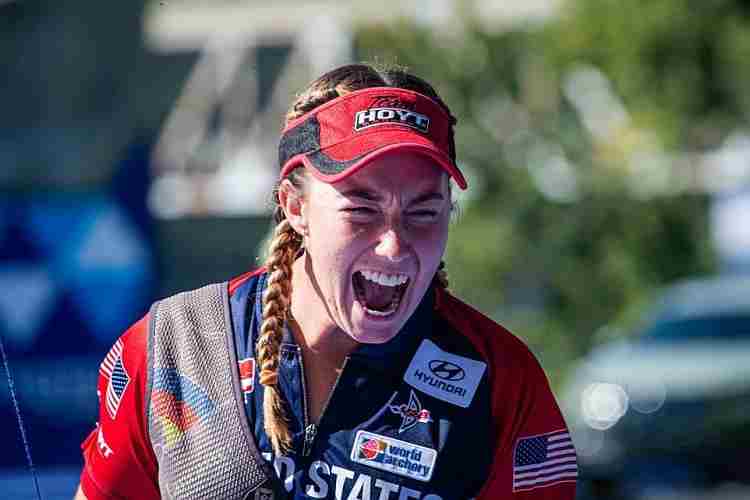 News, views and noise from the non-stop, worldwide circus of Olympic sport/updated/:
● Games of the XXXIV Olympiad: Los Angeles 2028 ● The International Olympic Committee has long loathed the "Lightweight" rowing events in the Games and it appears that for 2028, they will be replaced.
The 2021 World Rowing Congress will be held online on 6 November, but most of the documentation and reports have now been published. President Jean-Christophe Rolland (FRA) noted in his report that while a February 2020 proposal to dump the two Lightweight events in favor of open-water "coastal rowing" could not be implemented for Paris 2024, it could be looked on favorably for 2028.
The International Olympic Committee has been trying to eliminate the Lightweight events since at least 2017, and the coastal rowing events would maintain gender equity in the program and likely share facilities with the sailing venue, eliminating any additional sites.
This was moving forward for inclusion in the Paris 2024 program, but with the pandemic and a move by the Paris 2024 organizers to find €350 million (~$410 million U.S.) budget savings, it was shelved until 2028. Rolland noted the positive comments from IOC Sports Director Kit McConnell (NZL), who called the coastal rowing concept "a solid proposal which will need to be considered for future Games."
The Congress documentation did not mention the discussions with LA28 about moving the rowing competition from the proposed Lake Perris State Recreation Area in Riverside County to the Long Beach Marine Stadium, site of the 1932 Games, but which would now require a short-course of 1,500 m instead of the usual 2,000 m.
● XXVI Olympic Winter Games: 2030 ● The Barcelona-Pyrenees bid for the 2030 Winter Games has seemed a little unsteady from the start, with a lack of coordination between the two host areas as well as between varying levels of governments.
A new push for a referendum on a Winter Games bid is being pushed now in the Pyrenees region, with a "Stop JJOO" group campaigning to have a vote set for a date certain. Its concerns are supposedly over a rise in housing costs if the Games come and more winter-sport tourism comes into the region.
A referendum is supposed to be held, but is not yet scheduled. In the meantime, the Spanish National Olympic Committee is in discussions with the IOC's Future Hosts Commission about its bid, but the IOC appears to be in no hurry.
For 2030, there is interest from Sapporo, Japan, Vancouver in Canada, possibly Salt Lake City, Utah and the Ukraine, in addition to Spain.
● Archery ● The archery world came to Yankton, South Dakota for the 2021 World Championships, but it was South Korea that swept the Recurve division – five for five – for the first time ever; it won all four available events in 2009 (also in 1997 and 2005 and multiple times prior by the U.S.).
Woo-Jin Kim won his third men's World Championships individual title by 7-3 in the final over Brazil's Marcus D'Almeida, after the Brazilian upset defending champ Brady Ellison of the U.S. in the semis by 6-4. Ellison defeated Olympic champ Mete Gazoz (TUR) in the bronze-medal match by 6-2.
Min-Hee Jang, a Tokyo Team gold medalist, won the women's title by 6-0 in the final over American teen Casey Kaufhold. For the latter, it was still a mighty achievement: the first U.S. women's individual Worlds medal since Denise Parker's bronze in 1989! Kaufhold, 17, got to the final by defeating Olympic winner San An, 6-2, in her semi. An went on to win the Worlds bronze by 6-4 over Mexico's Alejandra Valencia.
The team events went to Korea's men by 6-0 as Kim, Je-Deok Kim and Jin-Hyek Oh defeated the U.S. trio of Ellison, Matt Nofel and Jack Williams. The Korean women – Jang, An and Chae-Young Kang defeated Mexico, 5-3. The Mixed Team title went to An and W-J Kim, 6-0 over Russia.
● Athletics ● /Updated/Ethiopian star Kenenisa Bekele wanted to challenge the marathon world record of 2:01:39 at Sunday's Berlin Marathon, but ended up taking the bronze medal as countryman Guye Adola won in 2:05:45.
Adola, Bekele and Kenyan Philemon Kacheran appeared to be in a three-way battle for the win by 30 km, but Kacheran fell back and Kenya's Bethwel Yegon came up to join the Ethiopians and then surged past Bekele into second by 35 km. Adola's late push won the race, with Yegon at 2:06:14 and Bekele third (2:06:47).
Said Bekele, 39, afterwards: "I need some time to prepare, to be honest; I never take a long preparation for the marathon. Even two years ago, I prepared for three months. It's not enough, I have to train for longer." He cited the pandemic as an issue for this year's race.
(Update: Thanks to reader Tom Feuer for noting this was not Adola's debut! It was actually his fourth marathon; his lifetime best of 2:03:46 came in the 2017 Berlin race.)
The women's winner was a first-time marathoner, Ethiopia's Gotytom Gebreslase, who dominated the field and won by 1:14 in 2:20:09. Far behind were her countrywomen Hiwot Gebrekidan (2:21:23) and Helen Tola (2:23:05).
Next up is the London Marathon on 3 October, with Chicago on the 10th and Boston on the 11th! Semi-retired American star Shalane Flanagan, now 40, wants to run all six World Marathon Majors races this year as they are bunched together within 43 days; she finished 17th in Berlin at 2:38:32.
● Canoe-Kayak ● Some new stars emerged at the 2021 World Slalom Championships in Bratislava (SVK), with a couple of Olympic champions still making it to the top of the podium.
The men's C-1 was won by Czech Vaclav Chaloupka, 23, who won by 92.02-92.17 over three-time silver medalist Alexander Slafkovsky (SVK). Franz Anton (GER), the 2018 World Champion, was third. Veteran Boris Neveu, 35, took his second World title in the K-1, beating Marcelo Beda (ITA), 83.92-87.75.
Britain's Joe Clarke, the 2016 Olympic K-1 champ, won the Extreme Slalom title, important because the event will be included in the Paris 2024. It's a more gimmicky, showy event in which – among other things – the riders get soaked by doing a roll-over in their boats.
German Elena Apel, 23, won her first World Championships medals, including gold in the women's C-1, ahead of Mallory Franklin (GBR), who won her third Worlds C-1 silver, 99.03-99.34. Olympic champ Ricarda Funk (GER) won the K-1 in 94.80, well ahead of Apel (97.31).
Olympic C-1 winner Jessica Fox (AUS) won her eighth individual world title by taking the Extreme Slalom for the first time. She defeated Apel and American teen Evy Leibfarth, 17, who won her first Worlds medal!
● Cycling ● The UCI Road World Championships concluded in Belgium on Sunday with a brilliant second straight win in the men's road race for France's Julian Alaphilippe.
The lengthy, 268.3 km race cam down to a series of attacks by Alaphilippe, with 50 km to go and then three separate efforts to break away in the final 20 km. He succeeded and had only four riders anywhere close. He powered home with a win in 5:56:34, 32 seconds ahead of the chase pack. That sprint was won by Dylan van Baarle (NED), followed by Michel Valgreen (DEN), Jasper Stuyven (BEL) and American Nielson Powless in fifth.
The women's road final was a surprise victory for 23-year-old Elisa Balsamo (ITA), who outran Dutch icon Marianne Vos, 34, to the line in 3:52:27 over the 157.7 km course.
The race was crowded into the final kilometer, with 17 riders in contention. But Italy was perfectly positioned with Maria Giulia Confalonieri, Marta Cavalli and then Elisa Longo-Borghini leading Balsamo up to the front, where she took the biggest win of her career.
Poland's Kasia Niewiadoma charged home third, one second back, with American Coryn Rivera 10th. Balsamo's win was Italy's first in this race since 2011 and ended a four-year won streak for the Dutch.
● Figure Skating ● The U.S. earned its third spots in the Olympic men's and women's figure skating competitions in the Beijing 2022 Winter Games thanks to emphatic wins over the weekend by Vincent Zhou and Alysia Liu at the ISU Challenger Series Nebelhorn Trophy event in Obertsdorf, Germany.
A total of 20 skaters earned Olympic quota places for Beijing, with seven spots for Men, six for Women, three for Pairs and four for Ice Dance.
Zhou was an easy winner, with the top scores in both the Short Program and Free Skate and totaling 283.23 points to 243.78 for France's Adam Siao Him Fa. Liu, still just 16, posted a 207.40 total to win over Ekaterina Kurakova (POL: 193.58).
● Football ● This is a little hard to believe, but here goes:
Ronnie Brunswijk, the owner of the Inter Moengotapoe football club in Suriname, is also the Vice President of the country. Last Tuesday (21st), he inserted himself – at age 60 – into the lineup for Inter's home game against CD Olimpia of Honduras in the first leg of a round-of-16 game in the CONCACAF League.
Olimpia won the game by 6-0, but Brunswijk became the first man to play in an international club match in his 60s, and also played on the field at the same as his son, Damian. The elder Brunswijk played for 54 minutes, but Damian only for 29 before being substituted out.
After the game, a shirtless Brunswijk was caught on video handing out money to the Olimpia players!
The matter caused a sensation and CONCACAF immediately began disciplinary actions. On Saturday, both clubs were removed from the league and Brunswijk was "banned for three years from participating in any capacity in CONCACAF competitions."
The matter is still under investigation and more sanctions may be leveled, but this is fairly unbelievable. So far, no penalties against the Suriname national team.
● Ice Hockey ● After 27 years, the International Ice Hockey Federation (IIHF) has a new President, with France's Luc Tardif elected on Saturday to succeed Swiss Rene Fasel (SUI) at the IIHF Congress.
Tardif won a four-round election that took three hours thanks to some technical difficulties, finally defeating German Franz Reindel, 67-39.
No Americans were elected to the IIHF Council. Canadian Bob Nicholson was re-elected as Regional Vice President for the Americas.
Tardif will have his hands full with managing the Beijing 2022 tournament and the inclusion of NHL players, but beyond that he will have to figure out how to further grow the international game beyond its current structure and impact.
● Luge ● The World Anti-Doping Agency's sanctions against Russia, as confirmed by the Court of Arbitration for Sport, have caused the Federation Internationale de Luge (FIL) to rescind its award of the 2023 Natural Track World Championships in Moscow.
The FIL board, meeting in Salzburg (AUT), posted a short notice that included:
"The application of the Russian Luge Federation and the decision of the 69th FIL Congress on September 25 to host the World Championships on Natural Track 2023 in Moscow (RUS) is a violation of the CAS decision against Russia."
A new location will be needed. At the same meeting, the 2025 World Championships (artificial track) was attributed to Whistler (CAN), the track used at the 2010 Olympic Winter Games. Whistler, site of the 2013 Worlds, was to be the site of the 2021 Worlds, but was unable to host due to the pandemic.
● Skiing ● The U.S. Ski and Snowboard Association (USSA) selected former World Surf League chief executive Sophie Goldschmidt as its new CEO.
She will replace Tiger Shaw on 18 October; Shaw is retiring after eight years as the head of one of the largest and most successful of all U.S. national federations. Goldschmidt has enjoyed a successful career at the Rugby Football Union, with the National Basketball Association (NBA) as the Senior Vice President and Managing Director of Europe, the Middle East and Africa (EMEA) area, the Women's Tennis Association and others.
● Swimming ● The International Swimming League held its ninth and 10th matches of its third season in Naples, Italy over the weekend, with Energy Standard (FRA) winning the first contest, 568.0-457.5 over the London Roar.
The match featured triple winners Evgeny Rylov (RUS: 50 Back Skins, 100-200 m Back), Ilya Shymanovich (RUS: 50-100-200 m Breast) and Hong Kong's Siobhan Haughey, who won the 100-200-400 m Freestyles.
Match 10 saw the Aqua Centurions (ITA) defeat Team Iron (HUN), 570-537. After the 10 events, Aqua, Toronto Titans, Energy Standard, London Roar, Cali Condors, and the L.A. Current are automatically qualified for the 8-team play-offs in November. Iron, Tokyo, D.C. Trident and the New York Breakers will compete in the play-in Match 11 for the final two spots.
Only Daiya Seto (JPN) won three events in the men's competition, taking the 200 m Fly and the 200 and 400 m Individual Medley. In the women's events, Ranomi Kromowidjojo (NED) won the 100 m Free and 50 m Fly Skins race; Czech Barbora Seemanova won the 200-400 m Frees and Japanese star Yui Osashi won the 400 m Medley and tied with Abbie Wood (GBR) in the 200 m Medley.
● Weightlifting ● The International Testing Agency issued sanctions against three Russian weightlifters for long-ago doping positives uncovered by the World Anti-Doping Agency's intelligence team and data from the McLaren Reports and Moscow Laboratory data.
The three are Andrei Demanov, fourth in the 94 kg class at London 2012, but disqualified in 2016 for doping; Arsen Boraganov for a November 2013 doping positive and Aleksey Emelyaneko for a 2014 positive. Demanov was suspended for two years and Boraganov and Emelyaneko for four each.
● At the BuZZer ● USA Wrestling and the Stewards of the Living the Dream Medal Fund awarded six of the nine bonuses for Olympic performance that total $950,000 at a private ceremony in New York last week.
Founding Steward Mike Novagratz explained: "Dave [Barry] and I in '09 thought we would inject some energy in the sport, put up a big-dollar prize out there for a gold medal, and try to draw a lot of people into the sport again.
"[Now] wrestlers get paid more than any other sport in the Olympics, so it makes us just a little more special. We thought we could do something to keep wrestlers excited but mostly to inject energy into the sport and it's doing that."
The six prizes awarded went to gold medalists David Taylor and Gable Steveson ($250,000 each); silver medalists Adeline Gray and Kyle Snyder ($50,000 each), and Kyle Dake and Sarah Hildebrandt ($25,000 each).
The Living the Dream Medal Fund has awarded a total of $3.7 million in bonuses to World and Olympic medalists from 2009 through the Tokyo Games.
You can receive our exclusive TSX Report by e-mail by clicking here. You can also refer a friend by clicking here, and can donate here to keep this site going.
For our 743-event International Sports Calendar for 2021 and beyond, by date and by sport, click here!