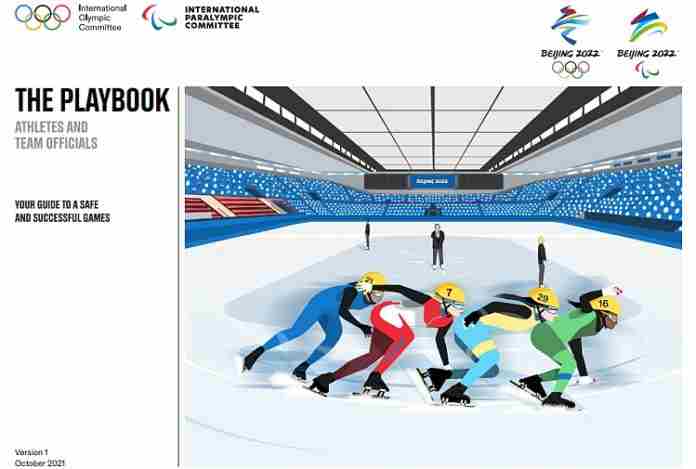 (For our highlights of a very, very busy past week in sport, click here.)
News, views and noise from the non-stop, worldwide circus of Olympic sport:
≡ SPOTLIGHT ≡
The Beijing 2022 "Playbooks" were released Monday with instructions on Covid protection for everyone involved in the Winter Games.
The athlete and team officials edition notes that vaccination is required 14 days prior to entering China; if not, a 21-day quarantine in-country is mandated. Two PCR tests are required with 96 hours of entering China, and upon arrival and daily while at the Games.
Exceptions will only be made for medical reasons, as judged by Beijing 2022 and the IOC or International Paralympic Committee. As for access to vaccines, "The IOC and the IPC are working with the NOCs and NPCs to encourage and assist all Games participants in their territories to get vaccinated before they go to China, in line with national immunisation guidelines."
A "closed loop management system will be in place on arrival with accommodation, transport and venues to be visited agreed with Beijing 2022 in advance; free movement allowed after 21 days as long as the integrity of the loop has been maintained."
There can be no doubt that strict adherence to the "bubble" will be maintained in China. The Covid Liaison Officer (CLO) program will be in place for all organizations as it was in Tokyo. Participants will be required to check in daily on a smartphone app to report their health status.
Limiting physical contact, social distancing, constant hand washing and "Masks should be worn at all times when providing assistance to others" are all emphasized repeatedly. There will be partitions in dining halls.
And as with Tokyo, "Avoid shouting, cheering and singing – show support or celebrate by clapping instead."
Privacy advocates will not be happy with these provisions:
"Some of the countermeasures in this Playbook require collecting and processing personal data of accredited Games participants. This includes biographical information (such as name, date of birth, accreditation number) and health-related data (such as body temperature, symptoms, health status report, vaccination status)."
and
"Personal data will be processed in accordance with applicable laws and regulations by the following entities (each for their respective operations): Beijing 2022, Chinese authorities (including the Chinese National Government, local authorities and other authorities in
charge of health and safety protocols), the IOC, the IPC and others involved in the implementation of the countermeasures, including NOCs/NPCs/IFs (where applicable), healthcare and medical service providers."
Compliance regulations looked to be the same as for Tokyo, with warnings, following by temporary or permanent withdrawals of accreditation, disqualification and potential fines.
As with Tokyo, this will not be an easy Games.
≡ THE 5-RING CIRCUS ≡
● XXIV Olympic Winter Games: Beijing 2022 ● Three activists from the Students for a Free Tibet group that demonstrated during the lighting of the Olympic Flame at Olympia were released from Greek custody a day later and ordered to return for trial on 3 February 2022.
The SFT statement noted that "Chemi Lhamo (Tibetan-Canadian), Jason Leith (United Kingdom) of London-based campaign organization Free Tibet, and activist Fern MacDougal (USA), were arrested" at Olympia and charged with "destruction of a monument" although no damage to the site was observed. A total of nine activists protesting the Beijing 2022 Games were arrested in Greece and all have been released.
● International Olympic Committee ● The IOC announced that it will reduce its atmospheric emissions by 30% by 2024 and 50% by 2030, explaining "Its action plan to deliver on this commitment will now be updated with increased efforts to reduce emissions in the areas of travel, energy use and procurement."
This places the IOC in line with the United Nations Sports for Climate Action Framework, adopted in 2018, requiring a 50% reduction in emissions by 2030.
Observed: This is a nice show of support by the IOC, but if you want to reduce emissions, have fewer events … a lot fewer. Olympic Agenda 2020+5 talks about reforming the international sports calendar: here's the opportunity to do it. By the way, this will slash competition opportunities across the globe and hurt athlete development, but that's the price of the Paris Agreement on Climate Change, isn't it?
● Association of National Olympic Committees ● The ANOC General Assembly was held in Crete on 24-25 October, with 148 National Olympic Committee representatives on site and another 57 participating online.
A long set of resolutions was unveiled at the end of the program, but interestingly included a major swipe at FIFA's ongoing consideration of a biennial World Cup:
"The 205 NOCs share the concerns voiced by many within the sports movement that FIFA's plan to change the football calendar and to hold the World Cup every two years will pose a great threat to the survival of many sports other than football that are under the NOCs responsibility. The proposals tabled by FIFA will increase the congestion of the global sporting calendar. This will have a negative impact on sports events organised by the national member federations of NOCs as well as regional and Continental Games under the authority of the NOCs. Furthermore, it will negatively affect the football athletes' welfare. The NOCs noted the lack of consultation by FIFA in this process in particular with regards to the IOC that showed a regrettable lack of solidarity and respect to other sports."
Another resolution was to ask for the inclusion of more Olympic qualifying events within continental Games (such as the Pan American Games). This is an important way to guarantee better attendance by star athletes in such Games.
The financial presentation showed a loss for calendar year 2019 of $4.69 million and $3.58 million for calendar year 2020. ANOC is almost completely subsidized by the IOC, to the tune of $16.25 million in 2019 and $12.25 million in 2020, about 97% of ANOC's total revenues. ANOC spends about $3.5 million a year on its operations, but in 2020 distributed an additional $11.65 million to NOCs for support during the pandemic.
ANOC showed reserves of $20.51 million at the end of 2020, with three-quarters of this amount consisting of unspent IOC subsidy funds. The IOC will severely reduce its subsidy to just $4.0 million per year from 2021-24 – due to its increased direct support to NOCs due to the pandemic – and so the ANOC's finances will be challenged going forward.
There was also a breakdown of the costs of the inaugural World Beach Games in Doha in 2019. The total costs were $23.5 million, with $16.1 million covered by the Qatar National Olympic Committee and $7.4 million by ANOC (with $5.5 million in 2019). Almost half of the cost was for athlete and staff accommodations and 17% for media support, including the television production.
Indonesia was announced as the site for the 2023 World Beach Games, but the total ANOC financial support is projected at just $1.3 million.
● Athletics ● World Athletics released the nominees for its World Athlete of the Year, with 10 selections for both men and women:
● Joshua Cheptegei (UGA) ~ Olympic 5,000 m champion
● Ryan Crouser (USA) ~ Olympic Shot champion
● Mondo Duplantis (SWE) ~ Olympic Vault champion
● Jakob Ingebrigtsen (NOR) ~ Olympic 1,500 m champion
● Eliud Kipchoge (KEN) ~ Olympic Marathon champion
● Pedro Pichardo (POR) ~ Olympic Triple Jump champion
● Daniel Stahl (SWE) ~ Olympic Discus champion
● Miltiadis Tentoglou (GRE) ~ Olympic Long Jump champion
● Damian Warner (CAN) ~ Olympic Decathlon champion
● Karsten Warholm (NOR) ~ Olympic 400 m hurdles champion
● Valarie Allman (USA) ~ Olympic Discus champion
● Jasmine Camacho-Quinn (PUR) ~ Olympic 100 m hurdles champion
● Sifan Hassan (NED) ~ Olympic 5,000 m and 10,000 m champion
● Faith Kipyegon (KEN) ~ Olympic 1,500 m champion
● Mariya Lasitskene (RUS) ~ Olympic High Jump champion
● Sydney McLaughlin (USA) ~ Olympic 400 m hurdles champion
● Shaunae Miller-Uibo (BAH) ~ Olympic 400 m champion
● Athing Mu (USA) ~ Olympic 800 m champion
● Yulimar Rojas (VEN) ~ Olympic Triple Jump champion
● Elaine Thompson-Herah (JAM) ~ Olympic 100-200 m champion
Italian fans and media were livid that surprise men's 100 m and 4×100 m champ Lamont Marcell Jacobs was not nominated (and they are right).
Fans can vote on the World Athletics pages on Facebook, Twitter and Instagram; these votes could for 25% of the total, with half the vote coming from the World Athletics Council.
¶
More sadness, with the announcement of the death of Ecuadorian sprinter Alex Quinonez last Friday in Guayaquil, 32, apparently shot along with another man outside a shopping center.
The bronze medalist in the men's 200 m in the 2019 World Championships, he had a best of 19.87 from 2019 and is the national record holder.
This is on top of the horrific death of Kenyan distance star Agnes Tirop, the 2017 and 2019 World Championships 10,000 m bronze medalist, who was stabbed to death by her husband on 13 October 2021, ten days short of her 26th birthday. On what would have been her birthday on Saturday, she was buried.
Another Kenyan athlete, 400 m runner Edith Muthoni, 27 (56.65 in 2019), was murdered by her boyfriend on the 12th in Kerugoya. The boyfriend (not named) was promptly arrested.
Hosea Macharinyang, a distance runner who was a member of three Kenyan World Cross Country Championships teams, was found dead at his home in Murkwijit Village on 9 October, apparently a suicide.
¶
Sunday's Standard Chartered Marathon in Hong Kong was not only a race for about 15,000 entrants, but also a show of censorship in the wake of a "national security law" passed in 2020.
Instructions to runners included "Do not wear outfits with political messages. Those who fail to comply will not be allowed to take part. The Organiser may report the case to law enforcement agencies for follow-up."
Multiple runners were told, on-site, to cover tattoos and change or remove their shirts for various slogans. Apparently, no arrests were made.
● Boxing ● Another black eye for boxing as the AIBA men's World Championships in Belgrade (SRB) opened, but without the Kosovo team, which was not allowed to enter the country.
Kosovo declared its independence from Serbia in 2008 and was prepared to send three boxers to the 2021 Championships. The Associated Press reported:
"The boxers tried to cross the border with Serbia on Saturday but were asked not to wear their sports uniforms featuring their country's logo. A repeat attempt on Sunday also failed despite efforts from the International Boxing Association, according to the Kosovo federation's secretary general Latif Demolli."
AIBA released a statement that noted that this situation "was foreseen," but despite its regulations to allow all participants into the host country, "a solution could not be found with the local organizing committee and Serbian Government."
Reuters reported the IOC response to include:
"It appears that AIBA has not applied the necessary due diligence before allocating this tournament to Belgrade, despite the fact that the IOC has repeatedly advised the international federations of the necessity of such due diligence."
Already under deep scrutiny by the IOC as regards Paris 2024, this is another stumble for AIBA to be considered as the worldwide governing body for boxing, and for the sport to remain on the Olympic program.
¶
Los Angeles 1984 Olympic 48 kg boxing champion Paul Gonzales pled no contest to two charges of lewd conduct with minors and "was sentenced to three years and four months in state prison and ordered to register as a sex offender for life."
Now 57, Gonzales committed the acts in 2017; he had been a coach at an East Los Angeles boxing club that was part of the City of Los Angeles Recreation and Parks Department.
● Figure Skating ● On Friday, from the International Skating Union:
"The ISU is currently investigating the reported homophobic comments by a Coach who is not an ISU Official relating to participants of the recent Finlandia Trophy. This investigation may result in disciplinary proceedings in line with the ISU Code of Ethics."
The reference is to Russian coach Alexander Vedenin, who objected to France's Guillaume Cizeron as being gay as part of the star Ice Dance team with Gabriella Papadakis. The pair are four-time World Champions.
Said the federation, "Any person involved in ISU activities who does not respect the prohibition of discrimination is subject to disciplinary proceedings." Stay tuned.
● Football ● Los Angeles's Angel City FC announced a new player compensation bonus last week:
"One percent of the net ticketing revenue from all of Angel City's home regular season NWSL games will be divided equally amongst each player on the ACFC roster who opts in and supports marketing initiatives to drive ticket sales on their own social media channels, utilizing their name and likeness."
Angel City President Julie Uhrman also revealed that the club had sold 11,000 season tickets ahead of its 2022 season debut at Banc of California Stadium (capacity 22,000). That's easily no. 2 in the NWSL – behind Portland – and the team has not played a minute yet.
Observed: This is a really good idea and a way to get players promoting the club for a little extra money. AngelsonParade.com calculated the bonus might only be worth $1,000 a season, but it's an interesting and forward-looking idea for an expansion team in a league which is attendance-challenged except for Portland.
● Swimming ● The Sydney Morning Herald reported on Saturday "A number of Australia's biggest Olympic swimming stars are caught up in the financial maelstrom engulfing the International Swimming League (ISL), with talks of a boycott of November's finals emerging due to lack of payment for athletes, staff and contractors."
The story reported that ISL has not paid all of its swimmers for the 2020 season, not to mention 2021, with the regular season completed and playoffs to begin in November. Reports have also indicated that event venues in Great Britain and Hungary have not been paid and will not allow ISL back in.
ISL's founder, Ukranian billionaire Konstantin Grigorishin has acknowledged losses of possibly $20 million in each of the first two seasons and has said that the league must get to break-even to be able to survive.
● Triathlon ● Another Russian doping positive as Igor Polyanskiy was suspended for three years due to a positive test for Erythropoietin (EPO) on 21 July 2021, just prior to the Tokyo Games. He finished 43rd in the men's event and was on the Russian Mixed Relay team, which was 14th. Both results will now be nullified.
His suspension will run until 10 August 2024.
● Volleyball ● Another athlete murder, this time of Mahjabin Hakimi, a member of the Afghan junior women's national volleyball team. She was apparently beheaded in August, but reports only filtered out on social media – including pictures – last week.
It may be that she was killed before the Taliban came to power in Afghanistan, but she was killed in the capital city of Kabul. The International Volleyball Federation (FIVB) has promised to investigate and try to prevent future such incidents.
● Weightlifting ● More bad news from Russia, as the International Testing Agency reported an anti-doping violation against Rodion Bochkov, 28, who competed in the 105 kg and 109 kg classes, winning a European Championships silver at 109 kg in 2019.
A 6 September 2021 test came back positive "for the prohibited steroid dehydrochloromethyl- testosterone metabolite (DHCMT)" and a re-analysis of a 2015 sample also showed positive for DHCMT. The Russian disciplinary panel ruled that no violation had occurred with the 2015 sample, but this is being appealed by the World Anti-Doping Agency.
The ITA will now process the second sample from Bochkov taken in September and if also positive, he could be sanctioned for up to eight years if the "no-fault" decision from his 2015 sample is overturned.
Observed: Current doping positives are bad news for this sport, which is already on the edge of exclusion from the Olympic program. With so much bad doping history in this sport, the IOC might decide to cut it loose and not have to worry about it any more. No decision will be made until after the International Weightlifting Federation's elections in December.
≡ AT THE BUZZER ≡
During last Thursday's celebration of the life of 1960 Olympic gold medalist Rafer Johnson, fellow Olympic champion (from 1976) and Los Angeles Olympic Committee Board member John Naber recalled the famous lighting of the torch to start the 1984 Games, and the plan if Rafer couldn't make it:
"During the 1984 Olympic Opening Ceremonies, I was among a few athletes to be honored to escort the Olympic flag – the five-ring flag – into the stadium. Included on that were divers Sammy Lee and Patty McCormick, boxer Richie Sandoval, runners Wyomia Tyus, Mack Robinson, Billy Mills, the discus champion Al Oerter, the shot putter Parry O'Brien, the decathlete Bruce Jenner, and Jim Thorpe's grandson, Bill Thorpe, Jr.
"After raising the flag, we stood at the track edge, and I noticed as the Olympic Torch was making its way around, Bruce Jenner was bending over, pulling down his pants. 'Bruce, what on earth are you doing,' I said. He smiled and he said, 'You know, [ceremony producer] David Wolper was concerned, because in dress rehearsal, Rafer had difficulty climbing up those tall stairs, so Wolper asked me to wear some running shorts under by parade uniform and in case Rafer stumbles, I'm supposed to go on in and grab the torch and finish the relay.'
"I said, 'Bruce, if Rafer stumbles, it's every man for himself, 'cause I want to carry that torch.' Right then, I felt Al Oerter's big paw on my shoulder – boom! – 'John, it's not who gets the torch, it's who keeps the torch' (laughter in the crowd).
"We all stood to attention as Rafer came by, and I smiled, thinking to myself, 'Wow, I wish I was given the honor of carrying the Olympic Flame the final leg of the Torch Relay.' Thirty-one years later, as he again lit the cauldron in the Coliseum of the 2015 International Special Olympics, I realized that such an honor is never given, it has to be earned."
Johnson had suffered a bad leg cramp – a charley horse – during the rehearsal and Wolper needed a back-up (Jenner). But Rafer, in one of his best-ever feats of athleticism, climbed the staircase as it was rising (!) and got to the top to light the cauldron. The wind had been blowing hard enough during the rehearsal that Johnson required the installation of a pole he could hang on to at the top of the steps, which he said later he absolutely needed during the ceremony, especially when the staircase came back down!
You can receive our exclusive TSX Report by e-mail by clicking here. You can also refer a friend by clicking here, and can donate here to keep this site going.
For our 743-event International Sports Calendar for 2021 and beyond, by date and by sport, click here!