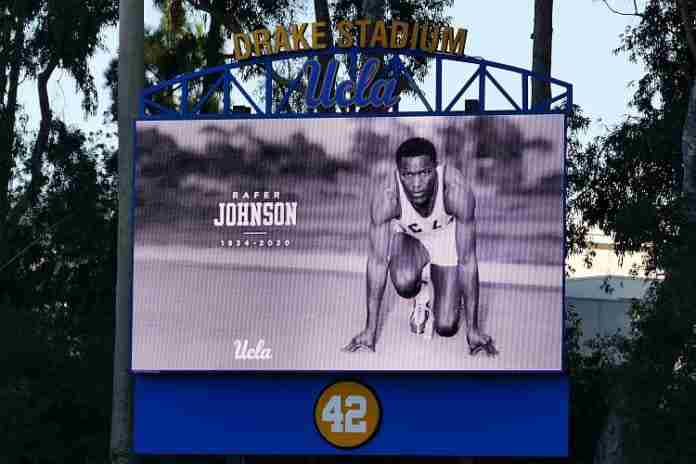 "He always saw himself as being like everyone else. But there was no denying that when you were in his company, you knew that he was not like everyone else."
The amazing Rafer Johnson (1934-2020), the 1960 Olympic decathlon champion, founder of Special Olympics California and the final torchbearer for the 1984 Olympic Games in Los Angeles, was lovingly remembered by friends and family before a crowd of about 700 at UCLA's Drake Stadium on Thursday afternoon (21st).
UCLA basketball star Mike Warren, a two-time NCAA champion in 1968 and 1969 and who later starred in television's "Hill Street Blues" series, evoked the feelings of the 12 presenters and the audience with that simple statement.
Johnson was special and while initially intimidating at 6-3, 200 pounds and chiseled "like a Greek god" as one speaker remembered, he was so warm and so accessible that no one who ever met him ever referred to him as anything other than as "Rafer."
UCLA staged the event in Drake Stadium, named for Johnson's coach, Ducky Drake, with the track named for Rafer and Betsy Johnson, his wife of 50 years when he passed last December.
None of the speakers knew Rafer during his collegiate days in the 1950s, although some of his track & field teammates and fraternity brothers – he was the first Black to pledge to a national fraternity in UCLA history when he was there – were present in the stands. But Jazz Kiang, a current student and the Vice Chair of the Associated Student UCLA Board of Directors – remembering Johnson's service as Student Body President in 1958 – noted his continuing impact:
"Rafer, the student leader, is a multi-generational call to action: identify issues, present solutions, do the work. Give time to this place, to help this place address the needs of its time. Few students understand that, and fewer students actually accomplish that. Rafer was one of those fewer students."
Fellow Olympic champion John Naber, who attended cross-town rival USC and served with Rafer on the Board of Directors of the Los Angeles Olympic Organizing Committee for the 1984 Olympic Games, captured perfectly the way so many remembered him:
"He used his notoriety to help others, not to promote himself. He was a humble giant, not because he thought less of himself, because he thought of himself less. ..
"The measure of a man is less about what people think whenever he's around, but more about what they remember after he's gone. I'll remember a gentleman's gentleman. The dapper dresser, dapper in behavior, gentle in speech, warm of heart, Rafer left behind an adoring wife, two remarkably-well-adjusted children, loving grandchildren, and shoes too big for anyone to fill."
UCLA Chancellor Gene Block also framed Rafer's life in terms of service and not so much for his achievements in sports which brought him worldwide fame:
"As a civic leader, a humanitarian, as an advocate for people with disabilities, an ambassador for UCLA, and a devoted family man, Rafer was one of the greatest ever.
"Rafer's life was exceptional, but it was not a fairy tale. He enjoyed triumph at the Olympics, and he endured the tragedy of the Robert Kennedy assassination."
Johnson was not simply an athlete and a devoted member of his communities. He also appeared in motion pictures, was a weekend sports anchor for KNBC Los Angeles, worked for the Peace Corps and was the one who wrestled the gun away from assassin Sirhan Sirhan after he shot Kennedy at the Ambassador Hotel in Los Angeles in 1968. Johnson was a Vice President of Continental Telephone, responsible for community and government relations and personnel across its offices in 42 states from 1971 until his retirement (during his time there, ConTel was the third-largest independent telephone company in the U.S.).
Those professional elements of his brilliant life were not mentioned on Thursday, because Rafer was never about himself or his achievements; he was always about others.
His daughter, Jenny Johnson Jordan – herself a UCLA All-American and a U.S. Olympian in beach volleyball – thanked UCLA for the event and for the opportunity to remember her father, delayed for months due to the Covid-19 pandemic:
"For us, today's been nothing short of a gift, a celebration of Dad, who he was and what he embodied, not only Dad, but who he was to his family and having this opportunity to celebrate him."
Betsy Johnson, who married Rafer in 1971, was the final speaker. She thanked UCLA and the attendees and shared some of the trials of his final years after he suffered a stroke in 2018:
"The last few years for Rafer were difficult ones. They were. … At times, he was self-conscious, being first with a walker, then a wheelchair, and lost a tremendous amount of weight. I can't imagine what that felt like. I knew he was self-conscious and I said, 'Rafer, don't worry, I've got your back.' And anyone that knows me, knows what that means.
"As his health declined, he was not alone. His family continued to surround him with love, and some friends were able to come, but some people would call him on the phone, and even if he couldn't talk on the phone, I would say, 'so-and-so called and this is what they said,' and his eyes would light up, [also] when he would see Jenny and Josh, our children and our grandchidren …
"Even when things were so difficult for him, he thanked everybody."
She remembered how today, months after Rafer's passing, how he still impacts her life:
"The other day I was over at a doctor's appointment. I was done and, I don't know, I had to go somewhere – I have no idea where I was going – but I was kind of in a rush and I saw a man – elderly, probably my age! (laughter in the crowd) – standing there with his phone. He was trying to figure out how to get to the doctor's office that he had to [get to]. And, I don't know, I was in a rush – I said I don't know where I was going – but I got to the meter to pay my parking, and I said [to myself], 'what are you doing? Go back and help that man.'
"And I did. You know, wherever I had to be was not important but I went back and helped this man to find where he needed to go. The reason I'm sharing that is because when I did it, I thought of Rafer. 'What, you're rushing and here's somebody that needs your help?'
"My hope is, when you think of Rafer, you will remember everything that he embodied, not just as an athlete, but as a human being. The person he was; to me, that's his legacy."
Rich Perelman
Editor
You can receive our exclusive TSX Report by e-mail by clicking here. You can also refer a friend by clicking here, and can donate here to keep this site going.
For our 743-event International Sports Calendar for 2021 and beyond, by date and by sport, click here!