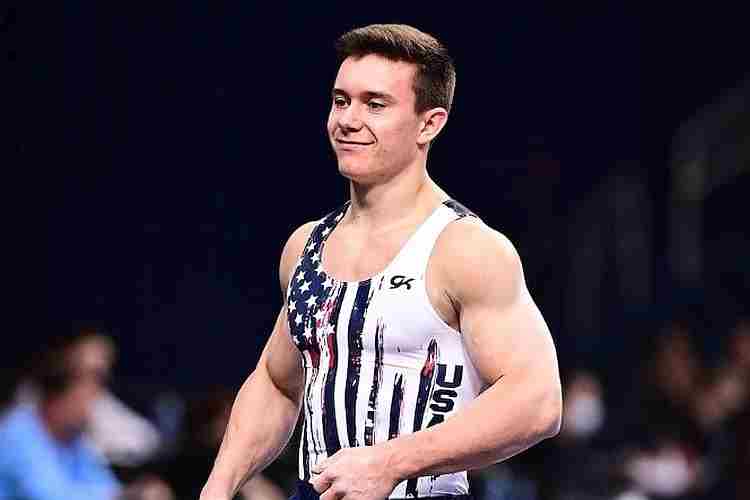 (★ Friends: Thank you! Now 20 donors have covered 27% of our new bill for server and support costs. Your help is needed: please donate here. Your enthusiasm is why this site continues. Thank you. ★)
The U.S. Olympic Trials in Artistic Gymnastics for men concluded Saturday in St. Louis, with Stanford's Brody Malone now the clear leader of the American men's team for Tokyo.
Malone won the first All-Around competition on Thursday and romped to a second win on Saturday, scoring 86.350 – 1.10 points better – for a two-day total of 171.600, exactly three points better than Yul Moldauer.
Malone won the High Bar with a two-day total of 29.250 and was second on Floor (29.100) and Rings (28.450) and third on Parallel Bars (28.500) to go along with sixth-place finishes on Pommel Horse and Vault. In 2021, he swept the NCAA, U.S. National Championships and now the Olympic Trials.
Muldauer won on Parallel Bars (28.500) and was second on Pommel Horse (28.350), but lost his chance at the title with a 13th-place total on High Bar. Shane Wiukus (168.150) and Sam Mikulak (166.750) followed in third and fourth overall and were named to the team. Both looked like locks, but Mikulak fell off the Pommel Horse on his last event to throw some drama into the selection process. He finished just 0.050 points ahead of Brandon Briones (also Stanford: 166.700).
Briones, Akash Modi (6th: 166.050), Allan Bower (7th: 165.450), and Cameron Bock (10th: 163.300) were named as alternates.
There was also an individual spot for a specialist and Alec Yoder was named for the Pommel Horse; he won the two-day competition scoring 29.600. Alex Diab, a Rings specialist, won that event at 29.400, and was named as alternate.
All are first-time Olympians except for Mikulak, now 28, who made his third Olympic squad.
The U.S. Trials will end tomorrow night with the second women's All-Around, starring Simone Biles.
You can receive our exclusive TSX Report by e-mail by clicking here. You can also refer a friend by clicking here, and can donate here to keep this site going.
For our 649-event International Sports Calendar for 2021 and beyond, by date and by sport, click here!