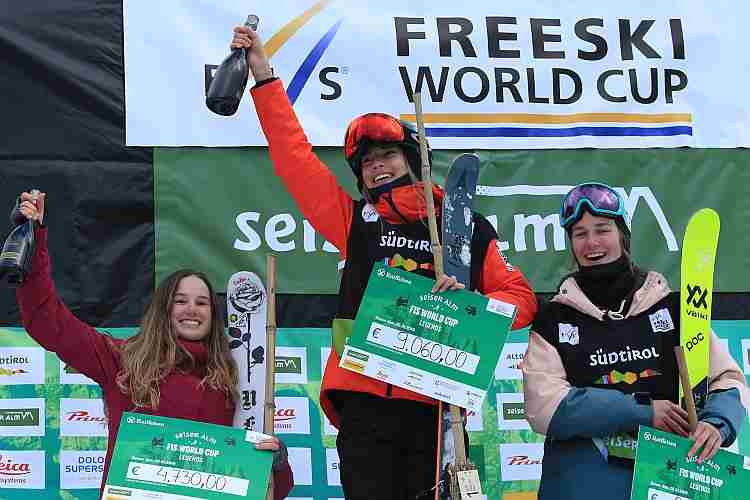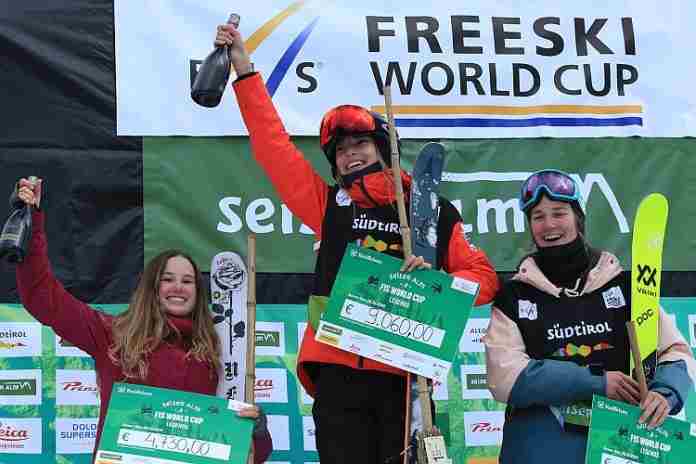 Now this is getting interesting. Another sensational teen from California making noise on the FIS World Cup circuit? Yes, it's Eileen Gu, the 15-year-old San Francisco sensation!
After winning her first World Cup medal – a silver – on 12 January in Font Romeu (FRA), she claimed her first World Cup win with a final-round performance in Seiser Alm (ITA). Standing fourth going into the final round, she produced an excellent ride and was rewarded with a score of 84.40 that held up for the victory.
"I'm still buzzing from winning today," said Gu afterwards. "Coming into the final run of three after messing up my first two definitely wasn't easy, especially after qualifying first into finals. I just tried to focus on the little things in my run and it looks like it paid off! When I received my score I was astounded and ecstatic to get my first World Cup win. Not to mention, being able to share the podium with Julia made it even better."
Megan Oldham of Canada, who took the first-round lead at 83.00, finished second and American Julia Krass finished third with her second-round run that scored 77.30. It's Krass's first-ever World Cup medal, after six years on the tour.
"Super happy to grab third today," said Krass, 21. "It was a really sick week here. The course was really fun, and training went well all week. Unfortunately, I couldn't put together the run I was hoping for today, but still so happy to land and snag third place. Everyone crushed it the whole week, especially Eileen and Megan!"
Canada's Max Moffatt won the men's Slopestyle, ahead of Sweden's Oliwer Magnusson and another new American medalist, Kiernan Fagan, 17, who scored his first career World Cup medal as well.
In Mont Tremblant, Canada's Mikael Kingsbury got back to winning in the men's Moguls competition for his 54th career win. France's Perrine Laffont won for the second time this season in the women's Moguls and has now won a medal in all five events this season.
At the U.S. Aerials Championships at Lake Placid, New York, Chris Lillis and Winter Vinecki won the national titles. Lillis finished ahead of his brother, Jon Lillis, and Nick Novak in the men's division; Madison Varmette and Kaila Kuhn went 2-3 for the women.
Both Chris Lillis and Vinecki were coming back from injuries. Said Vinecki, "It feels amazing to land some nice jumps when it counts! Becoming the U.S. National Champion is a huge confidence boost for the rest of the season to come! It is even more rewarding though because this event is almost exactly one year since my ACL surgery. Being able to come back strong with a start to my best season yet makes all the hard work worth it!"
No detailed results for the Aerials were available at posting time; summaries:
FIS Freestyle Skiing World Cup
Mont Tremblant (CAN) ~26 January 2019
(Full results here)
Men's Moguls: 1. Mikael Kingsbury (CAN), 86.73; 2. Ikuma Horishima (JPN), 85.02; 3. Dmitriy Reikherd (KAZ), 83.42; 4. Matt Graham (CAN), 82.60; 5. Benjamin Cavet (FRA), 81.63.
Women's Moguls: 1. Perrine Laffont (FRA), 75.51; 2. Jakara Anthony (AUS), 75.08; 3. Justine Dufour-Lapointe (CAN), 73.67; 4. Chloe Dufour-Lapointe (CAN), 72.23; 5. Jaelin Kauf (USA), 72.07.
FIS Freestyle Skiing World Cup
Seiser Alm (ITA) ~ 25-27 January 2019
(Full results here)
Men's Slopestyle: 1. Max Moffatt (CAN), 83.10; 2. Oliwer Magnusson (SWE), 82.35; 3. Kiernan Fagan (USA), 81.00; 4. Colby Stevenson (USA), 80.25; 5. Eirik Sateroy (NOR), 76.45. Also: 9. Ryan Stevenson (USA), 59.35.
Women's Slopestyle: 1. Eileen Gu (USA), 84.40; 2. Megan Oldham (CAN), 83.00; 3. Julia Krass (USA), 77.30; 4. Marin Hamill (USA), 74.95; 5. Lara Wolf (AUT), 56.30. Also: 6. Rell Harwood (USA), 38.85.
FIS Freestyle Skiing World Cup
Blue Mountain (CAN) ~ 25-26 January 2019
(Full results here)
Men's Ski Cross: 1. Brady Leman (CAN); 2. Bastien Midol (FRA); 3. Johannes Rohrweck (AUT); 4. Marc Bischofberger (SUI).
Women's Ski Cross: 1. Fanny Smith (SUI); 2. Marielle Thompson (CAN); 3. Alizee Baron (FRA); 4. Brittany Phelan (CAN).