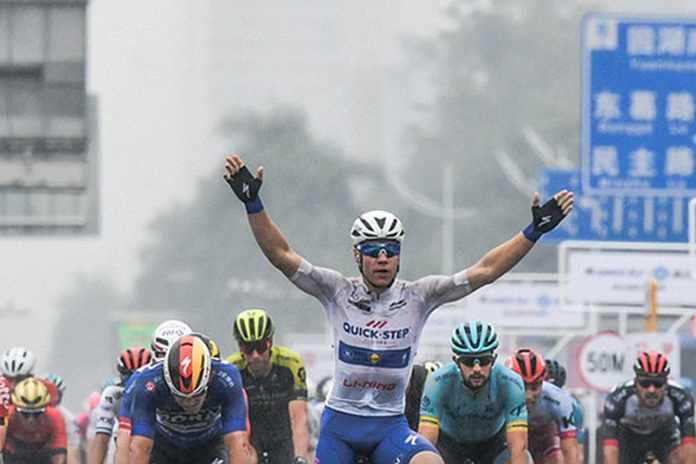 The 2018 UCI men's World Tour will reach its anti-climatic end with this week's GREE-Tour of Guangxi in southeastern China, which began on Tuesday.
The top-ranked riders from the World Tour standings in the field are no. 20 Jasper Stuyven (BEL) and no. 21 Arnaud Demare (FRA), so the seasonal title belongs to Simon Yates (GBR), the winner of the Vuelta a Espana, who out-pointed Slovakian sprint star Peter Sagan, 3,072-2,992.
The stages:
Stage 1: 16 October ~ 107.4 km: Beihai to Beihai (flat)
1. Dylan Gronewegen (NED), 2:21:45; 2. Max Walscheid (GER), 2:21:45; 3. Fabio Jakobsen (NED), 2:21:45; 4. Pascal Ackermann (GER), 2:21:45; 5. Matteo Trentin (ITA), 2:21:45.
Stage 2: 17 October ~ 145.2 km: Beihai to Qinzhou (flat)
Stage 3: 18 October ~ 125.4 km: Nanning to Nanning (flat)
Stage 4: 19 October ~ 152.2 km: Nanning to Mashan Nongla Scenic Spot (uphill finish)
Stage 5: 20 October ~ 212.2 km: Liuzhou to Guilin (hilly)
Stage 6: 21 October ~ 169.0 km: Guilin to Guilin (hilly)
This is the second year for this race; look for results here.
The Women's World Tour will also end with a one-day Tour of Guangxi on Sunday on a 146.2 km, loop course starting and finishing in Guilin. The startlist is not available, but the seasonal title would be on the line if the season's three Dutch stars show up! The current standings:
1. 1,421 Annemiek van Vleuten (NED)
2. 1,346 Marianne Vos (NED)
3. 1,323 Anna van der Breggen (NED)
4. 1,189 Amanda Spratt (AUS)
5. 1,003 Coryn Rivera (USA)
And, no, this Guangxi has nothing to do with the 1969 dinosaur/western fantasy mash-up, The Valley of Gwangi, animated by Ray Harryhausen and starring James Franciscus … which was set in Mexico!