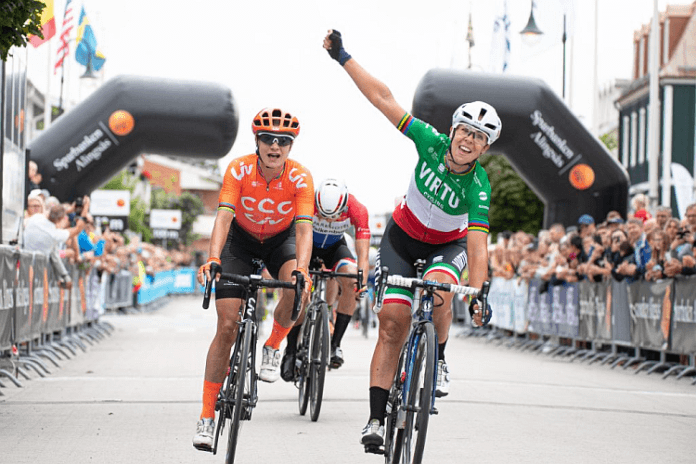 The final, hilly loops on the final day of the 15th Binckbank Tour of Belgium and the Netherlands figured to be the deciding factor, but no could foresee the all-Belgian finish at the end of the seventh stage.
Heading into Sunday's finale, Belgian Tim Wellens clung to an eight-second lead over Swiss Marc Hirschi, but there were 14 riders within a minute of the lead.
But it was the all-Belgian trio of Laurens de Plus, Oliver Naesen and Greg van Avermaet who broke away with about 20 km to go and were never headed to the finish that changed the race for good. Naesen won the sprint to the line for the stage win, with van Avermaet second and de Plus third, but as de Plus was only 12 seconds behind the lead at the start – and Naesen and van Avermaet almost a minute back – he knew he had his first World Tour title.
The final accounting showed de Plus and Naesen 1-2 in the overall standings, Wellens third and van Avermaet fourth for a 1-2-3-4 Belgian sweep of the final honors.
¶
In the women's Vargarda WestSweden road race, it came down – as expected – to the final five-lap finish to decide the winner, and only then in a final sprint.
Defending champion and three-time winner Marianne Vos (NED) attacked with 3 km left, but was reeled in by the other riders. That left everyone to wait for the final sprint to the line and it was Italian Marta Bastianelli who came around to reach the line first.
Back in form after an injury break, it was Bastianelli's first win since the Tour of Flanders in April and her third win of the season. Summaries:
UCI World Tour/Binckbank Tour
Belgium & the Netherlands ~ 12-18 August 2019
(Full results here)
Final Standings: 1. Laurens de Plus (BEL), 21:29:55; 2. Oliver Naesen (BEL), +0:35; 3. Tim Wellens (BEL), +0:36; 4. Greg van Avermaet (BEL), +0:37; 5. Marc Hirschi (SUI), +0:44; 6. Mike Teunissen (NED), +1:06; 7. Ivan Garcia Cortina (ESP), +1:13; 8. Stefan Kung (SUI), +1:16; 8. Simon Clarke (AUS), +1:19; 10. Michael Valgren (DEN). +1:23.
Stage winners:
(1) 167.2 km ~ Sam Bennett (IRL): 3:42:57
(2) 169.1 km ~ Bennett (IRL): 3:45:20
(3) 166.9 km ~ Bennett (IRL): 3:44:04
(4) 96.2 km ~ Tim Wellens (BEL): 2:20:41
(5) 191.4 km ~ Alvaro Jose Hodig (COL): 3:54:48
(6) 8.4 km Time Trial ~ Filippo Ganna (ITA): 9:16
(7) 178.1 km ~ Oliver Naesen (BEL): 3:52:40
UCI Women's World Tour/PostNord Vargarda WestSweden
Vargarda (SWE) ~ 17-18 August 2019
(Full results here)
Team Time Trial (35.6 km) 1. Trek-Segafredo (USA), 43:53; 2. Canyon SRAM Racing (GER), 44:18; 3. Team Sunweb (NED), 44:39; 4. Boels-Dolmans Racing (NED), 45:10; 5. Team Virtu Cycling (DEN), 45:41.
Road Race (145.3 km): 1. Marta Bastianelli (ITA), 3:37:43; 2. Marianne Vos (NED), 3:37:43; 3. Lorena Wiebes (NED), 3:37:43; 4. Chloe Hosking (AUS), 3:37:43; 5. Amy Pieters (NED), 3:37:44. Also in the top 25: 8. Ruth Winder (USA), 3:37:46.