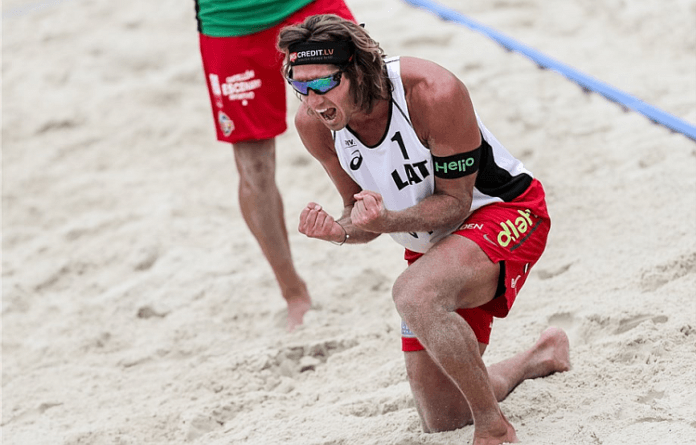 The first win is always the hardest and for Swiss Olympians Joana Heidrich and Anouk Verge-Depre, it finally came in the Moscow four-star tournament with a three-set win over Brazil's Taiana Lima and Talita Antunes.
Heidrich and Verge-Depre had lost twice in World Tour finals – one each in 2017 and 2018 – and after winning the first set, 21-18, they dropped the second by 16-21 and had to go to the tie-breaker. The third time was different and with a 15-8 third set finally got their long-sought World Tour victory.
"We just kept saying we need to stay calm, stay focused on the game and put any drop of energy that we still have into every single point. We kept believing and I think that was the key," said Verge-Depre. "I just want to say 'thank you' to all the people who work with us. I think it's very important. We had a rough start of the season, but there are a lot of people behind us, who are giving everything to make this possible."
The third-place match went to 10th-seeded Brooke Sweat and Kerri Walsh-Jennings, who defeated Karla Borger and Julia Sude (GER), 2-1. It's their fifth World Tour medal (third bronze) this season; Walsh Jennings noted the importance of playing on the FIVB circuit while many of the top U.S. teams were home for the AVP Manhattan Beach Open:
"It was an important victory for us," she said. "We've played Karla and Julia three times this year and we've been successful all three now. We knew they were going to change something and come out aggressively, because we all want to go to Tokyo. For us it was important to finish third so we can pull away from the other Americans and we feel proud to have beat such a good team."
The men's final completed a stunning run for Latvia's Janis Smedins and Aleksandrs Samoilovs. The 2013 and 2014 World Tour champions only reached the round of 32 at the 2019 World Championships, but scored a stunning 21-19, 23-25, 15-12 victory over Russia's reigning World Champions Viacheslav Krasilnikov and Oleg Stoyanovskiy – on home sand – in the quarterfinals.
Said Samoilovs, "We also felt like we had the home-court advantage, because Moscow is one of the best tournaments for us. We won it last year, we won the Grand Slam six years ago and we have a lot of friends here and a lot of fans as well.
"Today we just played our best match of the season and I hope we can keep this level over the next two days and over the next tournaments. Our situation with in the Olympic ranking is tough and it's the right moment to change something and keep going at our best."
They sailed into the final and then claimed their first title of the season with a 21-12, 21-16 win over Brazil's Alison Cerutti and Alvaro Filho.
There are some smaller tournaments remaining on the schedule, but the star teams are now looking forward to the season-ending World Tour Final in Rome from 4-8 September. Summaries:
FIVB World Tour 4-star
Moscow (RUS) ~ 14-18 August 2019
(Full results here)
Men: 1. Janis Smedins/Aleksandrs Samoilovs (LAT); 2. Alison Cerutti/Alvaro Filho (BRA); 3.
Julius Thole/Clemens Wickler (GER); 4. Guto Carvalhaes/Saymon Barbosa Santos (BRA). Third: Thole/Wickler d. Guto/Saymon, walkover (injury). Final: Smedins/Samoilovs d. Alison/Alvaro Filho, 2-0 (21-12, 21-16).
Women: 1. Joana Heidrich/Anouk Verge-Depre (SUI); 2. Taiana Lima/Talita Antunes (BRA); 3. Brooke Sweat/Kerri Walsh Jennings (USA); 4. Karla Borger/Julia Sude (GER). Third: Sweat/Walsh Jennings d. Borger/Sude, 2-1. Final: Heidrich/Verge-Depre d. Taiana Lima/Talita, 2-1 (21-18, 16-21, 15-8).