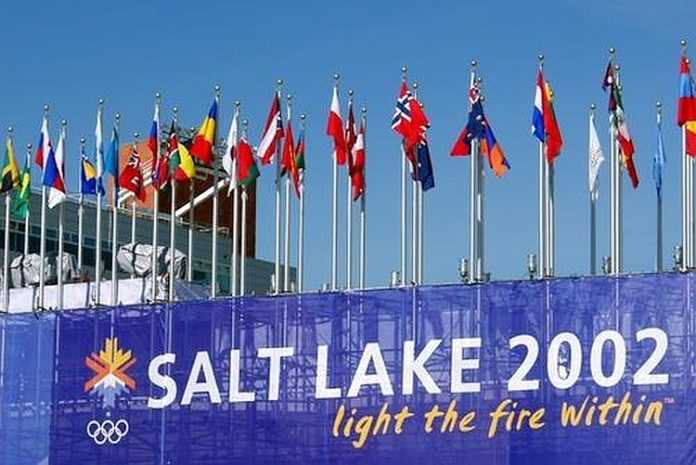 "Our hat is in the ring and if we can make it work for 2030 on all levels, I think no one would be happier than all of us."
That statement by U.S. Olympic & Paralympic Committee Chair Susanne Lyons to reporters today was essentially a signal to the International Olympic Committee that Salt Lake City is a "formal" candidate to host the XXVI Olympic Winter Games in 2030.
The USOPC had recognized Salt Lake City as its candidate for a future Winter Games bid, after its successful staging of the 2002 Games, but had not announced whether it preferred a 2030 or 2034 hosting. Now, it's 2030 if at all feasible. Said Lyons this morning, speaking after the USOPC Board met in Salt Lake City on Thursday (16th):
"At our meeting yesterday, the Board unanimously endorsed a resolution that read, 'The Board resolves to formally recognize the tremendous progress made toward hosting the Olympic Winter Games and Paralympic Games in Salt Lake City. The strength of Utah's vision and the public support for this effort, and the Board approved a USOPC commitment to advance dialogue – in alignment with LA28 – with the IOC and Future Host Commission towards hosting a future Winter Olympic Games as early as 2030.'
"So we're very excited to have already begun conversations, which are part of a continuing dialogue with the IOC, about the potential for a Winter Games here in Salt Lake City as early as 2030 while recognizing the challenges of hosting a Games immediately following the Summer Games in LA28.
"We know that Salt Lake City offers a great opportunity for Winter Games that are athlete-centric, spectator-friendly, environmentally-conscious in a state that overwhelmingly supports hosting the Games. They have a plan that fits the long-term goals of this state and builds a legacy for global winter sports across the world.
"So these conversations will continue as part of this IOC future-host process, which most likely will continue after the Beijing Winter Games, as we are all somewhat preoccupied with that at the moment."
The signals on this had been coming steadily over the past few months, but picked up steam in recent days with (1) comments from Los Angeles 2028 Chair Casey Wasserman that the organizing committee had already contracted sufficient revenues to host its Games, (2) the announcement from the Salt Lake City-Utah Committee for the Games that it had completed a budget projection – including a $200 million contingency and $250 legacy commitment – of $2.2 billion.
Asked about what stage the Salt Lake City is in, Lyons explained:
"At this point, we are really making all efforts to look at the feasibility of 2030 and it's very important that we align with our partners in LA28 to do that. This would be the first time that a country tried to put two Games back-to-back; it's quite complicated from a commercial and logistical point of view. So we'll have to work together to ensure that it's a doable thing.
"But we are pretty much in the process, our hat is in the ring and if we can make it work for 2030 on all levels, I think no one would be happier than all of us. … We don't have to do anything else, and the dialogue will just continue to the point where, hopefully, all parties involved will think this is the right answer."
This clears the way for the USOPC, the Salt Lake City bid team and the IOC Future Hosts Commission to talk more seriously, and possibly to designate the Salt Lake City for "targeted dialogue," to reach a full agreement on becoming the hosts for 2030.
Lyons also emphasized the cooperative role of the LA28 organizers in the decision to go forward:
"I would say that they are very much willing to work very, very closely with all of us to see if we can find that path: can we make it work financially and logistically, so that we can be in a position to host both of those Games. They're very deeply involved in those conversations and very positively and proactively trying to help us find those solutions.
"The decision to go forward for the search to host a Games really rests with the USOPC. However, this is 100% a partnership. We are absolutely committed to ensuring the success of LA28, so it really has to work together in a collaborative partnership. So they don't, in effect, have veto power, but they are very much an interested party and one we would always want to have at the table."
There will be some challenges, especially in the domestic sponsorship market, with hosting consecutive Games two years apart, but this is hardly new in Olympic history. Prior to World War II, the same country which was selected to host the Olympic Games usually hosted the Winter Games, as in 1924 (Chamonix prior to Paris), 1932 (Lake Placid prior to Los Angeles) and 1936 (Garmisch prior to Berlin). In the post-war period, it has not been unusual to have a Winter Games followed four years later by an Olympic Games in the same country, as in Cortina 1956 and Rome in 1960, or Lake Placid in 1980 and Los Angeles in 1984.
The USOPC Board resolution clearly makes Salt Lake City the front-runner for 2030, with Sapporo (JPN) also with an advanced bid project and interest, but not clear planning, from Vancouver (CAN), a combined Barcelona-Pyrenees (ESP) bid and Ukraine. Award of the 2030 Games by the IOC is now likely in 2022.
The news conference also touched on the upcoming Beijing Winter Games, with the USOPC expecting to field teams of about 230 athletes for the Olympic Winter Games and 65 for the Winter Paralympics. A special Los Angeles-to-Beijing charter flight for most of the American team physically in the U.S. is being arranged with USOPC sponsor Delta Airlines, with other arrangements for the skiers and others in Europe.
The preparations for Tokyo, with the mandated Covid countermeasures, are being maintained, and the athletes will be prepped on behavior, safety and the laws of China. USOPC chief executive Sarah Hirshland noted:
"What's really important to us, and where we feel we have a very strong sense of duty and obligation is to educate and provide the delegation with ample information and clarity around both the rules and the laws, in this case, the laws of the country where we're going, also the rules of the IOC, the jurisdiction of the event itself. That applies broadly, across the laws of China, clearly, are distinct and different than those in the United States, and it's our duty and obligation to ensure athletes understand what that means, and that the expectation is that we abide by the laws of that country.
"Likewise, the roles of the IOC, which has jurisdiction in the case of the Olympics, and the IPC for the Paralympics, and we educate and ensure that athletes have all the information they need to make informed and smart choices."
You can receive our exclusive TSX Report by e-mail by clicking here. You can also refer a friend by clicking here, and can donate here to keep this site going.
For our 743-event International Sports Calendar for 2021 and beyond, by date and by sport, click here!