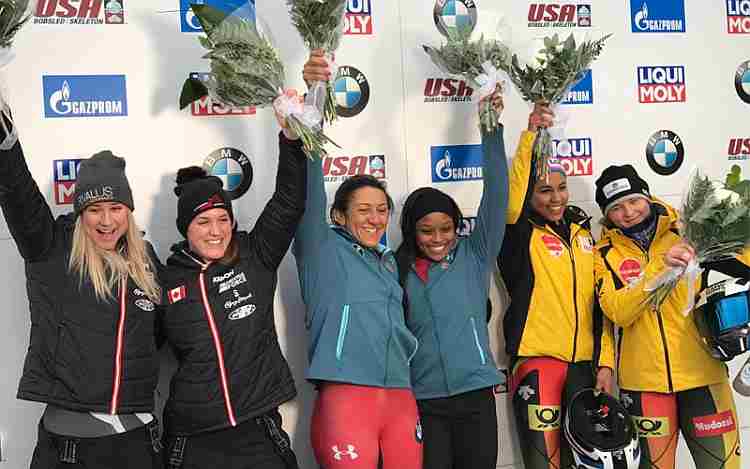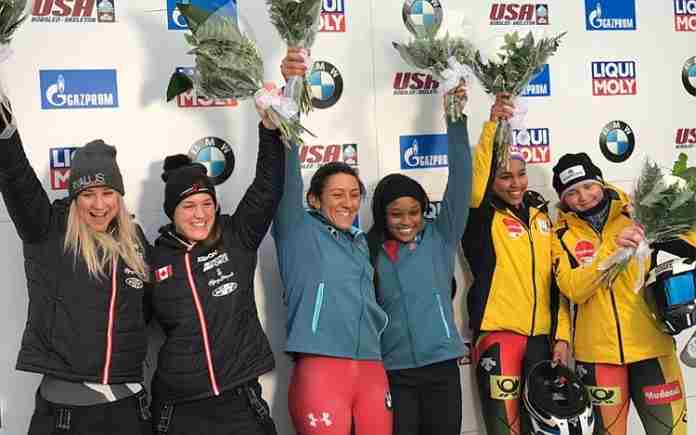 PyeongChang Olympic silver medalist Elana Meyers Taylor started the IBSF World Cup season on the wrong note, having her sled disqualified for improper weight in the first event of the season in Innsbruck (AUT).
She's been making up for that ever since and, driving on a favored track in Lake Placid (USA), she won her second World Cup race of the season on Saturday.
"It's been a difficult year," Meyers Taylor said. "We're in a rebuilding phase, so to come out here and come out with a win; I'm super excited.
"It's very exciting to win in front of a home crowd, it feels incredible. It's special to come to the finish to cheers from friends and family."
It wasn't easy, as Meyers Taylor and Lake Kwaza stood second after the first run, 0.11 seconds behind Germany's Stephanie Schneider. But the U.S. duo aced the second run and had the fastest time in the field by 0.23 to move from silver to gold.
Meyers Taylor also got closer to a seasonal medal, moving into fourth place overall going into next week's finale in Calgary (CAN). Germany's Mariama Jamanka remained in the lead with 1,487 points (fourth on Saturday), with Schneider at 1,396 and Anna Kohler (GER) at 1,304. Meyers Taylor has 1,260.
Germany's Francesco Friedrich kept his two-man win streak alive this season with a 0.28 win; he's won all seven races this season. But the German streak in the four-man racing came to an end at six with an upset win by Canada's Justin Kripps, who piloted his first four-man World Cup win (he was the co-Olympic gold winner with Friedrich in the two-man in 2018).
In Skeleton, Russia's Alexander Tretiakov won his third race of the season and took back the seasonal lead from Korea's Yung-Bin Sun, 1,269-1,245. The women's race ended in a tie between seasonal leader Elena Niktina (RUS) and pursuer Jacqueline Loelling (GER); Nikitina still has the season's lead by 1,287-1,244.
Kendall Wesenberg of the U.S. scored a bronze medal in women's Skeleton, the first World Cup medal for the U.S. in the discipline in two years. Wesenberg was the last to do it, back in January of 2017. "I haven't medaled since two seasons ago, so I feel like my season is progressing," she said. "Everyone here has been awesome. It's been so nice to have a home crowd." Summaries:
IBSF World Cup
Lake Placid (USA) ~ 15-16 February 2019
(Full results here)
Men's 2: 1. Francesco Friedrich/Thorsten Margis (GER), 1:52.35; 2. Romain Heinrich/Dorian Hauterville (FRA), 1:52.63; 3. Justin Kripps/Cameron Stones (CAN), 1:52.65; 4. Nico Walther/Paul Krenz (GER), 1:52.68; 5. Oskars Kibermanis/Matiss Miknis (LAT), 1:53.76. Also: 9. Codie Bascue/Hakeem Abdul-Saboor (USA), 1:53.06; … 14. Justin Olsen/Joshua Williamson (USA), 1:53.30; … 17. Geoffrey Gadbois/Chris Kinney (USA), 1:53.98.
Men's 4: 1. Canada (Justin Kripps), 1:49.54; 2. Latvia (Oskars Kibermanis), 1:49.61; 3. Maxim Andrianov (RUS), 1:49.67; 4. Germany (Francesco Friedrich), 1:49.70; 5. Germany (Nico Walther), 1:49.93. Also: 8. United States (Hunter Church), 1:50.24; … 11. United States (Codie Bascue), 1:50.38; 12. United States (Geoffrey Gadbois), 1:50.45.
Women's 2: 1. Elana Meyers Taylor/Lake Kwaza (USA), 1:54.79; 2. Christine de Bruin/Kristen Bujnowski (CAN), 1:55.17; 3. Stephanie Schneider/Deborah Levi (GER), 1:55.27; 4. Mariama Jamanka/Franziska Bertels (GER), 1:55.28; 5. Brittany Reinbolt/Jessica Davis (USA), 1:55.88. Also: 11. Nicole Vogt/Briauna Jones (USA), 1:56.58.
Men's Skeleton: 1. Alexander Tretiakov (RUS), 1:47.19; 2. Martins Dukurs (LAT), 1:47.33; 3. Sung-Bin Yun (KOR), 1:47.44; 4. Nikita Tregubov (RUS), 1:47.75; 5. Axel Jungk (GER), 1:47.83. Also: 8. Greg West (USA), 1:48.44; 9. Kyle Brown (USA), 1:48.50; 10. Austin Florian (USA), 1:48.52.
Women's Skeleton: 1. tie, Elena Nikitina (RUS) and Jacqueline Loelling (GER), 1:50.59; 3. Kendall Wesenberg (USA), 1:51.10; 4. Mirela Rahneva (CAN), 1:51.19; 5. Sophia Griebel (GER), 1:51.30. Also: 12. Savannah Graybill (USA), 1:52.22.