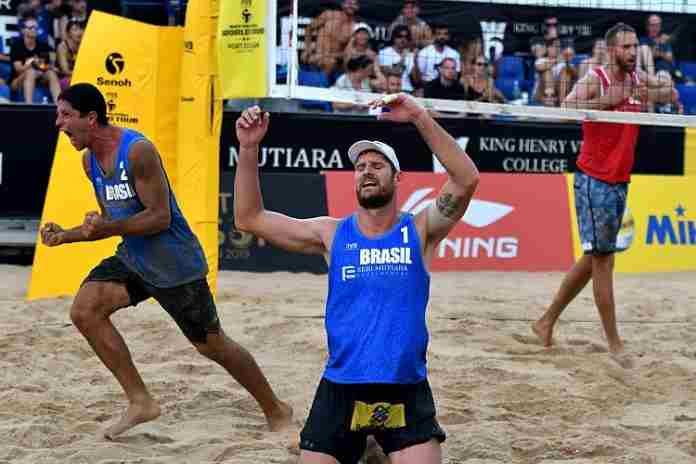 Both are well-known names, but volleyball fans are not used to seeing them together: Alison Cerutti and Alvaro Filho of Brazil. Alison was half of the Rio gold medal team and Alvaro was half of the 2013 World Championships silver medalists.
But they are playing together now and in their second tournament together, they won the FIVB World Tour 3-star Port Dickson Open held outside Kuala Lumpur (MAS). It wasn't easy, however, as they fell behind Americans Theo Brunner and Reid Priddy in the first set and had to fight back for a 24-22 win, then took the title with a 21-18 victory in the second set.
It was the first win for Alison – and 27th in his career – since the 2018 season, when he was playing with Andre Stein. For Alvaro Filho, it was his first World Tour medal in two seasons, since a bronze in the 2017 Gstaad Open, then playing with Saymon Santos.
The U.S. claimed two medals, with Brunner winning his third career World Tour medal (and first in two seasons) and Priddy taking his first-ever World Tour podium. John Hyden and Ryan Doherty finished third, their first World Tour medal since the Olsztyn Open in Poland in 2017.
The women had some familiar faces on the podium, led by Czechs Barbora Hermannova and Marketa Slukova, who were finalists for the second straight week, winning over Americans Brooke Sweat and Kerri Walsh Jennings.
Their final was a tightly-contested affair, with the American pair winning the first set, 26-24, but then losing a 22-20 set to even the match. The Czechs prevailed, 15-12, in the third set. For Sweat and Walsh Jennings, it was their third medal of the season – all in three-star tourneys – and first silver.
The season will heat up quickly this month, with four-star events in Itapema (BRA) and Jinjiang (CHN) scheduled for 15-19 and 22-26 May. Summaries:
FIVB World Tour/Port Dickson Beach Open
Port Dickson (MAS) ~ 1-5 May 2019
(Full results here)
Men: 1. Alison Cerutti/Alvaro Filho (BRA); 2. Theo Brunner/Reid Priddy (USA); 3. John Hyden/Ryan Doherty (USA); 4. Alexander Walkenhorst/Sven Winter (GER). Semis: Brunner/Priddy d. Hyden/Doherty (USA), 2-1; Alison/Alvaro Filho d. Walkenhorst/Winter, 2-0. Third: Hyden/Doherty d. Walkenhorst/Winter, 2-0. Final: Alison/Alvaro Filho d. Brunner/Priddy, 2-0 (24-22, 21-18).
Women: 1. Barbora Hermannova/Marketa Slukova (CZE); 2. Brooke Sweat/Kerri Walsh Jennings (USA); 3. Karla Borger/Julia Sude (GER); 4. Paula Soria/Maria Carro (ESP). Semis: Hermannova/Slukova d. Soria/Carro, 2-0; Sweat/Walsh Jennings d. Borger/Sude, 2-0. Third: Borger/Sude d. Soria/Carro, 2-0. Final: Hermannova/Slukova d. Sweat/Walsh Jennings, 2-1 (24-26, 22-20, 15-12).