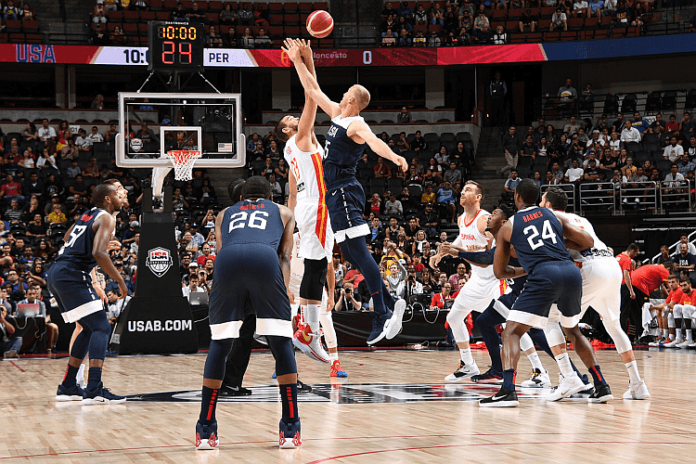 The nearly hysterical reports from earlier this week about the U.S. men's national team being out-classed in scrimmages against pick-up teams of G-League players and free agents looked out of place on Friday evening as the American World Cup team defeated a quality Spanish team, 90-81 at the well-attended Honda Center in Anaheim.
This is the Spanish team which will be one of the favorites in the upcoming FIBA World Cup in China, and while the intensity was not at the same level as it will be when the games count, the U.S. demonstrated good defense and rebounding, lots of shot-making ability and a penchant for turnovers which has to get fixed.
With a starting line-up of Mason Plumlee, Donovan Mitchell, Kemba Walker, Khris Middleton and Harrison Barnes, the U.S. was tied at 10 after three and a half minutes, but then ran away to a 31-20 first-quarter lead and was never headed.
The halftime lead was 54-41 and 71-58 after three quarters. In the fourth, Spain got as close as 80-72 on a Sergio Llull three-pointer, but a Joe Harris three-pointer, a Derrick White jumper and another three from Jayson Tatum made the score 88-72 and ended the issue.
The U.S. shot 54.8% from the field and held the Spanish to 40.8% shooting and out-rebounded Spain, 42-20. But 23 turnovers were a problem for the U.S., especially vs. 11 for Spain.
Mitchell had 13 points, Middleton had 12 and Walker and Jayson Tatum had 11 as the top scorers for the U.S. Center Marc Gasol led all scorers with 19 points for Spain and Ricky Rubio had 16.
The U.S. controlled the game throughout and moves on to a training camp in Australia, where they will play Australia twice and Canada once before heading to China for the World Cup, which will tip off on 31 August.
The box score and play-by-play can be found here.