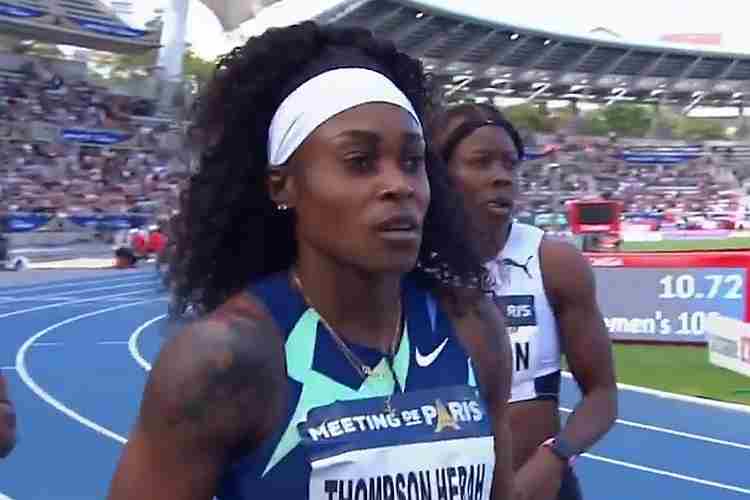 (★ Friends: Beautiful! Now 63 donors have joined to cover our current tech support bill. If you would like to help, please donate here. So, so grateful for the support of our readers. Thank you. ★)
Florence Griffith-Joyner's women's world 100 m record of 10.49 was under attack once again on Saturday at the Wanda Diamond League's Meeting de Paris by Jamaica's double Olympic champion Elaine Thompson-Herah.
This time she ran with fellow Jamaican Shericka Jackson, the Tokyo bronze winner, but without Shelly-Ann Fraser-Pryce, who won in Lausanne on Thursday. Under cloudy skies, Thompson-Herah burst to the lead by the 10 m mark and ran away to win in 10.72, a meet record. Jackson came on late to get second in 10.97, with Dina Asher-Smith (GBR: 11.06) third (wind: +1.3 m/s).
It's a measure of how brilliant Thompson-Herah has been this year that the 10.72 is only her fifth-fastest time of the season! Only FloJo, Fraser-Pryce, and Americans Marion Jones and Carmelita Jeter have ever run faster.
The women's 100 m was the headliner, but there were plenty of other highlights:
● Burundi's Francine Niyonsaba was one of those athletes whose natural testosterone level is too high – under World Athletics rules – to compete in women's events from 400 m to the mile, but she is tearing up the longer distances. Fifth in the 10,000 m in Tokyo, she won the Pre Classic two mile and ran a 62.47 last lap here to win the 3,000 m here in a world-leading 8:19.08, now no. 5 in history!
She beat Ethiopia's Ejgayehu Taye (8:19.52: no. 6 ever) and Kenya's Margaret Kipkemboi (8:21.53). American Elise Cranny was well back at 8:30.30 in fourth, but moved to no. 4 on the all-time U.S. list!
● In the men's 200 m, Fred Kerley of the U.S. continued to show that his move from the 400 m to the sprints was a good idea, as he ran stride-for-stride with, and then out-leaned, Olympic silver winner Kenny Bednarek at the tape in a lifetime best of 19.79 (wind: +1.6). Bednarek received the same time; fellow American Josephus Lyles was sixth in 20.37. The time moves Kerley to equal-14th on the all-time U.S. list.
For Bednarek, it's an amazing 10th time this season's he's run under 20 seconds (with legal wind), a new record!
● Kenyans had won nine straight Olympic titles in the men's Steeple until Tokyo, when Benjamin Kigen's bronze was the best they could do. But in Paris, Kigen pushed the pace and was rewarded with a win in a world-leading 8:07.12, ahead of teammates Abraham Kibiwot (8:09.35) and Leonard Bett (8:10.21). American Hillary Bor was ninth in 8:21.02.
● Five men cleared 5.73 m (18-9 1/2) in the men's vault, but only three – Mondo Duplantis (SWE), American Chris Nilsen and Ernest John Obiena (PHI) made it over 5.81 m (19-0 3/4). Obiena took the lead with a national record of 5.91 m (19-4 3/4) on his first try, but Duplantis and Nilsen both missed and passed to 5.96 m (19-6 1/2). There, Duplantis sailed over on his first try to win, as Nilsen missed twice and Obiena missed twice and then once at 6.01 m (19-8 1/2). Americans Sam Kendricks (5.73 m) and K.C. Lightfoot (5.73 m) were 4-5.
But Duplantis snaked over 6.01 m and immediately had the bar set at a world record of 6.19 m (20-3 3/4), but missed three times. It's his 10th meet over 6 m this season (out of 15 finals!).
● In the women's 400 m, American icon Allyson Felix wasn't really ready to run at last week's Prefontaine Classic, but was fully prepared in Paris and had the lead at midway. But she was passed by promising newcomer Sada Williams (BAR) on the turn and then by  Olympic silver winner Marileidy Paulino – with her patented late rush – with Paulino winning in 50.12 to 50.30 for Williams and 50.47 for Felix. American Quanera Hayes was fifth in 50.81.
● Jamaica's Olympic 110 m hurdles champion Hansle Parchment said after his eighth-place finish in Lausanne, "it just wasn't my day." But he was in form in Paris, winning in a season's best 13.03 – the fastest he's run since 2015 – over Lausanne winner Devon Allen of the U.S. (wind: +0.7). Allen's time of 13.08 is his second-fastest ever and best in five years! American Daniel Roberts got third in 13.16.
Elsewhere:
Kenya's Wyclife Kinyamal did not make the Kenyan Olympic team in the men's 800 m, and Emmanuel Korir and Ferguson Rotich went 1-2 in Tokyo. But that did not stop Kinyamal from getting the win over a fast-closing Rotich on Saturday in 1:43.94 to 1:44.45, with Canada's Marco Arop third (1:44.74). American Clayton Murphy was ninth in 1:45.60.
The Diamond League sixth-round-takes-all rule came into effect in the triple jump, as Algeria's Yasser Triki had the best jump of the day at 17.16 m (56-3 3/4) in the first round. But he "lost" the event in the jump-off, as Olympic bronze winner Hugues Fabrice Zango (BUR) reached 16.97 m (55-8 1/4) – his best of the day and Triki could only manage 16.71 m (54-10). Sacre bleu!
Americans Chris Benard (16.61 m/54-6) and Donald Scott (16.44 m/53-11 1/4) finished fifth and eighth, respectively.
Grenada's 2019 World Champion Anderson Peters got his first career Diamond League win in the men's javelin in the sixth round-takes-all with a final throw of 84.84 m (278-4). That was enough to best world leader Johannes Vetter (GER: 80.23 m/263-2), who had the best throw of the day at 87.20 m (286-1). Anderson had a season's best in the third round at 85.98 m (282-1).
Jamaica's Danielle Williams, the 2015 World Champion, also missed her Olympic team in the women's 100 m hurdles, but was brilliant in Paris, scoring a win with a season's best of 12.50 (+1.7 m/s) over Dutch star Nadine Visser (national record 12.58!) and Jamaica's Olympic bronze medalist Megan Tapper (12.66). Americans Gabby Cunningham and Christina Clemons were fifth and sixth in 12.86 and 12.96.
Panama's Gianna Woodruff was only seventh in Tokyo, but she was in good form in Paris, winning the women's 400 m hurdles in a tight finish vs. Anna Ryzhykova (UKR) and Jamaica's Janieve Russell, 54.44-54.59-54.75 with American Cara Hailey fourth in 54.78. Shamier Little of the U.S. had her worst outing of the season, eighth in 57.18.
In the women's high jump, Tokyo stars Mariya Lasitskene (RUS: gold) and Nicola McDermott (AUS: silver) were at it again, with McDermott perfect through 1.98 m (6-6) and Lasitskene missing once at 1.92 m (6-3 1/2) and twice at 1.98 m. When neither could clear 2.01 m (6-7), McDermott got the win, her first victory over Lasitskene in 12 tries, going back to 2017!
In the discus, Olympic champ Valarie Allman of the U.S. got out to the first-round lead at 62.47 m (204-11), but that was followed by four fouls. London and Rio Olympic champ Sandra Perkovic (CRO) had the best throw in the first five rounds at 66.08 m (216-9) in the second round, followed by Tokyo bronze winner Yaime Perez (CUB: 64.69 m/212-3). In the sixth round-takes-all, Allman improved to 64.51 m (211-7), still her worst meet of the season, and she ended in third as Perkovic "won" at 65.68 m (215-6) and Perez finished second, improving to 65.31 m (214-3).
In the non-Diamond League men's 100 m, American Marvin Bracy got the win at 10.04 (+0.7) over Jamaican Nigel Ellis (10.14) and Arthur Cisse (CIV: 10.17).
Next up is the penultimate stop on the Diamond League circuit for 2021, at the Van Damme Memorial in Brussels (BEL) on 3 September.
You can receive our exclusive TSX Report by e-mail by clicking here. You can also refer a friend by clicking here, and can donate here to keep this site going.
For our 649-event International Sports Calendar for 2021 and beyond, by date and by sport, click here!