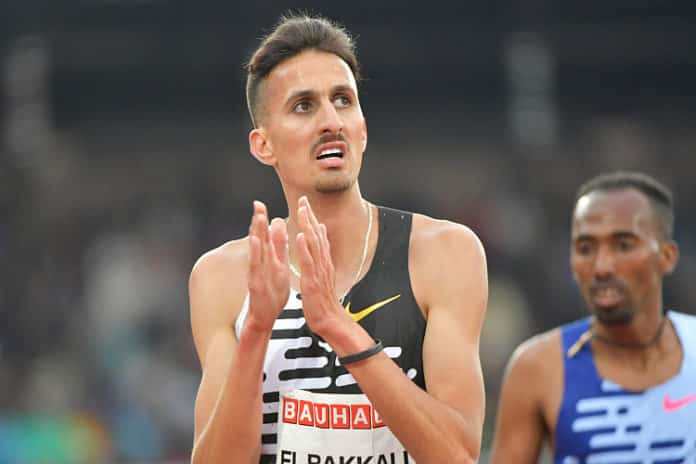 ★ The Sports Examiner: Chronicling the key competitive, economic and political forces shaping elite sport and the Olympic Movement.★
★ Thank you! Our 32 donors have covered 73% of our summer fund-raising goal. Please help! ★
★ To get The Sports Examiner by e-mail: sign up here! ★
≡ WORLD ATHLETICS CHAMPIONSHIPS ≡
More hot weather for day four of the World Athletics Championships in Budapest, which will continue right through the end of the meet on Sunday, with highs from 90-93 F daily.
But Tuesday's session bordered on disbelief, to go along with brilliant repeat Worlds golds for superstars Faith Kipyegon of Kenya and Soufiane El Bakkali of Morocco. First to the stunner:
● Women/Discus ● Olympic champ Valarie Allman of the U.S. put her foot on the throat of the field with a first-round throw of 68.57 m (224-11), with World Champion Bin Feng (CHN) moving into second at 66.97 m (219-8).
Two-time World champ Sandra Perkovic (CRO) moved up to third with a season's best of 66.57 m (218-5) in round two, then Allman stretched the lead a little further at 68.79 m (225-8) in the third. American Laulauga Tausaga got a lifetime best of 65.56 m (215-1) in round three that moved her to fifth overall.
Allman stomped on the field again, extending to 69.23 m (227-1) in round four, a distance no one else has reached this season. Dutch star Jorinke van Klinken, a U.S. collegiate star at Arizona State and Oregon, stunned with a 67.20 m (220-6) throw in round four to move into second.
Then came the complete, total shocker. Tausaga came up in the fifth round and threw a lifetime best of 69.49 m (228-0) to take the lead! Even she couldn't believe it at first, but she's now the no. 2 performer in U.S. history (to Allman). And no one could do better, and she won a stunning gold, perhaps the biggest surprise in the event since American Stephanie Brown Trafton won the Beijing 2008 Olympic gold.
Tausaga's best coming into the final was 65.46 m (214-9) in July at the U.S. Nationals; she added more than 13 feet in two throws between rounds three and five.
She won the first-ever U.S. gold in this event in the World Championships, and Allman the first silver; Allman won the first U.S. Worlds medal in this event ever in Eugene last year with a bronze.
At 25, Tausaga fouled out of the final at the 2019 Worlds, was 12th last year, and now: World Champion. Unbelievable. No, more than that. Impossible, but real.
Almost unnoticed was Feng's come-through sixth-round improvement to 68.20 m (22-39) to grab the bronze, with van Klinken getting fourth. 
● Men/High Jump ● The headliners were the co-Olympic champs from Tokyo, Mutaz Essa Barshim (QAT) and Gianmarco Tamberi (ITA), with Barshim looking for his fourth Worlds gold in a row. They were among seven to get to 2.33 m (7-7 3/4), with the crowd roaring between the concurrent discus, high jump and the women's 1,500 m and men's Steeple finals.
American Shelby McEwen passed and missed once and Korean Sang-hyeok Woo passed and missed twice at 2.36 m (7-8 3/4), with JuVaughn Harrison of the U.S. the leader with three straight clearances. Barshim missed all three tries and claimed the bronze medal on fewer misses at lower heights vs. Luis Enrique Zayas (CUB) and German Thomas Potye.
Tamberi took the lead with his first-try clearance at 2.36, but Harrison matched him on his second try and the bar went to 2.38 m (7-9 3/4). Harrison had a good look at it on his second jump, but missed and Tamberi missed twice, and having won after Harrison's third miss, went to 2.40 m (7-10 1/2) and missed once to end the night.
Harrison equaled his lifetime best and the world-leading jump in 2023. After a seventh in Tokyo in 2021, and a disappointing ninth in Eugene in 2022, he's the first U.S. medal winner in the event since Jesse Williams' win in 2011.
Tamberi won his first World outdoor medal, to go with his co-Olympic title in Tokyo and a World Indoor title in 2016.
● Men/Steeple ● This was too good, with Olympic and World champ El Bakkali (MAR) against new world-record holder Lamecha Girma (ETH).
Kenyan Leonard Bett had the early lead, and Girma and El Bakkali – unusually – moved up toward the lead after three laps. The Moroccan was tracking Girma, and they were part of a pack of eight at the front.
Girma and El Bakkali were 1-2 with two laps left, with Kenyans Abraham Kibiwot and Bett trailing. At the bell, Girma and El Bakkali had separated, with Kibiwot falling over the next hurdle, but getting up quickly and staying in third.
El Bakkali waited, waited and then struck at the water jump, took the lead and blew Girma away down the straight and won his second straight Worlds gold in 8:03.54, with Girma taking his third straight Worlds silver (!) in 8:05.44.
Kibiwot got the bronze, despite the fall, in 8:11.98, with Bett fourth (8:12.26). Americans Kenneth Rooks and Isaac Updike were 10th (8:20.02) and 16th (8:30.67 lifetime best).
● Women/1,500 m ● Could anyone beat world-record holder Kipyegon?
Nope.
She led at 400 m in a leisurely 65.14, ahead of a thick pack, and stayed in front with two laps to go, then passing 800 m in 2:11.78. The pace wasn't scaring anyone, and the pack was ready to strike, but Kipyegon stayed in front at 1,200 m in 3:12.41.
And then the sprint was on, and moving up quickly was 2019 World Champion Sifan Hassan, moving toward the lead, but still behind Ethiopia's Diribe Welteji. Kipyegon looked vulnerable with 100 m left, but she strode away and won cleanly in 3:54.87, for her third Worlds gold after 2017 and 2022.
Hassan charged, but could not pass Welteji, who won silver at 3:55.69 and Hassan at 3:56.00. Fourth was Ireland's Ciara Mageean in a national record of 3:56.61; American Cory McGee finished 10th in 4:01.60.
¶
The heats and semis on Tuesday were crazy, with Keni Harrison exploding in the women's 100 m hurdles heats and Rio 2016 400 m hurdles gold medalist Dalilah Muhammad not advancing out of her semis.
● Men/400 m ● World-record holder Wayde van Niekerk (RSA), the 2017 World Champion, looked strong at 200 m, but Jamaica's Antonio Watson ran away from van Niekerk and Jereem Richards (TTO) on the straight to win in a huge lifetime best of 44.13 (his best before this year was 46.17!). But moving fastest was American Vernon Norwood, moving from fourth to second in the final 50 m, in a lifetime best of 44.26. Van Niekerk had to settle for third in 44.65, but advanced on time.
Britain's Matthew Hudson-Smith powered down the straight to win semi two with a lifetime best and European Record of 44.26! London 2012 Olympic champ Kirani James (GRN) was second in 44.58.
In semi three, Botswana's Bayapo Ndori collapsed after 100 m, while Steven Gardiner (BAH), the 2019 World Champion and Tokyo Olympic champ, was comfortably in the lead and then just stopped and fell to the track with 100 m to go. He was taken off the track in a wheelchair. Meanwhile, American Quincy Hall steamed into the lead and won in 44.43, ahead of Sean Bailey (JAM: 44.94).
● Men/800 m ● Kenya's Emmanuel Wanyonyi, the world no. 2 on time this year, led at the bell in heat one in 51.39, but was passed by Olympic finalist Gabriel Tual (FRA) with 250 m to go. But in the straight, Wanyonyi ran to the front, raised his arms in victory and crossed first in 1:44.92 (53.53 last lap) to 1:45.10 for Tual.
Britain's Max Burgin led most of the second heat, but was passed in the final meters by Pole Mateusz Borkowski, 1:45.40 to 1:45.43. Heat three was slow, at 55.38 for the first lap, then Kenya's Alex Kipngetich sprinted to the lead with 200 m to go and he led right to the tape, in 1:47.63. Heat three saw Algeria's 2022 silver medalist, Djamel Sedjati, had plenty left and flew from sixth to second in the final 40 m (1:47.87), then Saul Ordonez (ESP: 1:47.97); American Isaiah Harris was left in fourth (1:48.00) and did not advance.
U.S. champ Bryce Hoppel was second at the bell in heat four, then led down the backstraight before being passed by Marino Bloudek (CRO) into the final turn. Spain's Adrian Ben came on in lane three to win in 1:45.37, with Hoppel holding second – with considerable effort – in 1:45.56. Olympic silver medalist Ferguson Rotich (KEN) was sixth and did not advance. In heat five, American Clayton Murphy had the lead around the final turn, but got passed in the final 50 m and finished a non-qualifying sixth in 1:47.06, with Benjamin Robert (FRA) winning in a slow 1:46.45. Olympic and World Champion Emmanuel Korir (KEN) was fourth in 1:46.78. 
Another slow first lap in heat six, with Italy's Francesco Pernici leading in 53.67, but Abdelati El Guesse (MAR) taking the lead down the straight and winning in 1:45.24, with Andreas Kramer (SWE: 1:45.42) second and Slimane Moula (ALG) bringing it late for third in 1:45.76. Canada's Marco Arop, the 2022 bronze medalist, moved from third to first with 250 m to go, and off a fast pace, won in 1:45.05. Italian Simone Barontini moved up for second with 40 m left and got a low-five from Arop as he crossed in 1:45.21.
● Women/100 m hurdles ● These were fast from the jump. The U.S.'s Masai Russell and Jamaican Ackera Nugent – SEC rivals from Kentucky and Arkansas – were stride for stride in heat one and both crossed in 12.60, with Nugent given the win (+0.1). Nia Ali, the 2019 World Champion from the U.S., ran steadily in heat two and won in 12.55 (+0.1), but was pushed by Pole Pia Skrzyszowska (12.65).
Olympic silver winner and former world-record holder Keni Harrison was out like a shot in heat three, was challenged by Danielle Williams (JAM), then ran away to win in a startling, world-leading 12.24 (+0.1), the equal-fourth performance all-time and her fastest time since 2016! Devynne Charlton (BAH) came up for second in a national record of 12.44, with Williams at 12.51.
Olympic champ Jasmine Camacho-Quinn (PUR) was the clear winner in heat four in 12.50 (0.0), and World Champion Tobi Amusan (NGR) – cleared of a whereabouts suspension – won heat five, just ahead of Olympic bronze winner Megan Tapper (JAM), 12.48 to 12.51 (+0.4).
● Women/400 m hurdles ● Jamaica's Rushell Clayton took control of semi one, opening a lead on Anna Cockrell of the U.S., and winning in a lifetime best of 53.50. Cockrell came on in the straight and was an easy second, also with a lifetime best of 53.63 at just the right time.
Semi two had favored Femke Bol in eight and Rio 2016 winner Dalilah Muhammad of the U.S. in six, and Bol had a clear lead coming into the straight. But Jamaica's world no. 3 Andrenette Knight was leading Muhammad and finished second to Bol, 52.95-53.72. Muhammad was third (54.19), and did not advance on time, acknowledging a season of illness and reduced training.
U.S. champ Shamier Little ran a strong first five hurdles, stayed calm and ran away on the straight to win in a seasonal best of 52.81 – her third-fastest ever – ahead of another national record by Bahrain's Kemi Adekoya (53.39) and Janieve Russell (JAM: 53.69).
≡ PANORAMA ≡
● Stats ● Another look at the women's 100 m in numbers from RaesTake on Twitter, which detailed Sha'Carri Richardson's move in the second half, to beat Jamaicans Shericka Jackson and Shelly-Ann Fraser-Pryce:
● 10 m: Richardson 1.99, SAFP 2.00, Jackson 2.01
● 20 m: SAFP 3.09, Richardson 3.10, Jackson 3.11
● 30 m: SAFP 4.09, Jackson 4.10, Richardson 4.11
● 40 m: SAFP and Jackson, 5.06, Richardson 5.08
● 50 m: SAFP and Jackson, 6.00, Richardson 6.02
● 60 m: Jackson 6.93, Jackson and Richardson, 6.94
● 70 m: Richardson 7.85, Jackson 7.87, SAFP 7.88
● 80 m: Richardson 8.77, Jackson 8.81, SAFP 8.82
● 90 m: Richardson 9.70, Jackson 9.76, SAFP 9.78
● 100 m: Richardson 10.65, Jackson 10.72, SAFP 10.77
Richardson had the fastest 10 m segment from 50 m on: 0.92-0.91-0.92–0.93-0.95. Only Jackson ran 0.93 for a segment once, but Richardson had four segments at 0.93 or faster. She was just better, and didn't lose any composure when she was trailing in the first half.
Like Noah Lyles in the men's 100 m, having the best top-end speed in the field ultimately meant a gold medal.
¶
With her 100 m bronze, Fraser-Pryce won her 15th career World Championships medal (10-4-1) and moved into second place all-time, behind American icon Allyson Felix (20: 14-3-3 from 2005-22).
Fraser-Pryce also became Jamaica's leading Worlds medal winner of all-time, breaking a tie with Usain Bolt, who won 14 (11-2-1) from 2007-17.
¶
The U.S. medal parade continued in the discus and high jump, with 12 total after four days (6-4-2), ahead of Ethiopia (6: 1-3-2), with Great Britain, Italy, Kenya and Jamaica with three each.
In the placing table, scoring points for places 1-8 (8-7-6-5-4-3-2-1), the U.S. is now leading with 116 points, to 47 for Kenya, 46 for Ethiopia, 30 for Jamaica and 27 for Great Britain.
A very heavy schedule for tomorrow, with a big qualifying session in the morning, then nighttime finals in the women's vault, men's 1,500 m, women's 400 m and men's 400 m hurdles, featuring Karsten Warholm, Rai Benjamin and Alison dos Santos.
¶
You can receive our exclusive TSX Report by e-mail by clicking here. You can also refer a friend by clicking here, and can donate here to keep this site going.
For our updated, 787-event International Sports Calendar (no. 3) for 2023 and beyond, by date and by sport, click here!