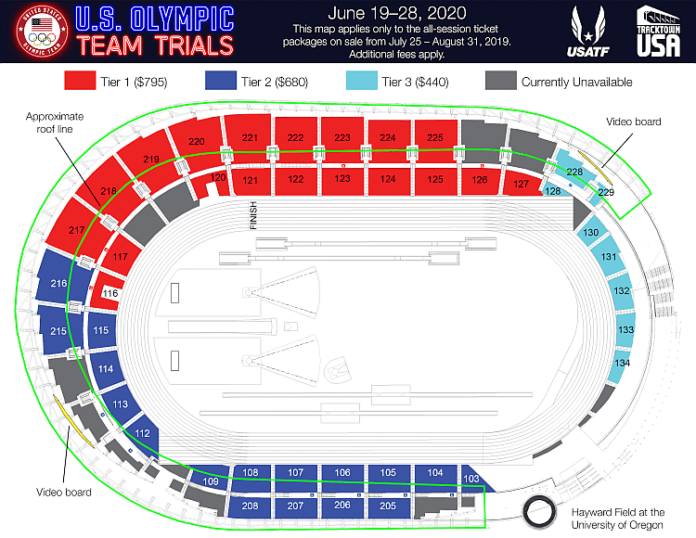 USA Track & Field followed through on the arbitrator's ruling from last week and released a new roster for its Pan American Games team on Wednesday, two days ahead of the Opening Ceremony in Lima, Peru on Friday.
In the 19 July arbitrator's decision which held that USATF wrongly selected the Pan Am team based on an error in the selection procedures document, the federation was required to name the top two athletes on the 2019 year list (from 1 January to 10 June) if they wished to participate and if an athlete declined, go to the next person on the list. This did allow most – but not all – of those filing a complaint to get on the Pan Am team.
Those complaintants who are now on the team include:
● Benard Keter (men's 3,000 m Steeple)
● Lawi Lalang (men's 10,000 m)
● Josef Tessema (men's 5,000 m)
● Josh Awotunde (men's Shot Put)
● Marisa Howard (3,000 m Steeple)
● Kelly McKee (women's Triple Jump)
● Annie Kunz (women's Heptathlon)
But two of those who were part of the filings didn't make the team because two athletes ahead of them on the year list accepted the required invitation:
● Frankline Tonui (men 3,000 m Steeple)
● Ty Townsend (women's High Jump)
Unfortunately, Tonui and Townsend won their appeals, but the ruling placed other athletes on the team for Lima.
The new team changed quite a bit – 36.8% according to LetsRun.com – but is pretty good, including 2016 Olympic long jump champ Jeff Henderson on the men's and reigning World 400 m hurdles Champion Kori Carter among the women. There was some good work by the U.S. Olympic & Paralympic Committee staff in Lima to get the new entries processed well after the deadline, and considerable goodwill by the Lima organizers as well.
¶
Good news for U.S. marathoners, as the IAAF granted a request by USA Track & Field to grant "Gold Label" status to the U.S. Olympic Marathon Trials to be held in Atlanta, Georgia next 29 February on "an exceptional basis."
The impact of this designation is significant: it means that "athletes who finish in the top 5 of the event are considered to have achieved the qualifying standard for the 2020 Tokyo Olympic Games. As such, in Atlanta, the top three men and women place finishers over the 26.2 mile course will be nominated to the Team USATF Olympic roster."
The IAAF introduced tough qualifying standards for all events for the 2020 Games, including 2:11:30 for the men's marathon and 2:29:30 for the women, to be achieved between January 1, 2019 and May 31, 2020.
Using those standards, the U.S. would have had two men's qualifiers in 2016 (Galen Rupp and Bobby Curtis) and just one in 2017 and 2018 (Rupp), and none so far this year. The women would have had five qualifiers in 2016, eight in 2017, eight in 2018 and six so far this year. That's better than the men, but not very many people to run in an Olympic Trials!
Well done by USATF to ask for special help from the IAAF. Among all the criticism it gets, this is the kind of effort which is truly "athlete-centric."
¶
Tickets for the 2020 U.S. Olympic Trials in Eugene, Oregon go on sale on 25 July (Thursday) with only all-session tickets available in three price ranges:
● Tier 1: $795 + $40 in fees + $65 processing = $900 total cost
● Tier 2: $680 + $40 in fees + $65 processing = $795 total cost
● Tier 3: $440 + $40 in fees + $65 processing = $545 total cost
That's for eight daily sessions across the 10 days of the Trials (19-28 June), so the average cost per day is $112.50 ~ $99.38 ~ $68.13.
For comparison, the 2020 Olympic Trials for swimming in Omaha, Nebraska – that will take place from 21-28 June, overlapping with track – are priced at $575/$475/$375 (+ $71 in fees for each order) for the eight days of competition. This includes 15 sessions, with seven morning programs and eight evening events, so the average daily prices are $80.75 ~ $68.25 ~ $55.75.
There is also a "Victory Row" package on the deck, limited to 100 seats, for $1,300 per all-session pass.
There has been considerable hand-wringing on social media about the T&F pricing, but there was a response from one Carl Lewis:
Ticket prices for USATF next week are $80 for all sessions… are these prices paying for the athletes or the stadium?

— Quanah Thompson (@MrThompsonGQ) July 20, 2019
Let's try another comparison. Tickets for an unattractive Thursday evening game between the Los Angeles Dodgers and the San Diego Padres at Dodger Stadium next Thursday (1 August) cost between $14-102 in a 56,000-seat facility. Now for the sure-to-be-sold out series against the New York Yankees on 23-25 August, the prices rise to $52-1,500 (that's right, you can buy a $1,500 ticket to see one baseball game at Dodger Stadium next month). There are fees on top of those prices, too.
It's a simple matter of supply and (perceived) demand. And you can be sure that the Trials ticket sales will be closely watched by the Oregon21 organizers, now considering what to charge for the World Championships in 2021.