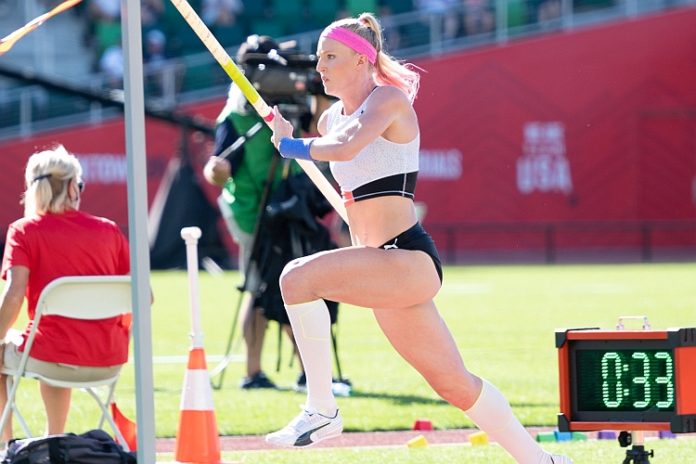 (★ Friends: Your support makes this site possible.
Please donate here if you would like to assist; thank you. ★)
More magic at the fifth Diamond League meet of the season, this time in Rome's famed Stadio Olimpico for the Golden Gala Pietro Mennea, with four world-leading performances and a lot of drama beyond. The world leaders:
● Men/5,000 m: 12:46.33 Nicholas Kimeli (KEN)
● Women/800 m: 1:57.01, Athing Mu (USA)
● Women/100 m hurdles: 12.37, Jasmine Camacho-Quinn (PUR)
● Women/Pole Vault: 4.81 m (15-9 1/4), Sandi Morris (USA)
We hadn't seen much of Olympic women's 800 m champ Mu this season, with just a modest 2:02.07 win in April so far. But she took over the race in Rome on the third turn and raced away powerfully to destroy a good field in a world-leading 1:57.01, her fourth-fastest time ever. Renelle Lamote (FRA) was the next strongest over the final 200 m to get second in 1:58.48, followed by Elena Bello (ITA) with a lifetime best of 1:58.97. Jamaican star Natoya Goule was sixth in 1:59.54.
Olympic champ Camacho-Quinn was already the world leader for 2022 at 12.39, but she faced a tough field that included World Champions Danielle Williams (JAM: 2015) and Nia Ali (USA: 2019). But Camacho-Quinn had control of the race early on and could not be caught, winning in a world-leading 12.37 (wind: +0.1 m/s), ahead of Britney Anderson (JAM: 12.50) and Ali (12.71). The time equals Camacho-Quinn's winner in Tokyo last year and is her equal-fourth fastest ever. Wow.
Morris racked up another pole vault win – her ninth this season, without a loss – by clearing a world-leading 4.75 m (15-7) on her second try and then 4.81 m (15-9 1/4), also on the second try. She actually won at 4.70 m (15-5), but Italy's Roberta Bruni cleared 4.60 m (15-1) and passed a third try at 4.70 and had one miss at 4.75. Bruni and Britain's Holly Bradshaw tied for second, and Olympic champ Katie Nageotte (USA) tied for fourth at 4.60 m.
The men's 5,000 m field included Olympic 10,000 m champ Selemon Barega and two-time World Champion Muktar Edris – both from Ethiopia – and many more, but it was two-time World Indoor 3,000 m gold medalist Yomif Kejelcha who took charge of the race by the 3 km mark. He led Jacob Krop and Nicholas Kimeli (both Kenya) away from the field and appeared to have control of the race, but by the bell, any of the three could win it.
Krop and Kimeli finally passed Kejelcha off the final turn and then Kimeli had the most left to win in a world-leading 12:46.33, a lifetime best, ahead of Krop (12:46.79, also a PR) and Kejelcha (12:52.10). Barega came up for fourth in 12:54.87 as the top eight all finished under 13 minutes! This was a fast one: Kimeli and Krop moved to nos. 7 and equal-9th on the all-time list with their sensational times.
Now for the rest of the drama:
The women's 200 m was supposed to be a battle between Olympic gold medalists Elaine Thompson-Herah (JAM: 200 m) and Shaunae Miller-Uibo (BAH: 400 m). Instead, it was Jamaica's Shericka Jackson – the Tokyo 100 m bronze medalist – who grabbed the lead off the turn and stormed home in 21.91 (+1.3) to edge a fast-closing Thompson-Herah (22.25), then Britain's Dina Asher-Smith (22.27) and Miller-Uibo (22.48). American icon Allyson Felix finished seventh in 22.97. Jackson's mark moves her to no. 2 on the 2022 world list and is her no. 3 time ever. Thompson had won four 200 m finals in a row, with her last loss at the 2021 Jamaican nationals.
Olympic silver medalist Fred Kerley had only won three of his last 10 races in the men's 100 m, since making the U.S. team last June, but he took control of Thursday's race by the 40 m mark and stormed home in 9.92 (-0.2 m/s), equaling his seasonal best and well ahead of Americans Kyree King (10.14) and Cravont Charleston (10.17). Kerley remains no. 5 worldwide for 2022 and the no. 2 American behind Oregon's Micah Williams (9.86).
Although not a Diamond League event, the men's 200 m featured Olympic silver winner Kenny Bednarek and he won convincingly in a seasonal best of 20.01 (-0.1), ahead of Luxolo Adams (RSA: 20.33) and Italy's Filippo Tortu (20.40).
Grenada's 2012 Olympic champ Kirani James continued his solid running this season, taking over in the men's 400 m by halfway and then holding off a charge from Americans Vernon Norwood and Michael Cherry to win, 44.54-44.81-45.24. It's James' third win in four races this season.
The men's Steeple was a runaway for Tokyo silver winner Lamecha Girma (ETH), who took over with three laps to go and was unstoppable, winning in 7:59.23, the no. 3 performance of the year and the third time he has been under 8:00 this season (and it's June!). Behind him were Kenyan Abraham Kibiwot (8:06.74), Getnet Wale (ETH: 8:06.74) and two-time Olympic champ Conseslus Kipruto (KEN: 8:08.76, his fastest since 2019). American Hillary Bor was eighth in 8:12.19.
The men's high jump took shape at 2.27 m (7-5 1/4), with the field of five was narrowed to two, as JuVaughn Harrison (USA) and Norbert Kobielski (POL) were the only ones to clear. Home star Gianmarco Tamberi (ITA) cleared 2.24 m (7-4 1/3) and ended up third. And then no one could clear 2.30 m (7-6 1/2) and Harrison got the win by virtue of his first-time clearance at 2.27 m, while Kobielski needed two.
Two-time World Champion Joe Kovacs (USA) won the men's shot, reaching 21.85 m (71-8 1/4) in the third round. That was good enough to hold off Filip Mihaljevic (CRO), whose best was 21.18 m (69-6) in round four.
In the men's discus, red-hot Kristjian Ceh (SLO) led the competition throughout, but got his best throw in the sixth round at 70.72 m (232-0) for the win. Austria's Lukas Weisshaidinger was second at 68.30 m (224-1), ahead of Tokyo Olympic winner Daniel Stahl (SWE: 65.87 m/216-1).
In the women's 1,500 m, Ethiopia's Hirut Meshesha won impressively in Rabat last Sunday (3:57.30) and she did it again in Rome, taking control of the 1,500 m on the final lap and moving away from teammate Axumawit Embaye – third in Rabat – to win, 4:03.79 to 4:04.53. Britain's Laura Muir was a clear third in 4:04.93 and American Cory McGee finished fifth in 4:05.69.
Tokyo Olympic bronze medalist Femke Bol (NED) dominated the women's 400 m hurdles, taking the lead immediately and storming to the finish in 53.02, her best of the season and moving her to no. 2 in the world for 2022. Jamaica's Olympic fourth-placer Janieve Russell came on late to get second in 54.18, ahead of Tokyo fifth-placer Anna Ryzhykova (UKR: 54.50).
Germany's Olympic champ Malaika Mihambo got out to the early lead in the women's long jump, but Maryna Bekh-Romanchuk (UKR) scored a seasonal best of 6.85 m (22-5 3/4) in the fifth round to win. Mihambo reached 6.79 m (22-3 1/2) on her opening jump, but could not do better. American Quanesha Burks was third at 6.77 m (22-2 1/2), a seasonal best.
This is pretty good stuff and there is more to come. Next up on the Diamond League calendar is the famed Bislett Games in Oslo (NOR), on 16 June.
You can receive our exclusive TSX Report by e-mail by clicking here. You can also refer a friend by clicking here, and can donate here to keep this site going.
For our updated, 620-event International Sports Calendar for 2022 and beyond, by date and by sport, click here!