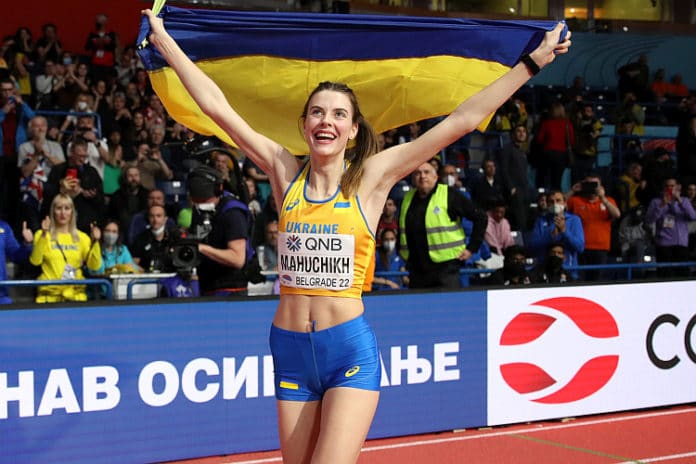 (★ So grateful to our 45 donors, who have covered 77% of our site costs for services for the first six months of 2022. If you enjoy this coverage, please donate here. ★)
The second day of the World Athletics Indoor Championships in Belgrade (SRB) produced more fireworks, more history and an inspirational win for Ukraine, with:
● Men/60 m: 6.41, Lamont Marcell Jacobs (ITA) and Christian Coleman (USA)
● Men/Shot Put: 22.53 m (73-11), Darlan Romani (BRA)
● Men/Heptathlon: 6,489, Damian Warner (CAN)
● Women/High Jump: 2.02 m (6-7 1/2), Yaroslava Manuchikh (UKR)
That's a total of nine world-leading performances for 2022, with a full day remaining! Here's what happened on Saturday:
● Men/60 m: The semifinal winners were American Marvin Bracy (6.51), Italy's Olympic  100 m titlist Lamont Marcell Jacobs (6.45, equaled the world lead) and defending champ Christian Coleman of the U.S. (6.51). Bracy ran a personal best 6.46 in the heats.
Coleman got out best in the final and looked strong past 50 m, but Jacobs and Bracy were coming hard at the finish. It was too close to call at the line and it took what seemed like forever for the top two to be determined.
It was Jacobs, timed in 6.41, the same as Coleman, who was called the winner, with Bracy third in 6.44. The timer saw Jacobs at 6.407, with 6.410 for Coleman; Jacobs moves to equal-fourth-best all-time, both with the no. 8 performance in history.
● Men/400 m: Trinidad & Tobago's Jareem Richards, better known as a 200 m Worlds bronze medalist from 2017, started on the outside in the final and ran hard from the start to take the lead at the break. But he was stalked by American Trevor Bassitt of Ashland University, who charged off the final turn, but could not catch Richards, 45.00-45.05, nos. 2-4 on the indoor year list. Sweden's Carl Bengstrom got third at 45.33. American Marqueze Washington was sixth (46.85).
● Men/800 m: The final saw Canada's Marco Arop take the lead and try to run away from everyone, crossing 400 m in 50.34 (!). But on the final lap, Sweden's Andreas Kramer was the first to challenge, joined by world leader Mariano Garcia (ESP) and Kenyan Noah Kibet.
Garcia pushed hard around the turn and came into the straight with the lead, followed by Kibet with Arop dropping back. A tight chase pack broke up as Bryce Hoppel of the U.S. emerged on the straight to get third, 1:46.20-1:46.35-1:46.51. Fellow American Isaiah Harris faded to seventh (1:47.00) with Arop finishing eighth (1:47.58).
● Men/Shot: Expected to be a showdown between Olympic champ Ryan Crouser (USA) and New Zealand's two-time indoor Worlds winner Tom Walsh and after Walsh opened in the lead at 22.29 m (73-1 3/4) in the first round, Crouser did better and took over at 22.44 m (73-7 1/2).
In the third round, Brazil's Darlan Romani – the Olympic fourth-placer – exploded with an indoor best at 22.53 m (73-11) and took the lead with the best throw of 2022! Crouser responded with a fourth-round 22.32 m (73-2 3/4), but stayed in second.
In the final round, Walsh got out to 22.31 m (73-2 1/2), an improvement, but still in third place. Crouser finished with a 21.93 m (71-11 1/2) and had to settle for silver, after 26 straight wins. Romani claimed the upset and the world title after being fourth at the 2018 World Indoors, 2019 World Championships and in Tokyo last summer. Wow.
American Josh Owotunde stood fifth at 21.70 m (71-2 1/2) going into the final round and got a giant throw that was called foul.
● Men/Heptathlon: The event was dominated by Olympic decathlon champion Damien Warner of Canada, who took the lead in the 60 m and continued to the no. 5 performance of all time at 6,489, easily the best in 2022. Only American icon Ashton Eaton has scored more, four times. Simon Ehammer (SUI) got the silver at 6,363, now no. 14 all-time. The bronze went to Australia's Ashley Moloney (6,344). Steven Bastien of the U.S. was sixth (6,074). American Garrett Scantling was fourth after the first day, but could not go on Saturday due to food poisoning.
● Women/400 m: Could anyone beat Olympic champ Shaunae Miller-Uibo in the women's 400 m? No. Miller-Uibo, starting on the far outside, took the lead from the start and no one could mount a serious challenge. Only Dutch star Femke Bol – the 400 m hurdles bronze winner in Tokyo – got close, finishing a clear second, 50.31-50.57. Miller-Uibo winning time was the second-best on the season, 0.01 from Bol's 50.30. The bronze went to Jamaican Stephenie Ann McPherson (50.79).
● Women/1,500 m: World leader Gudaf Tsegay of Ethiopia left no doubt about being the class of the field, running away from the start, passing 800 m in 2:06.17 and winning in 3:57.19 at the head of an Ethiopian sweep: the first ever in a World Indoors. She finished her last 400 m in 62.89.
She was followed by Axumawalt Embaye (4:02.29) and Hirut Meshesha (4:03.39); Uganda's Winnie Nanyondo passed American Josette Norris for fourth with about 100 m left and they finished in 4:04.60 and 4:04.71. American Heather MacLean was seventh in 4:06.38.
● Women/60 m hurdles: Devynne Charlton (BAH) led the qualifying at 7.81, but the final was going to be close. Charlton and France's Cyrena Samba-Mayela were stride for stride for most of the race, but Samba-Mayela took the lead over the final hurdle and held on for the run-in, winning in 7.78, a national indoor record.
Charlton was second in 7.81, equaling her national mark, and American Gabbi Cunningham was steady over the final half of the race to get third in 7.87.
● Women/ High Jump: This was held in the morning session, with a heartwarming victory for Ukraine's Tokyo Olympic bronze medalist Yaroslava Manuchikh in a world-leading 2.02 m (6-7 1/2) on her first attempt. That was enough to shake former world leader Eleanor Patterson of Australia, who cleared a season-best (and national indoor record) 2.00 m (6-6 3/4) on her second try. Patterson missed once, then moved to 2.04 m (6-8 1/4) but missed twice. Nadezhda Dubovitskaya (KAZ) won the bronze at 1.98 m (6-6). American Rachel McCoy was 12th (1.84 m/6-0 1/2).
● Women/Pole Vault: The critical height was 4.70 m (15-5), cleared immediately by 2018 World Indoor Champion Sandi Morris of the U.S. and Tokyo gold medalist Katie Nageotte. It took former Arkansas star Tina Sutej (SLO) three times to make it, but she joined the Americans at 4.75 m (15-7), with the medals decided. All cleared 4.75 m on their first tries and the bar moved to 4.80 m (15-9).
All three missed twice, but then Morris cleared on her third try to take the lead. Sutej wasn't close and had to settle for bronze. Nageotte had the height, but hit he bar on the way down, giving her the silver, and Morris a repeat world indoor championship. She tried 4.90 m (15-0 3/4), but missed all three times.
Through two of three days, the U.S. leads the medal table with an astonishing 15 (1-7-7) to five for Ethiopia (2-1-2); no other country has more than two. In the eight-places-score placing table, the U.S. leads Ethiopia, 133-39, with Switzerland third at 24. The meet concludes tomorrow.
You can receive our exclusive TSX Report by e-mail by clicking here. You can also refer a friend by clicking here, and can donate here to keep this site going.
For our 832-event International Sports Calendar for 2022 and beyond, by date and by sport, click here!