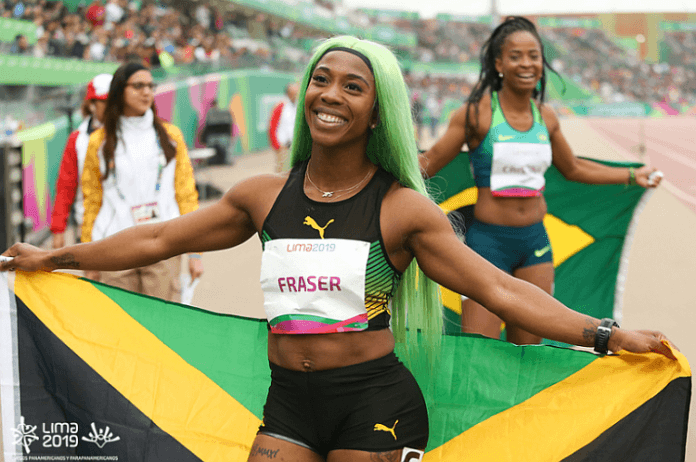 (★ Friends: Yowsah! Now 62 donors have stepped up to help cover our current tech support bill. If you would like to help, please donate here. So, so grateful for the support of our readers. Thank you. ★)
Fireworks were expected and fireworks were delivered as the Wanda Diamond League continued on Thursday with the annual Athletissima meet in Lausanne (SUI).
The headliner was the women's 100 m, with Jamaica's Olympic medalists back on the track with the Florence Griffith-Joyner's 1988 world record of 10.49 on the line. But a funny thing happened on the way to history for double Olympic champion Elaine Thompson-Herah: she ran into double Olympic champion Shelly-Ann Fraser-Pryce.
Off the gun, Fraser-Pryce started brilliantly and was clearly in front by 15 m and never let up. She maintained perfect form and while Thompson-Herah made a move in mid-race to get closer, she never really challenged for the lead as Fraser-Pryce won in 10.60 to 10.64, the nos. 3 and equal-8th performances in history. The aiding wind was +1.7 m/s, perfect for a record try.
Fraser-Pryce, at 34, ran her sixth sub-10:75 of the season – even more than Thompson-Herah – and they are not done yet. Jamaica's Shericka Jackson was third again – as in Tokyo – in 10.92.
Being Olympic champion guaranteed very little in Lausanne:
● The biggest shock came in the men's 110 m hurdles, where American Devon Allen – fourth in Tokyo – clobbered hurdles 2, 3 and 5, but stormed through the second half of the race to win in 13.07w (+2.9 m/s), with Swiss Jason Joseph second (13.11w) and fellow American Olympian Daniel Roberts fourth (13.23w). Olympic champ Hansle Parchment (JAM) was last in 13.58w and bronze-medalist teammate Ronald Levy was fifth in 13.40w. It was Allen's first-ever Diamond League win!
● In the women's 400 m hurdles, Rio winner and Tokyo silver medalist Dalilah Muhammad of the U.S. got out best, but Tokyo bronze winner Femke Bol (NED) zipped by with 200 m to go and survived a challenge by American Shamier Little, 53.05-53.78. Muhammad faded to fourth in 54.50 after making the long trip from the U.S. to Europe earlier in the week.
● In the men's 200 m, Bahamian 400 m gold medalist Steven Gardiner was never in it and Americans Kenny Bednarek – Tokyo silver – and Fred Kerley – Tokyo 100 m silver – steaming into the straight with the lead. Bednarek, continuing a career year, stayed strong through the finish to win in 19.65w (+3.2 m/s) to Kerley's 19.77w. Gardiner was well back in third at 20.11w.
● The men's 800 m was another clinic in front-running by Canada's Marco Arop. He took the lead early and just could not be passed by Olympic champ Emmanuel Korir (KEN) or silver medalist Ferguson Rotich (KEN), winning in 1:44.50-1:44.62-1:45.48. American Clayton Murphy was fifth in 1:45.77. It's Arop's second straight Diamond League win after the Pre Classic, both times beating Korir and Rotich.
● The men's vault got serious at 5.62 m (18-5 1/4), with Sweden's Olympic gold medalist Mondo Duplantis clearing on his second try and American Sam Kendricks and Tokyo silver winner Chris Nilsen over on their first attempts. Kendricks, Nilsen and Russian Timur Morgunov all cleared 5.72 m (18-9 1/4), while Duplantis passed. At 5.82 m (19-1), Nilsen cleared on his first try, Kendricks on his second, but Duplantis hit the bar on the way down on his first and third tries and was out, as was Morgunov!
So the bar went to 5.92 m (19-5), with three misses for both Americans, so Nilsen won based on the first-try clearance at 5.82 m.
Tokyo gold medalists did have their way in other events:
● In the men's 3,000 m, Australia's Stewart McSweyn and Olympic 1,500 m champ Jakob Ingebrigtsen were separated from the field by midway and it appeared to be a two-man race until Ethiopia's Berihu Aregawi regained contact with 300 m left. Aregawi sprinted down the back straight and took the lead with Ingebrigtsen giving chase with 220 m left. But the Norwegian had plenty in the tank and finished off a 57.5 last lap with a final sprint for the win in 7:33.06 to Aregawi's 7:33.39. McSweyn was third in 7:35.06.
● In the men's shot, Olympic champ Ryan Crouser of the U.S. took the air out of the competition with his first-round throw at 22.81 m (74-10), a distance that no one else has reached this season. He had his usual brilliant series, following up with 22.70 m (74-5 3/4), 22.46 m (73-8 1/4), 22.44 m (73-7 1/2) and a foul. In the Diamond League's sixth-round-takes-all, New Zealand's Tomas Walsh had his best put of the day at 22.10 m (72-6 1/4) and then Crouser "won" the event at 22.64 m (74-3 1/2).
Olympic silver winner Joe Kovacs of the U.S. finished fifth at 21.32 m (69-11 1/2).
● The women's high jump was down to Olympic champ Mariya Lasitskene (RUS), silver medalist Nicola McDermott (AUS) and Ukraine's bronze winner Yaroslava Mahuchikh at 1.98 m (6-6), with Laskitskene making it on her first try, McDermott missing all three and Mahuchikh sailing over on her third. All three missed at 2.01 m (6-7), leaving Laskitskene the winner for the 13th time in 14 meets in 2021.
● Venezuela's Yulimar Rojas won the Tokyo women's triple jump and set the world record at 15.67 m (51-5), so she had nothing to prove. But she was ready and boomed out to a wind-aided 15.56 m (51-0 3/4) in her first jump, the no. 2 jump in history under all conditions! She came back with a legal marks of 15.42 m (50-7 1/4) in round three and 15.52 m (50-11); those rank as the no. 2 and 5 best jumps of all-time! She also won the sixth-round-takes-all jump-off at 15.11 m (49-7).
Elsewhere:
In the 400-meter races, American Wil London won with a huge push in the final 10 m, in a modest 45.17, ahead of Isaac Makwala (BOT: 45.20), with 400 m hurdles superman Karsten Warholm (NOR) only fourth in a rare flat 400 m, in 45.51. Warholm was with the leaders coming into the straight, but Makwala and then London passed him on the run-in. Marileidy Paulino (DOM) had the best finish and won the women's 400 m in 50.40, beating Sada Williams (BAR: 50.77) and American Quanera Hayes (51.06).
Germany's world-leader Johannes Vetter was only ninth in the men's javelin in Tokyo, but came back with a 88.54 m (290-6) in the third round for the best throw of the day and then "won" the event at 86.34 m (283-3) in the sixth-round-takes-all. Czech Jakub Vadlejch finished second; he had a best throw of 85.73 m (281-3).
Australian Linden Hall led the women's 1,500 m at the bell by more than 20 m, but the pack reeled her in the final 150 m, with Ethiopia's Freweyni Gebreezibeher flying down the final straight to win in 4:02.24 to Hall's 4:02.95. American Josette Norris nearly caught Hall, but ended up third in 4:03.27.
In the women's long jump, Swede Khaddi Sagnia had the best effort through five rounds at 6.92 m (22-8 1/2) – equaling her lifetime best – ahead of Ivana Spanovic (SRB: 6.85 m/22-5 3/4). But Spanovic won the sixth round – and the event – at 6.72 m (22-0 3/4) ahead of Sagnia (6.64 m/21-9 1/2).
In the "City High Jump" held on Wednesday in downtown Lausanne, Russian Ilya Ivanyuk won at 2.30 m (7-6 1/2), beating American Olympian Shelby McEwen (2.27 m/7-5 1/4).
Next up will be the Meeting de Paris on the 28th (Saturday).
You can receive our exclusive TSX Report by e-mail by clicking here. You can also refer a friend by clicking here, and can donate here to keep this site going.
For our 649-event International Sports Calendar for 2021 and beyond, by date and by sport, click here!