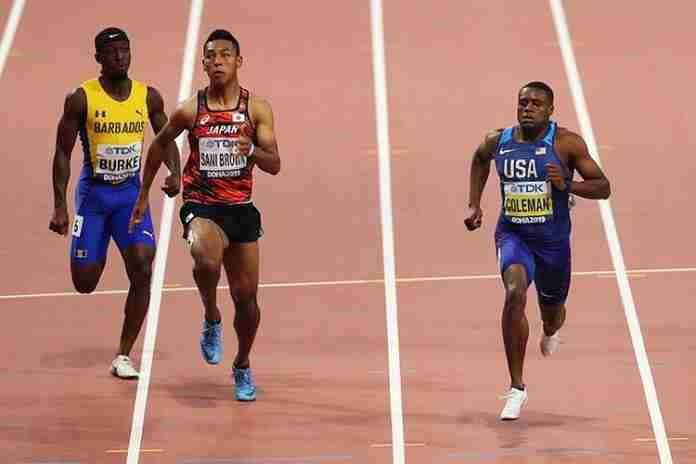 After the long wait, the 2019 IAAF World Championships finally opened in Doha, Qatar with the speculation over and the competition beginning.
The single session ran from 4:30 in the afternoon to 9 p.m. at night, but some of the pre-event reporting proved to be quite accurate:
● The "air-conditioning" system worked well in the lower bowl, but less well the higher up you went in the Khalifa International Stadium.
● Significant parts of the stadium seating were covered with banners, leaving many less than the 40,000 capacity available. Of those, there were perhaps 10-12,000 people in the stands for the first day, which did not include any finals.
The events themselves – all preliminaries – were still fairly entertaining:
● Men/100 m: Christian Coleman of the U.S. ran for the first time since late July, but was the sharpest in the heats, winning heat six in 9.98, the only man to finish in under 10 seconds.
Akani Simbine (RSA: 10.01), Justin Gatlin (USA: 10.06), Zharnel Hughes (GBR: 10.08), Yohan Blake (JAM: 10.07) and Paulo Camilo (BRA: 10.11) won the first five heats. Chris Belcher of the U.S. ran 10.23 in the first heat and was eliminated; Mike Rodgers advanced after finishing second in the fifth heat in 10.14.
● Men/5,000 m: The first heat was slow, with Selemon Barega (ETH) out-running Kenyan teenager Jacob Krop on the home straight to win in 13:24.69. Ben True of the U.S. finished eighth in 13:27.39 and was eliminated. The big news was that Norwegian star Jacob Ingebrigtsen, who qualified in the top five was disqualified for taking three steps inside the curb on the backstraight with about 220 m to go, but was reinstated on appeal.
Heat two was quicker and Paul Chelimo of the U.S. decided to stay out of any trouble – as Ingebrigtsen had – and won in 13:20.18, ahead of Ethiopia's Telahun Haile Bekele (13:20.45). The other two Ingebrigtsen brothers qualified, as Filip was third (13:20.52) and Henrik was seventh in 13:21.22. American Hassan Mead was a time qualifier for the final with a seasonal best of 13:22.11.
● Men/400 m hurdles: No problem for the big stars, as Karsten Warholm (NOR) won the first heat in 49.27, Kyron McMaster (IVB) won heat two in 49.60, Abderrahmane Samba of Qatar showed good form in winning heat three in 49.08 after coming back from foot injuries.
American Rai Benjamin won heat four in 49.62 despite chopping badly on the last hurdle and Estonia's Rasmus Magi was impressive in winning heat five in 49.34. Americans T.J. Holmes (49.50) and Amere Lattin (49.72) also made it through to the semis.
● Men/Long Jump: Cuba's Juan Echevarria confirmed his favorite's status by jumping 8.40 m (27-6 3/4) and then retiring. Americans Jeff Henderson and Steffin McCarter were 2-4 at 8.12 m (26-7 3/4) and 8.04 m (26-4 1/2), respectively. Other favorites, such as South Africa's Luvo Manyonga and Japan's Shoutarou Shiroyama, made it through without incident.
● Men/Triple Jump: The jumping was off for some reason and only Pedro Pablo Pichardo (POR) and Hugues Zango (BUR) made the auto-qualifying distance, at 17.38 m (57-0 1/4) and 17.17 m (56-4), respectively. Americans Christian Taylor, Donald Scott and Will Claye made it through at 16.99 m (55-9) for Taylor and Scott and 16.97 m (55-8 1/4) for Claye, Omar Craddock managed only 16.87 m (55-4 1/4) and was 13th., missing the final due to a better second jump for Necati Er of Turkey.
● Women/800 m: Ajee Wilson of the U.S. was nicely in control of the first heat and won in 2:02.10. Raevyn Rogers did the same in heat two and looked very composed down the straightaway to win in 2:02.01. Jamaica's Natoya Goule had to struggle to win the third heat, but did so in 2:01.01, followed by a charging Ce'Aira Brown of the U.S. in 2:01.14.
The surprises came in the last two heats, as two potential medalists were eliminated. American Hanna Green, great all year, couldn't find a faster gear in the final 100 m and finished last in 2:04.37. The shocker came in heat six, as Britain's Lynsey Sharp was outrun in the final 50 m and finished a non-qualifying fourth in 2:03.57. Ouch.
● Women/3,000 m Steeple: Three Kenyans and two American went through easily, as Emma Coburn and Celliphine Chespol were 2-3 in heat one (9:23.40-9:24.22), world-record holder Beatrice Chepkoech and Courtney Frerichs were 1-2 in heat two (9:10.01-9:18.42) and Hyvin Kiyeng won heat three in 9:29.15. Colleen Quigley of the U.S. had a hip injury and scratched out of the third heat, joining the NBC team in the commentary position during what would have been her race, and Allie Ostrander finished a very good seventh in the second heat, setting a lifetime best at 9:30.85 and missing a qualifying spot by just 1.68 seconds.
● Women/High Jump: All the favorites cleared 1.94 m (6-4 1/4), including Mariya Lasitskene (RUS), Yuliya Levchenko (UKR) and Vashti Cunningham of the U.S. American Tynita Butts also made it through at 1.92 m (6-3 1/2), but Inika McPherson did not, clearing 1.85 m (6-0 3/4).
● Women/Pole Vault: A large field of 17 women cleared the automatic qualifying standard of 4.60 m (15-1), including Greece's Katerina Stefanidi, Russia's Anzhelika Sidorova and all three Americans: Jenn Suhr, Sandi Morris and Katie Nageotte.
● Women/Hammer: World leader DeAnna Price of the U.S. had the best throw at 73.77 m (242-) and qualified automatically. Teammate Gwen Berry also made it through at 71.72 m (235-4), but Brooke Andersen, no. 2 on the world list, was way off form and did not qualify in 20th at 68.46 m (224-7). Also missing the final was potential medalist Malwina Kopron, the first non-qualifier at 70.46 m (231-2).
Despite the small crowd, the stadium was quite loud, which will help the competitors to feel more energy. Let's see what turns up on Saturday when the finals will start.
The women's (midnight) marathon will start at 5 p.m. Eastern time and will be carried on the NBC Olympic Channel. Look for results here.