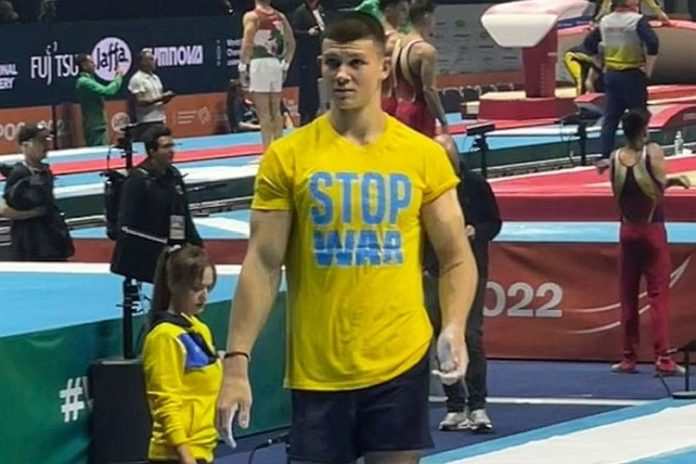 ★ The Sports Examiner: Surveying, monitoring and explaining the key competitive, economic and political forces shaping elite sport and the Olympic Movement. ★
★ Want TheSportsExaminer.com insights for your team? Yes! Click here for info on speaking, research and consulting from editor Rich Perelman. ★
★ To get our new, exclusive 951-event International Sports Calendar
for 2022-23 and beyond, click here! ★
★ To get The Sports Examiner by e-mail: sign up here! ★
≡ THE 5-RING CIRCUS ≡
1. U.S. women win sixth straight World Team title in Liverpool
2. FIG asks Ukraine's Illia Kovtun to remove "Stop War" shirt
3. German Minister Faeser satisfied with Qatar security guarantees
4. Russia continues pushing separatist sports organization agenda
5. Skate Canada Int'l audience almost level with Skate America
The U.S. women's gymnastics team led from the start and dominated the Team event at the FIG World Artistic Gymnastics Championships, winning by more than three points over host Great Britain and earning a place at the Paris 2024 Olympic Games. During the event's podium training over the weekend, Ukrainian star Illia Kovtun wore a "Stop War" shirt in national colors – blue and yellow – but was told by the FIG to take it off as a "political message" against its rules. Completing a two-day trip to Qatar, German Interior Minister Nancy Faeser said she was satisfied with government guarantees that German visitors would not be harassed during the FIFA World Cup and would attend Germany's opening match later this month. Senior Russian officials continued to promote a new, international sports organization separate from "the West," but so far mostly reaching former Soviet Republics and some other central Asian nations. Although NBC showed only one session of last weekend's Skate Canada International on its over-the-air network – and at an early hour on Sunday – it drew almost the same viewership as Skate America the week before.
1.
U.S. women win sixth straight World Team title in Liverpool
With a new team and a highly-energized effort, the United States women's team won its sixth straight FIG Artistic World Championships team title in Liverpool (GBR), 166.564 to 163.363 for Great Britain.
Only Jordan Chiles returned from the Tokyo Olympic Team event squad in 2021 and Jade Carey from the 2019 World Championships, but the Americans led right from the start and never wavered.
The Americans started on Vault, with Carey scoring 14.800 and Chiles 14.400, ending up 2-3 behind Brazil's Rebeca Andrade (15.166), with Japan's Shoko Miyata also scoring 14.400; the U.S. total of 43.133 had them first after one rotation.
The U.S. moved to Uneven Bars and posted the highest score of the day at 42.199, with Shilese Jones scoring 14.333 and Chiles at 14.100. China's Xiaoyuan Wei had the best score (14.733), with Andrade next (14.633), Jones fourth and Chiles sixth overall.
On Beam, Italy compiled the top score at 39.766, followed by Canada (39.632) and then the U.S. (39.399). Chiles led the U.S. at 13.333, with Skye Blakely just behind (13.266). China's Yushan Ou won the event at 14.266, with Chiles in sixth.
Going into the final rotation, the U.S. led by 2.20 over Great Britain and got three solid performances on Floor, from Jones (13.733), Carey (14.100) and Chiles (14.00) to finish at 41.833, the best score in the field to take top honors in three of four apparatus. Britain's Jessica Gadirova had the highest score at 14.266, followed by Carey, with Chiles fourth.
It's a remarkable performance from the new generation of American gymnasts, and clinches a place in the field for the 2024 Olympic Games in Paris, available to the top three teams in this year's Worlds. Britain won only its second women's Team medal ever (previously a bronze in 2015) and confirmed its rise after an Olympic bronze last year. Canada's third (160.563) over Brazil (159.661) is its first women's Worlds Team medal ever!
For the American squad, only Chiles competed in all four events; Carey and Jones were in three each, with Leanne Wong on the Uneven Bars and Blakely on Beam.
The gymnastics Worlds continue with the men's Team event on Wednesday, with the American men looking for a top-three finish to also qualify for Paris 2024.
2.
FIG asks Ukraine's Illia Kovtnn to remove "Stop War" shirt
"They understand us and our pain but they're trying to avoid such proclamations in order to adhere to the line 'sports are outside of politics.' But how can it be so when Illia and I cannot go back to Ukraine since February 22nd? How is war not connected to gymnastics? We don't understand that."
That's Irina Nadiuk, coach for Ukrainian star Illia Kovtun, 19, the 2021 Worlds men's All-Around bronze medalist, in an interview on Monday on the Ukrainian site Suspilne.media, explaining the request of the Federation Internationale de Gymnastique (FIG) to remove the "Stop War" shirt he was wearing during podium training:
"It was Illia who wanted to wear this T-shirt in training and show this message. We thought there would be no problems because there was no negativity on it, no calls against aggressors or any sort of negativity. It's made in our [Ukrainian flag] colors with the words "Stop War." We didn't call anyone names, we just want peace and our independence, so that no one would bother us. Illia wore it to podium training. He has a shoulder injury right now, so we skipped a few events during the second podium training session in order to preserve him.
"He went out on the competition floor to help me with other gymnasts. And two events later FIG officials approached us, showed a photo of Illia in this t-shirt and calmly, not in a rude way, asked to take it off and not to wear it again. We apologized because we didn't want anyone from our delegation to have problems. And we moved on. Today the FIG asked our official from the Sports Ministry to come in, they scheduled a meeting with her and asked from her that we won't wear these T-shirts. They fully support us and understand that this topic is very painful for us. But they want to preserve a calm atmosphere around the competition, so that there wouldn't be any additional problems. That's why they are asking us to keep our emotions in check. Because Russian media already started writing to them about Illia.
"I think we didn't do anything wrong. That's why I don't know why they reacted like this. Although I can understand them at some level. That's why we apologized so that we wouldn't have any problems with the FIG, we drew our conclusions and aren't wearing these T-shirts anymore. They informed us there won't be any sanctions, just this verbal request. So there aren't any sanctions for Illia or me. But they asked us to restrain our emotions. They understand us and our pain but they're trying to avoid such proclamations in order to adhere to the line 'sports are outside of politics.' But how can it be so when Illia and I cannot go back to Ukraine since February 22nd? How is war not connected to gymnastics? We don't understand that. We haven't been home for so long, haven't seen our loved ones. We keep being hosted by our friends. First, the Italians, and for the last four months, Croatians. We are already embarrassed that another country is taking care of us and feeding us. We're constantly living out of suitcases like nomads. It has already become very difficult mentally and psychologically."
FIG Secretary General Nicolas Buompane (SUI) told reporters:
"Even though we are in agreement somehow with the message 'Stop War,' we cannot accept those kind of political messages within our event. So, we went to the gymnast and to the head of the delegation to tell them that indeed we understand how critical it is for them, how sad it is, but it is something we don't want to see during the World Championships, so, hopefully, that will not happen again."
¶
Meanwhile, Russian national team coach Valentina Rodionenko complained about not being able to compete in Liverpool, telling TASS: "This world championship is like salt in the wound for us, it's a shame to miss it for unsportsmanlike reasons."
She also had no doubt about where the Russian women's squad – the Tokyo Olympic winners – would place:
"We watch this World Championship without fail, it is very important for us to watch who we would have to compete with. Now the Americans have won the qualification, but we don't doubt for a second that our women's team is clearly stronger than them. The results of the Americans are low. I judge from what we see."
The U.S. women scored 167.263 points in the qualifying and 166.564 to win the team title on Tuesday.
3.
German Minister Faeser satisfied with Qatar security guarantees
Just days after publicly questioning the propriety of having Qatar host the 2022 FIFA World Cup, German Interior Minister Nancy Faeser concluded an in-person visit to Doha and said she was satisfied with the promises made by the host country regarding security.
"It is important to support the country of Qatar in groundbreaking reforms. That is why I have decided to continue to be part of the process and travel to the first match of the German team."
The Germans, ranked no. 11 worldwide, were drawn into Group E and will play Japan in its opening match on 23 November at the Khalifa International Stadium. Faeser's ministry portfolio includes sport, and Agence France Presse reported:
"Faeser said Qatar's Prime Minister and Interior Minister Sheikh Khalid bin Khalifa Al Thani had offered her a 'guarantee of safety' for LGBTQ fans during the tournament."
The Minister said that she wanted assurances "that everyone from Germany who comes here for the World Cup, no matter where they come from, no matter who or what they believe in, or no matter who they love, is also safe here in Qatar."
She also said that Germany would "continue to support reforms in Qatar after the World Cup to further improve the lives of migrant workers and the human rights situation."
Faeser created a furor when she said in an interview that aired last Thursday (27th) that "It would be better that tournaments are not awarded to such states."
4.
Russia continues pushing separatist sports organization agenda
The drumbeat for an international sports program to challenge the "collective West" continued on Tuesday with Russian Prime Minister Mikhail Mishustin urging new competitions to be led by members of the China/Russia-led Shanghai Cooperation Organization (SCO).
"The SCO member states are unanimous that sports competitions should remain an effective and accessible tool for building trust and mutual understanding between peoples. Together we must fight any attempts to destroy the lofty principles of Olympism.
"It will bring together representatives of such structures of the states that are members of the SCO, BRICS [Brazil-Russia-India-China-South Africa], the EAEU and the CIS, while being open to other participants. Athletes from our countries will be able to demonstrate their achievements in a fair fight at major competitions. Moreover, the emphasis will be placed not only on professional, but first of all – for mass sports."
Despite all of the organizations mentioned, Mishustin's catalog essentially names mostly former Soviet Republics. The SCO includes Russia, Kazakhstan, Kygrystan, Tajikistan and Uzbekistan, plus China, India and Pakistan. Several other countries are more loosely affiliated as observers (including Iran) or "dialogue partners."
The "EAEU" refers to the Eurasian Economic Union – Russia, Belarus, Kazakhstan, Kyrgyzstan, and Armenia – and "CIS" is the Commonwealth of Independent States, which includes Armenia, Azerbaijan, Belarus, Kazakhstan, Kyrgystan, Moldova, Russia, Tajikistan and Uzbekistan.
5.
Skate Canada Int'l audience almost level with Skate America
NBC has transferred most of its coverage of the ISU Figure Skating Grand Prix to its Peacock subscription streaming service, but did showcase last weekend's Skate Canada International on one program on NBC, last Sunday at noon Eastern time.
Slotted in just prior to the start of NFL games on CBS and Fox, the Skate Canada show drew a respectable television audience of 747,000 and a 0.49 rating.
That's only slightly behind the viewership for Skate America, with many more U.S. stars, held a week earlier. The one NBC show from that event, on Saturday at 3 p.m. Eastern, drew 760,000 and had a 0.48 rating. Three other sessions were shown on cable, drawing from 200-230,000 on either USA Network or E!
≡ PANORAMA ≡
● Olympic Winter Games 2030 ● Japan's Asahi Shimbun reported last week that the projected costs to operate Sapporo's proposed 2030 Winter Games have risen due to inflation and a reduction in the value of the yen.
The budget projection increase is ¥17 billion (about $114.7 million U.S.), bringing the expected cost to between ¥297-317 billion, or about $2.00-2.14 billion U.S. Funding for venue construction from the city of Sapporo was now estimated at ¥49 billion (about $330.6 million U.S.)
The Salt Lake City 2030 budget, released in May, required no government subsidy and was estimated at $2.2 billion.
For the 2026 Milan-Cortina Winter Games, the International Olympic Committee is committed to pay the organizers $452 million in cash from television rights fees and $200 million from its worldwide sponsorships. Those amounts are expected to rise for 2030.
● World University Games ● In the battle for the 2027 World University Games between the Korea's Chungcheong region and the North Carolina bid from the U.S., the Koreans circulated an interesting newsletter this week with Hosung Chang, President of the Korean University Sports Board (KUSB) and chairman of Dankook University.
His pitch was for Chungcheong's "four unbeatable strengths," led by:
"First and foremost, the central Government and four local Governments have guaranteed generous financial and administrative support, including a budget of €440 million for the operation of the Games. Financial stability is the most important pillar for the Games' success."
The others were Korea's experience in hosting prior World University Games (1997-2003-2015), the cohesiveness of its four host cities, and its existing facilities. And he notes:
"Among the 31 venues, 19 are existing, and two facilities will be built as temporary facilities; 10 stadiums will be built anew with the local Government budget, and only one out of 10 will be covered by the Organising Committee budget."
The building of new sites places the €440 million (about $434.5 million U.S. today) funding guarantee in a slightly different light, as does the need for 10 new venues. The North Carolina bid is quite different, in the use of existing facilities and a far smaller budget of about $100 million.
The International University Sports Federation (FISU) is expected to make its decision on the 2027 host on 12 November.
¶
You can receive our exclusive TSX Report by e-mail by clicking here. You can also refer a friend by clicking here, and can donate here to keep this site going.
For our updated, 951-event International Sports Calendar for 2022-23 and beyond, by date and by sport, click here!