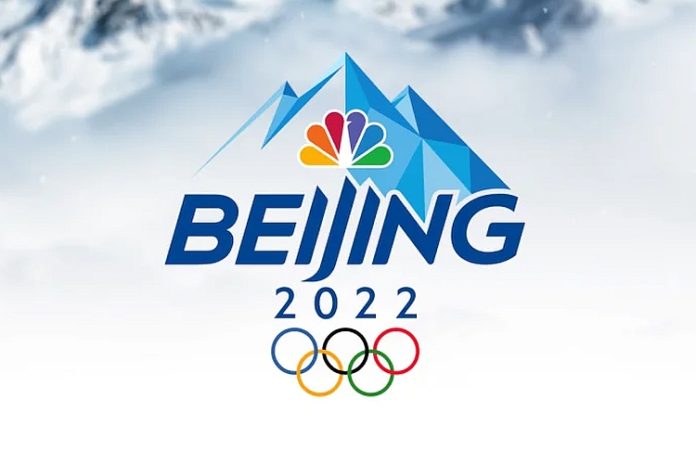 (★ Thank you to our 30 donors, who have covered 53% of our site costs for services for the first six months of 2022. If you enjoy this coverage, please donate here. ★)
● Plus: Beijing 2022: Media attendance down 31%; fourth doping positive ~ Paris 2024: Greens harass Socialists on Games cost ~ Figure Skating: ISU to raise age limit to 17? ~ Swimming: Transgender Lia Thomas wins three at Ivy League Champs ~ Triathlon: An NCAA sport by 2024? ~ Scoreboard: Three world leaders at Copernicus Cup as Swoboda beats Thompson-Herah ●
Coming off a very poor ratings performance for the Tokyo Olympic Games last summer, NBCUniversal reported even worse ratings for the Beijing Winter Games, with a primetime average of just 11.4 million viewers across all platforms.
That's down 42% from the 19.8 primetime average from PyeongChang in 2018, which was itself considered weak at the time.
And the 11.4 million nightly average is down 24% from the Tokyo primetime average – from the same time zone – of 15.1 million.
Based on the available reports, U.S. viewer interest receded during the second week of the Games, after the 13 February Super Bowl:
● 3 Feb.: 7.235 million TV only (8.0M total audience per NBC)
● 4 Feb.: 10.758 million TV only (12.8M total audience per NBC)
● 5 Feb.: 10.146 million TV only (13.6M total audience per NBC)
● 6 Feb.: 10.999 million TV only (13.7M total audience per NBC)
● 7 Feb.: 8.448 million TV only (11.6M total audience per NBC)
● 8 Feb.: 8.348 million TV only (11.0M total audience per NBC)
● 9 Feb.: 9.787 million TV only (12.0M total audience per NBC)
● 10 Feb.: 11.088 million TV only (13.2M total audience per NBC)
● 11 Feb.: 8.571 million TV only (no NBC report; 10.7M TSX estimate)
● 12 Feb.: 8.243 million TV only (no NBC report; 10.3M TSX estimate)
● 13 Feb.: 21.277 million TV only (24.0M total audience per NBC)
● 14 Feb.: 7.874 million TV only (no NBC report; 9.9M TSX estimate)
● 15 Feb.: 8.704 million TV only (no NBC report; 10.9M TSX estimate)
● 16 Feb.: 6.419 million TV only (no NBC report; 8.0M TSX estimate)
● 17 Feb.: 6.739 million TV only (no NBC report; 8.4M TSX estimate)
● 18 Feb.: not available yet
● 19 Feb.: not available yet
● 20 Feb.: not available yet
The one real positive in NBC's announcement was the estimate of 160 million Americans watching some part of the Games, somewhere, on some device. That's less than half of the 332 million U.S. population and a little better than the 150 million it reported for its Tokyo coverage.
NBC did announce that USA Network averaged 1.4 million primetime viewers during the Games, excepting Super Bowl Sunday, where that game was in the primetime slot. CNBC's primetime coverage of the Games averaged 399,000 viewers from 8-20 February. Those figures are considered quite good and USA also had an excellent average of 937,000 average daytime viewers during the Games.
Mediapost noted that "Brands from 83 industries ran 603 unique ad messages during the Winter games. Overall this came to 16,119 advertising airings and 7,383 total minutes of advertising time."
Observed: On a daily basis, only about 3.4% of the U.S. watched the Games in primetime, compared to 4.5% for Tokyo and 6.1% from PyeongChang in 2018. And only half the country saw anything at all.
This is not so much a problem for NBCUniversal – which reported earnings of $5.7 billion for 2021 (EBITDA) – as Mark Lazarus, Chair of NBCUniversal Television and Streaming, said: "NBCUniversal's presentation of the Beijing Olympics dominated across all platforms … Over the course of the Games, we delivered what was promised to our advertising partners."
Against the other networks, NBCUniversal won every night and the Games has been the top attraction on U.S. television for 109 consecutive (Olympic) nights, according to the network.
However, there have to be questions at the U.S. Olympic & Paralympic Committee, which is seeing interest in the Games shrink rapidly. It was only six years ago that 78% of all U.S. households – about 198 million people, or 61% of the country – tuned in to some part of the Rio 2016 Games and the average primetime rating was 27.5 million, or 8.5% of the country.
We're down to 48% of the country and 3.4% in primetime in 2022, albeit in a difficult time zone.
NBC has said it will help, with NBC Sports Chair Pete Bevacqua telling the Associated Press:
"I think we in many ways have to work internally with the IOC, with the USOPC to rejuvenate the Games coming out of Tokyo and Beijing in preparation for Paris, Italy and L.A. That is going to be a strategic priority of ours."
Rich Perelman
Editor
¶
Parallel to the decrease in viewing interest in the U.S., the Beijing Games saw a 31% decline in the number of news media who covered the event.
Figures released by the International Olympic Committee showed that a total of 9,388 news media were accredited for Beijing, compared to 13,608 for the PyeongChang Games in 2018:
● 1,952 press and photographers (down 28% from 2018)
● 3,607 rights-holding broadcasters (down 47% from 2018)
● 3,829 Olympic Broadcasting Services (down 6% from 2018)
Some of this decline has to do with (1) Covid, the (2) the extraordinarily difficult travel arrangements insisted on by the Beijing organizers and (3) the very high cost of attending the Games due to the Covid countermeasures.
All the better for the Chinese organizers, who had less media asking questions and looking around at the Games.
For the IOC, the assumption will be that if the pandemic is controlled, that high interest will be shown in the Paris 2024 Games. But it might not hurt to try to arrange lower-cost ways for media to attend future Games, lest the tepid response to Tokyo and Beijing becomes permanent.
≡ BEIJING 2022 ≡
The Beijing 2022 legacy got a boost with commitments from the International Bobsleigh & Skeleton Federation (IBSF) to hold World Cup and Asian Cup races at the Yanqing Sliding Center annually for the next five years and the World Curling Federation will help to establish a "World Curling Academy Training Centre" at the "Water Cube" (or "Ice Cube" as it was known during the Games).
¶
A fourth doping positive at the Games was disclosed by the International Testing Agency, with figure skater Laura Barquero Jimenez (ESP) returning a finding of the steroid Clostebol in her system after the Pairs Short Program on 18 February.
The case has been turned over to the Court of Arbitration for Sport's Anti-Doping Division for further handling. Jimenez can asked for a testing of her "B" sample.
≡ THE 5-RING CIRCUS ≡
● Games of the XXXIII Olympiad: Paris 2024 ● The bickering over the public cost of the Paris 2024 Games continues unabated in France, with the Green Party criticizing the €125 million (~$141.6 million U.S.) to be spent on infrastructure projects, and €25 million (~$28.3 million) to build the Arena 2 in northern Paris.
A report from the Regional Court of Auditors showed concern for the total level of spending in the Paris district, noting "a level of investment that was too high compared to its financial capacities." The Greens, who are regularly at odds with the ruling Socialist Party, are making the most of the negative findings, and Paris Mayor Anne Hidalgo (Socialist) is running for President in April.
Separately, a construction project for a training pool in Paris was put on hold by an administrative court due to "inconsistencies" in the zoning application and environmental concerns. The Paris 2024 organizers have indicated in the past that if the pool is not built, others can be used for training purposes.
● Figure Skating ● Kyodo News reported that the International Skating Union will consider raising the age limit from age 15 to 17 at its meeting in June. A similar proposal was defeated, 63-39 (16 abstentions), at the ISU Council in 2018.
Russian star Kamila Valieva is 15 and a "protected person" for disclosure purposes under the World Anti-Doping Code, which came under scrutiny as she competed in Beijing after a positive test in December that was only reported after the completion of the Team Event, won by Russia.
For her part, Valieva was reported to have returned to practice, in Russia, on Sunday.
● Swimming ● The transgender controversy continued, with Penn senior Lia Thomas winning the 100, 200 and 500 m Freestyles at the Ivy League Championships from 16-19 February, but – according to Swimming World – holding back some on the times.
Thomas won the 500 m Free by 7.51 seconds, the 200 m Free by 2.70 seconds and beat Yale junior Iszac Henig – also transgender, but transitioning from female to male, but so far without hormone therapy – by 47.63 to 47.82.
The NCAA Championships in Atlanta are in June and Thomas has not yet been declared eligible under the NCAA's 10 nmol/l testosterone limit.
● Triathlon ● At a time when the collegiate sports other than football and basketball might implode, triathlon has gained enough support on campuses to possibly be added as an NCAA women's sport in a couple of years.
Some 40 schools had to add the sport to their programs and that level has been reached, which will now lead to a conversion to the NCAA championship level, the same process by which women's beach volleyball was added in 2016.
USA Triathlon keyed this effort, which has taken 14 years to get to this point. But if it happens … and the NCAA survives, it could be a huge boost for the women's side of the sport.
The men? Sorry, this is a Title IX play for the NCAA and the schools, same as for beach volleyball.
≡ SCOREBOARD ≡
● Athletics ● The indoor season is heating up, with the Copernicus Cup World Indoor Tour meet in Torun (POL) generating world-leading marks in three events:
● Men/Shot Put: 21.84 m (71-8), Filip Mihaljevic (CRO)
● Women/400 m: 50.64, Femke Bol (NED)
● Women/1,500 m: 3:54.77, Gudaf Tsegay (ETH)
Tsegay has been running after her own world record of 3:53.09 from February 2021 and she almost got it, running the no. 2 mark of all-time.
But perhaps the highlight of the meet was the women's 60 m, where Polish indoor star Ewa Swoboda was challenging double Olympic champ Elaine Thompson-Herah (JAM). Swoboda got a good start and had the lead, but while Thompson-Herah closed hard, she ran out of track and Swoboda took a 7.03-7.04 win. That's the no. 2 performance of the year, behind Swoboda's own national record of 7.00 on 11 February.
In the men's sprints, Elijah Hall-Thompson of the U.S. won over Michael Rodgers at 60 m, 6.53-6.55. Britain's Elliott Giles ran the equal-third-fastest 800 m of the season to win in 1:45.42 and Ethiopia went 1-2 in the 3,000 m with Lamecha Girma and Selemon Barega, 7:31.09-7:31.39.
Coming up this weekend is the USATF Indoor Championships in Spokane, Washington.
You can receive our exclusive TSX Report by e-mail by clicking here. You can also refer a friend by clicking here, and can donate here to keep this site going.
For our 832-event International Sports Calendar for 2022 and beyond, by date and by sport, click here!