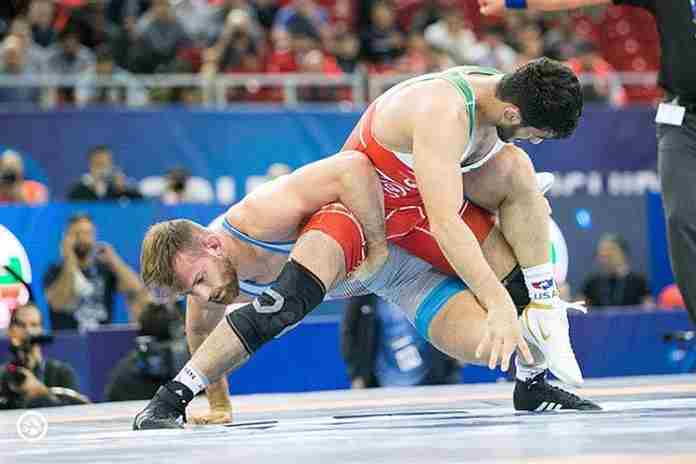 Once the line-ups were announced and it became obvious that the defending champion United States would send a young team to the men's Freestyle World Cup in Siberia, the only question was whether Iran or Russia would win the title.
Wrestling at home and with a good squad, the Russians had no trouble, winning their group matches by 9-1, 8-2 and 10-0 scores and then crushing Iran, 9-1, in the final.
In fact, the only match of consequence that was close was the U.S.-Iran match, which ended in a 5-5 tie. The U.S. had a 4-2 lead, but could win only one of the last four matches and the Iranians had a 21-18 edge in classification points and won the match. Nico Megaludis (61 kg), Zain Retherford (65 kg), Isaiah Martinez (74 kg), Tommy Gantt (79 kg) and Hayden Zillmer (92 kg) were the U.S. winners.
The American squad came from a 4-3 deficit to win the third-place match by 6-4 over Japan, with Zillmer, Kyven Gadson (97 kg) and Tony Nelson (125 kg) winning the last three bouts.
Russia won the World Cup for the seventh time. Since the break-up of the Soviet Union, the titles have gone to the U.S. (10), Iran (8), Russia (7), Azerbaijan (2) and Cuba (1). Summaries:
UWW Men's Freestyle World Cup
Yakutsk (RUS) ~ 16-17 March 2019
(Full results here)
Group A:
I: Russia d. Cuba, 9-1 ● Japan d. Turkey, 8-2
II: Russia d. Japan, 8-2 ● Cuba d. Turkey, 6-3
III: Russia d. Turkey, 10-0 ● Japan d. Cuba, 5-5 (criteria)
Group B:
I: U.S. d. Georgia, 7-3 ● Iran d. Mongolia, 9-1
II. Iran d. U.S., 5-5 (criteria) ● Mongolia d. Georgia, 5-5 (criteria)
III: U.S. d. Mongolia, 8-2 ● Iran d. Georgia, 8-2
Finals:
7th: Georgia d. Turkey, 8-2
5th: Cuba d. Mongolia, 6-4
3rd: U.S. d. Japan, 6-4
1st: Russia d. Iran, 9-1