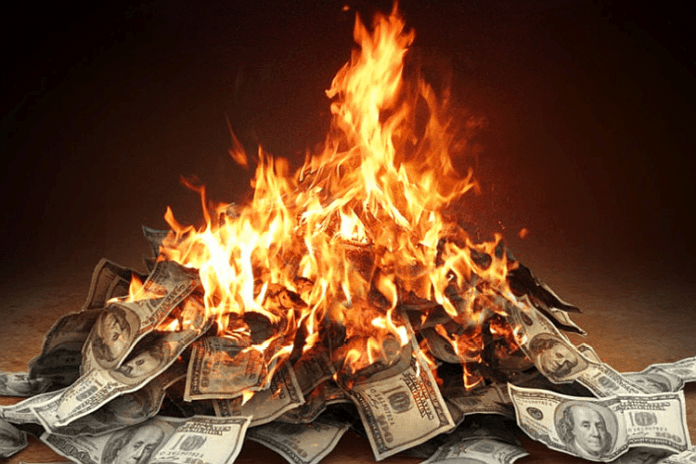 The International Olympic Committee released its 2018 Annual Report last week, with a complete set of financial statements that provide a fascinating look at just how much money it has, and just as importantly, what it does with it.
The IOC is doing pretty well. As it noted, "The IOC's strong financial foundation is driven by its partnerships with sponsors and broadcasters, which provide sustainable revenue streams to ensure the independent financial stability of the Olympic Movement."
The total revenue from the four-year Olympiad from 2013-16 was $5.7 billion U.S., but it appears that will rise considerably for the quadrennial from 2017-20.
In just the calendar year of 2018, the IOC took in $2.21 billion in revenue, including:
● 73% ($1.44 billion) from broadcasting rights
● 18% ($550 million) from sponsorships
● 9% ($230 million) from licensing and other broadcasting rights
It distributed most of it to others and spent about 8% on its own costs, in line with the IOC's consistent boast that it redistributes 90% of its income to others. The expenses included:
● $1.15 billion in distributions to Olympic organizing committees, IFs and NOCs
● $604 million on Olympic Games-related projects and Olympic Solidarity programs
● $133 million on promotions, notably including the Olympic Channel ($85.6 million)
● $178 million on staff and administration
The Olympic-related projects included $246 million for the Olympic Broadcasting Service production at the 2018 Olympic Winter Games, and almost $13 million for insurance against any possible cancellation of the Games. There were also grants to the World Anti-Doping Agency ($16 million), Court of Arbitration for Sport ($7.5 million), the International Paralympic Committee ($6 million) and $15.4 million to other organizations.
(In case you were wondering, the distributions to the National Olympic Committees included almost $214 million to the United States Olympic Committee. The Los Angeles 2028 organizers received $14.76 million in 2018, the same as in 2017.)
The result was a $138 million surplus for the year, bringing the IOC's total assets to $4.15 billion, including $1.88 billion in unrestricted reserves.
Great, right?
The IOC is doing brilliantly for an organization that essentially puts on one event every two years. But there are danger signs – which the IOC is well aware of – if you look a little deeper.
The biggest concern won't surface until after 2032, when the American television rights package – held by NBC – expires. As noted above, television rights sales account for 73% of all IOC revenue and the "Americas" rights – NBC and whatever the IOC gets from the rest of the hemisphere – make up a staggering 71% of that, or 46% of all of the IOC's revenue.
Translation: without the billions from the U.S. broadcaster, the IOC could be in rough shape pretty quickly. And the IOC's sponsorship revenues are also tied in many cases to the availability of television advertising in the U.S. to promote those Olympic ties.
So, what happens going forward as more and more U.S. consumers cut their ties with broadcast and cable companies? NBC has already forecast this into their revenue projections going forward to 2032 vs. their rights fees, but what about after 2032?
Moreover, the IOC's financial strength supports the entire Olympic Movement, which sounds great. But it also hides the reality – recently confirmed by a study from the Global Assembly of International Sports Federations (GAISF) – that as many as half of the International Federations with sports on the Olympic program are financially dependent on the IOC's distribution of shares of the television rights sales to the Games.
With a review of the Olympic program – sports and events – coming up in the second half of this year, will be IOC ask itself the hard question of "Why are we propping up sports which can't support themselves on an ongoing basis?"
Adding niche sports like sport climbing, surfing, skateboarding and break dancing isn't going to help, either. In fact, the IOC is a pauper compared to just the four major U.S. team sports, based on recent annual revenues. Remember, the IOC took in $2.21 billion in revenue in 2018.
Check out these single-year revenue numbers for the big four American sports:
● 2017: $13.7 billion: National Football League
● 2018: $10.3 billion: Major League Baseball
● 2018: $7.4 billion: National Basketball Association
● 2018: $4.5 billion: National Hockey League
That's right, the IOC took in less than half of what the National Hockey League did for its fiscal year in 2017-18. And let's not even start talking about the income for the major soccer leagues in Europe.
All of this shows the underlying financial weakness of the Olympic Movement and with the IOC's recent conversion to insisting on good governance, how long can it stomach having sports on its program which exist significantly to be part of the Olympic Games and not much else.
FIFA is doing well, of course, and the aquatics federation – FINA – has smartly put away reserves in case of future problems. No one knows the financial condition of the IAAF for track & field – it has never publicly posted its financial statements – and the same is true of the FIG for gymnastics, although there have been disclosures that indicate its finances are in rather poor condition.
IOC chief Thomas Bach will be term-limited out of office in 2025 and a new president will have to deal with the questions of what happens with the next U.S. television contract, beyond 2032. Bach could help by continuing his reform programs to renovate the Games program to include sports which actually have some public interest and are not simply content for a worldwide spectacle which has charmed athletes, coaches, news media and the public for 125 years.
For better or worse, the continued existence of the Olympic Games – and all those sports that depend on the IOC's money – still depends on American television, or whatever consumption system will be in place to watch the 2034 Winter Games (perhaps in Salt Lake City?) and beyond.
That's as true for the Olympic Movement as it is for baseball, the NFL, NBA and NHL. But those sports have hundreds of events annually which could be distributed on a pay-per-view/direct-to-consumer basis that could generate even more money than the television networks pay today.
Is that true for a once-every-two-years event which will likely be held in an inconvenient time zone? The IOC is quite rich, thank you, but not rich enough not to worry about its future, regardless of its current bank balance.
Rich Perelman
Editor