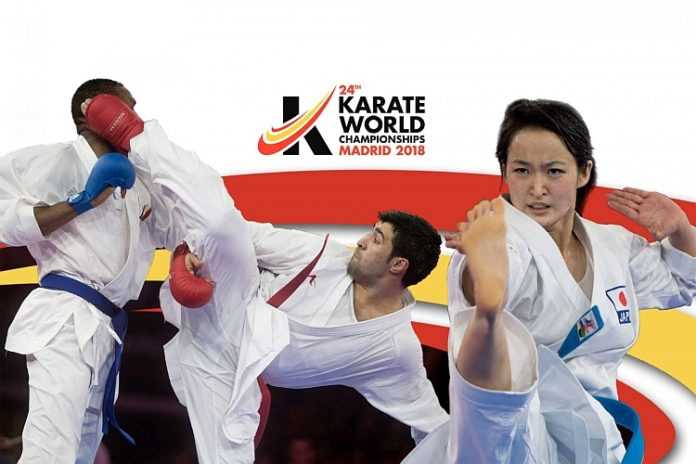 As Karate's debut at the 2020 Olympic Games in Tokyo draws closer and closer, interest in its World Championships has increased. Held every two years, the 2018 edition in Madrid (ESP) showed that the event will be highly popular with the home audience as the Japanese team topped the medal table.
Japan won four gold medals, taking the Individual Kata (Ryo Kiyuna) and Team Kata titles among the men, and Team Kata and Kumite -50 kg (Miho Miyahara) in the women's division. Japan won four silvers and two bronzes for a total of 10.
Iran (2-1-4) and Italy (1-1-5) each won seven medals and Spain (1-3-2) and Turkey (0-2-4) each won six. Summaries:
WKF World Championships
Madrid (ESP) ~ 6-11 November 2018
(Full results here)
Men
Kata: 1. Ryo Kiyuna (JPN); 2. Damian Hugo Quintero (ESP); 3. Ali Sofuoglu (TUR) and Mattia Busato (ITA); 5. Antonio Diaz (VEN) and Ilja Smorguner (GER).
Kumite:
-60 kg: 1. Angelo Crescenzo (ITA); 2. Naoto Sago (PN); 3. Darkhan Assadilov (KAZ) and Abdessalam Ameknassi (MAR); 5. Kalvis Kalnins (LAT) and Jovanni Martinez (VEN).
-67 kg: 1. Steven Dacosta (FRA); 2. Vinicius Figueira (BRA); 3. Camilo Velozo (CHI) and Hamoon Derafshipour (IRI); 5. Abdel Rahman Almasafta (JOR) and Raul Cuerva Mora (ESP).
–75 kg: 1. Bahman Asgari Ghoncheh (IRI); 2. Luigi Busa (ITA); 3. Ken Nishimura (JPN) and Rafael Aghayev (AZE); 5. Beslan Mizov (RUS) and Dastonbek Otabolaev (UZB).
-84 kg: 1. Ivan Kvesic (CRO); 2. Valerii Chobotar (UKR); 3. Zabiollah Poorshab (IRI) and Ugur Aktas (TUR); 5. Daniyar Yuldashev (KAZ) and Anton Osakau (BLR).
+84 kg: 1. Jonathan Horne (GER); 2. Sajad Ganjzadeh (IRI); 3. Babacar Seck Sakho (ESP) and Alparslan Yamanoglu (TUR); 5. Filipe Reis (POR) and Alexander Pshenitsyn (RUS).
Team Kumite: 1. France; 2. Japan; 3. Spain and Egypt.
Women
Kata: 1. Jaime Sandra Sanchez (ESP); 2. Kiyou Shimizu (JPN); 3. Mo Sheung Grace Lau (HKG) and Viviana Bottaro (ITA); 5. Maria Dimitrova (DOM) and Alexandra Feracci (FRA).
Team Kata: 1. Japan; 2. Spain; 3. Iran and Italy.
Kumite:
-50 kg: 1. Miho Miyahara (JPN); 2. Serap Pzcelik Arapoglu (TUR); 3. Bettina Plank (AUT) and Sara Bahmanyar (IRI); 5. Jelena Pehar (CRO) and Tatiana Rybalchenko (RUS).
-55 kg: 1. Dorota Banasczyk (POL); 2. Jana Bitsch (GER); 3. Tzu-Yun Wen (TPE) and Ivet Goranova (BUL); 5. Valeria Alekhina (RUS) and Sara Yamada (JPN).
-61 kg: 1. Jovana Prekovic (SRB); 2. Xiaoyan Yin (CHN); 3. Btissam Sadini (MAR) and Giana Lofty (EGY); 5. Laura Pasqua (ITA) and Merve Coban (TUR).
-68 kg: 1. Irina Zaretska (AZE); 2. Victoria Isaeva (RUS); 3. Lamya Matoub (ALG) and Miroslava Kopunova (SVK); 5. Maryia Aliakseyeva (BLR) and Halyna Melnyk (UKR).
+68 kg: 1. Eleni Chatziliadou (GRE); 2. Ayumi Uekusa (JPN); 3. Shymaa Abouel Yazed (EGY) and Hana Antunovic (SWE); 5. Ramona Bruderlin (SUI) and Anna Laure Florentin (FRA).
Team Kumite: 1. France; 2. Japan; 3. Spain and Egypt; 5. Iran and Switzerland.