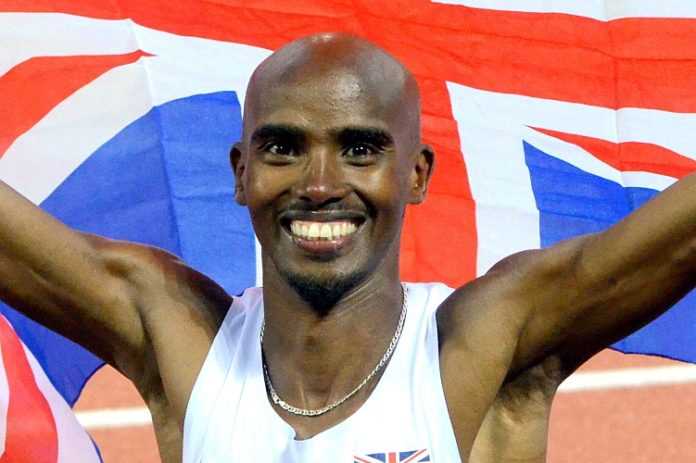 The 41st edition of the Bank of America Chicago Marathon promises to be one of the most intriguing yet, with a classic match-up of old friends and former training partners Galen Rupp of the U.S. and Olympic legend Mo Farah (GBR; pictured).
The pair went 1-2 in the 2012 Olympic 10,000 meters, with Farah winning the first of his two Olympic golds in the distance (he also won the 5,000 m) twice and Rupp second. Rupp then went on to win the Olympic bronze medal in the Rio marathon and set a lifetime best earlier this year with a 2:06:07 win at the Prague Marathon. He's the defending champion in Chicago, winning in 2:09:20 last year.
Farah has been on fire of late, running a lifetime best of 2:06:21 for third in the London Marathon in April, but then winning four shorter races in a row. He ran away with the Great North Run half-marathon on 9 September, finishing in a European best 59:27 and stands no. 12 on the world list in 2018.
But these veterans – Farah is 35 and Rupp is 32 – will be challenged by the newest wave from eastern Africa. At the top of that list is Ethiopia's Mosinet Geremew, who the Dubai Marathon in 2:04:00, the no. 2 mark in 2018. At 26, he's hardly an unknown and was third in Berlin last year.
Berhanu Legesse (ETH) was sixth in his debut marathon Dubai at 2:04:15, still no. 7 on the world list for 2018, and the field includes double World Champion Abel Kirui (KEN), 2015 Chicago winner and 2018 Tokyo winner Dickson Chumba (KEN) and newcomer Kenneth Kipkemoi (KEN), who debuted at the distance with a 2:05:44 win in Rotterdam (NED) in April. And what about 2017 World Champion Geoffrey Kirui (KEN), who was Boston runner-up this year in frightful conditions?
The men's field also includes the winner of that brutal Boston Marathon, Japan's Yui Kawauchi, who will be running his ninth marathon of 2018 (!) and the 84th of his career. The top men's entries:
Men:
∙ 2:04:00 '18 Mosinet Geremew (ETH) ~ 2018 Dubai winner; 2017 Berlin bronze
∙ 2:04:15 '18 Birhanu Legese (ETH) ~ 2018 Dubai Marathon sixth in debut
∙ 2:04:32 '14 Dickson Chumba (KEN) ~ 2015 Chicago winner; 2018 Tokyo winner
∙ 2:05:04 '09 Abel Kirui (KEN) ~ 2009 & '11 World Champion; 2012 Olympic silver
∙ 2:05:44 '18 Kenneth Kipkemoi (KEN) ~ 2018 Rotterdam Marathon winner in debut
∙ 2:06:07 '18 Galen Rupp (USA) ~ 2017 Chicago winner; 2016 Olympic bronze
∙ 2:06:19 '16 Bernard Kipyego (KEN) ~ 3rd in Chicago '11, 6th in '12, 3rd in '17
∙ 2:06:21 '18 Mo Farah (GBR) ~ 2018 London bronze medalist
∙ 2:06:27 '16 Geoffrey Kirui (KEN) ~ 2017 World Champion; Boston 2018 silver
∙ 2:07:19 '17 Suguru Osako (JPN) ~ 2017 Boston bronze, 2017 Fukuoka bronze
∙ 2:07:41 '17 Bedan Karoki (KEN) ~ 2017 London Marathon bronze medalist
∙ 2:08:14 '14 Yuki Kawauchi (JPN) ~ 2018 Boston Marathon winner
The women's field is topped by 2018 Dubai winner Roza Dereje, no. 5 on the world list at 2:19:17, who will be challenged by 2015-16 Chicago winner Florence Kiplagat, 2018 Tokyo Marathon winner Birhane Dibaba (ETH) and Kenyan Brigid Kosgei, second in this race last year and in the London Marathon this year. Dereje has won four of her eight career marathons and two in a row.
The top women's entries:
Women:
∙ 2:19:17 '18 Roza Dereje (ETH) ~ 2018 Dubai Marathon winner
∙ 2:19:44 '11 Florence Kiplagat (KEN) ~ 2015-16 Chicago Marathon winner
∙ 2:19:51 '18 Birhane Dibaba (ETH) ~ 2018 Tokyo winner, 2014-15 Chicago bronzes
∙ 2:20:13 '18 Brigid Kosgei (KEN) ~ 2017 Chicago Marathon silver; 2018 London silver
∙ 2:20:59 '15 Shure Demise (ETH) ~ 2018 Tokyo 4th; 2017 World Champs 5th
∙ 2:21:21 '85 Joan Benoit Samuelson (USA) ~ 1984 Olympic Champion
∙ 2:25:38 '17 Laura Thweatt (USA) ~ 2017 London Marathon sixth
There are a lot of other stories in the women's race, notably the second career marathon for 2016 Olympic Triathlon champ Gwen Jorgensen (USA). Now 32, she debuted at the New York Marathon in 2016, just a couple of months after winning in Rio and finished a creditable 14th in 2:41:01. She was fourth at the U.S. Half Marathon Championships this past May.
Olympic icon Joan Benoit Samuelson, now 61, hasn't completed a marathon since 2015 (2:54:03 in Boston), but is back to try and break the three-hour barrier and set a world age-60 record, currently held by New Zealand's Bernardine Portenski in 3:01:30 from 2010 at the Gold Coast Marathon in Australia.
The prize money for this World Marathon Majors race is substantial, with $100,000-75,000-50,000-30,000-25,000 available to the first five finishers and $15,000-12,000-10,000-5,000-4,000 on down to $500 for the top ten American finishers in each gender. The total prize purse is an impressive $803,500.
The overall race is simply massive; there were 44,341 finishers in 2017. Look for results here.
NBC's Olympic Channel will have live coverage of the race, beginning at 8 a.m. on Sunday morning.